Announcements
Subscribe to posts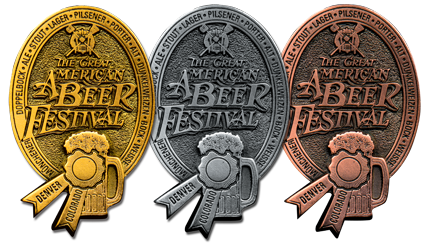 The annual Great American Craft Beer Festival wrapped up over the weekend, and a Gold, Silver, and Bronze medals went to three different Massachusetts craft breweries for their entries.
Jack's Abby Brewing, out of Framingham, MA took home a bronze medal for their Smoke & Dagger Black Lager in the "Other Smoke Beer" category. This is one of my favorites from Jack's Abby, and is one you should definitely check out!
Cambridge Brewing Company, a brewpub located in Cambridge, MA earned a silver medal for their CBC Heather Ale in the "Herb and Spice Beer" category. I've had many beers by CBC, but I can't say I've had this one yet. From the description on the CBC website, it sounds like a great beer! It has to be to earn a medal at GABF!
Finally, Cisco Brewers out of Nantucket, MA took home a gold medal thanks to Lady Of The Woods, an oak barrel aged wild ale in the "Wood and Barrel Aged Sour Beer" category. This is another one I have yet to try, but will be picking it up soon.
Congratulations to these fine Massachusetts breweries on taking home their medals at the 2012 Great American Beer Festival!
Hummock Pond Road desperately needs a bike path. Please check out this
website
for more information and to show your support.
We want a safer road to Cisco Beach.
The Friends of Hummock Pond Road Bike Path began as a joint effort between private citizens of Nantucket and Town planners to complete a bike path from the start of Hummock Pond Road to Cisco Beach-in one phase 10 years ahead of schedule!
We believe this road is a public safety issue to all motorists, cyclists, pedestrians, and anyone else that uses this roadway. Due to increased commercial and residential growth in this area and the increased popularity of Cisco and Ladies beaches during the summer season it is imperative that this bike path be constructed as soon as possible.
We have created this organization to help educate the public on these issues while also provided a place where all can donate or pledge to the fundraising and also make it easy to become involved.
Increased traffic on this 2.6 mile stretch of road has created a serious public safely issue.
The town of Nantucket's current schedule is to complete construction in 10 years. Our public /provate effort hopes to complete the path by the summer of 2013.
Current estimates are that the path will cost approximately $2.75 million to complete.
A promised $500,000 donation is contingent on the entire path being completed by thesummer of 2013.
Raising additional money privately will reduce the burden on the taxpayers and increase the chance of approval by the voters.
With the Pats now AFC Champions, Whales Tale Pale Ale was nominated to represent New England as the best craft beer to consume while watching the Patriots crush the Giants at this years Superbowl. Tune in to the Today Show this Friday Jan 27th in the 4th hour at 10:42am.  Drink Whales Tale ~ Go Pats!  
Thursday, January 19 from 8 'til close at The Wobbly Barn in Killington. 
Join Triple Eight Vodka, Ski Vermont, and all of their partners for a killer party at The Wobbly Barn this Thursday from 8 pm 'til close! We'll be kicking off the Dew Tour in Killington with The Jeff Tuohy Band, delicious 888 cocktails, and tons of raffle giveaways all night long including lift tickets, Rossignol skis, anon goggles, and much much more! 
Special thanks to The Wobbly Barn for their hospitality and Ski Vermont for making this happen. 
We look forward to seeing you at The Wobbly!
Hello Strollers!
This weekend, December 3rd and 4th, we have lots of fun going on here at the brewery! The tent is up in the courtyard to keep you warm while you listen to 4 Easy Payments on Saturday, and Two Days Notice on Sunday from 2 - 5PM.
Tour the brewery, winery and distillery on Saturday with Jeff the Brewer at either 2 or 4 PM.
Hot cider with rum or bourbon at the bar.

Pumple Drumkin
Our Pumple Drumkin Ale is a fall favorite on the island. A deep orange hue and a subtle pie aroma meet a robust malt character in this ale which, true to its seasonal reveling, tastes like toasted pie crust in your mouth. It will finish clean and dry on the palate and leave you wishing that every day could be autumn on Nantucket!
6% abv
(seasonal - 12oz and 22oz bottles and in draught
 by appointment)


Tasting Notes:
dry and tasty - tastes like a toasted pumpkin pie crust (malt character)
deep, dark orange hue
subtle pie aroma
pumpkin mouth feel dry finish
We think Pete might be in love:
The 2011 winning design by Kimberly McMaugh
To reserve your limited edition t-shirt featuring the above design on the back with
 "The Woods, Cisco Brewers, Summer of 2011" on the front left chest
2nd place goes to Erik Sabitelli
3rd place goes to Kristen Nelson



Congratulations to our winners and thank you for everyone who entered a design this year. There were so many excellent contributions to choose from. The winning design will be printed on a special limited edition t-shirt and sold through our online store and at the brewery this August.