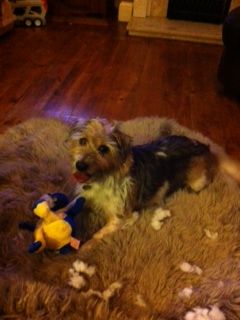 REHOMED
4 year old Mitzy has come in from a family home where she has been brought up, and is fantastic with, children and cats. She is very toy orientated and particularly loves to play with a ball. Soft toys often fall prey to a de-stuffing when Mitsy gets hold of them and she enjoys a boisterous game of tug with her toys, so therefore we would be looking to rehome Mitsy with children over the age of 3 who will happily play tuggy with her and not get too upset over Mitsy wanting to share their toys!
Mitsy is very comfortable in the company of women and loves children but can be wary of men, so introductions to any male member of her new family must be very gentle and at her own pace. She is great in the car, preferring the footwell to a seat or a crate, and is clean and quiet in the house.
Mitzy is microchipped, fully vaccinated, speyed, flea & worm treated and would make the ideal pet for a family who will give her the time and attention this wonderful dog deserves.
All home offers will be subject to vetting and a home visit, and an adoption agreement and fee are required.