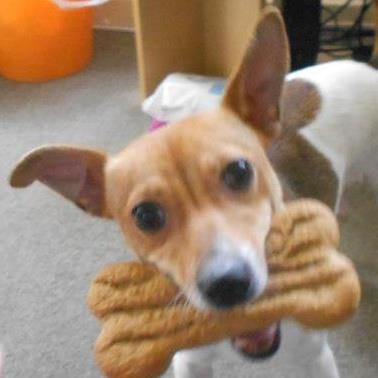 REHOMED
Hello my name is BOBBY, I have just turned one year old although we don't know my actual date of birth but my family picked 26 March 2012 as my birthday when I first arrived here in December 2012. Since I arrived with my current family I have filled out a bit but am still a lean racing machine weighing just six kilos which I am told by the vet person is just right for my size and build.  I live with two children aged 6 and 10 years and love them dearly. Each night before bed I go into their bedroom to check they are safe before settling down in my huge duvet for the night.  I love to cover myself over when I am sleeping so sometimes mummy or daddy have to double check I am in my bed as they cannot see me.
I am house trained and crate trained and am quite happy to be left in my crate for up to four hours which is quite rare though. I will go to the door to ask to go to the toilet.  In the mornings, my young 10 yr old master gets up first and comes down and lets me into the garden to toilet and then I come in and cuddle up to him on the sofa whilst I wait for mum or dad to come and make my breakfast. I do love my food and I love sardines everynow and then as a treat.  I also love my Kong and have it stuffed with either fish paste, meat paste or my favourite smooth peanut butter.

I have a penchant for shoes and insoles although I don't chew them but like to take them to my crate and bury them! Oh, and socks too hee hee - poor Dad is always finding his socks in my bed! I love my ball, all shapes and sizes, and I am good at finding them on the fields when the kids abandon them after playing footy and proudly carry them home to my garden.
I am up to date with my injections (due New Years Eve) worming and flea treatment (Advocate) and I am neutered.  I love to travel in the car and like looking out the windows but I do settle down and sleep until we get were we are going.

I don't like cats or birds, I don't like motorbikes either, noisy things.  I am curious about sheep as there are some in the fields near me so I do bark at them.  I am quite fearful of strangers and strange dogs although I love my girlfriends who live next door but the little one can be quite horrible to me but she is a bit old!

I need an experienced terrier home and a home with children over 8 years old.  The reason Mum says this is that although I love my young masters to bits, the youngest one does object when I try to take the wheels off his trucks as I am always trying to steal his toys. Oh, I nearly forgot I don't like skateboards either,  I dislike the noise they make on the ground and try to eat their wheels also.

I need a terrier proof secure garden with minimum of 6ft panels as I do like to jump.  I pull a bit on the lead especially at the start of my walk but do settle down, I am walked in a harness.  I also don't like the rain and begrudgingly go for walks in it but then try to head for home! I don't like mud or puddles and mum says I am quite comical looking when I do end up in mud or a puddle as I spread my back legs.  I am also funny when I shake myself off as my front legs go all wibbley wobbley, hee hee. I am also told that I look like the dog from the movie Mask...?

I know how to sit and give my paws and to do high fives, I also know how to wait at the kerbside when crossing roads.
My mum has some pics of me so you can see how handsome and active I am.  I can walk for hours and like to go out for two hours most days, my Nan takes me to Samphire Hoe quite a lot as I like it up there watching the trains and the sea but I really want to chase the birds.  I cannot be let off lead unless in a totally secure area as my recall is not good.

I would benefit from training classes but find it hard to mix with so many dogs at once as I get scared and bark and bark, I am fine with one dog meeting me either outside or in the house as all I want to do it play.  I am still a young puppy at heart after all. Oh and nearly forgot, I LOVE going out in the car and happily either look out the window or snore on the front of back seat I am not fussed which I travel on in my harness xx

We are looking for an active family home for Bobby, where he can get the walks, training and attention he loves.
Bobby is neutered, microchipped, worm & flea treated and vaccinated.
 All home offers will be subject to vetting and a home visit, and an adoption agreement and fee are required.