Cindy and Ryan 
Sometimes Love Speaks Loudly,
 But Not Always In Words You Can Understand..
Wedding BIO disclamer: As always if a photo belongs to you, let me know to give credit where credit is due.  This is my second attempt at a Bio so be patient with me.
Enjoy...
About Cindy...
Hot tempered, but compassionate Aries. Hopeless romantic that was always in search of my fairytale ending. I am always looking to enjoy the life that we are in.  Live life with no regrets and love those around you. I love dark chocolate and to laugh until I cry.
                          About Ryan...
Very Hot tempered, but loyal and dependable Aquarius. Life of the party who was looking for a partner in crime.  Ryan makes me see the world around me from a different set of eyes. He makes me laugh everyday. He is a Giant child who really loves ice cream.
About Us...
"Cindy and Ryan" as a couple are about as unconventional as they are in love.  The thought that two people are destined to be together could never be more true about us.  I am a true believer that everything happens for a reason, otherwise we would not be here today.  Ryan just plain "gets" me.  We speak the same language and try to sing the same songs.  We came from very similiar upbringings and share the same outlook on life.  Without Ryan I am able to survive alone, but with him I am able to be complete.  We went through alot to be together and it made us stronger because of it.  I can't wait to start the next chapter of our lives with the one who makes me laugh everyday.
How We Met...
Ryan applied for a job at the GAP during winter break from college at the urging of his good friend, Chip.  I hired Ryan in November of 2002 and in turn fired him in March of 2006. (long story with a happy ending)  The rest is history... 
 Our New Furbabies
Adopted 7/3/08 and 7/11/08
COOPER                                         CARLEY
These are pictures from the rescue shelter website so Carley is behind bars, but aren't they the cutest things ever.  We are in love already.  I am so glad we were able to adopt them both at the same time.
The Proposal
HOW IT HAPPENED
 Ryan designed my wedding band. My Band will be an eternity band of Red, Orange and Yellow stones. This will be my "Ring of Fire". When I was a little girl my parents would dance in our huge kitchen with their friends to old Johnny Cash records. My dad would bring his old record player from the livingroom out to the kitchen so there was room for everyone to dance. That song always reminds me of him. My Dad was diagnosed with brain cancer when I was nine and passed away when I was twelve. Ryan always listened to every detail of my life that I told him. He knew that if we were going to get married it would be hard for me not having my Dad part of that special day. Now He will be close to me always. When Ryan told me about his idea to create a "Ring of Fire", I was so touched that I started to cry. We made a trip to a Jewelry store to find out how involved the process would be and the Jeweler was so amazing and helpful, we had our perfect engagement ring to match my "Ring of Fire" within 2 weeks. Ryan picked up my ring and drove to show his Mom, before he met me at work. We decided to go home first to drop off one of our cars before meeting some friends for dinner. When I walked through the door to his apartment, Ryan was on one knee. He started talking really fast because the kneeling was hurting his knee and he was going to fall over. It was so Cute. I said YES...
Jeweler
Bill Sharp, Senior Diamond Manager
Jared Galleria of Jewelry
The Planning Bio 
ABOUT THE BIG DAY
Color Story
Baby Blue                         Navy Blue                         Sage Green
Ceremony and Reception
Candia Woods Golf Links
Candia, NH
 The ceremony will be held outdoors in the warm September sun, surrounded by tall evergreens in a small courtyard on the grounds of Candia Woods. A cocktail hour and dinner reception will follow inside the Evergreen Pavillion at Candia Woods.
Dance, Dance, Dance...
Cake
Fredericks
Amherst and Bedford, NH
 Our Cake was designed to be fun.  Ryan really liked the Birch tree idea with the carved initials, but I grew up in VT and are are giving maple candy as favors, so our cake will be a Maple tree with Fall leaves and Branches on the top with our initials carved in the side with a mini silver sap bucket.  That is so much more our style than some super elaborate and fancy white cake. 
**Chocolate Fountain**
Compliments of Candia Woods
Ryan is so excited to have a chocolate fountain.  We both love dark chocolate, so this is perfect for us.
We thought about a candy buffet, so this will be a fun compromise and best of all it is FREE.
Save the Dates
I Flippin' LOVE these.  We sent them out in February.  They were a huge hit. 
A bit of a spulrge, but they are totally us, so well worth it.
Flowers
Brandie Biron, Manager
Crystal Orchid
Manchester, NH
Aisle Decor
Shepard's hooks with silver buckets. 
The buckets will be filled with Orange Lillies and tied with Navy Blue ribbon.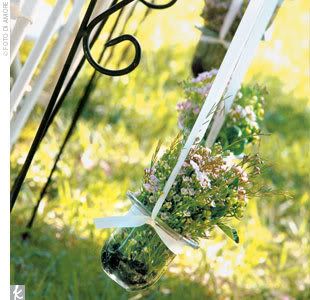 Music
Steve Ossinger
Main Event DJ Service
Bedford, NH
Dance Lessons
Ron Blakenstien, Instructor
Queen City Ballroom
We are taking lessons through CCE in Concord and totally love them.  Ron is a great instructor.  The CCE program is super cheap compared to private lessons, but equally as fun.
Concord Community Education
Photograghers
A Photographic Memory
Hooksett, NH
Must Take Photos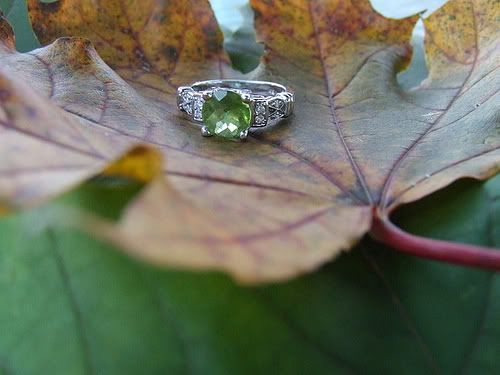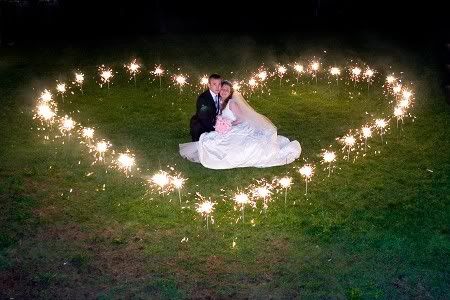 Must take Photos
Dave and Mandy are one of my favorite vendors.  They are really great people and were so accomodating with our package.  I can't wait to see the photos.  We get two photographers all day, so we should get many great shots and hopefully a ton of candids at the reception.
Videographer
Fisher Video Productions
Brookline, NH
www.fishervideoproductions.com
Judy was such a pleasure to chat with.  I can't wait to see the finished product.
Lights, Camera, Action
Send off SPARKLERS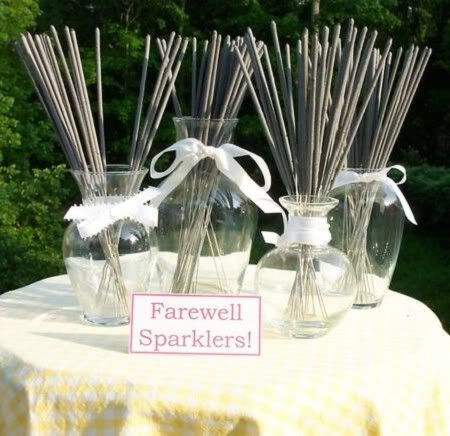 Table Names and Place cards
 We are using names of our Favorite drinks for our table numbers.  I like how the guest name is printed over the number in the larger font.
Table names, so far:
 Head table ~Guinness
        Bailey's, Hennesey, Patron, Crown Royal, Magic Hat #9, Bacardi, Kaluha, Midori,  Zombie,    
        Red Zinfandel, Blue Moon, Corona, Long Island Ice Tea, Mimosa and Raspberry Margarita
Kids Table~ Chocolate Milk
 Card Box
FAVORS 
Mini Silver Buckets filled with Maple Candy Leaves,  Dark Chocolate Lindt Truffles and Monogramed Baby Blue wrapped Hershey Minatures
Paper Goods
Invitations by Dawn
Made by Jaimebeth9
Transportation
Grace Limousine LLC
Manchester, NH
Linens and Chair Covers
Divine Linen Rentals
Manchester, NH
I love this table.  Navy napkins with a sage table runner and Baby Blue table number.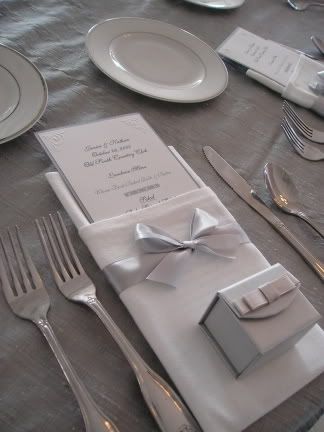 I want this napkin fold with Favor placed on top.
Rehearsal Dinnner
New Home of the Bride and Groom
September 12, 2008
BBQ for all of our OOT guests and Live Music from one of our favorite local bands. 
We wanted a real casual RD with a comfortable atmosphere for all of our guests to mingle. 
Our back yard was a perfect fit.
Ivy Levine and Chum Band
OOT Boxes
I really like the look of these.  Cute and Practical.
  White boxes with Navy ribbon and monogram sticker. We will also include "Tickets" to the RD like our STD tickets.  I ordered some brochures from Vista Print to include all of the Events for the Weekend for FREE. Gotta love those discount emails.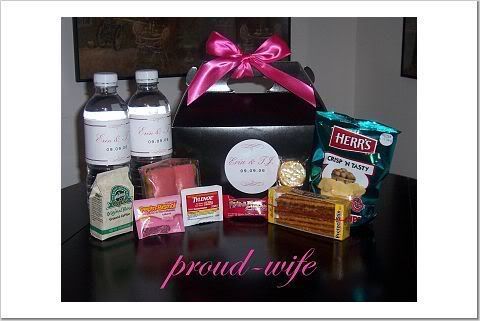 Tuxedos
Mens Wearhouse
Manchester, NH
Ryan's attire
Black tux with black shirt and Baby Blue tie and vest.
Groomsman
Black Tux with white shirt and Peridot tie and vest
Bridesmaids Dresses
David's Bridal
MOH
Marine (Navy)
Janelle
 All Bridesmaids Dresses in Peridot (Sage)
Amy,       Bekah,      Christine
Jr Bridesmaid
Navy with straps
Kaylee               
Shoes, Shoes, Shoes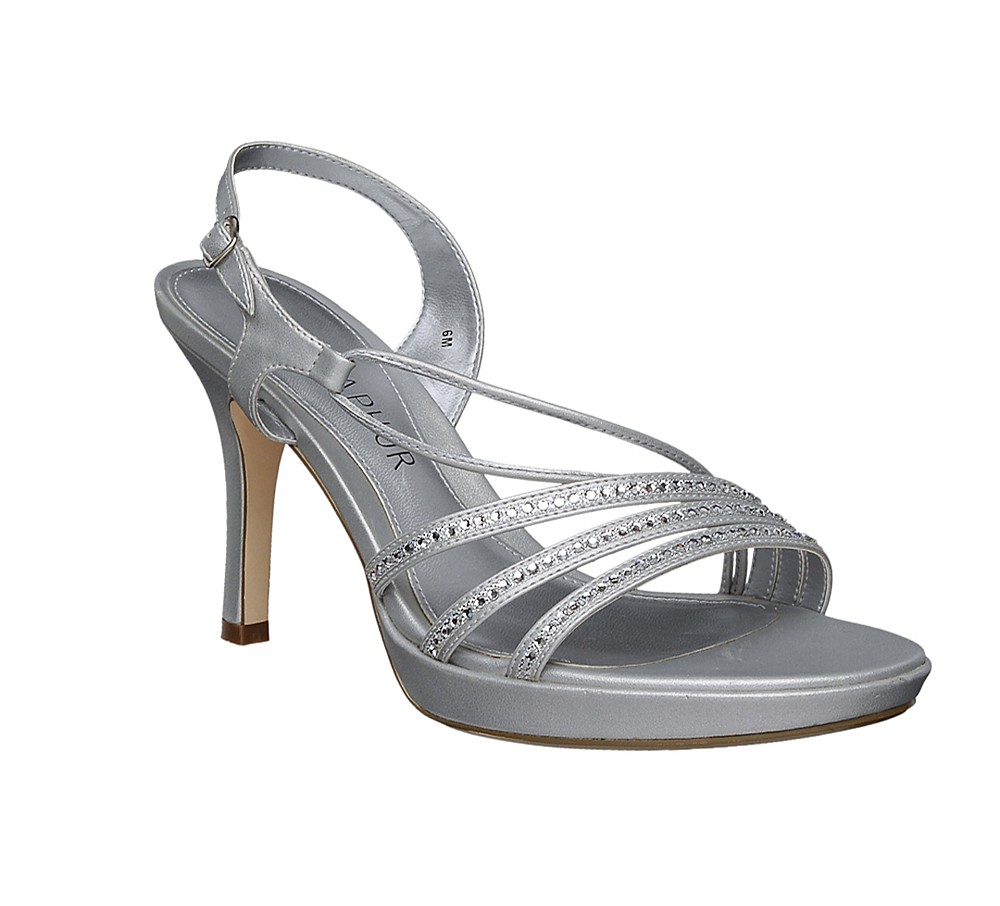 These are my reception shoes.  Love them and they are comfy too.
 These may end up as a back pair for the reception...
Hair and Make Up
Sean Ward
Sean is one of my oldest friends.  He is an amazing guy who can create almost everything.  He will be doing all of the BP with the help of a few other friends to make us all look Beautiful.  He has done several friend's weddings in the past and they all looked stunning. 
Heavenly Hair Ideas
This one is my fave so far.  Not such a big tiara though.  I think it looks Fun and Flirty...
MY DRESS
Alfred Angelo
#1825
Diamond white with Blue Jay
Occassions Bridal and Tuxedo
Portsmouth, NH
www.occassionsbridalandtuxedo.com
This is the sample color, but I love love the top and all the detail throughout the skirt.
I am so in love with this dress.  I stalked a trunk show to 4 different bridal shops in NH to try on this Dress.  I tried it on at one store and then it was moved to another store the next weekend in Texas.  Ashley the owner of Occasions in Portsmouth called her sales rep and asked to have the dress sent back to her store for me to try on again.  I cried both times.  I was shopping alone each time, so no one has seem me in the dress yet.  I ordered it in January, so it could be here any day now.  LOVE IT...
From Knottie NELRERWedding
I think this is so beautiful.
~~~~~~~~~~~~~~~~~~~~~~~~~~~~~~~~~~~~~~~~~~~~~~~~~~~~~~~~~~~~~~~~
NH Knottie GTG
Unwined
Manchester, NH
April 25, 2008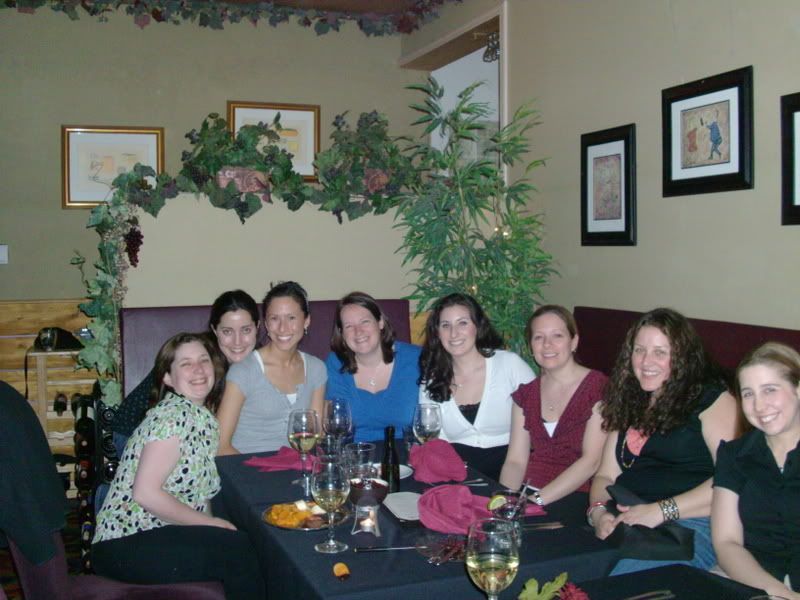 Those are Some Sassy Ladies, Don't Ya Think...
Fiantas, 1A, Lovers4Life, ColleenandKen, Candi516, Engaged07, Cinfulnh, YayBananas