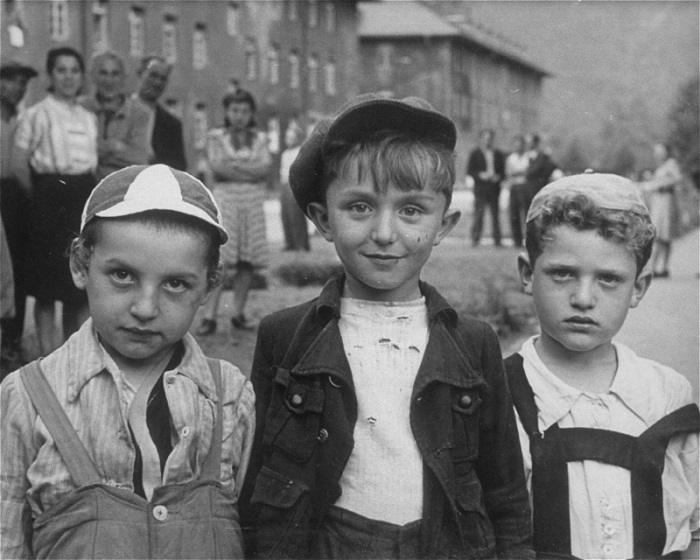 Children in the Bad Reichenhall displaced persons camp. Germany, 1945.
— United States Holocaust Memorial Museum
A WebQuest designed for 8th graders
Ms. Karen B. Wilson, Pinckneyville Middle School
Introduction: The Holocaust was a horrific time in history when approximately 6 million Jews died and many others perished under Hitler's regime. It is estimated that 1.5 million of those deaths were children. They were  victims of this hatred and prejudice as well. This activity has been developed to give you the opportunity to learn more about these children who, similar to your own age, died during the Holocaust. We remember them and memorialize them to give them wings, so that they may always endure in our history and our hearts.
Task: Upon finding out more information, you and your partner will create a memory tile to commemorate your child of the Holocaust. Memory tiles will be compiled in to a Memory Wall which will hang in the foyer of the school. All visitors who come in will see our memorial to the children who died in the Holocaust. It is your task to to learn more about the children of the Holocaust, create a memorial to them, as well as instruct and enlighten our faculty, students, and visitors of our school with your knowledge.  To conclude, you will write a final reflection on our study of the Holocaust.
Process:
You must do all three activities!
Activity #1:
1) Select a partner with whom to work. You should carefully consider working with someone who will work just has hard as you will! 
2) Preview the website provided at the link below. You must read through five of the children's biographies. Once you have chosen a child to research and create your memory tile, see Ms. Wilson for approval. Not every student will be able to do the same child. There are many children who need to be memorialized!
Activity #2:
1) With your partner, create a brainstorming list of what you can include on your memory tile. You can include any background information that we have already learned (there's a lot!). You can include symbols and pictures which you think might be important. However, think about WHY you are putting what you are putting on the memory tile. Don't just put random stuff on there! Have a good reason in mind for what you are doing so that you can explain it thoroughly and accurately when asked.
2) Turn in your brainstorming list to Ms. Wilson. The due date for the memory tile will be announced in class. Make sure that you have all the materials that you need from the classroom: black cardstock, your child's name & biographical information, and art supplies that you might want to use.
Activity #3:
1) Each person will write a one page, double-spaced typed reflection describing what you have learned during this unit. Include your experiences from the classroom, our field trip, our reading of Night (Wiesel), and this WebQuest activity. Reflect on what you have learned about tolerance and respect for others.
Evaluation:
Each person in your group will be graded using the following criteria (Hille & Merlo, 2002).

  Refer to the rubric below for points and descriptions. Pay close attention to the "Use of Time" column as your performance in the computer lab will also be part of your grade.

 
 

Beginning

1

Developing

2

Accomplished

3

Exemplary

4

Score

 

Originality of Memory Tile  

Uses other people's ideas (not giving them correct credit), with little evidence of original thinking.

Uses other  people's ideas (giving them credit), but there is little evidence of  original thinking.                          

 

Product shows some original thought. Work shows new ideas and insights.

 

Product shows a large amount of original thought. Ideas are creative and inventive.

 

 

 

Content of Memory Tile

 

 

Content is typically confusing or contains more than one factual error.

 

The content is generally accurate, but one piece of information is clearly flawed or inaccurate.

 

 

Most of the content is accurate, but there is one piece of information that might be inaccurate.

 

All content throughout is accurate. There are no factual errors.

 

 

 

Conventions

(Memory Tile & Final Reflection)

 

 

 

More than 6 errors in grammar, usage, and mechanics.

 

Six errors in grammar, usage, and mechanics.

 

Three or fewer errors in grammar, usage, and mechanics.

No errors in grammar, usage, and mechanics.

 

 

 

Use of time in computer lab

 

 

Used time poorly (as shown by observation by teacher)  in spite of several adult reminders to do so.

 

Used time well (as shown by observation by teacher) but required adult reminders on one or more occasions to do so.

 

Used time well during most class periods (as shown by observation by teacher) with no adult reminders.

 

Used time well during each class period (as shown by observation by teacher) with no adult reminders.

 

 

 

 

 

 

 

 

 

 
Conclusion: At the end of this WebQuest you will have learned more about the children who perished in the Holocaust. You will have created a memorial to one child. This will be a testimony to your knowledge and compassion for others. Instead of simply reading about facts in a textbook or watching a video, you will have been able to read about actual children who lived and breathed but died valiantly during one of the worst times in our history. Take this experience with you and learn from it. Tolerance, hope, and respect for others is an important lesson for us to take into this world!
References: