Fall Edition of Let's Talk
The CHHA-NCR Branch is pleased to offer another session of the "Let's Talk" speechreading and communications strategies course this fall, running every Thursday evening from October 4th to November 29th, 5:00pm to 7:00pm. Seating is limited, so register today by emailing Alena Wickware at 
chhancr@gmail.com
. 
The deadline to register is September 27th 2018.
(posted on August 23rd, 2018)
RSVP Required! Please reply to confirm your seat at our AGM! / Notice of CHHA-NCR Branch Annual General Meeting and Call for Nominations
Hello friends of the CHHA-NCR Branch,
This email is to notify you that the date for the CHHA-NCR Branch Annual General Meeting and Board of Directors elections has been moved.
Due to the availability of hearing accessibility services, the AGM will be held on Wednesday, April 11th 2018 from 6:30pm to 8:30pm in the Ogilvie Towers event room – please find below this message the Notice of AGM with more details about this meeting.
Please note that this is 
a Special AGM notice
, as there will be an election held for new and returning Board members. All positions are open for nominations, so this is your opportunity to share your voice, enthusiasm and skills on your local CHHA Branch Board of Directors. 
To date, we have not yet received any nominations forms – without nominees for the Board of Directors, the NCR Branch could be faced with dissolution. If you have ever considered giving back to your community, now is the time!
You will find 
the Nominations form
 if you are interested in submitting your intent to run for a Board position – please note that at least two supporting signatures are required for those who wish to submit a nomination for a Board position. If you are unsure who to ask for a supporting nomination signature, please contact the CHHA-NCR Branch and we'll be happy to help with this.
Finally, you will also 
the AGM agenda
 for a brief itinerary of the events taking place that evening. Parking is free, hearing accessibility and refreshments are provided with our compliments as thanks to our members. 
Many thanks for your support of our Branch and we look forward to seeing you on April 11th!
CHHA-NCR Branch
Marie-Claire, Karla, Margaret, Christine and Alena
It's time to give
In order to fulfil our mission and provide services in our community, we rely on the generosity of individuals and businesses for support. Without the assistance of community-minded individuals like you, we wouldn't be able to serve those who live with hearing loss in Ottawa each year.
We ask that you make a commitment to support our annual appeal by making a donation through our CanadaHelps page online. This year our goal is $1,500.00, and we hope that you will be able to make a contribution. Your generosity will make a difference in our community by allowing us to continue the work achieved entirely by volunteers. Please visit the 
CHHA-NCR CanadaHelps page
 today, so that we can continue to help those who live with hearing loss in Ottawa.
Thank you in advance for your support! 
Annual General Meeting
CHHA-NCR Branch is holding their AGM on 
April 8th 2017 from 1:00pm to 3:00pm
 at the Alta Vista Library meeting room – click the following links for 
the Notice of AGM
 and 
the Agend
a.
Parking is free, hearing accessibility and refreshments are provided with our compliments as thanks to our members.
Let's Talk
The NCR Branch is also planning a spring session for the Let's Talk speechreading and communications strategies course! The course is planned every Saturday afternoon, for April 15 to June 24th from 1pm to 3pm (with the exception of May 27th, as there is no class that day). 
If you are interested in attending this course, please email Alena Wickware at 
chhancr@gmail.com
 for more information. Registrations will also be accepted at the CHHA-NCR Branch AGM.
Federal Accessibility Legislation: have your say!
The Government of Canada is committed to developing new planned accessibility legislation to promote equality of opportunity and increase the inclusion and participation of Canadians who have disabilities or functional limitations, this is your opportunity to provide feedback that will influence this legislation. 
Provide your feedback through their survey or in another format of your choice:
Participate in the online questionnaire until February 28th, 2017. The questionnaire is also available in an accessible PDF version.
Submit your feedback in the language of your choice (English, French, American Sign Language or Langue des signes québécoise) and preferred format such as online, handwritten, video or audio submissions. You can provide your input to the Office for Disability Issues via:
Phone: 1-844-836-8126
TTY: 819-934-6649
Fax: 819-953-4797
Email: accessible-canada@hrsdc.gc.ca
The Canadian Hard of Hearing Association is also collecting feedback through surveys and consulations – for more information, visit CHHA Spotlight on Invisible Disabilities Project website at the following link: 
http://chha.ca/chha/spotlight.php 
The CHHA-NCR Branch gets green light for speechreading course funding!
With the success of the Canadian Hard of Hearing Association-National Capital Region (CHHA-NCR) Branch's first Let's Talk, speechreading and communications strategy course last Fall, good news came early this year with the approval of funding from Desjardins Caisse Populaire Rideau-Vision d'Ottawa.
Last December, the CHHA-NCR Branch submitted a project proposal to offer more speechreading classes in 2016 to people living with hearing loss in Ottawa, and was granted approval to expand these courses. Since the Let's Talk course was first offered at the Sunnyside Branch of the Ottawa Public Library, the NCR Branch has had a growing waiting list of people wishing to attend these speechreading classes.
The CHHA-NCR Board of Directors have been invited to an Award ceremony hosted by Desjardins on March 15th, where they will give a brief presentation about the Let's Talk course and receive their funding.
"What a victory for our growing Branch!" said Alena Wickware, President of the CHHA-NCR Branch and speechreading instructor "This funding allows us to help people with hearing loss to learn the basics of lip-reading and other visual cues to aid in understanding – what we call speechreading, and communication strategies so they can set themselves up for success in conversations no matter where they are." 
Speechreading and communication strategies can help anyone with hearing loss, they're free to use, they reduce stress, do not require technology to implement and it supplements information that is heard using personal amplification, especially in noisy environments and in cases where speech discrimination is a challenge. 
Using Speechreading and Communication Strategies can help people with hearing loss to take the lead in conversation, reduce isolation and provide a back-up plan when technology fails. It provides additional tools that people with hearing loss can call upon as the need arises - after all, communication is so much more than just hearing. Communication is a way to share information, thoughts and feelings with colleagues, friends, family and the people we interact with every day in business, school and the public - we all do it differently, and it can empower people learning to adapt to hearing loss when done in a knowledgeable way.
The CHHA-NCR Branch offers the Let's Talk course so people can learn to use these tools in a safe environment with people that understand and empathise, and provide the opportunity for people with hearing loss to connect and share with others living a similar experience.
If you, or someone you know, is interested in learning more about the Let's Talk course, please contact us at chhancr@gmail.com for more information.
Walk2Hear Ottawa successfully raised funds needed for new hearing accessibility equipment!
With the help of our walkers, donors, community partners and sponsors, the CHHA-NCR Branch successfully raised $4,477.60 in pledges, 44 walkers raising $875.00 in registration fees, and $250.00 in sponsorships.
In our agreement with CHHA National, there is a 50/50 split for pledges and registration fees, which works out to be $2,676.30.  When we add the sponsorship money to this amount, the final disbursement cheque issued to CHHA NCR will be $2,926.30. 
With the funds raised from our 50/50 tickets and silent auction, a total of $386.00, is added we have successfully offset all of the costs of purchasing the Simeon Soundfield and Contego FM systems.
If you would like to see the breakdown of the funds distributed from CHHA National, please 
click here
.
The NCR Board would like to extend our thanks to everyone who helped to make Walk2Hear Ottawa this past September such a success!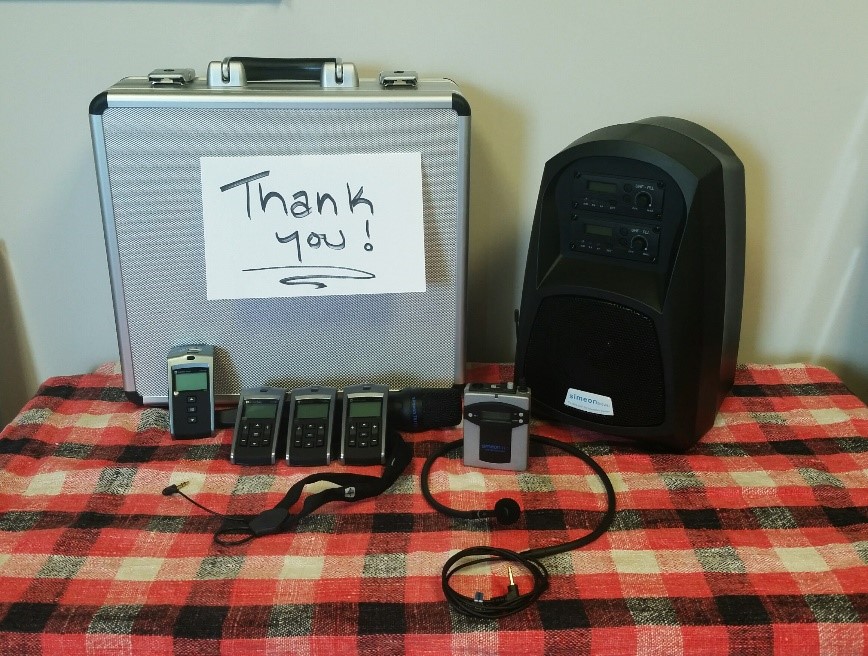 CHHA-NCR announces a new Board!
The Canadian Hard of Hearing Association - National Capital Region Branch (CHHA-NCR) recently completed an Annual General Meeting (AGM) in Ottawa, and successfully elected a new Board of Directors to oversee events and activities for people living with hearing loss in the nation's capital.
Past President, Louise Normand addressed a small, but passionate group during the AGM, stating "I'm so happy to pass the torch to this new board; we have a great group of people with a variety of backgrounds, experiences and skill sets to offer the NCR Branch." Former NCR Board Member, Michel David also expressed his enthusiasm for the new board, saying that "this is going to be a strong board, with a mix of long-time members who have seen the many changes CHHA-NCR has experienced over the years, along with some new members who are eager to learn and contribute."
The new NCR Board is comprised of 6 members including, Alena Wickware as President, Marianne Keyes as the Vice-President, Angèle Charlebois as the Secretary, Karla Wilson as the Treasurer, as well as Janice McNamara and Marie-Claire Gratton filling the two available Member-at-Large positions.
"I am so excited to work with such a wonderful team!" explained Alena, "I know NCR Branch will be offering Speechreading and Communication Strategies courses for people living with hearing loss; during the 2014 Walk2Hear fundraiser, we raised a little more than $3500.00 to help provide these courses to members of the NCR Branch free of charge, and I know we're very excited to begin organizing these workshops."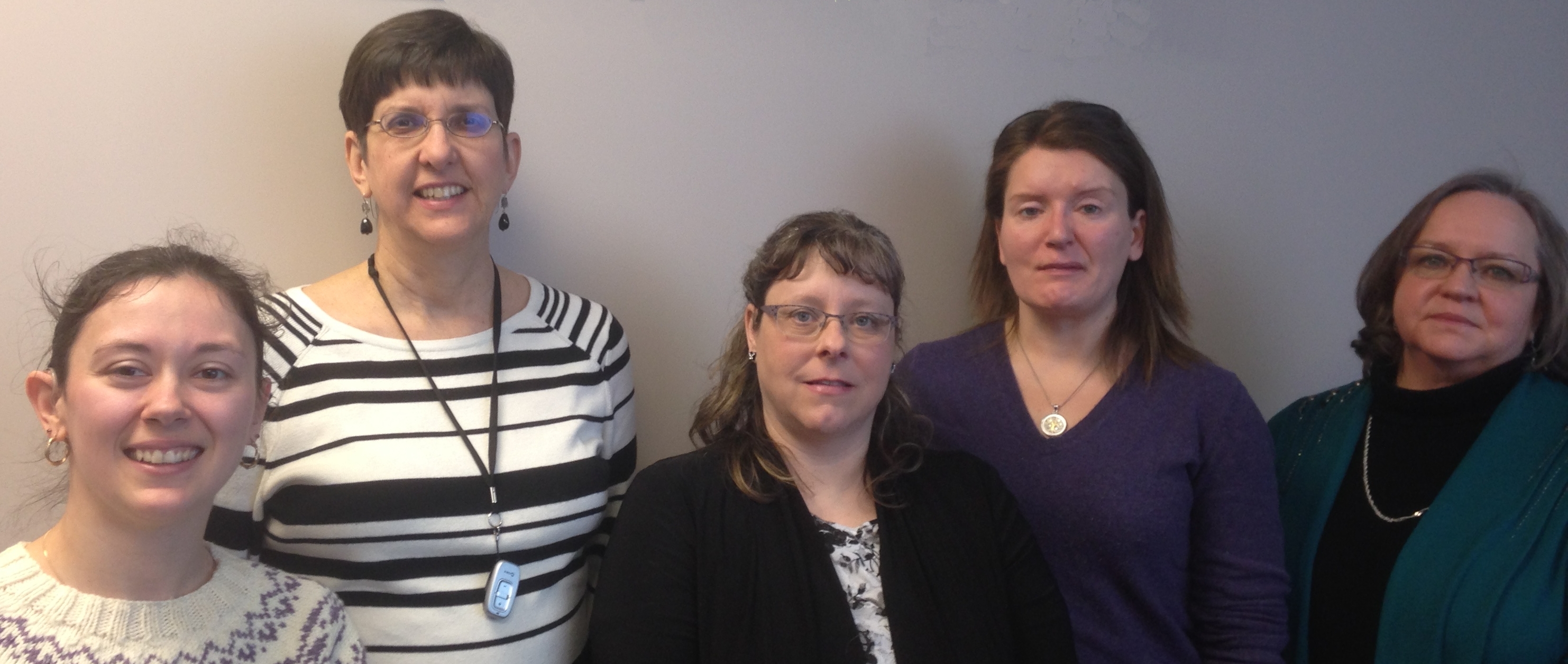 Photo, left to right: Alena, Marianne, Karla, Marie-Claire and Janice.