Chatsworth in the News 2015-2017
Tidbits of Chatsworth News from the Area Newspapers
Watch this page for local news, kind of like a local newspaper.
Also visit the town website for local news.
This article is from the Pontiac Daily Leader 12.24.2014
This report is from 2014 but it starts this new page off right.
Story of how one person views Chatsworth at Christmas time.
Thanks to this reporter for reporting how most of us feel about our hometown!!
CHATSWORTH
BY MARE REARDANZ
There is much to be said about Christmas in a small town. It is free of the congestion, traffic and over stimulation. It relieves you of the rush and hurry of finding the perfect gift times one hundred. You don't have to stand in line to check out and never wonder if the gift you bought will be duplicated. Big cities have public transportation and cabs to wait for, small towns will never have that. The list goes on and one.
But Christmas in Chatsworth is more like it used to be. We have time to say hello to a neighbor--even if it is at a stop sign just for a moment. Our postal workers know you by name and everyone in your family.
They share the excitement when a package arrives in your box. They go out of their way to make sure your packages arrive on time.
When you walk down Locust Street and see the greenery planted in all the planters sparkling with ornaments, it is obvious that someone in town cares enough to decorate hoping to bring a smile to a passerby. Maybe walking down that street will rekindle a memory of parents and children and how many years have passed. Where does the time go?
The town employees have spent much of their days hanging decorations from the light poles. Even the town board members pitched in and assisted in the project to keep everyone safe. The town glows with small town pride. There is a peaceful silence as you listen to the Christmas music playing in the distance, the smell of a fireplace burning logs. Wrap your coat around yourself and remember the way your Mom used to do it before she let you play outside. Bring the happy memories out and relive the joy.
Christmas is still a lot more than 50 percent off sales and meeting deadlines, buying online and spending money. It's baking cookies to share and emphasizing your blessing. The appreciation for the loved ones you share this holiday season that might not be here next year. It's the children. The gifts money can't buy. Time. Taking time out to forget the job and the bills, the shortcomings and the failures. Love yourself, your family, your town and your country.
Merry Christmas everyone, from the town of Chatsworth.
From The Paper of Dwight:
A Musical Christmas Eve
St. Paul Lutheran Church, Chatsworth, presents "Through the Eyes of a Child" at 7:00 pm on Christmas Eve. The worship service features seven Christmas songs accompanied by reflections on the meaning of Christmas by Pastor Scott Olbert.
Christmas sons include "Some Children See Him", "Believe", "Have Yourself a Merry Little Christmas", "Celebrate Me Home" and "The Christmas Song". The worship service also includes favorite Christmas carols, a candle lighting ceremony and the celebration of Holy communion.
The Christmas Eve Band features Denny Gregory, guitar and vocals; Joe Palma, drums and lead vocals; Steve Wahls, bass guitar and vocals; Jim Erdman, guitar and vocals; and Scott Olbert, keyboard and vocals.
St. Paul Lutheran Church is located at the corner of South Sixth and Walnut Street in Chatsworth. The church is handicapped accessible. 
From the Pontiac Daily Leader
Jan.22, 2015
By Mare Reardanz
CHATSWORTH--Some of our unsung heroes work right here in Chatsworth.
The Baltz Library of Chatsworth has so much to offer because the library board has approved many new activities for the first quarter of the year. 
"Now that we have more room and this beautiful building, it is exciting to plan activities and parties for all ages." librarian Karrie Painter recounted. "We are beginning to plan a Valentine's Day party for adults. There will be dinner, games and prizes on Friday Feb. 14, from 6 until 9 pm here at the library."
"The board also approved a community garden to be located on the library grounds. Residents can plant and maintain a tilled area for crops of their choice. Any surplus produce can be sold at the Home Grown Chatsworth Farmers Market or donated to the Livingston County Food Bank. There will also be a children's gardening program complete with instructions for learning how to garden. The children will benefit from seeing how the food we eat grows and literally reaping what they have sown.
The story hour for children of ages kindergarten through second grade continues on Wednesdays from 3:45 to 4:45 pm. 
Students from third through seventh grade will begin an introductory book club at the same time in a different room in the near future. 
"Circulation has increased dramatically since the opening of the new library last September", librarian Norma Koerner said, "We used to check out about 300 books per month, and we are now up to and exceeding 1,000 books. That is quite an increase in such a short time. We have new books coming in regularly."
The library is not just the books it houses. It encourages everyone to expand their knowledge in every dimension. There are ample computers with Wi-Fi. Videos both for entertainment and instruction are available and an experienced staff will answer questions. 
It is hoped that there may be classes offered on computer usage and first aid/CPR, to name a few of the special activities. 
Library Director Mary Fisher-Miller and her staff, Norma Koerner, Karrie Painter and Zach Holt are truly the super heroes of the Library. Who knew their super power is reading? 
From the Daily Leader
VERLA TAUBER HONORED FOR HER IMPACT
March 4, 2015
Chatsworth-March birthdays in Chatsworth were celebrated recently at the St. Peter and Paul Parish Hall.
Among them was Verla Tauber, achieving the 100-year mark. She invited friend to join her in celebration.
Tauber has been a voice for the St. Peter and Paul Catholic Church for years. Some say it was her determination that has kept the church in Chatsworth going. 
"I love everybody and everybody loves me," Tauber stated when asked what she liked best about Chatsworth.
She and her husband, Sam, came from Kouts, Ind., in 1953. They raised three children, Sam, Jane and Kay. Tauber was also the neighborhood mother.
"Whenever children had a dispute or an injury they all knew to go to Mrs. Tauber's house," Connie Dohman remembers. 
Yes, Chatsworth does love Verla Tauber and appreciates all the acts of kindness this dear lady has bestowed upon it.
From the Pantagraph
Spencer is the grandson of Gerald and Helen Bayston.
April 23, 2015 6:30 pm • By Bruce Yentes Like most 16-yearold high school sophomores, Spencer Bayston has some classes he likes more than others. "There's a construction class that I really enjoy, where we'll actually build a house our junior and senior year," he said. Unlike most 16-year-old sophomores, Bayston also will be getting acclimated to racing a high-powered sprint car while simultaneously learning how to read a blueprint. While it's still unclear how he'll fare in pounding nails according to specifications, his attempt at building a racing career has gotten off to a resoundingly successful start. Two weeks ago, the youngster outdueled reigning series champ Zach Daum to capture a POWRi Lucas Oil National Midget Series feature at Belle-Claire Speedway in Belleville. He'll try to repeat the fete this weekend when the POWRi series visits Central Illinois and Jacksonville Speedway on Friday night, before competing at Macon Speedway on Saturday. While winning a national touring series event is certainly a feather in one's cap, Bayston's most impressive accomplishment may have come earlier this year. That's when he outran well over 300 entrants, many of them familiar names to the most casual of racing fans, for one of only 24 starting spots in the iconic Chili Bowl in Tulsa, Okla. That came to the delight of car owner Bryan Clauson, who also provides Bayston with some coaching and tutoring. When it comes to wheeling a midget or sprint car, Bayston would be hard-pressed to find a better mentor. Although only 25, Clauson already is a three-time USAC National Sprint Car Series champion, has been a runner-up in the NASCAR Nationwide (now Xfinity) Series rookie chase and has an appearance in the 2012 Indianapolis 500 on his resume with another on the slate a month from now. Clauson's father, Tim, serves as "crew chief" on Bayston's POWRi midget and sees some similarities between Bayston and where his son was 10 years ago. "Bryan had more experience when he was 16 than Spencer has, but I'd say there are a lot of the same characteristics," Tim Clauson said. "Speed-wise, instinct-wise, he's got that." The thing that most impresses the elder Clauson about the up-and-coming Bayston is the youngster's character and eagerness to learn. "We try to find young kids that we feel have the talent to get to the next level and we try to give them our experience, equipment and knowledge to speed up the learning curve," Clauson said. "The one thing about Spencer that sets him apart from most kids is his maturity. He understands it's a process and he never gets ahead of himself. Early on he would have flashes of brilliance, but he never got a big head and thought he was better than he truly was. That was especially good, because there would then be nights when we would really struggle." Bayston says there were indeed ups and downs in last year's season that netted him POWRi Rookie of the Year honors. "We'd have a few good nights with good finishes and then right after that I'd be awful," he said. "I'd spin out, wreck the car or make mistakes. "It could be a humbling experience, but Bryan was always there, coaching me and telling me what I was doing right or wrong. It was always in a positive way and he kept up my confidence. Tim Clauson said that after some early struggles, by mid-season Bayston began consistently running among the POWRi leaders, putting himself in a position to win. In finally happened in just the third race of his second season. Bayston first appeared on Clauson's radar as a 14-year-old when he won 10 of 15 main events and the championship in the Mel Kenyon Midget Series, an Indiana-based "spec" series. Prior to that, Bayston raced a quarter-midget and a 600cc Micro Sprint, primarily for the simple fun that it provided through a family outing for he and his father, Brett. The Baystons' fun extends beyond racing. They also enjoy spending time together in the outdoors and in the late fall and early winter they've had occasion to wend their way through the harvested corn and soybean fields of Livingston County, hunting pheasant together. The family resides in Lebanon, Ind., but Brett Bayston grew up in Chatsworth and was a member of the final graduating class at Chatsworth High School before it consolidated into the Prairie Central school district. After graduating from the University of Illinois, he took a job with the Edward Jones brokerage firm in Marion, Ind. It was in Marion that he met his wife, Shari. Spencer has an older sister, Grace, who is a senior at Lebanon High School. His grandparents, Gerald and Helen Bayston, still live in Chatsworth and frequently attend his races, as does an uncle, Bart, who lives in Jacksonville. Those races this season will include a focused foray into USAC midgets. Bayston also will split his time between POWRi midgets and some regional sprint car racing in Indiana. A move into the more demanding and powerful USAC national sprint car ranks shouldn't be too far off, but with Clauson's guidance, they're taking it all one step at a time. Bayston had his first sprint car test at Paragon Speedway in southern Indiana the Sunday after winning his first POWRi feature at Belleville. "He looked natural in it," Clauson said. "As good as he ever has." Contact Bruce Yentes at byentes@pantagraph.com 
From the Daily Journal
Sept.3, 2015
H. Elery Perkins of Chatsworth is celebrating his 100th birthday with a gathering being planned by his family from 5 to 12 p.m. on Saturday, Sept. 5 at the Country Kettle in Gibson City. He was born on Sept. 9, 1915, in rural Chatsworth and has lived in the area his entire life. He has two children: Ronald Perkins, of Chatsworth; and Judith Green (deceased). He also is blessed with four grandchildren, seven great-grandchildren and two great-great-grandchildren. He married Margery Eleanor Hoff on March 29, 1941. She passed away on March 13, 2008. Elery is a retired farmer, trucker and crossing guard. He enjoys camping and spending time with family. 
2016
From a Fairview Haven Newsletter, read little bios on Dean Nussbaum and Mary Bargman Hornickel. There is also photos in this publication of some Chatsworth residents who reside there.
From the Pontiac Daily Leader
By Luke Smucker
Posted Mar. 17, 2016
Chatsworth, Ill.
In an effort to bring the bluebird back to the Chatsworth community, Pontiac Township High School environmental earth science students and Life Skills students worked with Prairie Central Junior High School students, the Chatsworth Citizen's Advisory Board, Livingston county Board members and local residents to place 80 bluebird houses throughout the Chatsworth community last Saturday. 
The species is significant to the village because prior to Chatsworth High School consolidating they were the Bluebirds.
Pontiac Township High School teacher and Livingston County Board member Paul Ritter said the project began with an anonymous donation of 36 bluebird houses, which inspired the Chatsworth community to come together in efforts to bring more Eastern bluebirds to the area.  
"This project is about the community pulling together to experience something that can be enjoyed by everyone." Richard Runyon, mayor of Chatsworth and member of the Citizen's Advisory Board said.
"The bluebird is native to our area and with it being the old high school mascot, it is near and dear to our hearts. With the diminished population of these beautiful birds, this community effort is not only a great thing for our residents, but also for the environment we love."  
The event was officially called the Chatsworth Bluebird Celebration. It was held at the Chatsworth American Legion to recognize the students and teachers with approximately 150 people attending. Joe and Janet Fornerius, bluebird experts from Dwight and members of the National American Bluebird Society, hared tips with the audience like where bluebirds like to next, how to care for the houses and how to identify the bird by its song.
Students at the Chatsworth Elementary School created wall and table decorations for the celebration and certificates of appreciation were presented in recognition of their work.  
"We expect more folks to jump on board and want to install their own birdhouses," Runyon said. "Our local Corner Hardware store is stocking bluebird house kits complete with the conduit and rebar to erect them."
"Already, residents from Strawn, Forrest, Piper City and Fairbury have shown an interest in coming on board with this project and we welcome everyone who wants to participate. This gives all of us in our communities something to look forward to this spring."  
reflecting on the weekend, Life Skills student Robert Betts said, "it was a fun way to give back to Chatsworth."
"I really enjoyed how nice the mayor was," Betts said. "It gave me a good feeling to help put up the bird houses. It's not very hard to put these houses together and I think it was a great experience to be part of it. I haven't seen a bluebird yet, but maybe I'll get to see one in the future." 
For more information on the project, contact Runyon at 815-674-5497 or email rarunyon@frontier.com. 
BLUEBIRD RETURNS TO CHATSWORTH
FROM THE BLADE
March 23, 2016
by Kent Casson
The Chatsworth Bluebirds are coming back.
At least that's the hope of volunteers involved with the town's Bluebird Project. Someone came forward and donated over 30 bluebird houses after a young lady wrote a report on the bluebird explaining her dream of consistenly seeing the soaring creatures on her family's farm. 
Chatsworth Mayor Richard Runyon and Joe Steichen of the Livingston County Board and the youngster approached the town about the effort to provide the proper habitat to attract the birds.
"We got together and got a plan. Paul Ritter and his (Pontiac High School) class got involved and did research for us and Mrs. Baumgarden from Pontiac High School got her class involved," explained Runyon.
The Chatsworth Citizen's Advisory Board is involved with the project and has already started putting up bird houses. A recent Bluebird Festival is being considered a success, with 150 people in attendance enjoying a pork roast and pictures drawn by students. The houses are on sale at Corner Hardware in Chatsworth.
"We're going to try to keep this rolling year-after-year because bluebirds don't necessarily show up in the first year when you try to attract them," Runyon added. 
Students performing research on the habitat, nesting and feeding of the birds learned that erecting two birdhouses fairly close increases the chances of seeing a bluebird. Shelters should be place in areas partly covered in grass with short ground cover and scattered trees. Bluebirds eat spiders, insects, small berries and caterpillars.
According to the Chatsworth Illinois Memories webpage, the Bluebird name was first used in the fall of 1940 during a game with Onarga. The site states the name was voted on by students in 1939. Chatsworth was reportedly known as simply the "orange and blue" team prior to that.
Here is another interesting tidbit about the school: consolidation was considered prior to 1950 with Forrest and Strawn. By the end of the 1960's the school considered consolidating with Kempton-Cabery, Piper City, Forrest-Strawn-Wing, Saunemin and Cullom.
Anyone wanting to volunteer with the current Bluebird Project should call 815-674-5497.
From the Pontiac Daily Leader
By Luke Smucker 
Posted Aug. 12, 2016 at 1:42 PM 
Chatsworth, Ill. She grew up in Chatsworth, graduated in Chatsworth and now, she's been working at Citizens Bank of Chatsworth for 40 years. Nancy Gerdes-Hibsch, a loan officer and vice president at Citizens Bank of Chatsworth, considers the bank to be her second home and the customers to be friends and family. "People that know me, know I'm not one to boast," Gerdes-Hibsch said. "But, I'm pretty proud of working at one place for 40 years. In this day and age, there probably aren't many people who have been at the same job for 40 years. "I'm not saying it's not a good move, but for me, it was a good choice to stay here. I grew up in this area, my first husband was from this area, my family was from this area — so it was perfect to have a job right here in town." An open house will be held on Aug. 16 to commemorate her years of service. She started at the bank as a drive-up bank teller. Although she has taken other positions throughout her years with the bank, she said the teller position is one that she still holds in high regard. "I like a challenge, so every chance that they gave me to advance, I looked at it as, 'I'm going to conquer that challenge,'" Gerdes-Hibsch said. "I knew, with each position I moved to, there was much more to learn about banking. That's not to say that being a teller isn't important, I have a lot of respect for tellers because they are the ones who make a difference when customers come in." She worked as a teller for a few years before being offered a job in bookkeeping, which is now commonly referred to as "operations." "When I got to go back to bookkeeping, I realized how everything worked and it helped make other duties of the job make sense," Gerdes-Hibsch said. "Then, when I came to the secretary position to the loan side of the bank, my work in book keeping made that job easier and likewise, when I became the bank's loan officer, that just made this job that much easier for me." Working 40 years is a lot, but Gerdes-Hibsch said she's not done working yet. She hopes to continue working at the bank until her retirement. "Banking has changed a lot over the years, some changes for good, some I'm not so sure, but you know, that's life," she said. "There are always going to be changes, you just have to be receptive of those changes to make everything go in a positive direction. I have had an opportunity to grow in a small town bank with opportunities that I probably would not have had at a larger bank. I am very blessed to have worked in the same business for so many years."
Outside of banking, Gerdes-Hibsch said she enjoys spending time with family and friends. "I like to get together and do things, go on vacations and such," she said. "I feel fortunate to have a job that has allowed me to enjoy my leisure, too."
From WJEZ
By Cynthia Grau/WJEZ News
WJEZ would like to welcome Dana Bell to the staff.
Dana is a native of Chatsworth, currently living in Pontiac and has joined the crew as our new building assistant.
She said she's looking forward to learning everything about the station, as it's her first job in radio.
"Just diving into radio in general-I've never had any experience in it, so it's definitely something different and challenging for me, and that's what I'm most excited about," Bell said.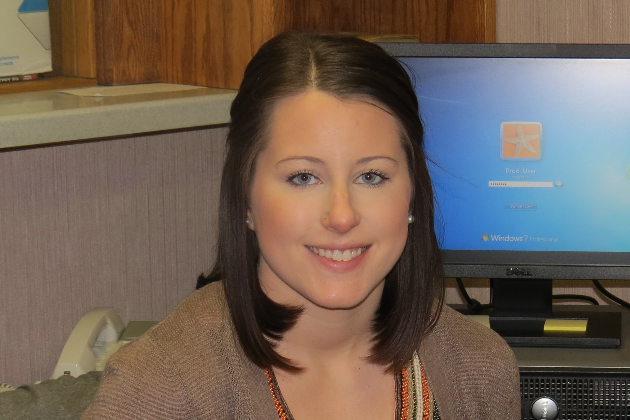 From The Blade
September 7, 2016
Chatsworth--Main street in Chatsworth was a busy place on the morning of Aug. 27 because of the weekly farmer's market, monthly Junk in the Trunk and the Touch-a-Truck event, sponsored by the Citizens Advisory Board.
Local farmers, businessmen and community members participated, bring 15 different vehicles to line the street. Participants allowed children to climb on, sit in, honk horns and even take photos with the vehicles. 
SELCAS ambulance was open for viewing and the Chatsworth Fire Department was giving rides. children also participated in "weed pulling" in the community flower gardens. For their goods, the children were allowed to play in the fire department's water hose. children were given a free meal, ice cream cone and an allowance to purchase something from the vendors.
The CAB sponsored a food tent, serving pork chip, chicken and hot dog sandwiches, chips and drinks.
From The Blade
August 17, 2016
CHATSWORTH — A lone cowboy from Fort Pierre, S.D., with a message, has been trekking across America since June 5. In the past week, he has been staying in places like the Circle K Ranch in Fairbury and at a micro house on the property of Merle Bates in Chatsworth. 
Tony Jones is on a mission for veterans awareness, specifically veteran suicide prevention, but he sees the treatment of veterans as a piece of a bigger issue, the lost unity of America. At some point each day, Jones calculates how many veterans have committed suicide. 
"Right now, it's more than 1,400," Jones said. "On average, 22 veterans commit suicide per day. What is that? That's a problem and we're not solving it. I see it as a symptom of a big problem, we're not taking care of these people." 
Jones' motivation comes from his belief that America is a country defended by heroes and if Americans are not willing to take care of those heroes, they aren't deserving of the soldier's sacrifice. Instead of looking down on Americans, Jones' mind is full hope. "Traveling at three miles per hour, I've had a lot of time to think. Although my mission hasn't changed, my expectation has," Jones said. "I thought America was lost, but it took me about 20 miles to figure out that America is still the same great place it's always been. 
"I came across the country thinking, "if I found one person that would do something for someone else, I was successful. It turns out, I've found hundreds — I've done well. I've talked to the people and they've proved to me that we're better than that." 
Jones' goal is to make it to Washington D.C. and tell congress that the government isn't doing enough to help its veterans. "I know that veterans are not the only group with issues in America, but if we could love each other enough to take care of this one issue, think of what that would motivate us to change next," Jones said. "Why not do that? You don't have to ride across the country to get something done, all you have to do is go over to your neighbor's house and start a conversation."
"Find somebody who needs you and help them, why not? What's the difference? I believe if one person in your family has a problem, you've got one, too. I promise, if you just go out and help somebody, it will change your life forever. I know what it feels like to be helped and I'm not that lucky. In some cases, I shouldn't even know. I'm not that good of a person. I'm not a prophet and a saint. I'm just a messenger with a message for Washington D.C. and they will hear it when I get there.
Jones stopped in Chatsworth for a few days because of the heat and to switch out his horse for one of the four horses he is using for the journey. During that time he was able to talk to the local legion chapter, as well as other residents in the area.
"I never knew much about Illinois, I had visited a couple places years ago, but Illinois has been so great since the minute I rode across the border into Warren." Jones said. "Actually the police escorted me into Warren. I told them that was the first time I'd ever been police escorted into a town, usually they are escorting me out."
" While traveling through Illinois, I've met a lot of people and I can't believe how good they are. I've sat and listened to them talk, I've heard their fears and their issues. I know that America can be greater than it is because I've met the people of Illinois and I know how good they are."
When asked why he decide to ride a horse across the county, instead of traveling by care or some other means, Jones said, "Horses discovered this country, horses settled this country. There's just something about a horse that still impresses people. When I ride by schools or daycares, the little kids come running and pet the horse."
"I might be a cowboy, that's what I did for a living, but first and foremost I'm a human being and a citizen of the United States. It doesn't matter how I get from one place to another, or what I ride, people see me and realize that I'm no different than they are- that's my hope for America."
From the Daily Leader
Oct. 15, 2016
By Luke Smucker
 Within the past decade, there has been a resurgence in people's interest in their own genealogy, as well as the history of the place where they live. Is the speed of technology moving too fast? Or have we, as a society, pushed so hard to get ahead that it made us long for what we left behind? 
Dave Hornickel, a Germanville farmer and historian, recently gave a time capsule to the Baltz Library of Chatsworth Township for safe keeping. Inside the time capsule were documents ranging from the 1890s to the 1960s.
"Chatsworth had a cornerstone and they put a time capsule in it with things from 1941," Al Freehill, a local attorney, who grew up in Germanville, recalls "The idea was that every 25 years they would reopen it. So, in 1966, they did. They held a big gathering and then they opened up the time capsule, took a look inside and eventually added to the time capsule before putting it away for another 25 years," Freehill said. "Then, about 25 years later, they stopped using the town hall." 
Hornickel said, at the time, the plan was to tear the town hall down because it was going to cost a lot to repair. The plan was to build a new town hall in its place, but nothing ever happened. So, the time capsule was given to Hornickel's family for safe keeping. After years and years of hanging onto this time capsule, Hornickel wanted to do something special with it. So, he asked Freehill what to do. "David came into my office several months ago and asked what he should do with this time capsule. My thought was to donate it to the library. So, we called up Mary and she was fine with it," Freehill said. "The content of the capsule is mostly focused on Germanville." 
In addition to newspapers of the time, the time capsule contained minutes from old Germanville Club meetings and a guest book, as well as minutes from a Germanville Woman's Club meeting. "There were more clubs back then than I realized," Hornickel said. "We also found a picture that features the Germanville officials during 1966 and their names on the back. Someone also put in a document that lists all the teachers at the time and what they were paid, as well as a document with the names of all elected town officials that starts back in 1893. A lot of the old Chatsworth names are in there." Library director Mary Fisher-Miller said the time capsule will eventually be on display with a lot of other local historic items, for Chatsworth's sesquicentennial, next year.
"I don't intend to bury it again," she said. "I think we'll store it in the safe and next year, all the glass cases will be on display with this material. It will also be available for anyone who wants to do research." 
This may be the end for the time capsule, but by donating it to the library, all involved hope it will be of use to people who may be doing genealogy research. They also hope that similar items will be donated by community members who may have local historic materials they no longer wish to hold on to. 
"When I cleaned out my mother's house, we were rushed for time, but now I think of all the things I threw away. If I had two more months, I would have preserved a lot of that. Things like letters my uncle had sent from overseas when he was in the war," Fisher-Miller said. "What frustrates me the most about losing those letters, is that it's such a lost past time. I remember how fun it was to get a letter out of the mailbox from my grandmother or somebody. Nobody really writes letters anymore. We've started to lose that art of communication, but time is cyclical and we're going to come back and we'll have this decade or two of lost stuff because we're in such a hurry to move on to the next new thing." 
In addition to holding onto local historic artifacts, Fisher-Miller said the library is also in the process of raising money to digitize all the old issues of the Chatsworth Plaindealer newspaper. The goal is to put them on a CD that would allow people to search for specific terms or people and then get a listing of all articles that feature that name or keyword for viewing. "I think there has been a resurgence in people being interested in their history," Fisher-Miller said. "All of a sudden people are really interested in their roots. They are really interested in embracing their heritage".
L. to R. Mary Fisher-Miller, David Hornickel, Al Freehill.
What do this engineer, builder and zoologist have in common? The bookies don't take odds on farmers, but if they did, Vegas would take a tremendous beating on a treble of Illinois operations. Whether part of an emerging trend or an exception that proves the rule, three producers have returned home after successful non-agriculture careers, and defied probability by living and working ground within a few miles of one another. Even when a farm operation is profitable, the surplus can be wafer thin many years. In plain terms, there often isn't space for two families. Father or child, the realities of agriculture often require someone to step aside. These hard margins triggered the life paths of three producers in Chatsworth, Ill., about 100 miles northeast of Springfield. Each walked away from farms for careers in software, construction and zoology only to return. The initial exodus of producers John Wilken, Erik Kurtenbach and John Dassow isn't uncommon, but the story of their return and proximity is singularly unique. 
On flat ground just north of Chatsworth, Wilken, 45, grows corn, soybeans and wheat on 660 acres of rich black soil packed up to 18" deep. His fields are separated by hedgerows and ditches, with almost no trees to break up what is essentially prairie ground. Wilken originally left the farm for college in 1989, returning to help as he could. Halfway toward his degree in 1991, he was diagnosed with bone cancer and endured a gauntlet of chemotherapy. He emerged with permanently damaged kidneys (chemically burned during the treatments) that marked him untouchable by insurance companies. When Wilken finished college, he started as a mechanical engineer at General Motors and later landed a position in a software startup. The software career took him around the world and brought lucrative returns, but despite success, the hope of returning to the farm stayed out of reach. "In my 20s and 30s, farming sat there in the back of my mind, but I couldn't allow myself to dwell on the impossible," Wilken says. "I couldn't get health or life insurance, so farming wasn't in the cards." Along came the Affordable Care Act of 2010. "Obamacare was an enabler for me and let me come back to farm. I could get insurance and I could farm," he says. Twenty-five years after his first steps off the family farm, Wilken made his return in 2014, alongside his wife and two daughters. The flow of activity beyond the field came at a fast pace: paperwork; seed, fertilizer and chemical decisions; equipment parts; and much more. "People expect me to perform and know. If I was still 20, they'd give me a break. Not at 45," he laughs. Wilken admits the opportunity to work with his father was a tremendous draw: "Working with my dad in the family business was probably a bigger pull to come back home than literally the occupation of farming." Precision technology and cover crops are high on Wilken's priority list, changes supported by his dad. Wilken is still in the middle of a learning curve, but he wouldn't trade farming for four walls again. "Now I won't have to watch the family land sold, equipment auctioned or my grandmother's house torn down," he says. "It would have been heartbreaking to see generations of hard work disappear." Four miles south of Wilken's farm, Kurtenbach, 35, grows 1,400 acres of corn and soybeans, with 300  acres set aside for livestock. "My dad returned to our farm in 1980 to help my grandfather. Now it's my turn," he says. Kurtenbach knew he'd have to step away from farming and forge his own path, but he was never settled on an occupation outside of agriculture. His only stipulation? No office jobs. In 2001, he graduated from college on a Saturday and was framing houses the following Monday. Kurtenbach spent a decade in construction, remodeling and house flipping, but kept a flame burning for the farm, hopeful of opportunity that arrived far sooner than he ever expected. Kurtenbach's father, Ken, was eyeing retirement and came up with a plan for his son's return. "My dad thought if he bought a sprayer, we could save enough and he could pay me enough to offset the costs. I wanted to get back and let my kids grow up like I did." Kurtenbach jumped at the chance, sold his house in Bloomington and made the shift with his wife and children. (He also remodeled his grandparent's farmhouse and moved in.) The FSA paperwork and crop insurance were initially overwhelming, but since taking over, Kurtenbach has increased the use of precision technology and says the effects are already paying financial dividends. He's specifically using variable-rate spraying and seeding along with hydraulic down force. "You just don't see many people take opposite career paths and still end up in the wonderful life of farming. If someone is considering going back to farm, communication is key. Talk, talk and talk more to make sure everyone involved has the same expectations," he advises. 
Just 2.5 miles to the south of Kurtenbach, Dassow grows 1,500 acres of corn, soybeans, wheat and occasionally buckwheat. Dassow, 33, when not working on the farm, spent his childhood outdoors hunting, fishing and trapping. He gravitated toward conservation and wildlife in college, gaining a master's degree in zoology with a specialty in wildlife ecology. Dassow met his wife, Megan, in graduate school, and jobs took them west to Idaho and North Dakota, far removed from the black Illinois soil. Dassow had always wanted to return to the farm, and in 2012, his wife got a job with the Natural Resources Conservation Service in Illinois, and he was suddenly staring at a chance to go home. In line with the couple's move, Dassow's father, Duane, was strapped for help and the timing was ideal. "Dad thought I wouldn't be able to come back until I was at least 40, but I made it back at 28 and it's been more than great," Dassow explains. On their farm, Dassow relies on no-till, strip-till, cover crops and specialized nutrient management. He also does consulting work on wildlife, CRP and wetlands as well. "My dad set up a sustainable foundation. I don't have to implement major changes thanks to him," he says. 
Wilken, Kurtenbach and Dassow have bucked the "You Can't Go Home Again" maxim and settled into new careers on old land. The irony and unlikelihood of their proximity isn't lost on the three farmers. "I'd say it's certainly rare to have three guys living so close that have had such huge lurches in and out of their farming lives," Wilken adds. Beyond a vocational switch, another common thread the three share is the benefit of paternal mentoring and guidance, an immeasurable asset, according to Wilken. "Our fathers helped us with our new careers and we couldn't have done this without them," he explains. "They overextended to build up the farm until their boys were stable enough to return. Now we've come home."
CHATSWORTH BLUEBIRD PROJECT TAKES FLIGHT CHATSWORTH, IL -
 An exciting community project has taken shape in the small the town of Chatsworth, Illinois, in southeastern Livingston County. Years ago, a fourth grader wrote a report on the beautiful "bluebird." This area resident had the dream of consistently seeing bluebirds on her family's farm. Prior to the Chatsworth High School consolidating into the Prairie Central School district in 1985, the high school mascot was the "Chatsworth Bluebird." With this memory and nostalgia, earlier this year (2016), someone came forward to help realize her dream. 
A generous anonymous donation of 36 bluebird houses has inspired the community to come together and bring more real live Eastern bluebirds into the Chatsworth area. Area residents are jumping on board, getting excited, and at last count over 100 bluebird houses have been installed in town and all over the countryside. 
In March, students from area schools researched the habitat, nesting & feeding of these small, beautiful blue, orange-breasted birds. They learned that erecting two houses not too far apart may increase the chance of getting a bluebird, since tree swallows also like these houses but will avoid the houses if there are tree swallow neighbors. They learned that bluebirds feed on insects, caterpillars, spiders, mealworms and small berries. The homes should be placed in a semigrassland area with scattered trees and short ground cover for easy prey visibility. 
With the support of the Chatsworth Citizen's Advisory Board (CAB), county board members Joe Steichen and Paul Ritter, also a high school science teacher at PTHS, coordinated the placement and erection of these bluebird houses throughout the community with the help of dedicated students and some participating residents. Other area teachers participating are Jodee Ritter of CHS, Scott Saffer, a science teacher from PCJHS and Laura Baumgardner, the Lifeskills teacher PTHS.
 "This project is about the community pulling together to experience something that can be enjoyed by everyone. The bluebird is native to our area, is the old CHS mascot, and it is near and dear to our hearts. With the diminished population of these beautiful little birds, our community effort is not only a great thing for our residents but also for our environment," says Richard Runyon, mayor of Chatsworth and member of the Citizen's Advisory Board. 
A celebration, sponsored by the Citizen's Advisory Board, was held at the Chatsworth American Legion to recognize the students and teachers on Saturday, March 12, 2016. All of the classes at the Chatsworth Elementary School joined in to create decorations for the event. Public attendance was welcomed and encouraged! That Saturday, approximately 150 attended the Bluebird Celebration. Hand-painted bluebird plaques were awarded to the teachers and students who participated in the placement and erection of the houses. It was a fun time of community fellowship.
 In May, 2016, the mayor of Chatsworth made a proclamation that all Chatsworth Elementary students are official "Bluebirds!" "We have had a lot of fun with this project," says Mayor Runyon. "As the year progressed, more folks jumped on board and wanted to install their own birdhouses," continued Runyon. "Folks from Strawn, Forrest, Piper City and Fairbury are also interested in this project. Our local Corner Hardware store has been stocking bluebird house kits complete with conduit and rebar to erect them. One of the greatest aspects of this project is that it involves the children, and it gives everyone in the community something to look forward to each spring." Throughout the summer, bluebirds were spotted at various locations. Several nests were built and eggs were laid, a few babies hatched and fledged! It was an exciting beginning for Chatsworth. Now residents are looking forward to the spring of 2017 for a Bluebird Festival and the birth of more bluebirds! 
From the Pantagraph.com
CHATSWORTH — Crews continue to clean up from Tuesday's train derailment near Chatsworth in Livingston County. "They are working on it, but it's not causing us any problems here in town," said Mayor Richard Runyon. Around 2 p.m. Tuesday, a westbound Toledo Peoria & Western (TP&W) train derailed two miles east of town. Four cars derailed, Runyon said. One fell over while three others remained upright. Access into and out of Chatsworth was limited for about two hours and crews are still working on the tracks outside of town. The investigation is continuing, but Runyon said railroad officials think the hot temperatures this week had an impact. "The railroad people told me that because of the heat, the tracks have a tendency to buckle and will move up and down," he said. "That's happened before and it apparently happened again." Temperatures were above 90 degrees earlier in the week. There were no injuries reported, Runyon said.   This wasn't the first rail derailment, nor the worst, in Chatsworth. "For those of us that live here, we constantly are reminded about the one that kind of made us famous," he said. "It's part of our history and we recognize that during our anniversary celebrations." In 1887, a TP&W passenger train on its way from Peoria to Niagara Falls derailed after crossing over a trestle damaged by fire. The Aug. 10 crash killed 85 of the 700 passengers. There also were derailments reported in 1951 and 2010. The accident in 2010 fell on the 123rd anniversary of the 1887 derailment and also was blamed on hot weather.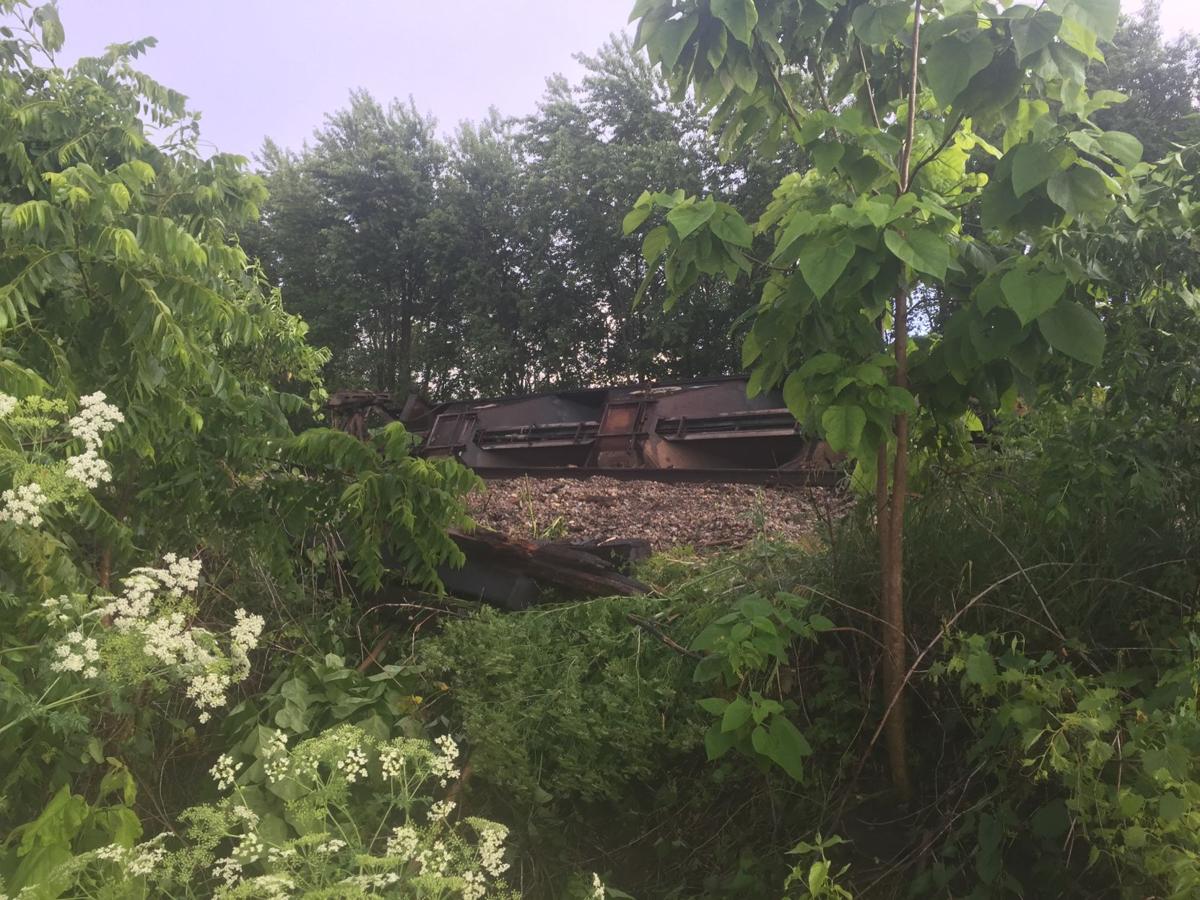 From the Pontiac Leader:
CHATSWORTH — "The train that made Chatsworth famous is at it again," Chatsworth Mayor Richard Runyon said. The mayor was informed by engineers that a westbound Toledo Peoria & Western train derailed at around 2 p.m. on Tuesday due to the heat of the rails, which was caused by the outside afternoon temperature reaching around 95 degrees. Three cars derailed during the accident, Runyon witnessed one on its top and two more cars off their wheels. The town was completely inaccessible until crews broke the train down and got the railroad crossing at First Street opened at roughly 3:48 p.m. that day. "As soon as the supervisors from TP&W get here, they will probably start their clean up," Runyon said. "The first thing they'll do is break the train more so that we can get more of our crossings open. Then, I would imagine they'll take the train on." The town's biggest rail accident was the 1887 Great Chatsworth train wreck, in which a TP&W train carrying 700 passengers and bound for Niagara Falls from Peoria crossed over a trestle, which was weakened earlier in the day by a fire, causing it to collapse. In that accident, which took place on Aug. 10 between Chatsworth and Piper City, a train derailed and the passenger cars telescoped into each other, killing a reported 85 people, as posted on the marker along U.S. 24 that was placed in 1954. There were also train derailments in 1951 and 2010. The 2010 accident also took place on Aug. 10 and was believed caused by overheated rails buckling. This is the second major incident to occur in Chatsworth within the span of a week. As part of the city's sesquicentennial celebrations, there had been a planned hot air balloon launch. However, strong gusts caused two of the four balloons to collide shortly after lifting off the ground. Although one person was hospitalized, no one was critically injured in that incident.
From the Pantagraph.com
CHATSWORTH — Residents of Chatsworth are celebrating the town's sesquicentennial and the return of bluebirds to the community that bills itself as the "bluebird capital of Illinois." Music, a carnival, food vendors, a "medicine show" and fireworks are all part of the celebration, which continues through Saturday. When Chatsworth had its own high school, before becoming part of the Prairie Central school district, its teams were known as the Bluebirds. While the town could not bring back those bluebirds, it decided to bring back actual eastern bluebirds by erecting nesting boxes around the community. Mayor Richard Runyon said people in Chatsworth put up 150 bluebird houses last year. Students and teachers in the Prairie Central, Tri-Point and Pontiac school districts joined in the project along with residents of surrounding communities, leading to more than 300 bluebird boxes being placed in the area, he said. The first few occupants flew in last year and more are back this year. "Bluebirds have arrived in Chatsworth," Runyon said Thursday. "It's working. It's a great project."  As part of the sesquicentennial celebration, the newly renovated community building was dedicated Thursday night as Bluebird Hall. Although renovation work is continuing, the great room is done, said Runyon. It includes memorabilia and information about the old Chatsworth High School Bluebirds and the feathered bluebirds that have been welcomed to the community. Friday's activities will includes a carnival on the midway from 6 to 11 p.m., bingo from 6 to 10 p.m., and performances by American English from 7 to 8:30 p.m. and the Scott Marek Band from 9 p.m. to midnight. Saturday's activities include a parade at 2 p.m. and a fishing derby with hall of fame fisherman Ted Takasaki, who grew up in Chatsworth, at 9 a.m. and a presentation by Takasaki at 11 a.m. There also will be trolley tours, kids games, face painting, quilt and tractor shows, bingo and more music. Fireworks will begin about 10:30 p.m. Saturday. Musical performers include The Stingrays at 3:30 p.m., The Fairchilds at 5 p.m. and the John King Band at 10 p.m. A full schedule is available at www.chatsworthilattractions.com/events/ "Everybody needs to come and have a good time," said Runyon.
From the Pontiac Leader
By Luke Smucker Posted Jun 3, 2017  
Twenty members of the Chatsworth Sesquicentennial Committee have been preparing for the town's 150th birthday for more than a year and in less than a week all of their efforts will be put into action. There are any number of things for people to see and do during the three days of the sesquicentennial event: fishing lessons from Hall of Fame angler and Chatsworth native Ted Takasaki, four hot air balloon launches, trolley tours, $1,500-worth of music and stage entertainment, a car show, a carnival, a parade, a time capsule opening ceremony — even a Chatsworth High School reunion. "In 1967, we held our 100 year anniversary," Chatsworth Mayor Richard Runyon said. "It was a huge celebration and it was a total success. The people of Chatsworth volunteered to help and made the event an extravaganza. Many of those people aren't here 50 years later, but we knew we wanted to have another celebration because 150 years is a great milestone." The sesquicentennial takes the place of the town's annual Heritage Days event. Runyon recalls he was in sixth grade the year that Chatsworth held its centennial celebration. Although he was young, Runyon recalls that the festivities were the talk of the town. "It was a major event for Central Illinois," Runyon said. "Many of the townspeople dressed in period clothing and some of the men grew beards to try to look authentic to the time when Chatsworth was established." For everything they can't remember, sesquicentennial committee members have a scrapbook full of articles about preparations for the centennial celebration that were published by the town's newspaper at the time, the Chatsworth Plaindealer.  "There were many articles associated with the preparation leading up to the centennial," Runyon said. "Looking through the pictures, you can see the women wore period dresses and the men grew beards and wore hats." Francis "Red Eye" Haberkorn, a Chatsworth native, can still recall all of the period clothing and the men growing beards. He said most of the people in town had some part in preparing for the event. "There was a lot of practice and preparation put into it," Haberkorn said. "I know the event brought in a lot of people from out-of-town, but at that time I was taking care of my own kids, so I didn't pay too much attention to who was coming from where." The opening ceremony for Chatsworth's sesquicentennial will take place at 6 p.m. on June 8. During that time, Runyon said 150 balloons will be released and a time capsule that was buried during the town's centennial birthday will be opened. "We know a lot of the items that are in there, but there are others that we have no idea about," Runyon said. "There was a list to give us an idea of what was in it, but we don't know all of it." The listed items is said to included old newspapers, articles about the centennial celebration and a commemorative book, similar to the sesquicentennial book that will be available during this year's event. The contents of the time capsule will be displayed on a table in Bluebird Hall, Chatsworth's new community building. "One of our event preparation goals is to finish up the construction work on our newly renovated community building, Bluebird Hall," Runyon said. "I'm afraid it won't be completely finished in time for the celebration, but we are going to have the front room of the building open for people to check out. "Bluebird Hall was named after the Chatsworth Bluebird Project and also the old high school's mascot. Until we consolidated with Prairie Central, we were the Bluebirds, so we felt like the name fit." The community building was initially constructed as a funeral  hall. It was also a Sears catalog store and a post office among its many different uses over the years. Runyon said before the remodel the building had sat vacant for about a decade. "On one side of the interior of the community building we'll have Bluebird memorabilia from the high school, old trophies and things like that," Runyon said. "One wall will be dedicated to the actual bird, because of the success of the Bluebird project in bringing bluebirds back to Chatsworth. It's a great thing to be bringing the bluebirds back because I can remember a time when they were as common as robins around here." For the residents, the sesquicentennial is a time to reflect on the history of home. For the guests from the surrounding area, Runyon hopes the event will draw both first-time visitors and regular guests. "We don't have much retail left in town, but events like this do help the businesses," Runyon said. "These events are important because they help tell the area who we are. We want people to realize that we're growing and looking for more people to come live with us. I like to tell people, Chatsworth is 50 miles from everywhere." "If you've never had a reason to come to Chatsworth before, this is the reason. I just hope people understand what an undertaking this was to put together. It's going to be major fun, so we hope everybody will come out and enjoy it."