ANNOUNCEMENTS
Subscribe to posts
Eldon S. Buff, 91, of Clifton, passed away Friday (March 9, 2018) at the Illinois Veterans Home at Manteno. He was born Aug. 20, 1926, in Chatsworth, the son of Barney and Bertha Upchurch Buff. Eldon married Alice M. Thorndyke on June 29, 1947, at Sand Ridge Church in Piper City. She preceded him in death on Dec. 5, 2013. He also was preceded in death by his parents; two brothers, Loy and Denzel; and one sister, Emagene Vest. Surviving are two daughters, Patricia (Don) Vaughn, of Martinton, and Sandy (Mike) Behrends, of Clifton; one son, Gary (Rose) Buff, of Clifton; seven grandchildren; one step-grandchild; 10 greatgrandchildren; and four great-great-grandchildren. Mr. Buff served in the U.S. Army during World War II in the South Pacific. He was a member of the Wesleyan Church of Clifton. He owned and operated Buff's Service Station and also enjoyed gardening. Visitation will be from 4 p.m. to 7 p.m. Tuesday at Knapp Funeral Home in Clifton. Funeral services will be at 11 a.m. Wednesday at the Wesleyan Church of Clifton. The Rev. Dan Shipton will officiate. Cremation rites will be accorded following the services. Memorials may be made to Wesleyan Church of Clifton. Please sign his online guestbook at knappfuneralhomes.com.
From the Pontiac Daily Leader:
Posted Mar 17, 2018 
In an effort to revitalize the surrounding area, the Central Illinois Connection plans to transform a vacant building at 404 E. Locust St. in downtown Chatsworth into a center where rural Central Illinois communities can connect. "This is a project that is several years in the making," said Lillian Rathbun, spokesperson for Central Illinois Connection. "The Central Illinois Connection is a program that was inspired by the Business Connection. Over the years, the Business Connection has experienced all of the rewards of teamwork with Fairbury businesses. This idea has grown into a desire to expand a connection with all of the surrounding communities." The Central Illinois Connection is restoring a historic building built in 1888. The structure started out as the local newspaper and has also since been used as a retail shop, a flower shop and a movie theater. "We are turning it into an action center, where central Illinois communities can come and connect," Rathbun said. "The center will feature exhibits of various area attractions, children's art and more. We're going to call it the Central Illinois Connection Action Center. We hope to have everything completed and open the location prior to the beginning of the new school year next fall. So, things are moving along really fast." Throughout the year, the facility will host activities, classes, arts and crafts, food and farming-related events. Rathbun said the agricultural displays and farm-to-table events are particularly important because the Central Illinois Connection believes farmers and agricultural companies are the backbone of the local communities. "Most importantly, we want to focus on kids," she said. "This idea is much bigger than a building, we need our youth to be excited about the future here and we hope to give them a reason to have pride in their hometowns." "We want to engage our youth and we want to focus on the future. We think that by connecting the people and resources, we can  enhance the benefits of living in this area, create employment opportunities, increase tourism and create a community that we can all be proud to call home." Before the location in Chatsworth was chosen, other locations were visited. Although the Chatsworth building needs a lot of updating, Rathbun and others believe it's important to restore these old buildings when possible. "Mayor Runyon of Chatsworth said the building was available and we took him up on that," stated Rathbun. "I ran into a Chatsworth resident recently and he was so excited because when he saw all of the construction going on, he thought the building was going to be demolished. However, we're going to take one of these vacant buildings and make it relevant once more." Last year Chatsworth debuted Bluebird Hall, a restored community center with information on Chatsworth High School, historic memorabilia from Chatsworth and information on the 1887 Chatsworth train wreck. The village also saw its first schoolhouse, recognized today as the Little School Museum, moved to Locust Street. "It feels good to see so much revitalization going on in this community," Chatsworth Mayor Richard Runyon said. "I hope this will bring other people to the community that might not normally come here. We want everyone to see that Chatsworth is alive and well.
Husband of Ruth Klehm 
Reid E. Storm, 92, of Ashkum passed away on Monday, February 5, 2018 at Riverside Medical Center in Kankakee. Reid was born May 18, 1925 in Ashkum, the son of Guy and Pearl Wilson Storm. He married Ruth Klehm on December 30, 1978 in Carlock, IL and she survives. Besides his wife, Ruth Storm of Ashkum, he is also survived by two sons, Randy (Pat) Storm of Watseka and Todd (Melissa) Storm of Ashkum; two daughters, Cindy Storm of Jacksboro, TN and Cheryl (Jon) Pederson of Cave Creek, AZ; four grandchildren, Kevin Culkin, Julie Storm, Luke Storm, and Chad Robbins; and one great-grandson, Pierce Storm. He was preceded in death by his parents; two brothers, Francis and Guy; and one grandson, Michael Storm. Mr. Storm served in the U.S. Marines and served in World War II in the Pacific Theatre. He was a member of the First United Methodist Church in Watseka. Reid was a retired contractor and farmer. Visitation will be from 3:00–7:00 p.m. on Thursday, February 8, 2018 at the Knapp Funeral Home in Watseka and one hour prior to the funeral service at church. Funeral services will be at 10:30 a.m. on Friday, February 9, 2018 at the First United Methodist Church in Watseka. Rev. Robert Sabo will officiate. Graveside services will be at 1:00 p.m. on Friday at Wilson Cemetery in Ashkum with graveside military rites by the Watseka American Legion Post #23 and Iroquois County VFW Post #7450. Memorials may be made to the First United Methodist Church in Watseka, Faith Place of Prairieview Lutheran Home or donor's choice.
Stuart James Kunsch, 58, of Chatsworth, IL., formerly of Gilman, IL., passed away at 5:32 P.M., Wednesday, March 7, 2018 at his home in Chatsworth. His memorial service will be at 11:00 A.M., Thursday, March 15, 2018 at the United Methodist Church in Gilman with Pastor Malcom Jones officiating. Visitation will be from 9:30 to 11:00 A.M. Thursday, March 15, 2018 at the United Methodist Church in Gilman. Memorials may be made to the United Methodist Church in Gilman. Stuart was born in Watseka, IL., on March 22, 1959 to Harry W. and Elsie M. (Lange) Kunsch Sr. His childhood was spent in Gilman and he attended Gilman Grade School and High School. He is survived by his daughter, Dustie Long of St. Anne, IL. and son, Matthew Kunsch of Missouri. Eleven grandchildren and his mother, Elsie of Gilman. Stuart is also survived by his siblings, Harry (Joy) Kunsch Jr. of Ashkum, IL., Renee Kunsch, Bruce (Sandy) Kunsch, Dorinda Kunsch all of Gilman and Vanetta (John) Harvey of Danville, IL. Several nieces and nephews. He was preceded in death by his father, daughter, Jamie Dodson and son, Justin Kunsch. Stuart was of the Methodist Faith. He was a "jack of all trades". Stuart worked in numerous construction, roofing and painting jobs. He enjoyed playing cards, fishing, watching crime shows, grilling, cooking, listening to gospel music and attending church. Arrangements by the Redenius Funeral Home in Gilman, IL. Please sign the guest book at www.redeniusfuneralhomes.com
Dale Leslie Hanna, 78 of Chenoa, passed away at 12:40 pm, Wednesday, March 7, 2018 at Heritage Manor, El Paso. Cremation rites have been accorded with a Celebration of Dale's life at 10 am, Sunday, March 18, 2018 at Pilgrim Holiness Church, 1409 South East St., Bloomington; with Pastor Martin Laramie officiating. A private family inurnment will take place at a later date in Chatsworth Cemetery, Chatsworth. In lieu of flowers, memorial contributions may be directed to the family of Dale L. Hanna c/o Donna Hanna. Duffy-Pils Memorial Home, Chenoa is in charge of services. Dale was born November 22, 1939 in Fairbury a son to William Leslie and Nettie Evon (Cording) Hanna. He married Celia Kuntz on April 9, 1960 in Chatsworth. She preceded him in death on October 3, 1992. He later married Donna Norfleet on June 5, 1993. His wife Donna survives in Chenoa. Other survivors include a sister, Carol (Jim) Kirkpatrick, Michigan; Step-son, Donald (Debra) Norfleet, Indiana; Step-daughter, Deborah Ellis, Chenoa; 7 step grandchildren; 4 step great grandchildren; several nieces and nephews. His parents; a brother, Donald; a sister, Sandra Mayer; his wife, Celia; and a son, Jess. Dale was educated in Chatsworth schools. He owned and operated his plumbing and heating business. He was maintenance supervisor at Humiston Haven in Pontiac for many years. Then at Meadows Mennonite Retirement Community, Chenoa. He also was in maintenance at Phillips 66, Chenoa. Dale loved collecting figurines and built display cases. He loved Western movies and football games.
Ramona Marie (Petersen) Haberkorn
, 63, of Lostant passed away Feb. 14, 2018, in Heartland Healthcare Center, Henry. A private celebration of life will be held. Arrange-ments are through Mueller Funeral Home, Lostant. She was born June 29, 1954, in Fairbury to Arthur and Shirley Petersen. She was a graduate of Chatsworth High School. She married Mark Haberkorn on Dec. 29, 1973, in Chatsworth. Mrs. Haberkorn worked in accounting at Genseke Lumber, Illinois Cement, Schwerman's Trucking and J & T Trucking. Prior to retirement, she completed training at Illinois Valley Community College and worked as a phlebotomist at St. Margaret's Hospital. She was president of the Veterans of Foreign Wars Women's Auxiliary, District 9. Survivors include her husband, Mark; three children, Mary Jo (Dan) Glass of Fernley, Nev., Melinda (Mike) Nett of Seattle, Wash., and Louis (Caroline) Haberkorn of Clarksville, Tenn.; seven grandchildren, Nathan, Nicholas, Carson, Madeline, Mallory, Viola and Zella; two sisters and one brother. She was preceded in death by her father; her stepmother, Carol Peterson; and one brother. Memorials may be directed to the family for a memorial to be established. The online guestbook may be viewed and remembrances shared at www.MuellerFH.com.
Harold "Hank" Aberle, 89, passed away peacefully on Saturday (Feb. 17, 2018) at Meadows Mennonite Nursing Home, Chenoa, where he had been a resident for just over four years. Hank was born on March 26, 1928, in Strawn, to Carl and Lydia Aberle. One of 10 children, he was raised on the family farm southeast of Chatsworth and attended and graduated from Chatsworth High School in 1947. After high school, Hank proudly served in the U.S. Army and fought in the Korean War. Upon returning home from the military, Hank settled on the family farm and on Jan. 10, 1959, married his beloved wife, Donna Leonard at St. Patrick's Church, in Kankakee. Hank and Donna were happily married for 46 years until Donna's passing in 2005. In addition to farming for more than 50 years, Hank was a very active member of the Chatsworth community. He was a proud member of Legion Post 613, where he served two terms as Post Commander. Hank also was a member of the Board of Directors of Citizens Bank of Chatsworth for nearly 40 years and served on a variety of other boards and committees in Chatsworth and surrounding communities. In addition to his wife Donna, Hank was preceded in death by his parents; his brothers, Elmer, William, Reuben and Ezra; and his sisters, Elizabeth and Leota.  Hank is survived by his sons, Dennis (Debbie), Thawville; and Scott (Kathleen), Lake Forest; his six grandchildren, Renee, Kristen, Matthew, Annie, Charlie and Tommie; his two great-grandchildren; three sisters; Rose, Anne and Lois; several loving nieces, nephews and numerous other relatives. A funeral service will be held at 2 p.m. on Wednesday at Calvert & Martin Funeral Home, 311 E Walnut St, Chatsworth. Visitation will be held from noon to 2 p.m. prior to the service. Burial will follow at St. Patrick's Cemetery, Chatsworth, where military rites will be accorded. Hank was a loving and devoted husband and a hero to his two sons. He will be dearly missed by all of those who knew him. In lieu of flowers, the family requests memorial donations be made to the Meadows Mennonite Nursing Home, 24588 Church St., Chenoa, 61726, or the Alzheimer's Association, National Office 225 N. Michigan Ave. FL17, Chicago, IL 60601. This obituary may be viewed and condolences sent to the family at www.calvertmemorial.com.
Son of Nellie Berlet Guse who was born in Chatsworth.
Colfax – Edward H. Guse, 90, of Colfax, passed away at 7:40am, February 15, 2018, at OSF St. Francis Medical Center, Peoria. Cremation has been accorded. Friends may greet the family from 1-3:00pm, Tuesday, February 20, 2018, at St. John's Lutheran Church, Anchor. A graveside service will be held at 3:00pm, on Tuesday at St. John's Lutheran Church Cemetery, Anchor. Pastor Ed Huddelson will be officiating. Memorials may be made to the family. Duffy-Pils Memorial Home, Colfax is in charge of arrangements. Edward was born December 16, 1927, in Sibley, the son of Otto Carl and Nellie Elizabeth Berlet Guse. He first married Noal Dean Harrison. She died January 6, 1987. He then married Betty McWhorter. She died in 1974. He last married Mary Unger. She died September 7, 2017. Surviving are his daughters, Susan (Leland) Lott of Dow and Deanna Biehl of Colfax; step-children, Beverly Harrison of KY, Wilma Bennett of Paxton, Kellie Cook of Thomasboro, Teresa Smith of Ky, and James (Judy) Harrison of Rantoul; several grandchildren, nieces and nephews. He was preceded in death by his parents and step-daughter, Lenora Clark, three sisters and one infant brother. Ed was a member of St. John's Lutheran Church. He graduated from Cropsey Grade and High School in 1946. He worked for the Colfax Grain Elevator from 1955-1990.
Taylor Perring Bates, 26, of Bloomington, IL. formerly of Chatsworth died Tuesday January 30, 2018 at 7:06PM as a result of a two-car accident on Rt. 24 east of Forrest, IL. Her funeral will be held on Tuesday February 6, 2018 at 11:00AM at Calvert & Martin Funeral Home, Chatsworth, IL with Pastor Gary Fairchild officiating. Burial will be in Chatsworth Cemetery, Chatsworth, IL. A visitation will be held on Monday from 3:00-7:00PM at the funeral home. Memorials in Taylor's name may be made to her family. Taylor as born on June 17, 1991 in Pontiac, IL., a daughter of Jody Schunke. She married Jon Bates on December 23, 2011 in Gibson City, IL. Survivors include: her mother and step-father: Jody and Art Scharf of Chatsworth, IL; one sister: Monica (Rich) Nolte of Gibson City, IL; four nieces and nephews: Karleigh, Emma, Tyler and Alex Freehill; one great niece: Kendall Rosenbeck; Her special dad and his wife Bruce (Ruth) Perring of Chatsworth, IL and her dog: Callie. Also surviving are many loving aunts, uncles, cousins and many many friends. Taylor was preceded in death by her daddy: Russell Cook; one sister: Jennifer Perring and her maternal grandparents. Taylor was educated in Prairie Central schools and attended Parkland College. She was the Director of the after-school program at the East Side Boys & Girls Club in Chatsworth where she loved her job and the children she directed. Taylor loved spending time with her family and friends. She enjoyed ice skating with her nieces and nephews, boating, kayaking, hiking and swimming with her friends and family.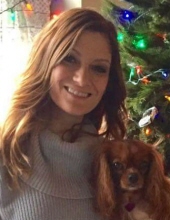 Charles "Chuck" R. Lade, 76, of Pontiac, IL passed away at 10:16 pm on Friday, January 19, 2018 at his home in Pontiac. A visitation will be held from 5:00 to 8:00 pm on Thursday, January 25, 2018 at Calvert & Martin Funeral Home in Pontiac and from 10:00 to 10:30 am on Friday, January 26, 2018 at the funeral home. Funeral services at 10:30 am on Friday with Rev. Kim Ernst officiating. Burial will follow services at South Side Cemetery in Pontiac, IL. Memorial contributions in Chuck's name may be made to the National Heart, Lung, and Blood Institute. Chuck was born August 28, 1941 in Newton County, IN a son of Randolph A. and Geneva Mae (Duzenberry) Lade. He married Karen S. Fuoss on September 15, 1962 in Thawville, IL. She passed away on October 16, 2003. He is survived by his three sons: Douglas (Susan) Lade of Clovis, CA, Daniel (Diane) Lade of Bloomington, IL, and David (Ann) Lade of Fenton, MO; his grandchildren: Doug's- Brandon, Brittany, and Austin Lade, Dan's- Natalie, Julia, and Caleb Lade and Luke and James Armstrong, and David's- Jaiden and Jaythen Lade; his loving companion: Karen Mackinson and her children: Tammy (Dan) Barrett, Correna (John) Hall, Mike P. Beach and many grandchildren and great grandchildren; one brother: Donald (Carolyn) Lade; and one sister: Betty White. He was preceded in death by his parents; wife; daughter-in-law: Beckie; two brothers; and three sisters. Chuck worked at Livingston Stone for over 30 years as a heavy machinery operator retiring from there. He was a member of Teamsters Union and St. Paul's Lutheran Church in Chenoa. He enjoyed woodworking, playing guitar in his country band, having coffee with his friends, and especially spending time with family. Chuck was a loving companion, dad, grandpa, great grandpa, brother, uncle, and friend who will be greatly missed.