ANNOUNCEMENTS
Subscribe to posts
From The Blade
August 17, 2016
CHATSWORTH — A lone cowboy from Fort Pierre, S.D., with a message, has been trekking across America since June 5. In the past week, he has been staying in places like the Circle K Ranch in Fairbury and at a micro house on the property of Merle Bates in Chatsworth. 
Tony Jones is on a mission for veterans awareness, specifically veteran suicide prevention, but he sees the treatment of veterans as a piece of a bigger issue, the lost unity of America. At some point each day, Jones calculates how many veterans have committed suicide. 
"Right now, it's more than 1,400," Jones said. "On average, 22 veterans commit suicide per day. What is that? That's a problem and we're not solving it. I see it as a symptom of a big problem, we're not taking care of these people." 
Jones' motivation comes from his belief that America is a country defended by heroes and if Americans are not willing to take care of those heroes, they aren't deserving of the soldier's sacrifice. Instead of looking down on Americans, Jones' mind is full hope. "Traveling at three miles per hour, I've had a lot of time to think. Although my mission hasn't changed, my expectation has," Jones said. "I thought America was lost, but it took me about 20 miles to figure out that America is still the same great place it's always been. 
"I came across the country thinking, "if I found one person that would do something for someone else, I was successful. It turns out, I've found hundreds — I've done well. I've talked to the people and they've proved to me that we're better than that." 
Jones' goal is to make it to Washington D.C. and tell congress that the government isn't doing enough to help its veterans. "I know that veterans are not the only group with issues in America, but if we could love each other enough to take care of this one issue, think of what that would motivate us to change next," Jones said. "Why not do that? You don't have to ride across the country to get something done, all you have to do is go over to your neighbor's house and start a conversation."
"Find somebody who needs you and help them, why not? What's the difference? I believe if one person in your family has a problem, you've got one, too. I promise, if you just go out and help somebody, it will change your life forever. I know what it feels like to be helped and I'm not that lucky. In some cases, I shouldn't even know. I'm not that good of a person. I'm not a prophet and a saint. I'm just a messenger with a message for Washington D.C. and they will hear it when I get there.
Jones stopped in Chatsworth for a few days because of the heat and to switch out his horse for one of the four horses he is using for the journey. During that time he was able to talk to the local legion chapter, as well as other residents in the area.
"I never knew much about Illinois, I had visited a couple places years ago, but Illinois has been so great since the minute I rode across the border into Warren." Jones said. "Actually the police escorted me into Warren. I told them that was the first time I'd ever been police escorted into a town, usually they are escorting me out."
" While traveling through Illinois, I've met a lot of people and I can't believe how good they are. I've sat and listened to them talk, I've heard their fears and their issues. I know that America can be greater than it is because I've met the people of Illinois and I know how good they are."
When asked why he decide to ride a horse across the county, instead of traveling by care or some other means, Jones said, "Horses discovered this country, horses settled this country. There's just something about a horse that still impresses people. When I ride by schools or daycares, the little kids come running and pet the horse."
"I might be a cowboy, that's what I did for a living, but first and foremost I'm a human being and a citizen of the United States. It doesn't matter how I get from one place to another, or what I ride, people see me and realize that I'm no different than they are- that's my hope for America."
From The Blade
September 7, 2016
Chatsworth--Main street in Chatsworth was a busy place on the morning of Aug. 27 because of the weekly farmer's market, monthly Junk in the Trunk and the Touch-a-Truck event, sponsored by the Citizens Advisory Board.
Local farmers, businessmen and community members participated, bring 15 different vehicles to line the street. Participants allowed children to climb on, sit in, honk horns and even take photos with the vehicles. 
SELCAS ambulance was open for viewing and the Chatsworth Fire Department was giving rides. children also participated in "weed pulling" in the community flower gardens. For their goods, the children were allowed to play in the fire department's water hose. children were given a free meal, ice cream cone and an allowance to purchase something from the vendors.
The CAB sponsored a food tent, serving pork chip, chicken and hot dog sandwiches, chips and drinks.
 From the KKK Daily Journal
Elery Perkins, of Chatsworth, is celebrating his 101st birthday with a card shower being planned by his son, Ronald Perkins, in Bloomington. Please send cards to 307 S. Fifth St., Chatsworth, IL 60921. He was born on Sept. 9, 1915, in rural Chatsworth. Elery was married to Margery Hoff until she passed away. They had two children: Ronald Perkins, of Chatsworth; and the late Judith Green. He is also blessed with four grandchildren, seven great-grandchildren and two great-great-grandchildren.
CULLOM — Anna S. "Anne" Deany, 100, of Danforth, formerly of Cullom, passed away at 9:20 p.m. Sept. 8, 2016, at Prairieview Lutheran Home, Danforth. A Mass of Christian burial will be at 11 a.m. Wednesday at St. John's Catholic Church, Cullom, with the Rev. William Keebler officiating. Burial will follow in St. John's Catholic Cemetery, Cullom. Visitation will be from 5 to 7 p.m. Tuesday at Calvert & Martin Funeral Home, Cullom, and also for one hour prior to the services at the church. Memorials in her name may be left to St. John's Catholic Church or the Prairieview Lutheran Home, Danforth. Anna was born Oct. 28, 1915, in Chicago, the third of eight children, a daughter of Frank and Anna Drenkelfuss Dohman, who had immigrated from Germany to Chicago. She married Donald C. Deany Sr. on June 30, 1934, in Cullom, and he preceded her in death on May 19, 2007. Surviving are five sons, Donald (Joyce) Deany Jr., Watseka; Jerome (Carol) Deany, Richton Park; Bernard (Dorothy) Deany, Bloomington; Raphael Deany, Chebanse; and Thomas (Mary) Deany, Louisville, Colo; one son-in-law, Dennis Clark, Fairhope, Ala.; 18 grandchildren: 35 greatgrandchildren: three great-great-grandchildren; and one sister, Mary Louise Teel, Pontiac. She was preceded in death by her parents; one daughter, Barbara Clark; daughter-in-law, Mary Deany; and siblings, Elizabeth Wallrich, Francis Dohman, William Dohman, Richard Dohman, George Dohman and Gary Dohman. Anne attended Chatsworth and Cullom schools and graduated from Cullom Community High School in 1934. She was a member of St. John's Catholic Church and the Altar and Rosary Society. Anne taught religious education classes for many years. Anne lived with her family in Ovenhausen, Germany, for one year in 1920, when her family moved to Germany. When they returned to America, her father became a farmer, mostly in the Charlotte area. Anne and Donald farmed for 20 years southeast of Cullom, then moved to a farm near Charlotte. Anne cherished her many wonderful friends and enjoyed visiting with them. She loved spending time with her family and was an excellent cook who also enjoyed baking and decorating doll cakes for her grandchildren. Anne enjoyed watching birds and taking care of plants, and became an avid bingo player after she moved to Prairieview in 2009. A highlight of Anna's recent past was her 100th birthday party last October. She enjoyed reminiscing with the 100 family members and friends who attended, and perusing the 200-plus cards she received for the occasion and, since the party, sharing them with her many visitors. This obituary may be viewed and guestbook signed atwww.calvertmemorial.com.
CHATSWORTH — 
Betty Irene Jepsen Franklin
, 73, of Chatsworth, died at 11:56 a.m. Tuesday (Sept. 13, 2016) at OSF St. Joseph Medical Center, Bloomington. Service: 11 a.m. Saturday at Calvert & Martin Funeral Home, Chatsworth, with Pastor Brian King officiating. Visitation: 10 to 11 a.m. Saturday at the funeral home. According to the family's wishes, cremation rites will be accorded following the service. Memorials: SELCAS (South East Livingston County Ambulance Services). Survivors: her husband, Lewis Franklin, Chatsworth; her children, Cathy Carlock, Carbondale; Kevin (Cheryl) Carlock, Chatsworth; Kris Carlock, Shelbyville; Bobbie Jo Rodrick-Woods, Dwight; and Sherry Franklin, Chatsworth; 13 grandchildren; 15 great-grandchildren; one sister, Marilyn Ehrlich, West Lafayette, Ind.; and one brother, Robert Jepsen, Downs. Condolences may be left at calvertmemorial.com
NORMAL — Judith M. Davis, 76, of Lake Wildwood, Varna, died Wednesday (Sept. 7, 2016) at her home. Born Nov. 27, 1939, in Normal, to Joseph and Leona White Conibear, she married George Davis on Jan. 27, 1963, in Chatsworth. George passed away on Feb. 24, 2015. Judith was an amazing cook and great with floral design. While raising a family, she worked at many floral shops, eventually running her own, The Flower Cart, in Chatsworth for many years. She was part owner of S&J Catering in Chatsworth, and later Three Sisters Tea Room in Bloomington. In retirement in Lake Wildwood, her family, friends and her church, the First Baptist Church of Sparland, took importance. Judith would drive people to appointments or help run the church kitchen for events. She enjoyed the Herb Guild and The Red Hat Society. Judith is survived by her daughters, Maureen Miller, Normal, and Suzanne (Mike) Schall, Cullom; brother, Grant Conibear, Northport, Fla.; sisters, Jan Yoder, Normal, and Julie Schultz, Reddick; grandchildren, Jeremy Dockery, Lake Wildwood; John Schall, Urbana; Rachel Schall, Effingham; Daniel Schall, Melvin; and Jared Miller, Normal; and family friend, Steve Medearis, Chillicothe. She was preceded in death by her parents; daughter, Barbara Dockery; and son-in-law, David Miller. Cremation rites have been accorded and a memorial service will be at 11 a.m. Saturday, with visitation from 9 to 11 a.m., at First Baptist Church in Sparland. Private family scattering of ashes will be at a later date. Memorials can be made to her church. Condolences can be left at lenzmemorialhome.com.
CHATSWORTH — Linda Schroen DeLong, of Louisville, Ky., died July 20, 2016, in Louisville, Ky., after a long battle with cancer. She was born Sept. 8, 1949, in Fairbury, the eldest daughter of Glenn and Rita Schroen, and was raised in Chatsworth. She graduated from University of Illinois with honors and taught for many years as well as ran a successful business, Burrow Bluegrass Productions, with her first husband. She is survived by her six siblings and numerous nieces and nephews. A memorial mass will be at 9 a.m. Saturday at St. Louis Bertrand Catholic Church, Louisville, Ky.
 WASHINGTON - Kenneth S. Grosenbach, 90, of Washington, passed away on Monday, August 15, 2016, at 12:50 A.M. at his residence. Ken was born on August 20, 1925, in Chatsworth to William H. and Laura Glabe Grosenbach. He married Beverly Stodd in Peoria on June 23, 1951. Together, they shared 65 years of marriage.They were always together and making memories that will last forever. Bev survives and resides in Washington. Also surviving are their children, Lori (Bob) Pryor of Washington, Lynn (Bruce) Campen of Germantown Hills, and Loni Grosenbach of Washington; one grandson, Ethan Grosenbach; and several nieces and nephews. He was preceded in death by his parents, one brother and two sisters.
 Ken was a graduate of Washington Community High School. He worked for Wiegand & Storrer as an operating engineer, retiring in1988. He proudly served his country in the United States Navy during World War II, from 1946-1948. Ken was a member of the Hilton Masonic Lodge A.F. & A.M. 1143 in East Peoria and a member of the Scottish Rite Consistory. He was also a member of Operating Engineers Retiree Local 649. Ken loved working with his chainsaws, cutting firewood and spending time woodworking in his shop. He loved to save old barns and farmhouses to salvage and repurpose. He loved camping, spending time outdoors and enjoying time with his family. He will be dearly missed. Memorial contributions may be made to Illinois Cancer Care, Shriners Hospitals for Children or UnityPoint Health Hospice Care.
 The family would like to say a very special "thank you" to UnityPoint Hospice, especially to Peg, Dawn, Frank, Karen & Dr. Lagoski for their heartfelt care. A visitation will be held on Thursday, August 18, 2016, at Deiters Funeral Home and Crematory in Washington. Masonic Services will be held at 5:00 P.M. and visitation will be held immediately after, until 7:00 P.M. A funeralservice for Ken will be held on Friday, August 19, 2016, at 2:00 P.M. at the funeral home, with a visitation a half hour prior to the service. Chaplain Frank Valente will officiate. Interment will be at Hillcrest Memory Gardens in rural Morton. Ken's memorial website is available at www.deitersfuneralhome.com.
From WJEZ
By Cynthia Grau/WJEZ News
WJEZ would like to welcome Dana Bell to the staff.
Dana is a native of Chatsworth, currently living in Pontiac and has joined the crew as our new building assistant.
She said she's looking forward to learning everything about the station, as it's her first job in radio.
"Just diving into radio in general-I've never had any experience in it, so it's definitely something different and challenging for me, and that's what I'm most excited about," Bell said.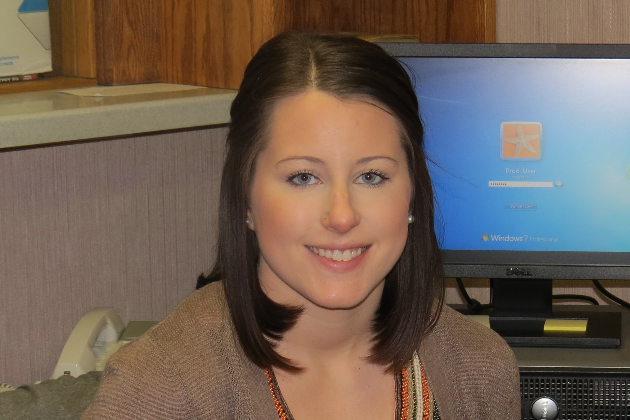 From the Pontiac Daily Leader
By Luke Smucker 
Posted Aug. 12, 2016 at 1:42 PM 
Chatsworth, Ill. She grew up in Chatsworth, graduated in Chatsworth and now, she's been working at Citizens Bank of Chatsworth for 40 years. Nancy Gerdes-Hibsch, a loan officer and vice president at Citizens Bank of Chatsworth, considers the bank to be her second home and the customers to be friends and family. "People that know me, know I'm not one to boast," Gerdes-Hibsch said. "But, I'm pretty proud of working at one place for 40 years. In this day and age, there probably aren't many people who have been at the same job for 40 years. "I'm not saying it's not a good move, but for me, it was a good choice to stay here. I grew up in this area, my first husband was from this area, my family was from this area — so it was perfect to have a job right here in town." An open house will be held on Aug. 16 to commemorate her years of service. She started at the bank as a drive-up bank teller. Although she has taken other positions throughout her years with the bank, she said the teller position is one that she still holds in high regard. "I like a challenge, so every chance that they gave me to advance, I looked at it as, 'I'm going to conquer that challenge,'" Gerdes-Hibsch said. "I knew, with each position I moved to, there was much more to learn about banking. That's not to say that being a teller isn't important, I have a lot of respect for tellers because they are the ones who make a difference when customers come in." She worked as a teller for a few years before being offered a job in bookkeeping, which is now commonly referred to as "operations." "When I got to go back to bookkeeping, I realized how everything worked and it helped make other duties of the job make sense," Gerdes-Hibsch said. "Then, when I came to the secretary position to the loan side of the bank, my work in book keeping made that job easier and likewise, when I became the bank's loan officer, that just made this job that much easier for me." Working 40 years is a lot, but Gerdes-Hibsch said she's not done working yet. She hopes to continue working at the bank until her retirement. "Banking has changed a lot over the years, some changes for good, some I'm not so sure, but you know, that's life," she said. "There are always going to be changes, you just have to be receptive of those changes to make everything go in a positive direction. I have had an opportunity to grow in a small town bank with opportunities that I probably would not have had at a larger bank. I am very blessed to have worked in the same business for so many years."
Outside of banking, Gerdes-Hibsch said she enjoys spending time with family and friends. "I like to get together and do things, go on vacations and such," she said. "I feel fortunate to have a job that has allowed me to enjoy my leisure, too."