Chaitanya's Sivaji Update's
Youngest Fan of Rajinikanth in the world
Click here to see Rajini Kanth's movies Click here to see Kamal Hassan's movies
Shivaji - The Boss Review - Click Here From Preview Show Viewer
"Sivaji - The Boss"        
Banner: AVM Productions 
Direction: Shankar 
Production: Saravanan, Guhan 
Music: A R Rehman 
Cast: Rajini Kanth, Shreya, Raguvaran, Suman, Vivek, 
Manivannan

, Vadivukarasi, Salaman Papaiya, Raja, Bose, 
Venkat 
"Sivaji The Boss - Official Video Trailer"       



click here To hear the songs from Sivaji (The Boss)
Sivaji - The Boss - Song's Lyrics
Never Seen Pictures of Sivaji (The Boss)
Amazing Facts for Sivaji Movie

Here are some interesting facts about Rajnikant's Sivaji which is due for the release on 15 June
Director Shankar used 2500 junior artists for the introduction scene of Rajnikant.
A huge set of glass house was built to shoot Sahana song.
4K DI (Digital Intermediate) digital camera is used for the first time in India for this film.

Helium

Balloon

light is used to shoot a song. The crew has to use 13 helium cylinders for the lighting.
The team of Shankar saw important footages of most of Rajnikant's films since his debut in 1975. They found that Rajnikant looked best in Padikkadavan (1985) film. Then Shankar summoned the make-up artist to come up with a similar hairdo for Rajnikant 22 years later.
Rajnikant donned 15 different hair styles for this film. He also tonsured his head and shaven off his mustache for a get-up in this film. A make-up artist from

France

is flown in for this purpose.
A few

songs

of this film are shot in USA and Sapin.
Soundarya - daughter of Rajnikant - supervised the 600 scenes of Computer Graphics work that lasts for 50 minutes in this film. It took over an year to do this CG work.
Bellamkonda Suresh is said to have bought the Telugu remake rights (excluding satellite, overseas, ringtones, audio etc) for a whopping 14 crores. It is also learnt that this film is sold for 20 crores in AP (4 crores for Ceded, 6.75 crores for Nizam and 9 crores from Andhra).
---Sivaji The Boss  -  Releasing ALL OVER THE GLOBE----
India :  Almost all parts of the country. To name it few  - Chennai - Hyderabad - Cochin - Bangalore - Mumbai - Delhi  USA :   Bay Area - New Jersey - Atlanta - Austin - Bloomington - Boston - Belmont - Cary/Raleigh - Ceder Rapids - Chicago - Cleveland - Columbus - Coral Springs (Miami) - Delware - Denvar - Des Moines - Detroit - Indianapolis - Irvine - Little Rock - Los Angeles - Madison - Memphis - Milwaukee - Minneapolis - New Haven - New York - Phoenixville(PA) - Pittsburgh - Portland - Rhodes Island - San Antonio - Seattle.  UK :  Birmingham - Boldon Tyne and Wear - Crawley - Feltham - Glasgow - Ilford - Liverpool - Milton Keynes - Staples - Stockport - Wands worth - Wood Green - Harrow Safari - Streatham Odeon  Ireland :  Dublin   Australia/NewZeland :   Burwood - Auckland - Perth - Liverpool  France :   Paris   Swiss :  Zurich - Bern - Grenchen - Burgudorf  Holland  : Almere - Beverwijk - Roosendaal - Assen - Arnhem
italy :  Palermao - Reggio Emila Srilanka :  Maradana - Dematagoda - Dehiwala - Trinconmalee - Matale - Jaffna - Katugastota - Hatton.  UAE -  Dubai - Abu Dhabi - Sharjah  Denmark :  Arhus - Middelfart - Vamdrup - Aalborg - Herning - Horsens - Nyborg - Kobenhavn - Vejle - Struer  Germany :  Franfurt - M Gladbach - Dortmund - Essen - Munster - Osnabruck - Bremen - Munchen - Herne - Duren - Essen - Wuppertal - Karisruhe - Stuttgart - Heilboronn - Bonn - Bielefeld - Hamburg - Saarbrucken - Berlin - Nurnberg
Norway :   Oslo  Sweden  :  Stockholm  And  Singapore  HongKong(in Chinese)
Shivaji - The Boss Review (From various media) 
 From Rediff
I still remember going to a planetarium holding on to my father's hand to see the constellation. It happened long, long ago but the memory is still fresh in my mind.
I was in a dark auditorium -- there were glittering stars in the dark sky and I looked at them in awe. There were bright stars, and not-so-bright stars; some of them were together, some far away from each other. I jumped up in joy when I spotted a bright star. I clapped when I felt a star was smiling at me. It was a spectacle, an unforgettable spectacle.
Today, after so many years, I am reminded of that particular night inside the planetarium. And what triggered off this memory was Rajnikanth's Sivaji. Inside the dark theatre, I was treated once again to a spectacle for more than three hours. As I watched, I was extremely happy and most of the time, the child in me got very excited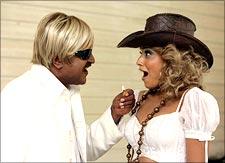 The first one and a half hours of Sivaji was like looking at a sky full of stars. Do these stars tell you a story and entertain you? Yes, the story is about how a lone man fights a battle against the corrupt system in society. It may be the hospitals that squeeze money from the poor patients; it may be the colleges that extract a lot of money from the students. Joining hands with corruption are the elected representatives. The story is about how this man wins the battle in the end.
It all starts with a person being taken to the jail with his face covered. As the story unfolds, we see an NRI called Sivaji (Rajnikanth) coming to India from the US to serve his country. He wants to open hospitals, schools and colleges for the poor. There are hurdles galore in front of him especially in the form of an avaricious man called Adiseshan (Suman).
Now, which is the brightest star in the dark theatre?
It is this star, the suave Adiseshan, in a spotless white dhoti and shirt and a slight swagger that impressed me the most. Everything about this star is imposing and the 'real big star' pales in the first half.
The second star that made me happy with his one-liners is Sivaji's uncle, played excellently by Vivek. In the first half, it is Vivek's show all the way, and whenever he utters those funny one-liners with a straight face, one cannot but laugh out loud.
The third star is Sujatha, the man who wrote those funny lines. The story is as old as the old wine which the director of the show, Shankar himself has often said. Sujatha makes it up with his sharp and witty dialogues.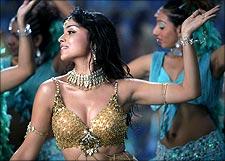 Art director Thotta Tharani creates stunning sets for the songs.
Am I impressed with the camera of K V Anand that picturised the stunning spectacle? Yes. Am I impressed with the songs and dances? Yes, with most of them. A R Rahman's songs sound and look definitely better with the dazzling visuals.
As the film progresses, Sivaji gets married to Thamizhselvi (a beautiful Shriya) after wooing her and winning over her family and making us laugh in the bargain.
Flashback over and Sivaji is in jail. Adiseshan and his cronies in the bureaucracy continue to harass him. But Sivaji escapes from their clutches and comes back as M G Ravi Chandran aka MGR. Thus, Sivaji becomes MGR.
And, what an entry it is! From this moment onwards, there is only one star in the sky, the brightest of them all: Sirius. And, that is Rajnikanth. With his bald head, long coat and mannerisms, he is style personified. In the second half, Rajni the star rises like a phoenix and makes up for the lacklustre performance in the first half. The stars of the first half pale in front this star in the next half.
And you come away from the dark theatre impressed with the spectacle composed by Shankar.
Rediff Rating:

From Sify (By Moviebuzz)
It can't get bigger than this- Rajnikanth the real superstar and style king and Shankar the showman of Tamil cinema coming together for the first time in Sivaji. The good news is that this awesome combo is able to whip up an entertainment extravaganza that is delicious and good to savour.
The moot question is: does the Rajnikanth- Shankar combination measure up to the stratospheric expectation of their fans? The answer is that it does-to a very large extent, as it has freshness and novelty in the coming together of two giants of the industry. As a film, it acts as the vital bridge between the old Rajni films and new commercial packaging that makes Shankar tick with the generation next audience.
Rajnikanth has never looked so-good on screen with his stylized look and presentation, body language, mannerism and dialogue delivery. Shankar has been able to get the right balance in a tight rope walk between Rajni's larger-than-life image and the changing taste of today's mass multiplex audience without loosing his famous touch. In short, Shankar has given us a more peppy and upmarket Rajni that is sure to work with today's youth audience.
There is only one hero here, as in all Rajnikanth films- Rajni himself. Such is the overpowering screen presence of his cinematic charisma in every frame of the film. The film works big time as Shankar has made the film on a grand scale, in a riot of colours, lavish song picturisation and is a visual treat with superbly choreographed action scenes. All this comes with top-of-the line techno-finesse, perhaps the best ever in Tamil cinema.
Sivaji (Rajnikanth) comes back from US with big dreams of doing something good for his fellowmen mainly free education and medical care. He wants to set up `Sivaji University` but our corrupt system, greedy politicians and red tapeism stands in his way. Sivaji's right-hand man is his Mama (Vivek) who not only helps him with his dream project but also finds him a perfect match in Tamilselvi (Shriya).
Sivaji faces opposition from Adhiseshan (Suman) a kingmaker, businessman and educationist who runs a successful medical college and hospital. After realizing that nothing works in our corrupt system, Sivaji succumbs to pressure and bribes the entire bureaucracy to start his pet project. Adhi crosses swords with Sivaji and is determined to sabotage the project and he succeeds in bringing our hero to the street. Now it is the turn of our superman hero to strike back. How he does it with just one rupee forms the rest of the story.
Technically, 'Sivaji' is a revelation. Incase you feel that it has a predictable story, then there are stunning visuals which is paisa vasool. K.V.Anand's cinematography is top class. Art director Thotta Tharani work is enticing especially the sets in songs. Musically the film is a treat, as Rahman has given his best in recent times. Song picturisation like in all Shankar film are out-of-the world and what really keeps the viewer hooked, is the packaging and the way it is picturised.
Every song is a visual treat, with Vaaji … and Sahaana… adding glitz to the proceedings. The Style song shot in Spain with where Rajni is shown as a white man is mesmerizing, though the much hyped Ballelakka.. number reminds you of the manner in which Andankakka in Anniyan was shot. Thotta Tharani's sets enrich the proceedings. Manish Malhotra's costumes especially the suits and denims suits Rajni to a T.
On the downside, there is nothing new story-wise. Shankar has rehashed his pet theme of a one-man crusader who cleans up the society of the scum of the earth, seen in his earlier socio-commercial fantasies like Gentleman and Muthalvan . There is a sense of déjà vu- as you have seen similar plots too often from his stable. The script is too thin on logic. There are far too many banal dialogues and familiar homilies and messages associated with a Shankar film are thrust in and at times the pace is too sluggish, especially in the first half.
The action scenes are well choreographed by Peter Haynes. The two fights in the first half are done in typical Jackie Chan style with the emphasis being to provide light hearted comedy. The climax fight between 'Motta' Sivaji and Adi is adrenaline-pumping with gravity defying 'Matrix' style visual effects. The graphic work in Style and Athiradi songs is mind boggling.
Shriya has given an outstanding performance. Body language, glances, expression.... you name it and she has it all. She looks bewitching and has enough scope to perform. Suman's new look as the suave, polished Adhi is perfect foil for Rajni as he does not go overboard and utters only a few words. Vivek has equal footage with Rajni and some of his one-liners are really wacky and hilarious especially when he takes a dig at young heroes who have taken a leaf out of the superstar by mouthing punch lines and aping his mannerisms.
Though this is a film without any punch lines associated with Rajni film, a "Pera ketta chumma Adhirudhilla.. or "Cool" could drive his fans into a frenzy. Please note that for the first time, there is a lot of English dialogues for Rajni, keeping the global audiences in mind. The comedy in the first half is rollicking and the surprise packet is the 'Motta' Rajni who comes in the climax.
Go for it… Its entertainment guaranteed.
Verdict: Cooool!
 From India Glitz
Where do you start? Where do you end? How do you 
recapture cinematic magic, the captivating power and charisma of one man, who manages to transcend the rational faculties in all of us? How do you re-create this attraction of soul and heart? No matter what, no review is ever going to do justice to Sivaji –The Boss as no writer can summon the ability to bring in words the impossible swathe that Rajnikanth's appeal cuts across various strata of the society.
Rajni's movies are not so much art as appeal. Like mother's cooking which is not about taste,
Rajnikanth on screen makes a bonding with your heart. It is about emotions, that maybe blind, but all real and very human. In Sivaji-The Boss, this surreal feeling gets a further magical touch in the form of techno-wizardry that Shankar has patented to be his in Tamil cinema.
When state-of-the-heart and state-of-the-art find a match, what you get is three hours of sustained entertainment that is at once a compelling phantasmagoria of trademark Rajni fun and typical Shankar grandeur. It is a case of desire meeting dream, and almost making it plausible.
The success of Sivaji-The Boss will eventually lie in the fact that both Rajni and Shnakar, with a huge individual constituencies of their own, have not had to break their preserved moulds. Where Rajni and Shankar meet is in their social sensibilities, in their populist propensity to convey, what the industry calls as 'the message'..
Sivaji, in that sense, is a contemporary commentary on the state of the nation where as a dialogue in the film aptly sums it up as 'the poor get poorer and the rich get richer'. Sivaji has many strands, each unique in its heft and heave.
Affordable education and health for all is one theme. Rooting out black money is the main one, however. Woven into this large tapestry is the bureaucratic bunglings, red-tapism and other issues that bug our quotidian life.
Sivaji is an everyday story that gets the sheen of a moral fable as well as the shine of fairytale, as Shankar stretches his imagination even as he compels you to stretch your threshold of incredulity.
Sivaji (Rajnikanth) is a rich NRI software pro. Son of caring parents (Manivannan and Vadivukkarasi), and the nephew of an ever helpful uncle (Vivek), Sivaji comes to India with the larger than life dream of running universities and hospital for the benefit of the poor. (The idea is smartly done when he talks of every riches coming to India, but beggary not going away).
Sivaji has to however contend with Adi Kesavan (Suman), a slimy crocodile of a educationist and a hospital owner. He has vested interests in not allowing Sivaji to get on with his ambitious projects. Sivaji, however, has his heart set. Despite running into a non-cooperating administration (the red-tapism prevalent is exposed in an irony-filled humour), Sivaji soldiers on. He unwillingly greases the palm of venal babus and politicos to get sundry permission required to build the infrastructure.
But Adi consistently turns out to be the spanner in the works and even goes to the extent of unseating the government to stop Sivaji in his tracks. In the meanwhile, Sivaji falls in love with a midlleclass Tamilazharasi (Shriya), who is the daughter of uncompromising parents (Raja and Uma Padmanabhan). Sivaji, with the aid of his uncle, goes out of the way to court the girl and her family. The scenes involving the two families are such a lark that they bring the theatre down in laughter. (Watch out for that riotous Deepavali scene when the families have some rollicking fun).
Tamilazharasi, despite the fear engendered after a fortuneteller predicts calamity for Sivaji if she marries him, finally agrees to be his life partner (the scene at the railway tracks where she accepts as him as his lover is both romantic as well as very humorous).
His light-hearted attempts to look fair are also very funny. But on the business front, the evil administration and wily Adi ensure that Sivaji loses all his wealth and all his dreams lie shattered as a dust heap.
Sivaji has nothing left in life, and in a heady taunt Adi tosses an one rupee coin, in an effort to say that Sivaji is now a beggar. Sivaji is now a transformed lion, he vows to use the same one rupee coin as the 'investment' to take not just Adi, but all the money sharks. Rooting out black money is his broad and dramatic theme. Along with his uncle, Sivaji plays smart, but under the law tricks, to shatter the wits of the villainous group.
The way Sivaji goes about is very gritty and provides the film with the right lift. The way he brings in all the black money, which he prises out of the evil hands, ingenious and inventive (it is through the hawala route).
Sivaji manages to build his dream projects with lot of arm twisting and sweet villainy. But Adi and the other baddies hit back, they plot and get Tamiazharis herself to reveal all the details of Sivaji's modus operandi. They even kill him when in the custody of the police. But they cannot getthe details out of his personal laptop (it has all the minutiaes of his transactions) as it is voice-recognition password protected. Sivaji is however dead and the laptop would not budge for any other voice command (this is a smart usage of modern techno gizmo to carry on the narrative).
How can the hero die without finishing off the baddies? Well, there is an interesting twist in the tail. Watch it for the exhilaration and the sheer stylish audacity of it all.
Rajnikanth, looking very young and urbane, as Sivaji has amazing screen presence, proving once again that his hold over the masses has not waned even one bit. Be it his helpless anger at a system that is forever unobliging or his mirthful fun in romance or his chutzpah-filled approach to bring to heel the evil forces or his brio in the fighting sequences, Rajni has really put in a hard performance that matches his reputation. His kind of humour is so infectious that in the breezy first half, he and Vivek have the fans dancing in the aisles. The 'punch dialogues' though not all uttered by Rajni directly will make his fans happy.
Shriya, looking amazingly lissome with a body that is both bow and an arrow, is beauty personified. She is pleasant on the eyes and plays her pivotal role without any complication. Manivannan, Vadivukarasi, Raja and Uma Padmanabhan all have turned out impressive performances as the parents of the two.
Vivek as Rajni's uncle is in great form. His smart jokes, all specked with contemporary idiom, are a delight and make you break into a chuckle spontaneously
Suman, in a larger than life villain role, is an inspired choice. His dark coolers-covered face convey the subtle evilness dramatically. He has understood the script and shaped his character to a nicety. Livinsgstone, VMC Hanifa, Ravikumar, Solomon Pappaiya, Bose Venkat are also in the cast.
What of the songs? Well they have been picturised, squeezing in all the creative imagination of Shankar. The graphics work in the Athiradi song is as good as in any Hollywood flick. Rahman's techno rhythms come out brilliantly upbeat on screen. The Sahana song, set in a classy glassy framework, is another testimony to Thota Tharani's inspired work and Shankar's penchant for such aesthetic ideas. All of Rahman's songs get the right ambient backdrop to look like a piece of inspired dream. Shankar's inspirational visual ideas provide that. The re-recording, slightly loud at times, however, matches mood and menace.
K V Anand's camera is first rate all through and covers the screen with amazing feel and richness. The stunts have been captured, making all the action come so close to reality. The lighting is consistent and clear that you feel as if having a real peek into the scheme of things.
The climax fight, with all the attendant graphics, is full of gritty energy. Peter Heynes fights, though over the top in places, matches the needs of modern films. Starting with the fight at the music shop till the one on the terrace of the college, Peter and his boys have literally shed blood to make it all come alive on screen.
Sujatha's dialogues, very seamless and natural, captures the angst of living in India now. The flavour is richly conveyed in everyday idioms without any apparent effort.
And that leaves us with Shankar. It takes extreme courage and conviction to dream of and bring to life what he has. Shankar, who has set high standards for himself from his very first film, with dramatic fights, colourful songs, inspirational sets, has surpassed himself in Sivaji. Matching the stature of of Rajni and the production house AVM, Shankar has unveiled an urban fantasy that is at one rich in specifics as well as real in intent. The big idea of rooting out all the black money, though seemingly tall, gets the right touches from the filmmaker who knows how to make the mix of technology and human aspirations work on screen.
Rajni and the production house AVM, Shankar has unveiled an urban fantasy that is at one rich in specifics as well as real in intent. The big idea of rooting out all the black money, though seemingly tall, gets the right touches from the filmmaker who knows how to make the mix of technology and human aspirations work on screen.
Shankar keeps the tempo and the traction going all through with an adroit mix of comedy, action and issues. This is his patented style. And then there is the well-established style of Rajni. Shankar's humanism in larger than life canvas and Rajni's mass-oriented fun and feeling seem nature-born allies.
The two have synchronised beautifully in Sivaji, which, to describe in the trendy and the omnibus description (which Rajni uses ever so often on screen in this film), is cool.
Sivaji First reactions --- Across the globe.
A fan from an Preview Show
The repertoire of movies to his name doesn't make anyone doubt  Shankar's mastery over the craft.  But his genius lies in dishing out exact doses of the dreamworld that the Indian audience at a particular juncture in the country's  development can lap up.

Without great variation in the central thread, Shankar created  blockbusters with the same thread carefully disguised in brilliant  packaging starting with disgruntled youth at the commercialization of education in Gentleman, through "angry old man" of Indian  against "babu-dom" and upright TV journalist of Mudhalvan throwing a  theatrical challenge to the highest echelons of power and most recently the psychotic rage of suppressed middle class writhing in  Anniyan.

The briefly mentioned comparison of India's lopsided and bits-and-pieces model of growth compared to South East Asia and Japan in  Anniyan is what seems to have finally blossomed into Shankar's creation of the character of Sivaji. And one can confidently say that a package so supreme for the same message with slightly different emphasis has never been seen in Indian cinema. 

With Rajnikanth playing the title role, the character stays more important than the movie through out. In run up interviews towards the release Shankar kept reiterating a "message" in Sivaji.  Well, there definitely is a message, but a twin-edged one. Whilst  emphasizing on the mantra of education as the panacea for the growing economic disparity of India's population, with the necessary frills of kicking some corrupt asses, Shankar makes Sivaji the larger than life, Dravidian version of Shahrukh Khan's character  from Swades - not hairless, not chocolate-y.  Swades was based on a true story of an NRI AIDing the construction  of a dam for a village, Sivaji goes on to overhaul an entire village stumping with his superstar flair the greedy developers and  quintessential political whackos (no connection with Vaiko  Meritocracy is Shankar's new mantra.  With strategy and action proceeding with unrelenting momentum in the second half, the first half rocks with the comedy duo of Rajni-Vivek
laying bare the travails of a wealthy NRI bachelor with a dotting  mom trying to find a suitable, traditional bride.

Rajnikanth might be a politician in the making, generous social servant, reigning "boss" of south Indian cinema but first and  foremost he is a trained actor and a director's one at that. The hallmark of Shankar's heroes have been their understated dignity, poise and simplicity which are in stark contrast to anything we have seen from Rajnikanth hitherto. As Sivaji, the superstardom takes a backseat for majority of the first half. This unexpected discipline in turn contrasts and sets apart the most explosive and flamboyant song picturizations seen on the silver screen with which Shankar treats that die hard Thalaivar fan. There is no other star in the world who can carry himself off in the costumes and to the beats featured in Sivaji. I wouldn't be surprised if rappers from east coast and west coast came knocking to Shankar's door for future music videos.

With a beautifully engineered screenplay Shankar introduces characters and events with an ever ascending tempo. And there is more engineering going on the film in the form of software that has created arguably the most seamless special effects witnessed by Indian cinema. For those who were impressed with the Matrix style fight in Anniyan and the road taring effect presented in the trailer, Peter Heins has choreographed a sequence that showcases the superstar's most flexible and active attribute, his face, in an elaborate action sequence.

Rajnikanth is the king of screen presence and Shankar has scripted screens, brought to life by K.V.Anand, Thottatharani and bunch of software engineers who make all the previous directors of Rajni movies look like slackers. Same goes for anyone who has visualized the songs of A.R.Rahman. "Sahana" song takes the cake in fluid visuals while "Style" thrills with blazing camera work and graphics.

The expected fall out of such massive scales being that someone of Shreya's caliber gets totally dwarfed till Shankar puts her out of her misery before it becomes too late. Suman is a revelation in the second half of the movie. Almost continuously handicapped by the use of dark shades over his eyes, with voice modulation and cheek muscle twitches alone, Suman brings to life the perfect villain whom the audience can vehemently detest and the hero can mercilessly pursue with brain and brawn.

For those accustomed to shorter Hollywood movies lately, sitting through three hour long melodramas from Bollywood had become an ordeal. But one is never made aware of the little over two and a half hours running time of Sivaji. The fresh editing perspective that came to South Indian cinema with the name Anthony to which we were treated in "4 the people", "Kaakha Kaakha" once again leaves its signature in the overall slickness of Sivaji. The superior quality of filming technology used makes one awe struck by the perfection of make up that has transformed the familiar aged look of  Rajnikanth into the youthful and distinguished gentleman looks he struts in the movie. Rajni's punchlines and roars have never reverberated like this before.

Sivaji is definitely a learning experience for students of Indian cinema. If Hum Aapke Hain Kaun was studied in schools of cinema to understand how 16 songs can be included in a movie, Sivaji will be studied for how a regional language film, banking mostly on the popularity of its lead performer, can be delivered with such stunning technical quality. The previously mentioned cinema was a great example of shoddy set-pieces and never rising above the status of a drama being filmed.
Sivaji is without question the greatest achievement of Indian cinema. It is a mass entertainer that blends beautifully the richness of technology with triteness of storyline and crassness of heroics, mixing the philosophical with the trivial, youthful energy with apparent depth and the latest fads with the long standing notions.

"Pera Ketta chumma Athiru thille!!!"
A fan from Abu Dubai First Show has to say......

hi frnds this is ***** ......i m a big rajni fan.........i stay in abudhabi .......i feel i m the 1st to say sivaji talk,.....movie is awesome......i saw the movie.......excellent movie.....dead shot hit.........the 1st one hour of the muve is slow .....interval bang is awesome which is a big treat for rajni fans ....interval block (peeri shona vundane summa adaradhilla)......plz plz fans dont get disapponted after watchin 1st one hour.........2 nd half full ultimate......climax 30min is the highlite where the movie goes to a high peak.....there is a big twist in climax.....i dont want to reveal........plzz ....movie is 100 times better than CM commercially...;........interval block resembles similar to TAGORE (chiranjeevi's muvie)..........SUPERSTAR comes with an industry hit after 3 years.........last but not the least......movie is all abt an NRI who teaches a lesson for all who dont pay tax .......THE MAIN PART OF THE MUVIE IS ALL ABT A MEDICAL COLLEGE REVENGE,......MUVIE IS A HIT....i m very happy tat i m the 1st to reveal the talk.......super star zindabad
A fan from Singapore First Show has to say......
 i`m in singapore here night 2100hrs the first show for yushun theatre for opening wowwww.......wowww  very very high light`s the movie thks alote shankar thats excellent job and honerst shankar and our Thalaivar  yes big show super douper hit....hit the movie i thing the movie contineue 50days full yes rajini hard work the  movie and support AVM yes!!! millinum movie
thks all fans don`t miss it  watching we family and lover`s  and all medical college student
Bachchan versus Rajini  By PUBLIC  - Bollywood Shahansaa VS Tollywood Superstar -
If you can't see the video,  please read the online news here 
http://tinyurl.com/3979z4 - Part 1             http://tinyurl.com/39uwtb - Part 2
Amitab Bachchan On Rajinikanth
   If you can't see the video,  please read the online news here  http://www.tinyurl.com/2cdheo
Rajinikanth on Amitab Bachchan
If you can't see the video,  please read the online news here  http://www.tinyurl.com/yscsxd