On this page we will showcase
the latest energy sources
________________________________________________________________________________


_____________________________________________________________________________
SPHERICAL SOLAR CELL
The world's first energy-harvesting textile with micro spherical solar cells
Press Release
Sphelar Power Corporation has successfully prototyped, with the Industrial Technology Center of Fukui Prefecture, an energy-harvesting textile where spherical solar cells (Sphelar® cells) are interweaved.
This result was delivered from an interdisciplinary collaboration between Sphelar Power, which uniquely developed 3-dimesional light capturing Sphelar® cells, and the Industrial Technology Center of Fukui Prefecture which serves as innovative R&D hub for local textile industries.
The basic structure of the texture is composed of warp and energy generating woof: 1.2-mm Sphelar® cells are aligned and connected as a thread and then it is weaven as woof with supporting warp. The energy generating thread and the how to weave it as textile are both developed in this project. With such structure, photovoltaic module can be not only flexible, but also expandable just like textile.
Sphelar Power will continue the development in cooperation with the Industrial Technology Center of Fukui Prefecture and local companies, and ship the samples in one year. The energy-harvesting textile technology developed here allows for a wide range of innovative designs that cannot be achieved using conventional technology, since it has the advantages of Sphelar® which is less dependent on incoming light angle and enables light-through module, and the ones of textile which is light, flexible and extensible.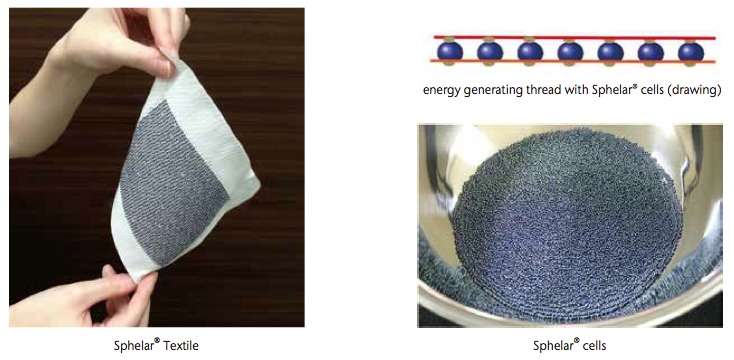 ______________________________________________________________________________
VIRTU TUBE
How it works
By efficiently drawing heat away from the solar panel for space heating, hot water, de-salination and cooling the photovoltaic cells are maintained at an optimum operating temperature.  This results in significantly higher electrical output than standard photovoltaic panels.  This type of device is commonly referred to as PVT.
Both energy outputs are optimized replacing the need for two separate conventional panels (PV and Thermal), dramatically reducing installation time and cost whilst maximizing useable installation area.
The vacuum tubes have low thermal losses and will produce abundant hot water / heat regardless of being installed in hot or cold climates. The annual yield depends on the application, local climatic conditions and quantity of panels installed.
For installations requiring high temperatures for thermally driven cooling or heat storage we are producing matching 'thermal only' vacuum tubes, which will be able to produce significantly higher temperatures.
Performance and characterization of the panels is being undertaken by Imperial College London and will be published late 2012. Early indications are that 'Virtu™' produces unprecedented power output and is a step change in solar technology.
Electricity - On-site, exported or stored
Heat- Hot water, space heating and industrial processes
Cooling- Thermally driven chillers and coolers
_______________________________________________________
Advantages over what exists
Patented high efficiency vacuum tube technology – Hybrid design is much more effective than standard solar collectors.
More useful energy per square metre – The combined outputs deliver unprecedented performance.
Patented heat transfer system – protects and improves the life and long term performance of the photovoltaic cells.
Versatile low cost installation –  Can be installed anywhere, pitched, curved, angled or flat roofs and walls. No requirement for expensive A frames.
Higher energy collection – 20-45% more energy through rotation of tubes and arrays.
Heat management system – End users can select to generate more electricity or heat depending on their own energy demands.
Self-cleaning impact resistant borosilicate tubes – 10% more energy input overall because flat panels require more cleaning.
Greater return on investment – For example in the UK the Virtu® benefits from both FITs and RHIs delivering unparalleled payback and a guaranteed income.
Bigger savings – Lower electricity, hot water and heating bills.