Report by Jean-Luc Racine
Violette Graff passed away in Paris on May 5th. She was 93. A political scientist, she was a Research Fellow at CERI (Sciences Po) for many years and an Associate Fellow at the CEIAS, for her field of study was India. "Field of study," in fact, is perhaps not a fully adequate expression because, beyond her academic investigations, Violette cultivated a very personal link with India for decades, as well as with Indian individuals, be they scholars, civil servants or politicians. These privileged relationships crystallised in the friendly dinners she hosted in her flat, Boulevard Arago, offering a wonderful panorama of the prestigious monuments of central Paris. Violette's flat, like her friend Alice Thorner's house near the Jussieu campus, was a Paris landmark for Indian travellers, a convivial meeting point where intellectual debates about the evolution of India and the world could be pursued, year after year, in a congenial atmosphere.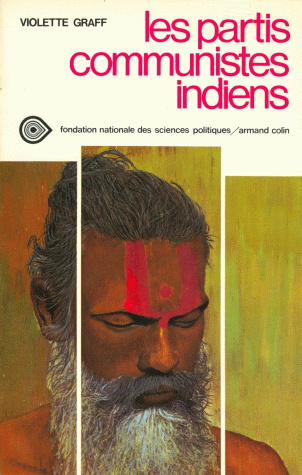 Violette Graff discovered India when her husband Philippe served in West Bengal in 1958-60, as an expert on railways electrification: under Nehru, the second Five-Year Plan gave prominence to industry and infrastructure. Calcutta was certainly a good place to get acquainted with the Indian communist movement, which became her first deep field of study later on, at the request of the now defunct CHEAM, a research and training organisation dedicated to contemporary Asian and African studies. Established in the 20s as an offspring of the Second International, the Communist Party of India split in 1964, when emerged the Communist Party of India - Marxist (CPI-M), keen to free itself from Moscow's influence, but opposed to the Maoist doctrine backing the revolutionary naxalite movement, a name linked to the first insurrection in the North Bengal village of Naxalbari in 1967. Published by Armand Colin in 1974, Violette's book
Les partis communistes indiens
offered the first French comprehensive academic analysis of the complexities of the Indian communist movement. The CPI-M had previously shared power in Bengal within United Front Governments, but in 1977 the party decisively won the electoral battle in West Bengal, and acceded to power for more than three decades. In 1993, Les Presses de Science Po republished Violette's book, which remains a reference on the insertion of communist parties in postcolonial India, their socio-political bases, their leaders, their tactics, their strategies… and on the impossible revolution.
In the second part of her career, Violette Graff turned to a topic dear to her heart: Indian Muslims, their place in society and in the political game, their minority status, the violence they had to mitigate. For the Protestant she was, beyond the obvious significance of such a topic of research, there was also a more intimate link connecting the French king Louis XIV's "dragonnades" against the Protestants to India's communal violence. After all, her grandfather Raoul Allier, a prominent Protestant intellectual, later Dean of the Faculty of Protestant Theology in Paris, was a resolute supporter of the 1905 Act separating the State and the Church, and Violette's research on secularism probably owes something to the family tradition…
After the destruction of the Babri Masjid in Ayodhya in December 1992, I edited an issue of the journal Hérodote dedicated to "L'Inde et la question nationale." I asked Violette to write on Indian Muslims after Ayodhya, with a parallel request sent to her Indian colleague and friend Muzaffar Alam, then at JNU. Both obliged. In a rich paper titled "The disarray of Indian Muslims. Chronicle of a predictable crisis," Violette Graff offered a detailed analysis of "the aftermath of December 6th," turning first to the legacy of the past, looking at the specificities of multiple Indian States, analysing in detail the Muslim vote, unravelling the political intricacies of the years preceding Ayodhya, paying attention to the killings triggered by the Babri Masjid demolition. After Ayodhya, she then underlined, Indian Muslims face a dilemma, which is still valid today: "self-centred withdrawal, or harrowing change." The paper, published in 1993, ends with a short sentence: "the BJP has not said its last word." How true! Five years later, the party was leading the Government of India (1998-2004) and it is in power again today.
Violette's focus on Indian Muslims translated into a number of contributions, in French or in English to journals and books edited by noted scholars (Paul Brass, S.K. Mitra, Marc Gaborieau, Christophe Jaffrelot), addressing communal riots, religious identities and politics, the Muslim vote election after election… Of specific value, on all accounts, both academic and sentimental, was the volume she herself edited on Lucknow, published in 1997 by Oxford University Press, and later reprinted in paperback. Lucknow, Memories of a City mobilised quite a panel of contributors—without naming all of them: from Imtiaz Ahmad and Mushirul Hasan to Muzaffar Alam and Narayani Gupta, from Jacques Pouchepadass and Rosie Llewellyn-Jones to Veena Oldenburg and Gail Minault. Lucknow, the city of the Shia nawabs of Awadh, one of the key cities engaged in the Revolt of 1857 against the British Raj, and also "one of the towns where communal harmony survived the trauma of Partition," indeed deserved such a team of scholars.
Having published a lot before entering late into professional research at the CERI, in January 1990, Violette gave a vivid speech when she retired, expressing her gratitude both to the CERI and her colleagues there (with a special mention for her friend Christiane Hurtig) and to the Maison des Sciences de l'Homme—she was one of those who helped Clemens Heller to put together the Indo-French Programme of Cooperation in Social Sciences, and during her ritual winter visits to India, she remained faithful—long after retirement—to her friends from the Indian Council of Social Sciences Research, one of the MSH's main institutional partners. Retirement, in fact, was a mere administrative statement: the book on Lucknow, and many other writings testified that the font had not dried up. Significantly, some of her latest writings were two detailed studies, co-authored with Juliette Galonnier, on Hindi-Muslim Communal Riots in India from 1947 to 2011, published by the incomparable global "Online Encyclopaedia of Mass Violence" launched at Sciences Po in 2008 by Jacques Sémelin and still expanding today.
Allow me an anecdote, in order to end this tribute on a personal note. In February 2016, during the Karachi Literature Festival, at the end of a session on Kashmir, the only Indian co-panellist asked me: "Oh, you are from Paris? You know Violette Graff of course? How is she?" It was Salman Kurshid, the last Cabinet Minister for External Affairs of the Government led by Manmohan Singh: the epitome of the sophisticated Indian Muslim, born in Aligarh in a distinguished Congress family, trained at St. Stephen and Oxford. But of course, Violette's interest in Indian Muslims went much beyond the circle of her friends from the academic and political elite. Read her works, and you'll know what I mean.
Jean-Luc Racine