New Homesteading Collection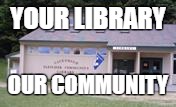 Thanks to patron suggestions, the library has developed a small, but growing collection of materials for backyard homesteading.  You may have heard the term before, and wondered what it means.  The best definition I have found is taking the land you have available and raising food on it while reclaiming vintage skills.  This can mean growing a garden, raising your own chickens or other domestic animals for food, milk or wool.  The library has a display of books on gardening techniques, chicken raising and other ways to grow enough food to feed a family on a quarter acre.  We also just purchased a subscription to "Hobby Farms" which gives some good, practical advice on how to best use your land.  Unfortunately, we have not yet received our first issue.  Interested?  Come and check it out.
Unfiltered Wi-Fi Now Available in the Library
As of September 1, the Cavendish Fletcher Community Library is offering unfiltered Wireless access to its patrons eighteen and older for use on personal or library devices.  More information is available at the circulation desk during open hours.
Instagram: @VTCavendish_library
Facebook: Cavendish Fletcher Library