Annual Free Barbecue on August 9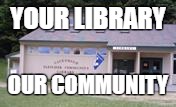 The Cavendish Fletcher Community Library will be holding its annual barbecue at 6:00 PM on Wednesday, August 9.  The library will be serving hot dogs, soda, chips, cookies and all the fixings.  At 7:00, Tom Joyce the Magic Man will be performing.  Complimentary child care is available between 6:30-8:00 to allow adults to enjoy the concert on the town green while their children enjoy the magic show.  This event is free, though donations are appreciated.  
Unfiltered Wi-Fi Now Available in the Library
As of September 1, the Cavendish Fletcher Community Library is offering unfiltered Wireless access to its patrons eighteen and older for use on personal or library devices.  More information is available at the circulation desk during open hours.
Instagram: @VTCavendish_library
Facebook: Cavendish Fletcher Library