EXPECT THE UNEXPECTED!
Best Viewing in Wide Screen 16:9 Format 
A painful reminder what indifference to defense and vigilance cost our country, and that the indifference of our outgoing administration has placed us in harm's way in the same manner once again.
CHRISTMAS IS COMING...AGAIN...: WHY CHRISTMAS ENDURES
A SPECIAL TREAT FOR CRT PLAYERS!
  ENJOY!
AND ANOTHER!  MERRY CHRISTMAS!
AND YET ANOTHER FROM THE ROCK!
THESE AND MORE VIDEOS ON THE
VIDEO GALLERY
PAGE-LOTS OF LAUGHS!
THE MASTER'S BLAZER IS RETIRING!
The Park is pleased to announce some happy news.  The Master has been wearing his traditional black, white-lined blazer for five years.  As once stated on the WHAT IS CRT page, the Master wore the blazer just as The Prisoner wore his Village attire blazer in the classic TV  show The Prisoner.  The Prisoner wore his blazer to be an unassuming village citizen, to blend in with the populace while forever plotting his escape.  The Master wore his blazer to protest the constant attacks upon the Constitution during the long eight years of the Obama Administration, which is coming to an end.  This action was a form of visual protest to the increased abuse of the Constitution and loss of freedoms Americans endured during the years under corrupt Democrat governance of the United States.
President-elect Donald Trump has sworn to uphold the Constitution, an oath President Obama did not honor.  He will be inaugurated on January 20th.  Unfortunately, a lot can happen between now and then.  Nearly fifty days is an eternity in which any kind of horrific event could take place that requires Obama to stay in power, from false flag attacks from rival countries and terrorist groups quietly funded by the Democrat party, to massive natural disasters, that could require the instituting of martial law.  We must pray that the nation is guarded and protected from such heinous acts and calamities, and the transition of power will be peaceful.  At that time, The Master can retire his legendary blazer officially and in confidence.
From that point on, The Master will be able to relax and appear at CRT games as casual players do.  The blazer has been looking wrinkled and worn, having made many mandatory appearances at countless CRT games, and many live music performances prior to CRT.  The blazer made a live appearance at The Master's 60th birthday party celebration on March 19th.  With divine providence and a hedge of protection in place, the blazer's final appearance in an official capacity may be at the season's Multiple Winner event in April.  Going forward, Park visitors along with the rest of America's citizens, can enjoy the protection of their freedom through the Constitution, having learned over the past eight years that diligence and vigilance must always prevail in the protection of our lifestyle and lives.
A photo essay on past CRT players current players may find interesting:  
CRT SPOTLIGHT PAGE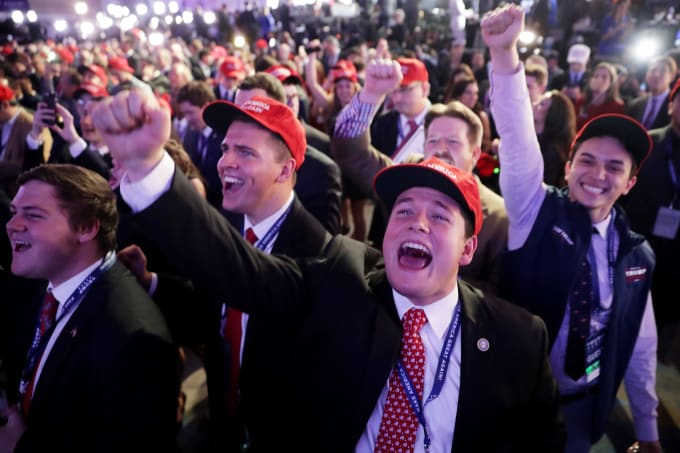 Many are speculating as to how and why Donald Trump won an election that was a supposed slam-dunk for the Democrats and Hillary Clinton.
Many reasons are suggested, and each obviously had a role in the outcome.  But one reason, the most important one, has been overlooked.
The Master discusses this startling realization in an article on the Related Articles page.
An Observation by the Master
ANNOUNCING THE 13th AND NEWEST VERSION OF CATHODE RAYTUBE LAND!
In an alternate universe, the United States 2016 Presidential Election was usurped by evil and conspiring forces.  The Democrat Party, driven by a powerful minority contingent seizes power of the government just as Donald Trump's election victory is announced. What follows is chaos, mayhem and anarchy as the country is split into factions, fighting with each other as well as against the Democrat establishment under the wily command of Hillary Clinton, Barack Obama, George Soros and a host of unsavory characters.  The Democrats have hired U.N. soldiers and various mercenaries to maintain a grip on governmental power.  Trump leads a rag-tag collection of freedom fighters and vigilantes from across the country, while other factions vie for their own piece of the American pie. Some states are won and declare their independence from the tyrannical Democrat caliphate by vote power, others by military might and resistance.  The faction that ends up with the most electoral power will gain control from the Democrats and perhaps reclaim all of America in the name of freedom and justice.  CRT's most current version, the Battle for America has been Inspired by the 2016 Presidential Election.  The premise for this version was developed over the summer of 2016, but constructed in the record time of two weeks in November of CRT's 23rd Season.  At CRT and in real life, the 
Battle For America 
has begun!
Over its 23 years, Cathode Raytube Land has come to be a reflection of life.  Art imitating reality.  This version, along with Series 8 and X, comes closest to achieving that unique quality that few games match.  This version attempts to illustrate how fragile our country and rule of law are, that without vigilance, our way of life and the freedoms we love could be easily lost to tyrannical forces or overwhelmed by waves of violent anarchy.  As CRT's 
Battle For America
 is prepared for its premiere, we find our liberty tenuous and the Constitution battered after eight years of lawless radical left Democrat abuse.  Riots in the streets brought on by fierce opposition to Trump's election have revealed the revolting undercurrent of America's violent alternate society.  Angered at the legitimate election results, rioters in predominantly Democrat tending sections of the country have taken to the streets to exercise their First Amendment rights to voice their bitter displeasure, thinking that destruction of property and harming of fellow citizens is justified under that right.  These miscreants are led by paid protesters.  The known financial backer of these riots is George Soros, an evil Hungarian billionaire that has nothing to do with his money other than pay lowlifes to terrorize America, Europe, Russia and other countries with his destructive borderless philosophy.  Add to him the evil and conniving schemes of Hillary Clinton, Barack Obama and a wide cast of lawless Democrat senators and governors bent on seizing control of the nation, and you have the compelling premise for CRT's exciting and innovative 13th version.
Players must free America from this rule of tyranny and anarchy.  Winners must collect their needed souvenirs plus 270 electoral votes.  The number of electoral votes needed to win may also be affected by other factors that take place during the game.  Players may have access to submarines, helicopters, missile silos, artillery or armies to complete this daunting task.  To take desperate measures, players may resort to nuclear options if necessary, although a series of difficult specific conditions must be met in order to launch a nuclear weapon.  Players may form alliances, trade manpower and weaponry, battle for items or resort to burglary to advance their overall mission.  In addition to this complex interaction with one another, players must also go up against the United Nations Army, led by the conniving Democrats that have seized governmental power of the nation.  Fortunately for players, U.N. forces are stretched thin and may or may not be factors, along with a cast of creepy characters direct from real life.  Players must deal with power plays performed by the Democrat party's finest conspirators:  racist anarchist Al Sharpton, womanizer Bill Clinton, communist Bernie Sanders, evil betrayer of Jews George Soros, and the powerful duo of lying crooked Hillary Clinton and devious Barack Obama, who has seized command of the U.N. forces.  Perhaps this is  CRT's nastiest collection of monsters because they are actual, real-life characters.  Heroes are also present in the form of Sheriff David Clarke, Ben Carson, legendary lawmaker Trey Gowdy and of course, Donald Trump, this version's wild souvenir.  These situations are encountered through Series 13's three-hundred adventures, accessed by landing on a state space and rolling the six-sided dice.
Construction of the implements and the environment have been completed and the instructions have been written (see the 
BATTLE FOR AMERICA
page).  The adventures will be compiled and composed during the month of December.  With all that has happened in this country since the election process began, there is a plethora of material to glean from.  The adventures will write themselves.  Real life is better than anything The Master could dream of.  You can't make this stuff up.  It's the real deal, and it beats any fictional situation the Master would devise.  So the adventures will formulate quickly.
CRT plans to premiere BATTLE FOR AMERICA in January.  Let's pray that this terrifying scenario does not become a reality!
Players that have played Series 1, 2 or Christmas are qualified to play this version.  Players interested in visiting CRT's newest version should contact the Master.  Efforts will be made to get a game set up as soon as possible.  Prospective players are warned:  
If you're a leftist progressive social justice warrior that favors anarchy and refutes the rule of law, this version is not for you.
 ----------------------------------------------------------------------------------------------------------------------------
In the event of a national emergency, Cathode Raytube Land will close immediately until further notice.
Cathode Raytube Land is an AJP Presentation