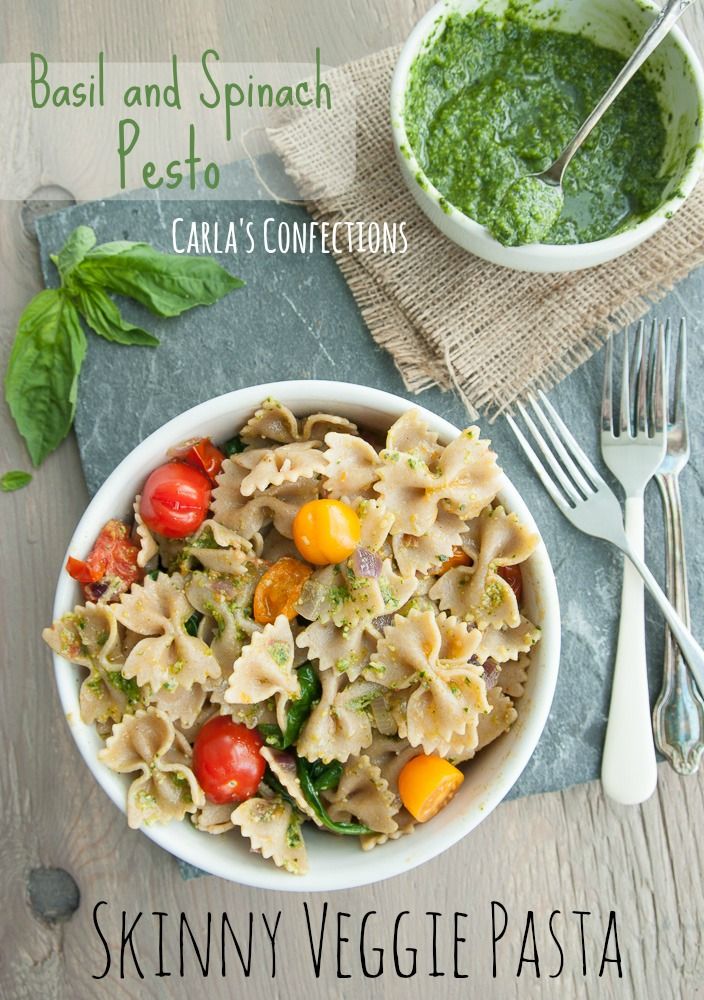 serves 4
ingredients:
for the pesto:
1 1/2 c loosely packed spinach leaves

1 cup loosely packed basil leaves

2 garlic cloves, skin removed

1/3 cup shredded Parmesan cheese

1/4 cup pine nuts

freshly ground salt and pepper

up to 1/3 cup olive oil 
for the pasta:
8 oz (225 grams) preferred whole wheat/whole grain pasta

1 Tbsp olive oil

1/4 of a large red onion, chopped roughly

2 cloves garlic, skin removed

2 cups heirloom grape tomatoes (multi-colored), halved

2 cups fresh spinach leaves

handful of fresh basil leaves, whole

Parmesan cheese, to garnish

freshly ground salt and pepper, if desired
directions:
To make the pesto, start by toasting the pine nuts over medium heat, for about 5 minutes, until slightly golden and giving off some fragrance.

Add pine nuts, basil, spinach, salt and pepper to a food processor with standard blade attachment. Grate the garlic cloves into the food processor, and turn it on to HIGH. While it is running, stream in the olive oil until the pesto reaches the desired consistency.

Set aside.

Cook the pasta to package directions, removing just shy of al dente

In a large skillet, heat the olive oil over medium-high heat. When hot, add the red onion and cook, stirring around, until slightly translucent and soft. Grate the garlic directly into the skillet and cook only for a minute. Don't let burn

Add in the tomatoes, and cook until starting to soften. Add in all of the basil and spinach leaves and cook until wilted, about another 2 minutes or so.

Combine pasta, veggie mixture, and pesto in a serving bowl (feel free to add as much or as little of the pesto as desired).

Garnish with Parmesan cheese and salt and pepper if desired.
NOTE: Feel free to make this non-vegetarian by adding baked, shredded chicken cooked with garlic, salt, pepper and paprika if desired!
adapted from Eat Well Lose Weight (BHG special) 2013 edition
(c) Carla's Confections 2013