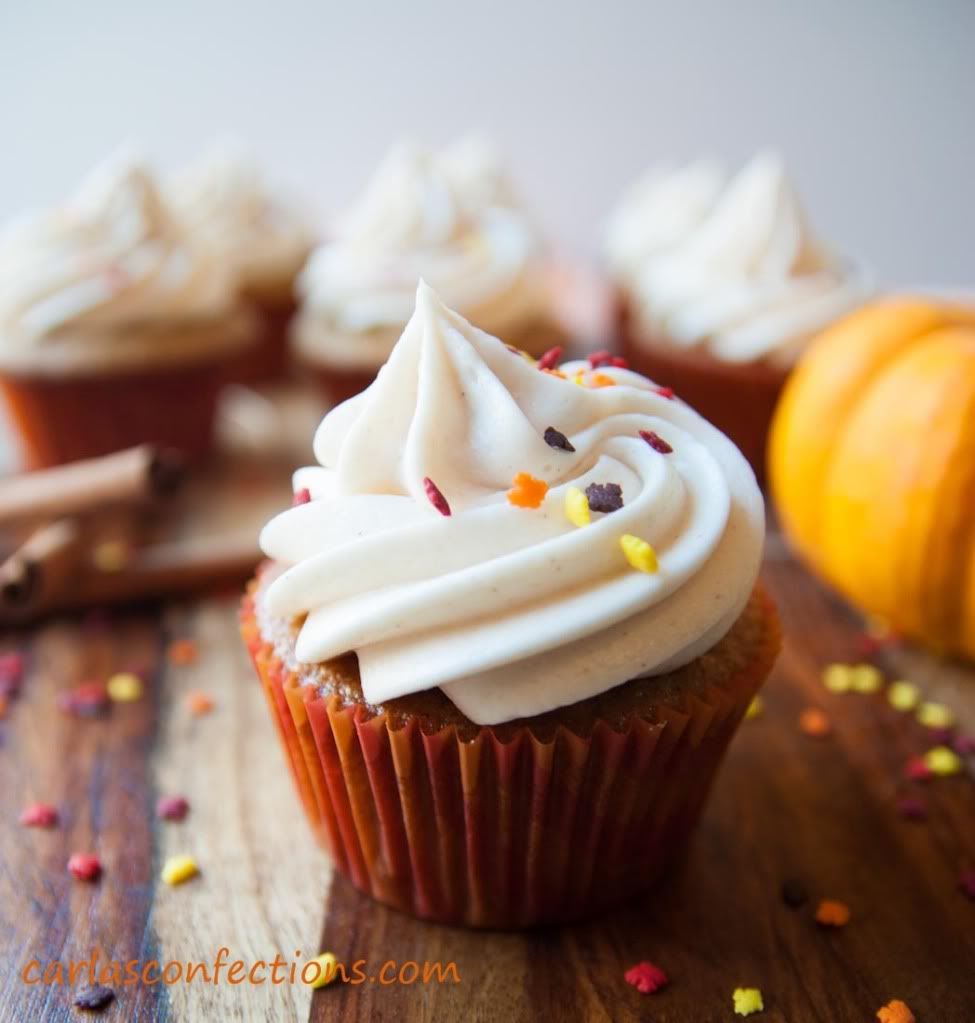 makes about 24 cupcakes
ingredients:
3/4 cup butter, softened
1 cup packed brown sugar
1 cup granulated sugar
3 eggs
1 cup homemade, or store bought pumpkin puree
1/2 cup buttermilk
1 tsp vanilla
2 cups flour
2 tsp baking powder
1 tsp baking soda
1 1/2 tsp pumpkin pie spice
for the cream cheese:
1 (8oz) pkg cream cheese, softened
1/2 cup (1 stick) butter
1 tsp vanilla
1/2 tsp ground cinnamon

1 1/2 lbs powdered sugar
1/2 Tbsp milk (more if thinner consistency is desired)
directions:
Preheat the oven to 350F/180C. Line a muffin pan with cupcake liners.
In a stand mixer, combine the butter and sugars on medium speed until fluffy and light.
Beat in the eggs, one at a time, until fully combined.
Get out two medium sized bowls. In one of the bowls, combine the puree, buttermilk and vanilla. In the other bowl, combine the dry ingredients: flour, baking soda, baking powder and pumpkin pie spice.
With the mixer on low speed, alternate adding the pumpkin mixture and the flour mixture into the bowl of the stand mixer, until it is all fully combined together.
Fill the cupcake liners 2/3 full, and bake about 20 minutes, until a toothpick inserted in the middle comes out clean. Remove and let cool and make the frosting.
For the frosting, beat the butter and cream cheese until soft and fluffy on medium speed in the stand mixer. Add in the vanilla and cinnamon and beat until incorporated.
Turn the mixer to low and slowly add the powdered sugar in batches until fully incorporated.
Splash in the milk to thin out the consistency a little, adding more if desired.
Pipe frosting onto the cupcakes once cooled and adorn with fall edible decorations.
Recipe slightly adapted from
Country Living
(c) Carla's Confections 2012