May 2-4, 2014
VENTURA COUNTY COUNCIL - Boy Scouts of America
PATCH DESIGN CONTEST
 Camporee THEME is:  200th Anniversary of the Star Spangled Banner
Necessary components:
Patch must incorporate the theme in some way: image OR words

"VCC" OR "VENTURA COUNTY COUNCIL"

No copyright or trademark images, i.e. Walt Disney Donald Duck image is copyrighted
 Patch shape: standard shapes - circle, oval, square, octagon, rectangle, triangle, ....
All registered Boy Scouts attending Camporee are eligible to participate.
1st PLACE = $50 SCOUT BUCKS
 2nd PLACE = $40 SCOUT BUCKS
 3rd PLACE = $30 SCOUT BUCKS
·         All submissions are DUE BY February 13, 2014 We accept computer files, sketches on paper or submissions via e-mail to camporee08@gmail.com or in person at Camporee planning meeting.
·         One submission per 8.5 x 11 inch piece of paper.
·         List the Scouts name and unit in File names and preferably on the back of the drawing.
The winning design will be the official 2014 Camporee patch. We will send the winning concept to a Patch designer to incorporate the concept, limit the number of thread colors, set the direction of the threads (facial shading). Then we will design the other patches needed for camporee: for staff, and for VIP thank-you'.
 The Star-Spangled Banner History:
15-star, 15-stripe American flag, the Star Spangled Banner was raised over Fort McHenry on the morning of September 14, 1814, to signal American victory over the British in the Battle of Baltimore; the sight inspired Francis Scott Key to write "The Star-Spangled Banner" National Anthem following the all-night British bombardment of Fort McHenry in 1814.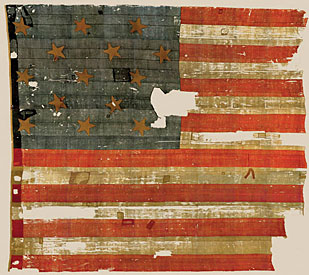 Popular American media prompted an outgrowth of myths, stories, and legends. Foremost among these are the stories of
Francis Scott Key
; the identification of the flag as "The Star-Spangled Banner;" the origin of the legend of "Uncle Sam," based on a New England military supplier named Samuel Wilson, who was called "Uncle" and put his initials, "U.S.," on the equipment he issued; the bestowing of the name "Old Ironsides" for the indomitable U.S. Frigate Constitution; the saving of the Gilbert Stuart portrait of George Washington; and the valiant rescue of government documents which were carried out of Washington in covered carts. All of these factual events became fused with legend and myth in the realm of American folklore. The events of the campaign have taken on a legendary quality that makes them memorable for many Americans. American popular sentiment celebrated and mythologized the heroes, symbols and victories of the war.
As the nation has begun its celebration of the bicentennial of the War of 1812, which gave us "The Star-Spangled Banner," we also observe Flag Day. It is designated June 14 because of the 1777 resolution by the Continental Congress which established the design of the U.S. flag on that day.