OLD TIME RADIO DOWNLOADS    F - K
Click on show of choice to go to download page and right click on the shows of choice and select 'save link as' or 'save target as'. 
 Some are in a zip file and will need a unzip program like WINRAR after downloading. 
NOTICE:  I am in the on going process of updating all the content of these pages and will be moving to a central loacation. Currently removing dead links, updating shows, adding any additional episodes, and so on. As I complete a series, it will be moved to
 Calfkiller OTR Download Archives
Some are from the Internet Archive where I have uploaded many shows and thanks to others who have contributed also.  I am also uploading to other servers with the most complete and best quality of a series I find available. Hopefully this will be completed shortly as time permits. Will be adding zip files of most series also.
Please feel free to visit and monitor the progress if like, and if have any suggestions or comments feel free to leave a note.
Robert
 OTR  Downloads F - k 
The Falcon is a detective adventure about a freelance hardboiled investigator starring Les Damon as Michael Waring. The shows mix of danger, romance and comedy makes for a very entertaining old time radio show. Michael Arlen created the character in a 1940 story, which became an RKO film and, finally a movie. There was also a short-lived television series.
 The Family Doctor tells the story of Dr. Grant Adams, a wise and humorous doctor in a small town who doubles as the community's physician and also their moral rectifier. Week after week, Dr. Adams confronts communal issues, from robbery to suicide, armed with common sense and gentle moral judgment. Even though his old-fashioned remedies for sicknesses are outdated compared to modern medical practicing, The Family Doctor's attitude towards life's daily issues transcend time. Only twelve of these thirty nine episodes from this entertaining series were ever aired.

Father Knows Best, a popular American TV and radio sitcom of the 1950s and 1960s, portrayed an idealized vision of middle-class American life of the era. It was created by writer Ed James, who made an audition disc on December 20, 1948. On the audition disc, the father is known as Jim Henderson rather than Jim Anderson. Eight months later, the series began August 25, 1949, on NBC Radio. Set in the Midwest, it starred Robert Young as General Insurance agent Jim Anderson. His wife Margaret was first portrayed by June Whitley and later by Jean Vander Pyl. The Anderson children were Betty (Rhoda Williams), Bud (Ted Donaldson) and Kathy (Norma Jean Nillson). Others in the cast were Eleanor Audley, Herb Vigran and Sam Edwards. Sponsored by General Foods, the series was heard Thursday evenings on NBC until November 19, 1953. Only Robert Young remained of the radio cast when the series moved to CBS television, beginning October 3, 1954. A total of 203 episodes were produced, running until September 17, 1962, and appearing on all three of the television networks of the time. The television show was a Screen Gems film production.
Fibber McGee and Molly was a radio show that played a major role in determining the full form of what became classic, old-time radio. The series was a pinnacle of American popular culture from its 1935 premiere until its end in 1959. One of the longest-running comedies in the history of classic radio in the United States, Fibber McGee and Molly has stood the test of time in many ways, transcending the actual or alleged limitations of its medium, form and concurrent culture.
Fibber McGee and Molly-1940  1942 1943 1944 1945 1946 1947 1948 1949 1950 1951 1952 1953 1954
 Five Minute Mysteries were used to sell advertising or trade advertising for merchants. Premiums such as prizes were awarded to listeners in the radio station's contests and promotions. The shows were personalized to the individual stations with local ads, messages and other local information. See if you can solve the case before the end of the program.
Flash Gordon - In 1935, the strip was adapted into The Amazing Interplanetary Adventures of Flash Gordon, a 26 episode radio serial that followed the strip fairly closely, except for the last two episodes when Flash and his friends meet Jungle Jim, another Alex Raymond character. A second serial, The Further Interplanetary Adventures of Flash Gordon, apparently ran through 1936.   
Flash Gordon 1935 Radio Serial         Listen
 Flywheel, Shyster and Flywheel was a short lived radio situation comedy aired during the 1932-1933 season on the NBC Blue radio network, and which starred two of the Marx Brothers, Groucho and Chico.The premise was about misadventures of a small time law firm starring the comedians' usual characters. The original series title was Beagle, Shyster, Beagle, but were forced to change when an actual law firm called in part Beagle complained. The shows included material that the brothers later used in their films. Despite the fame of the stars, the show was short lived and the scripts and recordings were thought lost. However, a researcher discovered that all but one of the series' scripts were stored in the Library of Congress. The found copies were printed in a book and were later performed with Marx Brothers impersonators on BBC radio. This experiment proved highly successful, and two further series followed. The lead roles were taken by professional soundalikes Michael Roberts (playing Groucho Marx, as Waldorf T Flywheel) and Frank Lazarus (playing Chico Marx, as Emmanuel Ravelli); the cast also included Lorelei King playing all the female roles, and the show attracted guest stars of the calibre of Spike Milligan and Dick Vosburgh.
      Flywheel Shyster Flywheel (by BBC)  Listen
 The Ford Theater aired 1947 - 1949. It was broadcast on NBC until October 8, 1948 then moved to CBS.  It was hosted by Howard Lindsay. The show tried to use good but not to famous radio performers. Producer George Zachary, first producer, attempting to use popular radio stars instead of Hollywood stars offered limited success. Followed was low ratings which forced the replacement of Zachary with Fletcher Markle, husband of radio legend Mercedes McCambridge. Needing a change the show moved to California and began starring celebrities from Hollywood like Lucille Ball. Jack Benny, Bob Hope, Bette Davis to mention a few. This combination made for a hit radio show.
 Fort Laramie was a radio Western series that aired Sundays on CBS from January 22 to October 28, 1956. Produced and directed by Norman Macdonnell, this Western drama depicted life at old Fort Laramie during the 19th Century. The 40 episodes starred Raymond Burr as Lee Quince, captain of the cavalry. One year later, Burr became a television star as Perry Mason. Supporting regulars included Vic Perrin as Sgt. Gorse, Harry Bartell as the slightly green Lt. Seiberts and Jack Moyles as Major Daggett. Heard on a more irregular basis were Howard McNear as Pliny the fort sutler, Sam Edwards as Trooper Harrison, and in a variety of roles, such actors as John Dehner, John McIntire, Virginia Gregg, James Nusser, Parley Baer and Barney Phillips. Amerigo Marino supplied the music.
Franklin Delano Roosevelt (January 30, 1882 – April 12, 1945), often referred to by his initials FDR, was the 32nd President of the United States. Elected to four terms in office, he served from 1933 to 1945, and is the only U.S. president to have served more than two terms. A central figure of the 20th century, he has consistently been ranked as one of the three greatest U.S. presidents in scholarly surveys. When Roosevelt was inaugurated in March 1933, the U.S. was at the nadir of the worst depression in its history. A quarter of the workforce was unemployed. Farmers were in deep trouble as prices fell by 60%. Industrial production had fallen by more than half since 1929. In a country with limited government social services outside the cities, two million were homeless. The banking system had collapsed completely. Beginning with his inauguration address, he began blaming the economic downturn on businessmen, the quest for profit, and the self-interest basis of capitalism. Historians categorized Roosevelt's program as "relief, recovery and reform". Relief was urgently needed by tens of millions of unemployed. Recovery meant boosting the economy back to normal. Reform meant long-term fixes of what was wrong, especially with the financial and banking systems. Roosevelt's series of radio talks, known as fireside chats, presented his proposals directly to the American public. 
Franklin Delano Roosevelt Fireside Chats         Listen
 Fred Allen (born John Florence Sullivan on May 31, 1894 in Cambridge, Massachusetts, died March 17, 1956 in New York City) was an American comedian whose absurdist, pointed radio show (1934–1949) made him one of the most popular and forward-looking humorists in the so-called classic era of American radio. His best-remembered gag may be his long-running mock feud with friend and fellow comedian Jack Benny. Allen has been considered one of the more accomplished, daring and relevant humorists of his time. A master ad libber, he constantly battled censorship and developed routines the style and substance of which influenced future comic talents. Perhaps more than any of his generation, Fred Allen wielded influence that outlived both his contemporaries and the medium that made him famous.
Frontier Fighters
was a syndicated series that ran sometime during the 1930s. Each show dealt with some bit of history about the early West and ran for approximately 15 minutes. From Robert La Salle's navigation of the Mississippi River, to Lewis and Clark's challenge of reaching the West Coast of North America, Frontier Fighters will take you on an exciting voyage of the taming of the Wild West. This is American History at its best!
 Download Frontier Fighters        Listen
Frontier Gentleman was a radio Western series heard on CBS from February 2 to November 16, 1958, initially heard Sunday afternoons at 2:30pm through March when it moved to 7pm. The program opened with a trumpet theme by Jerry Goldsmith and this introduction:
    Herewith, an Englishman's account of life and death in the West. As a reporter for the London Times, he writes his colorful and unusual accounts. But as a man with a gun, he lives and becomes a part of the violent years in the new territories. Now, starring John Dehner, this is the story of J. B. Kendall, Frontier Gentleman...
Written and directed by Antony Ellis, it followed the adventures of journalist Kendall as he roamed the Western United States in search of stories for the Times. Along the way, he encountered various fictional drifters and outlaws in addition to well-known historical figures, such as Jesse James, Calamity Jane and Wild Bill Hickok. Music for the series was by Wilbur Hatch and Jerry Goldsmith, who also supplied the opening trumpet theme. The announcers were Dan Cubberly, Johnny Jacobs, Bud Sewell and John Wald. Supporting cast: Harry Bartell, Lawrence Dobkin, Virginia Gregg, Stacy Harris, Johnny Jacobs, Joseph Kearns, Jack Kruschen, Jack Moyles, Jeanette Nolan, Vic Perrin and Barney Phillips.
 Gang Busters was an American dramatic radio program heralded as "the only national program that brings you authentic police case histories." It premiered as G-Men, sponsored by Chevrolet, on July 20, 1935. After the title was changed to Gang Busters January 15, 1936, the show had a 21-year run through November 20, 1957. Beginning with a barrage of loud sound effects — guns firing and tires squealing — this intrusive introduction led to the popular catch phrase "came on like Gang Busters." The series dramatized FBI cases, which producer-director Phillips H. Lord arranged in close association with Bureau director J. Edgar Hoover. Hoover insisted that only closed cases would be used. The initial series was on NBC Radio from July 20 - October 12, 1935. It then aired on CBS from January 15, 1936 to June 15, 1940, sponsored by Colgate-Palmolive and Cue magazine. From October 11, 1940 to December 25, 1948, it was heard on the Blue Network, with various sponsors that included Sloan's Liniment, Waterman pens and Tide. Returning to CBS on January 8, 1949, it ran until June 25, 1955, sponsored by Grape-Nuts and Wrigley's chewing gum. The final series was on the Mutual Broadcasting System from October 5, 1955 to November 27, 1957. It was once narrated by Norman Schwarzkopf, Sr., former head of the New Jersey State Police. The radio series was adapted for DC Comics, Big Little Books and a 1942 movie serial. The 1952 Gang Busters TV series was reedited into two feature films, Gang Busters (1954) and Guns Don't Argue (1957).   
 Orvon Gene Autry (September 29, 1907 – October 2, 1998) was an American performer who gained fame as The Singing Cowboy on the radio, in movies and on television. An amateur talent with the guitar and voice led to his performing at local dances. After an encouraging chance encounter with Will Rogers, he began performing on local radio in 1928 as "Oklahoma's Yodeling Cowboy". He signed a recording deal with Columbia Records in 1931. He worked in Chicago, Illinois on the WLS (AM) radio show National Barn Dance for four years with his own show where he met singer/songwriter Smiley Burnette. In his early recording career Autry covered various genres, including a labor song, "The Death of Mother Jones" in 1931. But his first hit was in 1932 with That Silver-Haired Daddy of Mine, a duet with fellow railroad man, Jimmy Long. Autry also sang the classic hit "I'm Back in the Saddle Again". Autry has also sung many Christmas carols, including "Santa Claus Is Coming To Town" and probably his biggest hit ever, "Rudolph the Red-Nosed Reindeer". Melody Ranch (also known as Gene Autry's Melody Ranch)  tells stories of a singing cowboy who returns to his hometown to restore order when his former childhood enemies take over the town.
    Gene Autry       MELODY_RANCH       MELODY_ROUNDUP         Listen
 Ghost Corps
 Good News
 The Grand Ole Opry is a weekly Saturday night country music radio program broadcast live on WSM radio in Nashville, Tennessee, and televised on Great American Country network. It is the oldest continuous radio program in the United States, having been broadcast on WSM since November 28. It started out as the WSM Barn Dance in the new fifth floor radio station studio of the National Life & Accident Insurance Company in downtown Nashville. The featured performer on the first show was Uncle Jimmy Thompson, a fiddler who was then 77 years old. The announcer was program director George D. Hay, known on the air as "The Solemn Old Judge." He was only 30 at the time and was not a judge, but was an enterprising pioneer who launched the Barn Dance as a spin-off of his National Barn Dance program at WLS Radio in Chicago. Some of the bands regularly featured on the show during its early days included the Possum Hunters, the Fruit Jar Drinkers, the Crook Brothers and the Gully Jumpers. They arrived in this order. However, Judge Hay liked the Fruit Jar Drinkers and asked them to appear last on each show because he wanted to always close each segment with "red hot fiddle playing." They were the second band accepted on the "Barn Dance." And, when the Opry began having square dancers on the show, the Fruit Jar Drinkers always played for them. In 1926, Uncle Dave Macon, a Tennessee banjo player who had recorded several songs and toured the vaudeville circuit, became its first real star. The name Grand Ole Opry came about in December, 1927. The Barn Dance followed NBC Radio Network's Music Appreciation Hour, which consisted of classical music and selections from grand opera. Their final piece that night featured a musical interpretation of an onrushing railroad locomotive. In response to this Judge Hay quipped, "Friends, the program which just came to a close was devoted to the classics. Doctor Damrosch told us that there is no place in the classics for realism. However, from here on out for the next three hours, we will present nothing but realism. It will be down to earth for the 'earthy'." He then introduced the man he dubbed the Harmonica Wizard — DeFord Bailey who played his classic train song "The Pan American Blues". After Bailey's performance Hay commented, "For the past hour, we have been listening to music taken largely from Grand Opera.  From now on we will present the 'Grand Ole Opry.'" The name stuck and has been used for the program since then.
 THE GREATEST STORY EVER TOLD
THE GREATEST STORY EVER TOLD 01   02
 The Great Gildersleeve (1941-1957) was arguably the first spin-off program, as well as one of the first true situation comedies (as opposed to sketch programs) in broadcast history. Built around a character who had been a staple on the classic radio sit-com, Fibber McGee and Molly, The Great Gildersleeve enjoyed its greatest success in the 1940s. Actor Harold Peary played the character during its transition from the parent show into the spin-off, and later in a quartet of feature films released at the height of the show's popularity. On Fibber McGee and Molly, Peary's Gildersleeve was a pompous windbag who became a consistent McGee nemesis ("You're a haa-aa-aa-aard man, McGee!" became a Gildersleeve catch phrase). But he also became a popular enough windbag that Kraft Foods — looking primarily to promote its Parkay margarine spread — sponsored a new series with Peary's Throckmorton P. Gildersleeve (the character was given several conflicting first names on Fibber McGee and Molly, and on one episode of that show revealed his middle name as Philharmonic) as the central, slightly softened, and slightly befuddled focus of a lively new family. Premiering on NBC on August 31, 1941, The Great Gildersleeve moved the title character from the McGee's Wistful Vista to Summerfield, where Gildersleeve now oversaw his late sister's estate and took on the rearing of his orphaned niece and nephew, Marjorie (originally played by Lurene Tuttle and followed by Louise Erickson and Mary Lee Robb) and Leroy (Walter Tetley) Forester. In a striking forerunner to such later television hits as Bachelor Father and Family Affair, both of which are centered on well-to-do uncles taking in their deceased siblings' children, Gildersleeve was a bachelor raising two children while, at first, administering a girdle manufacturing company ("If you want a better corset, of course it's a Gildersleeve") and then for the bulk of the show's run, serving as Summerfield's water commissioner, between time with the ladies and nights with the boys. Indeed, The Great Gildersleeve may have been the first broadcast show to be centered on a single parent balancing child-rearing, work, and a social life, done with taste and genuine wit, often at the expense of Gildersleeve's now slightly understated pomposity. The key to the show was Peary, one of the most gifted voice actors of his generation (and several others), whose booming voice and facility with moans, groans, laughs, shudders, and inflection was as close to body language and facial suggestion as a voice got. Peary was so effective, and Gildersleeve became so familiar a character, that he was referenced and satirised periodically in other comedies and in a few cartoons. (No small irony there: Peary in later life included cartoon voicings in his work after his radio stardom.)
Great Gildersleeve 01 02 03 04 05 06 07 08 09 10 11 12 13    Listen
 The Green Hornet was an American radio program that ran on WXYZ (Detroit), the Mutual Network and the NBC Blue (later ABC) Network from January 31, 1936 to December 5, 1952. Created by WXYZ's George W. Trendle and Fran Striker, who also created The Lone Ranger, the juvenile adventure series initially starred Al Hodge in the title role, followed by Donovan Faust (1943), Robert Hall (1944-51) and Jack McCarthy (1951-52). The radio show used Rimsky-Korsakov's "Flight of the Bumblebee" as its theme song, blended with a hornet buzz created on a theremin. The series detailed the adventures of Britt Reid, debonair newspaper publisher by day, crime-fighting masked hero at night, along with his sidekick, Kato, a Filipino of Japanese descent. A widespread urban legend has been the claim that the show's writers switched from one nationality to the other immediately after the 1941 attack on Pearl Harbor, but the first disappeared well before direct U. S. involvement in the war, and the latter was not initially given until much later, with nothing more specific than "Oriental" being said in the interim. (When the characters were used in the first of a pair of movie serials, the politically perceptive producers of 1939 had Kato's nationality given as Korean.)  Britt Reid is a blood relative of The Lone Ranger. The character of Dan Reid, who appeared on the Lone Ranger program as the Masked Man's nephew, was also featured on the Green Hornet as Britt Reid's father, making the Green Hornet the grand-nephew of the Lone Ranger. Originally, the show was to be called "The Hornet", but the name was changed to "The Green Hornet" so that it could be copyrighted. The color was chosen because green hornets were reputed to be the angriest. Jim Jewell directed the series until 1938. Jewell's sister, Lee Allman (Lenore Jewell Allman) wanted to play a part in a radio series at WXYZ so Jim had her written into The Green Hornet. She was the only actress to play Lenore Case, Britt Reid's secretary, during the entire run of the series. "Casey" was aware of her boss's double life, but only in the later years of the run. Similarly, another well known confidante, Police Commissioner Higgins, did not come into existence until near the end of the series. In the original introduction of the radio show, the announcer (famed newsman Mike Wallace held the position at some point during the run) proclaimed that the Green Hornet went after criminals that "even the G-Men cannot reach," referring to FBI agents. The show's producers were called by FBI chief J. Edgar Hoover who prompted them to remove the line implying that some crime fighting was beyond the abilities of the FBI. During World War II, the radio show's title was used as a codename for SIGSALY, secret encryption equipment used in the war. "The Green Hornet" also became a popular nickname for General George Patton, probably because of the speed with which he re-routed the Third Army to relieve the 101st Infantry Division at the Battle of the Bulge. The Green Hornet was initially played by Al Hodge, who later went on to play television's Captain Video.
 Green Valley Line - From 1934(?) A Story of a small railroad line at the turn of the Century. Complete 26 episode storyline. Not Much is known about the origin of this show..
The Guiding Light series was created by Irna Phillips, who based it on personal experiences. After giving birth to a still-born baby at age 19, she found spiritual comfort listening to the on-air sermons of Preston Bradley, a very famous Chicago preacher and founder of the Peoples Church, a church which promoted the brotherhood of man. It was these sermons that formed the nucleus of the creation of The Guiding Light, which began as a radio show.  From 1937 to 1946, the show was broadcast from Chicago. From 1947 to 1949, the show was broadcast from Hollywood, but in the fall of 1949 the show moved to New York City where it has remained. The radio show's original storyline centered on a preacher named Rev. John Ruthledge and all the people of a fictional suburb in Chicago called Five Points. The townspeople's lives had revolved around him. The show's title refers to a lamp in his study that family and residents could see as a sign for them to find help when needed. 
Gunsmoke was a long-running old-time radio and television Western drama program set in Dodge City, Kansas during the settlement of the American West. The radio show first aired on April 26, 1952 and ran until June 18, 1961 on the CBS radio network. The series starred William Conrad as Marshal Matt Dillon, Howard McNear as Doc Charles Adams, Georgia Ellis as Kitty Russell, and Parley Baer as Deputy Chester Proudfoot. Doc's first name and Chester's last name were changed for the television program. Gunsmoke was notable for its critically acclaimed cast and writing, and is commonly regarded as one of the finest old time radio shows. Some listeners have argued that the radio version of Gunsmoke was far more realistic than the television program. Episodes were aimed at adults, and featured some of the most explicit content of the day: there were violent crimes and scalpings, massacres and opium addicts. Miss Kitty's occupation as a prostitute was made far more obvious on the radio version than on television. Many episodes ended on a down-note, and villains often got away with their crimes.
        Download Gunsmoke Series   ( ZIP File )    Listen
THE HALLMARK PLAYHOUSE was heard over CBS stations Thursday evenings. This drama anthology of 30-minute shows was sponsored by, of course, Hallmark Greeting Cards. It was preceded by the RADIO READER'S DIGEST, which ran from September 13, 1942 thorugh June 3, 1948. Hallmark sponsored the RADIO READER'S DIGEST from January 13, 1946 to it's end. On Feb. 8, 1953, the series name and format was changed. It was now called THE HALLMARK HALL OF FAME and presented biographal sketches of famous persons, past and present. The new format was used until the end of the 1955 season. The exception to the new format was the broadcast each Christmas season of "A Christmas Carol". Like other dramatic series of this time, this one made use of major screen actors in the productions. James Hilton, author of "Random Harvest", "Lost Horizon" and "Goodbye, Mr. Chips" plus others, served as host and Narrator. Dee Engelbach produced and directed the shows. Jean Holloway was the writer. Sound Effects were by Harry Essman and Gene Twombly. Musical conductor was Lyn Murray. The show's theme was "Dream of Olwne" by Charles Williams.
The Halls of Ivy was an NBC radio sitcom that ran from 1950-1952. It was created by Fibber McGee & Molly co-creator/writer Don Quinn before being adapted into a CBS television comedy (1954-55) produced by ITC Entertainment and Television Programs of America. Quinn developed the show after he had decided to leave Fibber McGee & Molly. The audition program featured radio veteran Gale Gordon (then co-starring in Our Miss Brooks) and Edna Best in the roles that ultimately went to British husband-and-wife actors Ronald Colman and Benita Hume. The Colmans had shown a flair for radio comedy in recurring roles on The Jack Benny Program in the late 1940s, and they landed the title roles in the new show. The Halls of Ivy featured Colman as William Todhunter Hall, the president of small, Midwestern Ivy College, and his wife, Victoria, a former British musical comedy star who sometimes felt the tug of her former profession, and followed their interactions with students, friends and college trustees. Others in the cast included Herbert Butterfield as testy Clarence Wellman, Willard Waterman (then starring as Harold Peary's successor as The Great Gildersleeve) as John Merriweather, and Elizabeth Patterson and Gloria Gordon as the Halls' maid.
 Hancock's Half Hour was a ground-breaking and influential BBC radio comedy series of the 1950s, starring Tony Hancock, with Sid James, Hattie Jacques, Bill Kerr and Kenneth Williams. From 1956 it also became a television comedy series. The show was written by Ray Galton and Alan Simpson, and produced by Dennis Main Wilson, although, after Main-Wilson departed for his television career, this role was later taken by Tom Ronald. The distinctive tuba-based theme tune was composed by Wally Stott. Most radio episodes were recorded between one day and three weeks in advance, except in the case of Series 6 which was mostly recorded over a three-week period in June, 1959 to avoid clashing with the pre-recording of Series 5 of the television show. All of the regular cast members played "themselves", except Kenneth Williams (who played a series of unnamed characters referred to in the scripts -- but not on air -- as "Snide"); Alan Simpson (who played an unnamed man who would listen patiently to Hancock's long-winded stories); and Hattie Jacques (who played Hancock's secretary Griselda Pugh).
  BBC  Hancock's Half Hour            Listen
 THE HAUNTING HOUR - 1945-1949 Well scripted and acted stories of mystery and suspense that never had a national sponsor but was syndicated for its entire run. And none of the remaining programs give credit to the cast, writers, producers, directors or anyone connected with the show. It began with the ominouss "No. No. Stay where you are. Do not break the stillness of this moment. For this is a time of mystery, a time when imagination is free and moves swiftly forward... swiftly, silently. This is... The Haunting Hour". 
 Have Gun Will Travel was a popular American Western television series that aired on CBS from 1957 through 1963. It was the #4 show in the Nielsen ratings in its first year, and #3 for the next three years.[citation needed] It was one of the few television shows to spawn a successful radio version. The radio series debuted on November 23, 1958. The show followed the adventures of Paladin, a gentleman-turned-gunfighter played by John Dehner on radio, who preferred to settle problems without violence, yet, when forced to fight, excelled. Paladin lived in the Carlton Hotel in San Francisco, where he dressed in semi-formal wear, ate gourmet food, and attended opera. In fact, many who initially met him mistook him for a dandy from the East. When working, he dressed in black, used calling cards and wore a holster which carried characteristic chess knight emblems, and carried a derringer under his belt. The knight symbol is of course in reference to his name — possibly a nickname or working name — and his occupation as a champion-for-hire. The theme song of the series refers to him as "a knight without armor." In addition, Paladin drew a parallel between his methods and the chess piece's movement: "It's a chess piece, the most versatile on the board. It can move in eight different directions, over obstacles, and it's always unexpected." Paladin was a former Army officer and a graduate of West Point. He was a polyglot, capable of speaking any foreign tongue required by the plot. He also had a thorough knowledge of ancient history and classical literature, and he exhibited a strong passion for legal principles and the rule of law.
 HAWK LARABEE was first heard 07/12/46 as HAWK DURANGO, the program soon changed its name to HAWK LARABEE and starred Barton Yarborough as Hawk. Barney Phillips played the sidekick role, Sombre Jones. Barton Yarborough also played the sidekick to Elliott Lewis' role of Hawk Larabee in a different version of this program. Last heard 02/07/48. Barton Yarborough (October 2, 1900 – December 19, 1951) in Texas, was an American actor born in Texas, and died in Pasadena of a heart attack. He worked extensively in radio drama, and was probably best known for his roles as Doc Long on Carlton E. Morse's "I Love a Mystery" and Sergeant Ben Romero on Dragnet. His other work includes the role of "Skip Turner" in Adventures by Morse, also by Carlton E. Morse. In the 1940s, appeared in "Hawk Larabee" radio show with another future "Dragnet" co-star, Barney Phillips. Yarborough ended his career playing Sgt. Ben Romero in the first (1951) season of television's Dragnet.
Health and Happiness Show recorded by Hank Williams. These shows were recorded in October of 1949. Hank Williams struck a deal with the makers of Hadacol to sponsor his first syndicated radio series, although no mention of the product is made on the shows. The shows were about a half hour each and for the most part ended with a hymn.
Download Health and Happiness Show      Listen
Hear It Now, an American radio program on CBS, began in 1950 and was hosted by Edward R. Murrow and produced by Fred Friendly. It ran for one hour on Fridays at 9 p.m. One of the most popular and best selling records of 1948 was I Can Hear It Now 1933-1945. The record was a collaboration between Edward R. Murrow and Fred W. Friendly. The record interwove historical events with speeches and Murrow's narration and marked the beginning of one of the most famous pairings in journalism history. The huge success of the record prompted the pair to parlay it into a weekly radio show for CBS. That show was Hear It Now. The show had a "magazine format." It drove to include a variety of sounds from current events such as an atom smasher at work or artillery fire from Korea. It was the artillery fire that produced one of the show's more poignant moments as it backdropped the words of American soldiers fighting the Korean War. The entire premise of the show was to include the "actual sound of history in the making," according to Murrow. Some of the show's audio was what Time Magazine called "fairly routine" in 1950. Such audio soundbites as Communist China's General Wu and Russia's Vishinsky along with the U.S. Delegate Warren Austin were included among the routine group of audio use. Television, by 1955, usurped radio in terms of audience share and a reluctant Murrow, in 1951, set about doing a TV version of the radio show called See It Now. With the inception of the television version of the show in 1951 Hear It Now ended its on air run.
Download Hear It Now   Listen Hear It Now
   Hollywood Is On The Air   Listen
Hollywood Sound Stage aired 1951 -1952 alternating with the "Screen Guild Theater" in its final season. This is some great Old Time Radio at its best.
 HONEST HAROLD, THE HOMEMAKER AKA: THE HAROLD PEARY SHOW (Sep 17, 1950 to Jun 13, 1951 with an Audition Show Aug 23, 1950) Harold Peary began his radio career at age 13 and was a popular actor through the 1930's.  In the end of the 1930's he played assorted characters on FIBBER MCGEE AND MOLLY, including a stuffed-shirt type named Gildersleeve. The character of Gildersleeve developed into a sizeable, eventually leading to the series THE GREAT GILDERSLEEVE. This was due to no small part to the ability of Harold Peary. In 1950, Harold Peary decided to move from NBC to CBS, assuming that the sponsor for THE GREAT GILDERSLEEVE, the Kraft Food Company, would follow, bringing that series to CBS.  When Kraft didn't move, HONEST HAROLD, THE HOMEMAKER (also known as THE HAROLD PEARY SHOW) was created. Honest Harold Hemp lived with his mother and nephew and did a radio homemaker's program.  The series received undeserved negative ratings and general negative attitude of the critics. The HONEST HAROLD scripts were well crafted with well developed characters and had excellent acting and production values.
 Hopalong Cassidy A western that was greater than The Roy Rogers Show or   Gene Autry's Melody Ranch. Hoppy was a hero to one and all. He and his   sidekick, California Carlson, roamed the Southwest in thrilling stories   week after week. Almost every tale had a little mystery in it, and almost every story ended with Hoppy's boiserous laugh. Clarence Mulford, the author of the Hopalong Cassidy stores, created a hard-fisted, rough and tought cowboy. Nowhewre's near or liked the loveable Hoppy of the movies and radio series. He became a hero in black and on a white horse - a super hero of the West. He rescued damsels and cowboys in trouble, along with ranchers and bankers and railroad owners always against the bad guys - robbers, thieves, rustlers and the like. The radio series were a hard sell. And the owners could find no takers. When this series began it was offered to the various networks. They wanted nothing to do with it so the owners had to sell it in syndication. But, after a short time it became extremely successful that later on it was heard on the Mutual and CBS networks. The show ranked number 7 in the 1949 Nielsen ratings. The Mutual Broadcasting System began broadcasting a radio version of Hopalong Cassidy in January 1950; at the end of September, the show moved to CBS Radio, where it ran into 1952.
Hollywood Star Playhouse,1950 - 53, aired on CBS Mondays 8:00 - 8:30 pm brought to you by BROMO SELTZER. It was hosted by Herb Rawlinson and directed by Jack Johnstone. Tales of suspense, thrills and adventure featuring Hollywoods' top actors and writers.
Download Hollywood Star Playhouse       Listen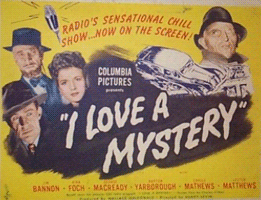 I Love A Mystery was an old-time radio program about three friends who ran a detective agency and traveled the world in search of adventure. Distinguished by the high octane scripting of Carlton E. Morse, the program was the polar opposite of Morse's other success, the long-run One Man's Family. Sponsored by Fleischmann's Yeast, I Love a Mystery first aired on the NBC West Coast network from January 16 to September 29, 1939, weekdays at 3:15pm Pacific time, and then moved to the full NBC network from October 2, 1939 to March 29, 1940, airing weeknights at 7:15pm. In 1940, it expanded to 30-minute episodes from April 4 to June 27 on NBC Thursdays at 8:30pm. Continuing on the Blue Network from September 30 1940 to June 29, 1942, it was heard Mondays and Wednesdays at 8pm. Proctor & Gamble (for Oxydol and Ivory Soap) replaced Fleishmann's Yeast as the sponsor in the series broadcast by CBS from March 22, 1943 to December 29, 1944 with 15-minute episodes heard weeknights at 7pm. After a five-year lapse, the show was revived by Mutual in a move from Hollywood to New York, where it began October 3, 1949 and continued until [[December 26] 1952 with 15-minute episodes heard weeknights at 7pm during 1949-50 and then 10:15pm from 1950 to 1952.
 Information Please was probably the longest running "quiz" program. It was on for 13 years and aired more than 500 programs. It was a simple format - hire a highly intellectual quizmaster or Master of Ceremonies or Moderator and give him full rein over a group of more intellectuals. Clifton Fadiman was chosen for the job. He was well educated and at that time was a book reviewer for the New Yorker magazine. This was a different kind of quiz show. The much quizzed public was able to turn the tables and ask the experts questions. In the beginning those who submitted questions that were used, were awarded $2.00. If the experts couldn't answer the question, then another $5.00 was given. There was a total of $100 prize money to begin with and if after all the prize money was gone, any money left went for freshments for the panelists. So a visit to a local pub was a good excuse for the experts to get the right answer. After settling in, the regulars or panelists were Franklin P. Adams and John Kieran, with many appearances by bon vivant Oscar Levant. The guests were the intellectuals of the nation but they also included people from all walks of life - authors, politicians, comedians, movies and sport figures. The program became such a household name that in 1947 the show's creator saw a need for a reference book and in that year the Information Please Almanac made its appearance and it has been published yearly ever since.
   Information Please 01  02  03    Listen
 I Was a Communist for the FBI was an American espionage thriller radio series with 78 episodes syndicated by Ziv to more than 600 stations in 1952-54. Made without FBI cooperation, the series was adapted from the book by undercover agent Matt Cvetic, who was portrayed by Dana Andrews. The series was crafted to warn people about the threat of Communist subversion of American society. The tone of the show is very jingoistic and ultra-patriotic. Communists are evil incarnate and the FBI can do no wrong. As a relic of the Joe McCarthy era, this show is a time capsule of American society during the Second Red Scare. The radio program frequently dealt with the great stress that Matt Cvetic was under. There were many personal and family problems caused by his being a Communist, as well as a certain amount of mental torment. He saw the party as being hypocritical and a great danger to society. 
In the Name of the Law
was a True Crime radio show from 1936. It says "In the name of the law, we bring you another of the thrilling stories in this exciting series, taken from actual police case files." This collection contains all the episodes of this entertaining short-run series. 
 Incredible, But True consisted of 15 minute shows, similar in format to Ripley's Believe It Or Not that had aired from 1930 to 1948. It was hosted/narrated by Ken Nordine and was produced by Unusual Features Syndicate. This syndicated series was heard on the Mutual network during 1950 and 1951 on various days and at various times. For example, according to "The Ultimate History of Network Radio Programming and Guide To All Circulating Shows" by Jay Hickerson, it aired on Tuesdays and Thursdays at 9:30 PM from April 17, 1950 through June 5, 1951 and on Saturdays at 5:15 PM from June 30, 1951 through December 22, 1951. Besides the 15-minute shows, another syndication of 3-minute shows was also produced, again hosted by Ken Nordine.  
Inner Sanctum Mysteries
was a popular old-time radio program that aired from January 7, 1941 to October 5, 1952. Created by Himan Brown, the anthology series featured stories of mystery, terror and suspense. The tongue-in-cheek introductions were in sharp contrast to shows like Suspense and The Whistler. A total of 526 episodes are known to have been produced. The early 1940s programs opened with Raymond Edward Johnson introducing himself as, "Your host, Raymond," in a mocking sardonic voice. A spooky melodramatic organ score punctuated Raymond's many morbid jokes and playful puns. Raymond's closing was an elongated "Pleasant dreaaaaammmmssss!" His tongue-in-cheek style and ghoulish relish of his own tales became the standard for many such horror narrators to follow, from fellow radio hosts like Ernest Chappell (on Cooper's later series, Quiet, Please) and Maurice Tarplin (on The Mysterious Traveler) to EC Comics' Crypt-Keeper in various incarnations of Tales from the Crypt. In interviews, EC publisher Bill Gaines stated that he based EC's three horror hosts not on Raymond but on Old Nancy, host of radio's earlier The Witch's Tale (1931-38). When Johnson left the series in 1945, he was replaced by Paul McGrath, who did not keep the "Raymond" name and was known only as "your host" or "Mr. Host." Beginning in 1945, Lipton Tea sponsored the series, pairing first Raymond and then McGrath with its cheery commercial spokeswoman, Mary Bennett, whose pitches for Lipton contrasted sharply with the subject matter of the stories, and who would primly chide the host for his dark humor and creepy manner.
Inner Sanctum 1941 - 1943  1944  1945  1946  1947  1948  1948a  1949b  1950-52
Jack Benny (February 14, 1894 in Chicago, Illinois – December 26, 1974 in Beverly Hills, California), born Benjamin Kubelsky, was an American comedian, vaudeville performer, and radio, television, and film actor. He was one of the biggest stars in classic American radio and was also a major television personality. Benny may have been the first standup comedian, as the term is known, as well as one of the first to work with what became the situation comedy. He was renowned for his flawless comic timing and (especially) his ability to get laughs with either a pregnant pause or a single expression, such as his signature exasperated "Well!". In hand with his dear friend and great "rival" Fred Allen — their long-running "feud" was one of the greatest running gags in comedy history — Benny helped establish a basic palette from which comedy since has rarely deviated, no matter how extreme or experimental it has become in their wake. Benny had been only a minor vaudeville performer, but he became an enormously successful national figure with The Jack Benny Program, a weekly radio show which ran from 1932 to 1948 on NBC and from 1948 to 1955 on CBS, and was consistently among the most highly rated programs during most of that run. Benny's stage character was a clever inversion of his actual self. Though the character was named Jack Benny, he was also just about everything the actual Jack Benny himself was not: cheap, petty, vain and self-congratulatory. The supporting characters were Mary Livingstone, Don Wilson, Phil Harris, Dennis Day and, especially, Eddie Anderson as valet-chauffeur Rochester van Jones — who was as popular as Benny himself.
Jack Benny 1937 and 1938    1939 and 1940   1941 and 1942  1943 and 1944 
1945 -1947      1950 -1951  1952 - 1953   1954 - 1955
 Jeff Regan, Investigator was one of the three detective shows Jack Webb did before Dragnet. It debuted on CBS in July 1948. Webb played JEFF REGAN, a tough private eye working in a Los Angeles investigation firm run by Anthony J. Lyon. Regan introduced himself on each show "I get ten a day and expenses...they call me the Lyon's Eye." The show was fairly well-plotted, Webb's voice was great, and the supporting cast were skillful. Regan handled rough assignments from Lion, with whom he was not always on good terms. He was tough, tenacious, and had a dry sense of humor. The voice of his boss, Anthony Lion, was Wilms Herbert. The show ended in December 1948 but was resurrected in October 1949 with a new cast; Frank Graham played Regan (later Paul Dubrov was the lead) and Frank Nelson portrayed Lion. This version ran on CBS, sometimes as a West Coast regional, until August 1950. Both versions were 30 minutes, but the day and time slot changed several times. (from www.thrillingdetective.com)
   Jeff Regan, Investigator        Listen
 Jerry Of The Circus was a 15 minute series for children, syndicated in 193. It follows The Adventures Of Jerry and his dog Rags Who joins Sam Randalls Circus after the Death of his Family. It was followed by the series Jerry at Fair Oaks.
 Journey Into Space was a BBC Radio science fiction program, written by BBC producer Charles Chilton. Three series were produced, which have been translated into 17 languages and broadcast worldwide. In the UK it was the last radio program to attract a bigger evening audience than television. 
Journey to the Center of the Earth
is a classic 1864 science fiction novel by Jules Verne. The story involves a professor who leads his nephew and hired guide down a volcano in Iceland to the "Center of the Earth".  This audio theater production is from BBC 1963. The story begins on Sunday 24 May 1863, in the Lidenbrock house in Hamburg, with Professor Lidenbrock rushing home to peruse his latest purchase, an original runic manuscript of an Icelandic saga written by Snorri Sturluson. While looking through the book, Lidenbrock and Axel find a coded note written in runic script. While looking through the book, Lidenbrock and Axel find.....
Jungle Jim

  - True Friend to all good men, relentless enemy of all bad ones no matter what their race or creed may be.PRODUCED BY LANGLOIS & WENTWORTH.    TRANSCRIBED BY RCA.
        STARS: Matt Crowley, Franc Hale, Juano Hernandez, Irene Winston,  Owen Jordan, Arthur Hughes, Jack Lloyd, Kenny Delmar
        ANNOUNCER: Glenn Riggs      WRITER: Gene Stafford
        Followed the Sunday Comic Strip closely & aired on the prior Saturday
Jungle Jim 01  02  03  04  05            Listen
<<<BACK