Calfkiller Old Time Radio Downloads 
Click on show of choice to go to download page and right click on the shows of choice and select 'save link as' or 'save target as'. 
 Some are in a zip file and will need a unzip program like WINRAR after downloading. 
NOTICE:  I am in the on going process of updating all the content of these pages and will be moving to a central loacation. Currently removing dead links, updating shows, adding any additional episodes, and so on. As I complete a series, it will be moved to
 Calfkiller OTR Download Archives
Some are from the Internet Archive where I have uploaded many shows and thanks to others who have contributed also.  I am also uploading to other servers with the most complete and best quality of a series I find available. Hopefully this will be completed shortly as time permits. Will be adding zip files of most series also.
Please feel free to visit and monitor the progress if like, and if have any suggestions or comments feel free to leave a note.
Robert
Post any messages, comments or request here   Sign Guestbook 
or post to this message board
click on message to review
21ST PRECINCT  was one of the realistic police drama series. First show was 07/07/1953 and the last show was on 11/01/1956. There was 159 episodes in the series, 30 minutes each. In 1953 CBS decided to use New York City as the backdrop for their own half hour police series and focus on the day-to-day operations of a single police precinct.  Actual cases would be used as the basis for stories. It was mentioned in each episode's closing by the announcer  that, "Twenty-first Precinct is presented with the official cooperation of the Patrolmen's Benevolent Association an organization of more than 20,000 members of the Police Department, City of New York." (OTRR)
Download21st Precinct Single Episodes   Listen
21st Precinct  4 CDs Zip Files 
A Christmas Carol : Many Old Time Radio Versions   Listen   
A Day in the Life of Dennis Day
A F R S Musical Broadcasts         Listen
Abbott and Costello William (Bud) Abbott and Lou Costello (born Louis Francis Cristillo) were an American comedy duo whose work in radio, film and television made them one of the most popular teams in the history of comedy. Thanks to the endurance of their most popular and influential routine, "Who's on First?"---whose rapid-fire word play and comprehension confusion set the preponderant framework for most of their best-known routines---the team are also the only comedians known to have been inducted into the Baseball Hall of Fame. Bud Abbott was born in Asbury Park, NJ, October 2, 1897 and died April 24, 1974 in Woodland Hills, California. Lou Costello was born in Paterson, NJ, March 6, 1906 and died March 3, 1959 in East Los Angeles, California. After working as Allen's summer replacement, Abbott and Costello joined Edgar Bergen and Charlie McCarthy on The Chase and Sanborn Hour in 1941, while two of their films (Buck Privates and Hold That Ghost) were adapted for Lux Radio Theater. They launched their own weekly show October 8, 1942, sponsored by Camel cigarettes. The Abbott and Costello Show mixed comedy with musical interludes (usually, by singers such as Connie Haines, Marilyn Maxwell, the Delta Rhythm Boys, Skinnay Ennis, and the Les Baxter Singers). Regulars and semi-regulars on the show included Artie Auerbrook, Elvia Allman, Iris Adrian, Mel Blanc, Wally Brown, Sharon Douglas, Verna Felton, Sidney Fields, Frank Nelson, Martha Wentworth, and Benay Venuta. Ken Niles was the show's longtime announcer, doubling as an exasperated foil to Abbott & Costello's mishaps (and often fuming in character as Costello insulted his on-air wife routinely); he was succeeded by Michael Roy, with annoncing chores also handled over the years by Frank Bingman and Jim Doyle. The show went through several orchestras during its radio life, including those of Ennis, Charles Hoff, Matty Matlock, Jack Meaking, Will Osborne, Freddie Rich, Leith Stevens, and Peter van Steeden. The show's writers included Howard Harris, Hal Fimberg, Parke Levy, Don Prindle, Ed Cherokee, Len Stern, Martin Ragaway, Paul Conlan, and Ed Forman, as well as producer Martin Gosch. Sound effects were handled mostly by Floyd Caton. Abbott and Costello moved the show to ABC (the former NBC Blue Network) five years after they premiered on NBC. During their ABC period they also hosted a 30-minute children's radio program(The Abbott and Costello Children's Show), which aired Saturday mornings with vocalist Anna Mae Slaughter and announcer Johnny McGovern.
ABC Mystery Time 1953-1958  Unfortunately this is an old time radio show with few surviving episodes in existence. The program was also sometimes known as "Mystery Time Classics" and "Masters Of Mystery "
Download/Listen ABC Mystery Time
Abe Burrows Show - Abe Burrows ( December 18, 1910 – May 17, 1985), was a noted American humorist, author, and director for radio and the stage, particularly Broadway. He was born Abram Solman Borowitz in New York City, graduated from New Utrecht High School in Brooklyn and attended both City College and New York University. He began working as a runner on Wall Street runner while at NYU, and he also worked in an accounting firm. After he met Frank Galen in 1938, the two wrote and sold jokes to an impressionist who appeared on the Rudy Vallée radio program. His radio career gained strength when he collaborated with Ed Gardner, the writer and star of radio legend Duffy's Tavern. The two created the successful series after Gardner's character, Archie, premiered on the earlier radio program,
 Download Abe Burrows Show       Listen
Abroad with the Lockharts is a 13 episode serialized radio show from 1932 that follows a middle-aged Chicago couple on a trip from start to finish. Only nine episodes are all that is known to exist.
Download/Listen Abroad with the Lockharts
Academy Award Theater began its full 39 week season with a high note -- with Bette Davis in her Oscar winning role in Jezebel. By looking at the list of actors who appeared during the series, you can see that this series ranked up there with the Lux Radio Theater in its range of movies chosen to be dramatized as well as the actors involved. Gene Hersholt, veteran radio and movie star, spoke as president of the Academy of Motion Picture Arts and Sciences during the first show welcoming the E.R. Squibb Co., giant pharmaceutical company as sponsor. These 30 minute programs consisted of dramnatizations of movies whose pictures, players, techniques, and skills won or were nominated for the coveted golden Oscars. The thirty nine episodes of this series aired between March 30, 1946 and December 18, 1946. (From the Old Time Radio Researcher's Group) 
The Academy Awards, popularly known as the Oscars, are the most prominent and most watched film awards ceremony in the world. Awarded annually by the Academy of Motion Picture Arts and Sciences since 1929. Here is the Academy Awards Ceremonies on the radio 1944 and 1949.
 Academy Awards Ceremonies      Listen
Adventure Ahead from 1944 aired Saturdays 10:30 - 11:00 am on NBC and was directed by Joseph Mansfield. Swashbuckling tales to running away with the circus, anything adventurous.
Download/Listen Adventure Ahead from OTR World
 ADVENTURES BY MORSE - From January 16, 1939 to January 26, 1952, stories from the pen of Carlton E. Morse graced the airwaves. The main ones remembered are One Man's Family, I Love A Mystery, and Adventures by Morse.  Adventures by Morse related the escapades of Captain Bart Friday and Skip Turner, two San Francisco private investigators. Friday was a no-nonsense type, raised in the California. Turner was quite a bit the lady's man, complete with a laconic Southern accent. Their occasional work for U.S. Military Intelligence takes them around the globe. The series consisted of eight serials that ran from October 26, 1944 to October 18, 1945. The first serial, "City of the Dead", consisted of ten episodes. The second serial was done in three episodes. The remainder of the series lternated between ten and three 30-minute episodes. The adventures cover the world as well as the world of adventure. They take place on a South Pacific island, South America, Cambodia, and South Carolina plus other locations. They deal with murder, espionage, Nazi secret bases, kidnappers, voodoo and even snake worshippers. If you're looking for adventure, you'll find it here. (From the Old Time Radio Researcher's Group)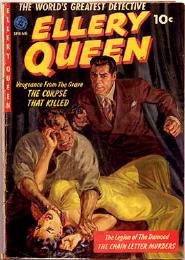 The Adventures of Ellery Queen was heard on all three networks from 1939 to 1948. During the 1970s, syndicated radio fillers, Ellery Queen's Minute Mysteries, began with an announcer saying, "This is Ellery Queen..." and would go on to describe a case in one minute. The radio station would then encourage callers to try to solve the mystery and win a sponsor's prize. Once they got a winner, the solution part of the spot would be played as confirmation.
Adventures of Frank Merriwell first ran on NBC radio from March 26 to June 22, 1934 as a 15-minute serial airing three times a week at 5:30pm. Sponsored by Dr. West's Toothpaste, this program starred Donald Briggs in the title role. Harlow Wilcox was the announcer. After a 12-year gap, the series returned October 5, 1946 as a 30-minute NBC Saturday morning show, continuing until June 4, 1949. Lawson Zerbe starred as Merriwell, Jean Gillespie and Elaine Rostas as Inza Burrage, Harold Studer as Bart Hodge and Patricia Hosley as Elsie Belwood. The announcer was Harlow Wilcox, and the Paul Taubman Orchestra supplied the background music. There are at least three generations of Merriwells: Frank, his half-brother Dick, and Frank's son, Frank Jr. There is a marked difference between Frank and Dick. Frank usually handled challenges on his own. Dick has mysterious friends and skills that help him, especially an old Indian friend without whom the stories would not have been quite as interesting.
Download Adventures of Frank Merriwell   Listen A.O.F.M.
The Adventures of Frank Race was a 1949-50 radio adventure serial syndicated by Bruce Ellis Productions. The 30-minute program was first broadcast in some markets beginning May 1, 1949. An attorney who turned international adventurer after WWII, Frank Race (Tom Collins, Paul Dubov) mainly investigated insurance scams. After the first 22 shows, Dubov took over the title role. Tony Barnett portrayed Mark Donovan. The series was written and directed by Joel Murcott and Buckley Angel. The announcer was Art Gilmore, and Ivan Ditmars provided the background organ music.
 Adventures of Frank Race         Listen
 The Adventures of Harry Lime was an old-time radio program produced in London, England during the 1951 to 1952 season. Orson Welles reprised his role of Harry Lime from the celebrated 1949 film adaptation of Graham Greene's novel The Third Man. The radio series is a "prequel" to the film, and depicts the many misadventures of con-artist Lime in a somewhat lighter tone than the character's villainy in the film.
The Lives Of Harry Lime      Listen
Adventures of Leonidas Witherall was a radio mystery series broadcast on Mutual in the mid-1940s. Based on the novels of Phoebe Atwood Taylor (writing as Alice Tilton), the 30-minute dramas were produced by Roger Bower and starred Walter Hampden as Leonidas Witherall, a New England boys' school instructor in Dalton, Massachusetts, a fictional Boston suburb. Witherall, who resembled William Shakespeare, is an amateur detective and the accomplished author of the "popular Lieutenant Hazeltine stories." His housekeeper Mrs. Mollett was played by Ethel Remey (1895-1979) and Jack MacBryde appeared as Police Sgt. McCloud. The announcer was Carl Caruso. Milton Kane supplied the music. The series began June 4, 1944 and continued until May 6, 1945.
Download/Listen Leonidas Witherall 
The Adventures of Maisie (aka Maisie) was a radio comedy series starring Ann Sothern as Brooklyn secretary Maisie Revere, a spin-off of Sothern's successful 1939-1947 Maisie movie series. Sponsored by Eversharp, the first series ran on CBS from July 5, 1945 to March 28, 1947, airing on Thursdays at 8:30pm during the first two months, then moving to Wednesdays at 9:30pm (1945-46), then Fridays at 10:30pm (1946-47). The supporting cast included Hy Averback, Arthur Q. Bryan, Hans Conreid, Virginia Gregg, Peter Leeds, Johnny McGovern and Sidney Miller. John Easton was the announcer, Harry Zimmerman and Albert Sack supplied the music, and John L. Greene was the producer. Tony Sanford directed scripts by Samuel Taylor and others. In 1952 the series was heard on Mutual from January 11 to December 26, and it was syndicated from 1949 to 1952 with Pat McGeehan as Eddie Jordan. Bea Benaderet and Elvira Allman portrayed Mrs. Kennedy. The supporting cast included Averback, Conreid, Leeds, McGovern, Lurene Tuttle, Ben Wright, Sandra Gould and Jeffrey Silver. Harry Zimmerman led the orchestra with John Easton and Jack McCoy announcing. The show popularized the 1940s catch phrase, "Likewise, I'm sure."
 The Adventures of Ozzie and Harriet launched on CBS October 8, 1944, making a mid-season switch to NBC in 1949. The final years of the radio series were on ABC (the former NBC Blue Network) from October 14, 1949, to June 18, 1954.The Adventures of Ozzie and Harriet, an American radio and television series, was once the longest-running, live-action situation comedy on American television, having aired on ABC from 1952 to 1966 after a ten-year run on radio. Starring Ozzie Nelson and his wife, singer Harriet Hilliard (she dropped her maiden name after the couple ended their music career), the show's sober, gentle humor captured a large, sustaining audience, although it never rated in the top ten programs, and later critics tended to dismiss it as fostering a slightly unrealistic picture of post-World War II American family life. When Skelton was drafted, Ozzie Nelson was prompted to create his own family situation comedy. The Adventures of Ozzie and Harriet launched on CBS October 8, 1944, making a mid-season switch to NBC in 1949. The final years of the radio series were on ABC (the former NBC Blue Network) from October 14, 1949, to June 18, 1954. In an arrangement that amplified the growing pains of American broadcasting, as radio "grew up" into television (as George Burns once phrased it), the Nelsons' deal with ABC gave the network itself the right to move the show to television whenever it wanted to do it---they wanted, according to the Museum of Broadcast Communications, to have talent in the bullpen and ready to pitch, so to say, on their own network, rather than risk it defecting to CBS (where the Nelsons began) or NBC. Their sons, David and Ricky, did not join the cast until five years after the radio series began. The two boys felt frustrated at hearing themselves played by actors and continually requested they be allowed to portray themselves. Prior to April 1949, the role of David was played by Joel Davis (1944-45) and Tommy Bernard, and Henry Blair appeared as Ricky. Since Ricky was only nine years old when he began on the show, his enthusiasm outstripped his ability at script reading, and at least once he jumped a cue, prompting Harriet to say, "Not now, Ricky." Other cast members included John Brown as Syd "Thorny" Thornberry, Lurene Tuttle as Harriet's mother, Bea Benaderet as Gloria, Janet Waldo as Emmy Lou, and Dick Trout as Roger. Vocalists included Harriet Nelson, the King Sisters, and Ozzie Nelson. The announcers were Jack Bailey and Verne Smith. The music was by Billy May and Ozzie Nelson. The producers were Dave Elton and Ozzie Nelson.
The Adventures of Ozzie and Harriet      Listen
THE ADVENTURES OF PHILIP MARLOWE - NBC produced Phillip Marlowe as a summer replacement series for the Bob Hope Show. It featured several adaptations of Chandler short stories, but was considered too talky and slow-moving. Erle Stanley Gardner, in a letter to Chandler, confided he found it all rather difficult to follow. But the CBS series, THE ADVENTURES OF PHILIP MARLOWE, that followed the next year, really clicked. After a three episode trial run on THE PEPSODENT PROGRAM in September of 1947 with Van Hefflin in the title role, THE ADVENTURES OF PHILIP MARLOWE premiered as a weekly series on September 26, 1948. It was well-produced, less introspective than the books or the previous series on NBC, but it had a secret weapon. Gerald Mohr excelled as Marlowe, and his snappy delivery, coupled with well-written stories and intriguing characters makes for entertaining listening. By 1949 the show was pulling the biggest audience on American radio, with a rating of 10.3 million listeners.In 1950, Radio and Television Life Magazine named Gerald Mohr as the Best Male Actor on radio. "And it had the best hard-boiled opening lines of any radio detectives series," according to faithful contributor and OTR fan Stewart Wright. "It has to be heard to be fully appreciated... (from Thrilling Detective)
    "Get this and get it straight! Crime is a sucker's road and those who travel it wind up in the gutter, the prison or the grave. There's no other way, but they never learn."
   Download Phillip Marlowe  Listen
OTRR_Certified_Adventures_of_Philip_Marlowe_Cd_1 ZIP 
(618 MB)
OTRR_Certified_Adventures_of_Phliip_Marlowe_Cd_2 ZIP
 (694 MB)
OTRR_Certified_Adventures_of_Philip_Marlowe_Cd_3_ZIP        
(653 MB)
 The Adventures of Sam Spade was a radio series based loosely on the private detective character Sam Spade, created by writer Dashiell Hammett for The Maltese Falcon. The show ran for 13 episodes on ABC in 1946, for 157 episodes on CBS in 1946-1949, and finally for 51 episodes on NBC in 1949-1951. The series starred Howard Duff (and later, Steve Dunne) as Sam Spade and Lurene Tuttle as his secretary Effie, and took a considerably more tongue-in-cheek approach to the character than the novel or movie. In 1947, scriptwriters Jason James and Bob Tallman received an Edgar Award for Best Radio Drama from the Mystery Writers of America. Before the series, Sam Spade had been played in radio adaptations of The Maltese Falcon by both Edward G. Robinson (in a 1943 Lux Radio Theater production) and by Bogart himself (in a 1946 Academy Award Theater production), both on CBS.
       Adventures of Sam Spade     Listen
   Adventures of Sherlock Holmes   Listen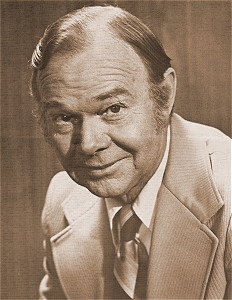 The Adventures of Sonny and Buddy     (1933-1934 & 1935-1936) 100 total episodes.  Jack Edwards as Sonny, Sam Edwards as Buddy. First done live in San Antonio, Texas and rebroadcast in Shreveport, Louisiana, 1933-34. Later redone live over KFSD in San Diego and concurrently recorded each weekend for syndication at RCA Victor Studios in Hollywood 1935-1936 While still in their teens, Sam and his brother Jack started contributing to the family income through their collective talents. With Edna writing the scripts and father Jack playing the adult male roles, the family spent nine months broadcasting The Adventures of Sonny and Buddy in San Antonio and Shreveport, La. This weekly program, one of the earliest serials ever broadcast on radio, was about two young boys who ran away from home and traveled with a medicine show. Every week the program featured Sam and Jack singing popular songs. On one very special occasion, the show was broadcast in Havana, Cuba, so Sam's grandmother Bonnie, who resided there at the time, could hear her grandson belt out Pagan Love Song.
Adventures of Sonny and Buddy      Listen M3U 
The Adventures of Superman, adapted from the DC Comics character created in 1938 came to radio as a syndicated show on New York City's WOR on February 12, 1940. On Mutual, it was broadcast from August 31, 1942, to January 28, 1949, as a 15-minute serial, running three or, usually, five times a week. From January 31 to June 17, 1949 it ran as a thrice-weekly half-hour show. The series shifted to ABC Saturday mornings on November 5, 1949, and then to twice-a-week in June 1950, continuing on ABC until March 1, 1951. 
         Adventures of Superman : Episodes 0046-0069     Listen
Adventures of Superman : Episodes 1096-1159
Adventures of Superman : Episodes 1160-1292
Adventures of Superman : Episodes 1665-END
Air Adventures of Jimmy Allen      Listen
Alan Young Show (born November 19, 1919) is an actor best known for his television role opposite a talking horse, Mister Ed. Born in North Shields,Tyne and Wear, England, with the given name Angus Young, he was raised in Edinburgh, Scotland and in Canada. He grew to love radio when bedbound as a child because of severe asthma and became a radio broadcaster on the Canadian Broadcasting Corporation. In 1944, he made the leap to American radio with The Alan Young Show, NBC's summer replacement for Eddie Cantor. Following a move to ABC in the fall (1944-46), he returned to NBC (1946-49).
 The Aldrich Family, a popular radio teenage situation comedy (1939-1953), is remembered first and foremost for its unforgettable introduction: awkward teen Henry's mother calling, "Hen-reeeeeeeeeeeee! Hen-ree Al-drich!" A top-ten ratings hit within two years of its birth (in 1941, the show carried a 33.4 Crossley rating, landing it solidly alongside Jack Benny and Bob Hope), the show is considered a prototype for teen-oriented situation comedies to follow on radio and television and is a favorite, if dated, find for old-time radio collectors today. The Aldrich Family radio show was born as a summer replacement for Jack Benny in NBC's Sunday night lineup, July 2, 1939, and it stayed there until October 1, 1939, when it moved to Tuesday nights at 8 p.m., sponsored by General Foods's popular gelatin dessert Jell-O, which also sponsored Jack Benny at the time. The Aldriches ran in that slot from October 10, 1939 until May 28, 1940, moving to Thursdays, from July 4, 1940 until July 20, 1944. After a brief hiatus, the show moved to CBS, running on Fridays from September 1, 1944 until August 30, 1946 with sponsors Grape Nuts and Jell-O before moving back to NBC from September 05, 1946 to June 28, 1951 on Thursdays and, then, its final run of September 21, 1952 to April 19, 1953 on Sundays. 
Aldrich Family, The      More Aldrich Family    Listen
 Alka Seltzer Time  aired between October 9, 1953 and November 6, 1953. It was a 15 minute daily music show sponsored by Alka Seltzer. Stars of the show are Curt Massey, Martha Tilton, Country Washburn and His Orchestra, Fort Pearson (announcer).
     All Star Western Theater       Listen
Amos 'n' Andy was a situation comedy popular in the United States from the 1920s through the 1950s. The show began as one of the first radio comedy serials, written and voiced by Freeman Gosden and Charles Correll and originating from station WMAQ in Chicago, Illinois. After the series was first broadcast in 1928, it grew in popularity. In its early prime, the early 1930s, it was common for entire towns to be listening to the show. Stores would close, even movie theatres would stop the film while the Amos and Andy show was played instead for the movie audience. The national audience was estimated at 40 million, and that very large audience (nearly a third of the American population) was made up of Americans of many races and national backgrounds. Amos 'n' Andy was officially transferred by NBC from the Blue Network to the Red Network in 1935, although the vast majority of stations carrying the show remained the same. Several months later, Gosden and Correll moved production of the show from NBC's Merchandise Mart studios in Chicago to Hollywood. After a long and successful run with Pepsodent, the program changed sponsors in 1938 to Campbell's Soup; because of Campbell's closer relationship with CBS, the series switched to that network in April 1939. In 1943, after 4,091 episodes, the radio program went from a 15-minute CBS weekday dramatic serial to an NBC half-hour weekly comedy. While the five-a-week show often had a quiet, easygoing feeling, the new version was a full-fledged sitcom in the Hollywood sense, with a regular studio audience (for the first time in the show's history) and an orchestra. More outside actors, including many African American comedy professionals, were brought in to fill out the cast. Many of the half-hour programs were written by Joe Connelly and Bob Mosher, later the writing team behind Leave It To Beaver and The Munsters. In the new version, Amos became a peripheral character to the more dominant Andy and Kingfish duo, although Amos was still featured in the traditional Christmas show where he explains the Lord's Prayer to his daughter.
Amos and Andy - 1943     1944     1945    1946-1947    1948    1949    1950   
 An Evening With Groucho - Julius Henry Marx, known as Groucho Marx (October 2, 1890 – August 19, 1977), was an American comedian, working both with his siblings, the Marx Brothers, and on his own. The Marx family grew up on the Upper East Side of New York City, in a small Jewish neighborhood sandwiched between Irish-German and Italian neighborhoods. Groucho had a showbusiness uncle; Al Shean of Gallagher and Shean, a noted vaudeville act of the early 20th century. According to Groucho, when Shean visited he would throw the local waifs a few coins so that when he knocked at the door he would be surrounded by child like adoring fans. Groucho and his brothers respected his opinions and asked him on several occasions to write some material for them. Groucho developed a routine as a wise-cracking hustler with a distinctive chicken-walking lope and an exaggerated greasepaint moustache and eyebrows, improvising insults to stuffy dowagers (often played by Margaret Dumont) and anyone else who stood in his way. He and his brothers starred in a series of extraordinarily popular movies and stage shows, often ad libbing.
     An Evening With Groucho        Listen
Arch Oboler's Plays was a radio drama series written, produced and directed by Arch Oboler. Minus a sponsor, it ran for one year, airing Saturday evenings on NBC from March 25, 1939 to March 23, 1940 and revived five years later on Mutual for a sustaining summer run from April 5, 1945 to October 11, 1945. Leading film actors were heard on this series, including Ingrid Bergman, Gloria Blondell, Eddie Cantor, James Cagney, Ronald Colman, Joan Crawford, Greer Garson, Edmund Gwenn, Van Heflin, Katharine Hepburn, Elsa Lanchester, Peter Lorre, Frank Lovejoy, Raymond Massey, Burgess Meredith, Paul Muni, Alla Nazimova, Edmond O'Brien, Geraldine Page, Gale Sondergaard, Franchot Tone and George Zucco.
 ARCH OBOLERS PLAYS : SERIES ONE (April 1, 1939)
ARCH OBOLERS PLAYS : SERIES TWO (April 5, 1945)
ARCH OBOLERS PLAYS : SERIES THREE (1964 Syndicated) (January 1, 1964)
 Aunt Jemima is a trademark for pancake flour, syrup, and other breakfast foods. The trademark dates to 1893, although Aunt Jemima pancake mix debuted in 1889. These are 5 minute shows on CBS sponsored by Quaker from 1943.
 Avalon Time - Richard Bernard "Red" Skelton (July 18, 1913 – September 17, 1997) was an American comedian who was best known as a top radio and television star from 1937 to 1971. Skelton's show business career began in his teens as a circus clown and went on to vaudeville, Broadway, films, radio, TV, clubs and casinos, while pursuing another career as a painter. Skelton became a regular in 1939 on NBC's Avalon Time, sponsored by Avalon Cigarettes.
The Baby Snooks Show was an American radio show starring comedienne and Ziegfeld Follies alumna Fanny Brice as a mischievous young girl who was 40 years younger than the actress who played her when she first went on the air. On February 29, 1936, the producers of the Ziegfield Follies of the Air, where Brice already had a presence, asked her to fill empty airtime with a Snooks skit. Snooks' media career had begun, and the following year, she played Snooks on the Good News Show. In 1940, she became a regular character on the Maxwell House Coffee Time, sharing the spotlight with monologist Frank Morgan. In 1944, the character was given her own show, and during the 1940s, it became one of the nation's favorite radio situation comedies, broadcast by a variety of sponsors---Post Cereals, Sanka, Spic-n-Span and Jell-O. The series began on CBS September 17, 1944, airing on Sunday evenings at 6:30pm as Toasties Time. The title soon changed to The Baby Snooks Show, and the series was sometimes called Baby Snooks and Daddy. In the fall of 1946, the show moved to Friday nights at 8pm, continuing on CBS until May 28, 1948. On November 9, 1949, the series moved to NBC where it was heard Tuesdays at 8:30pm. Sponsored by Tums, The Baby Snooks Show continued on NBC until May 22, 1951. Two days later, Fanny Brice had a cerebral hemorrhage, and the show ended with her death at age 59.
  A great number of shows courtesy of Shirley's Site over at Multiply
Band Remotes -  All the favorites like Jimmy Dorsey, Gus Arnheimand His Orchestra, Glen Miller, Benny Goodman and many many more including The Kraft Music Hall; a major NBC radio variety program, featuring top show business entertainers, in a 16-year span from 1933 to 1949. Kraft Foods was the first advertiser to sponsor a two-hour radio program, in an era when many radio programs were only 15 minutes long and few were longer than a half hour.
 Barrie Craig, Confidential Investigator was a radio detective drama heard on NBC from October 3, 1951 to June 30, 1955. Detective Barrie Craig (William Gargan) worked alone from his Madison Avenue office. Unlike his contemporaries Sam Spade and Philip Marlowe, Craig had a laid-back personality, somewhat cutting against the popular "hard-boiled detective" stereotype. Others in the cast included Parley Baer and Betty Lou Gerson.
A suite of piano arrangements of Beatles songs.
The Bickersons was an American radio comedy (1946-1951). Born on The Chase and Sanborn Hour and refined on the lesser-remembered Drene Time it stood the already-typical domestic presentation of radio and its infant offspring, television, so squarely on its head that there were those who feared the show. The show's married protagonists spent nearly all their time together in relentless verbal war.
 The Big Show, an American radio variety program featuring 90 minutes of top-name comic, stage, screen and music talent, was aimed at keeping American radio in its classic era alive and well against the rapidly-growing television tide. For a good portion of its two-year run (1950-1951), the show's quality made its ambition not terribly far-fetched. Hosted by legendary stage actress and personality Tallulah Bankhead, The Big Show's November 5, 1950 premiere on NBC was a great success, and it stayed on Sunday nights from 6-7:30 Eastern standard time for the next two years. NBC went full-stop trying to keep radio from its now-predicted death, and The Big Show was thought to be a key to that effort. Newsweek called the show "The biggest bang to hit radio since TV started." As if to prove big bang and big bucks were mutual partners, as much as $100,000 was likely to be budgeted for a single installment. The show's success was credited to Bankhead's notorious wit and ad-libbing ability within the show's scripting. She had one of the funniest writers in the business on her staff: Goodman Ace, the mastermind of radio's legendary Easy Aces. She included renowned ad-libbers in the show---particularly Fred Allen (he and his longtime sidekick and wife, Portland Hoffa, appeared so often they could have been the show's regular co-hosts) and Groucho Marx, both of whom appeared on the first season's finale and appeared jointly on three other installments. As Bankhead recorded in her memoirs, she took the show because she needed the money but nearly changed her mind when she feared she'd be little more than a glorified mistress of ceremonies with nothing to do but introduce the feature performers. "Guess what happened?" she continued. "Your heroine emerged from the fracas as the Queen of the Kilocycles. Authorities cried out that Tallulah had redeemed radio. In shepherding my charges through The Big Show, said the critics, I had snatched radio out of the grave. The autopsy was delayed." 
Big Town was a popular long-run radio drama later adapted to both television and a comic book published by DC Comics. The radio program aired from 1937 to 1952. Edward G. Robinson had the lead role of Steve Wilson from 1937 to 1942. Claire Trevor was Wilson's society editor sidekick Lorelei Kilbourne, with Ona Munson taking over that role in 1940. Edward J. Pawley portrayed Wilson from 1942 until 1952 when Walter Greaza was heard as Wilson in the final episodes in the radio series.  
Black Jack Justice - Hard-boiled detective audio dramas from Decoder Ring Theatre. All-new, full-cast mysteries in the tradition of the golden age of radio, film noir and pulp magazines. Follow Jack Justice, P.I. and his partner Trixie Dixon, Girl Detective in one hair-raising mystery after another. The series continues as part of Decoder Ring Theatre's audio drama podcasts, with new episodes available for download every second Saturday at www.decoderringtheatre.com 
 The Black Museum was a 1951 radio crime drama program produced by Harry Alan Towers for the BBC and based on real-life cases from the files of Scotland Yard's Black Museum. Ira Marion wrote the scripts, and music for the series was composed and conducted by Sidney Torch. Orson Welles was both host and narrator for stories of horror and mystery based on Scotland Yard's collection of murder weapons and various ordinary objects once associated with historical crime cases. The show's opening began, "The Black Museum, a repository of death. Here in a grim, stone structure on the Thames which houses Scotland Yard is a warehouse of homicide, a very strange room where everyday objects... of a woman's shoe, a tiny white box, a quilted robe... all are touched by murder."  Walking through the museum, Welles would pause at one of the exhibits, and his description of an artifact served as a device to lead into a tale of terror or a brutal murder. In the weekly closing, Welles concluded with his signature radio phrase, "I remain, as always, obediently yours".  With the story themes deriving from objects in the collection, the 52 episodes had such titles as "The Tartan Scarf," "A Piece of Iron Chain," "Frosted Glass Shards" and "A Khaki Handkerchief.". An anomaly to the series as well as the purpose of the museum itself was an episode called "The Letter". It was not a murder story, but a story about forgery. In the United States, the series aired on the Mutual Network between (January 1 and December 30, 1952). Beginning May 7, 1953, it was also broadcast over Radio Luxembourg sponsored by the cleaning products Dreft and Mirro. Since the BBC carried no commercials, Radio Luxembourg aired sponsored programs at night to England. In America, a program of similar scope, using many of the same picked cases as The Black Museum, and nearly mirroring its broadcast run was broadcast by NBC called Whitehall 1212. The two shows were different in the respect that while Whitehall told the story of a case entirely from the point of view of the police starting from the crime scene, The Black Museum was more heavily dramatized and played out scenes of the actual murders and included scenes from the criminal's point of view.
Black Museum    Listen      ( ZIP File )
Blackstone the Magic Detective
 Blondie was a radio situation comedy adapted from the long-run Blondie comic strip by Chic Young. The radio program had a long run on several networks from 1939 to 1950. After Penny Singleton was cast in the title role of the feature film Blondie (1938), co-starring with Arthur Lake as Dagwood, she and Lake repeated their roles December 20, 1938, on The Bob Hope Show. The appearance with Hope led to their own show, beginning July 3, 1939, on CBS as a summer replacement for The Eddie Cantor Show. However, Cantor did not return in the fall, so the sponsor, Camel Cigarettes chose to keep Blondie on the air Mondays at 7:30pm. Camel remained the sponsor through the early WWII years until June 26, 1944. In 1944, Blondie was on the Blue Network, sponsored by Super Suds, airing Fridays at 7pm from July 21 to September 1. The final three weeks of that run overlapped with Blondie's return to CBS on Sundays at 8pm from August 13, 1944, to September 26, 1948, still sponsored by Super Suds. Beginning in mid-1945, the 30-minute program was heard Mondays at 7:30pm. Super Suds continued as the sponsor when the show moved to NBC on Wednesdays at 8pm from October 6, 1948, to June 29, 1949. Ann Rutherford took over the radio role of Blondie in 1949, and at times, Patricia Van Cleve and Alice White were also heard as Blondie. In its final season, the series was on ABC from October 6, 1949, to July 6, 1950, first airing Thursdays at 8pm and then (from May) 8:30pm. The radio show ended the same year as the Blondie film series (1938-50).
Blondie and Dagwood   More Blondie & Dagwood    Listen
The Blue Beetle had a relatively short career on the radio, between May and September of 1940. Motion picture and radio actor Frank Lovejoy was the Blue Beetle for the first 13 episodes, while for the rest of the shows, the voice was provided by a different, uncredited actor. The Blue Beetle was a young police officer who saw the need for extra-ordinary crime fighting. He took the task on himself by secretly donning a superhero costume to create fear in the criminals who were to learn to fear the Blue Beetle's wrath. The 13-minute segments were usually only two-parters, so the stories were often more simple than other popular programs, such as the many-parted Superman radio show.
Bob and Ray began on Boston radio in 1946 with a daily 15-minute show titled Matinee With Bob and Ray. They continued on the air for over four decades on NBC, CBS, Mutual, New York City local stations (WINS, WOR, WHN) and NPR, ending in 1987. In the 1970s they were the afternoon drive hosts on WOR. They were regulars on NBC's Monitor, often on stand-by to go on the air at short notice if the program's planned segments developed problems, and they were also heard in a surprising variety of formats and timeslots, from a 15-minute series in mid-afternoon to their hour-long show aired weeknights just before midnight in 1954-55. During that same period, they did an audience participation game show, Pick and Play with Bob and Ray, which was short-lived. It came at a time when network pages filled seats for radio-TV shows by giving tickets to anyone in the street, and on Pick and Play the two comics were occasionally booed by audience members unfamiliar with the Bob and Ray comedy style. Some of their radio episodes were released on recordings, and others were adapted into graphic story form for publication in Mad magazine. Their earlier shows were mostly ad-libbed, but later programs relied more heavily on scripts. While Bob and Ray wrote much of their material, their writers included Tom Koch, who scripted many of their best-known routines, and Raymond Knight, an early radio pioneer. Bob Elliott later married Knight's widow. Another writer was Jack Beauvais, who had performed as a singer for WEEI in Boston during the 1930s and also worked for some of the big bands in the 1940s and 1950s.
Bob Hope, KBE (May 29, 1903 – July 27, 2003), born Leslie Townes Hope, was an English born entertainer who appeared in vaudeville, on Broadway, on radio and television, in movies, and in performing tours for U.S. Military personnel, well known for his good natured humor and career longevity. Hope first appeared on television in 1932 during a test transmission from an experimental CBS studio in New York. His career in broadcasting spanned sixty-four years and included a long association with NBC. Hope made his network radio debut in 1937 on NBC. His first regular series for NBC Radio was the Woodbury Soap Hour. A year later The Pepsodent Radio Show Starring Bob Hope began, and would run through 1953. Hope did many specials for the NBC television network in the following decades and these were often sponsored by Chrysler and Hope served as a spokesman for the firm for many years. Hope's Christmas specials were popular favorites and often featured a performance of "Silver Bells" (from his 1951 film The Lemon Drop Kid) done as a duet with an often much younger female guest star (such as Olivia Newton-John or Brooke Shields). His final television special was in 1996 with Tony Danza helping Hope present a retrospective about presidents of the United States.
Bobby Benson and the B-Bar-B Riders - 50 years ago one of the most listened to children's programs on was Bobby Benson and the B-Bar-B Riders. The show was heard from 1949 until 1955. Benson outlasted virtually every other kids' dramatic show including Superman, Green Hornet, Captain Midnight, Sky King, and Straight Arrow. The B-Bar-B ranch featured: Bobby Benson - "The Cowboy Kid," Tex, Windy Wales, Harka, and Irish. Don Knotts (who would later go on to TV and movie fame) was then in his mid-20s and was the voice of the old geezer, Windy Wales.
Download Bobby Benson and the B-Bar-B Riders
 Bold Venture was a 1951-1952 syndicated radio series starring Humphrey Bogart and Lauren Bacall. Morton Fine and David Friedkin scripted the taped series for Bogart's Santana Productions. Salty seadog Slate Shannon (Bogart) owns a Cuban hotel sheltering an assortment of treasure hunters, revolutionaries and other shady characters. With his sidekick and ward, the sultry Sailor Duval (Bacall), tagging along, he encounters modern-day pirates and other tough situations while navigating the waters around Havana. Aboard his boat, the Bold Venture, Slate and Sailor seek out and find "adventure, intrigue, mystery and romance in the sultry settings of tropical Havana and the mysterious islands of the Caribbean." Calypso singer King Moses (Jester Hairston) provided musical bridges by threading plot situations into the lyrics of his songs. Music by David Rose. Beginning March 26, 1951, the Frederic W. Ziv Company syndicated 78 episodes. Other sources claim that the 78 episodes include reruns, and that there were only around 30 episodes. Heard on 423 stations, the 30-minute series earned $4000 weekly for Bogart and Bacall. 31 episodes are known to exist in 2007, some are known by more than one title which can make it appear that there are more.
Boston Blackie radio series, starring Chester Morris, began June 23, 1944, on NBC as a summer replacement for The Amos 'n' Andy Show. Sponsored by Rinso, the series continued until September 15 of that year. Lesley Woods appeared as Blackie's girlfriend Mary Wesley, and Harlow Wilcox was the show's announcer. On April 11, 1945, Richard Kollmar took over the title role in a radio series syndicated by Frederic W. Ziv to Mutual and other network outlets. Over 200 episodes of this series were produced between 1944 and October 25, 1950. Other sponsors included Lifebuoy Soap, Champagne Velvet beer and R&H beer. While investigating mysteries, Blackie invaribly encountered harebrained Police Inspector Faraday (Maurice Tarplin) and always solved the mystery to Faraday's amazement. Initially, friction surfaced in the relationship between Blackie and Faraday, but as the series continued, Faraday recognized Blackie's talents and requested assistance. Blackie dated Mary Wesley (Jan Miner), and for the first half of the series, his best pal Shorty was always on hand. The humorless Faraday was on the receiving end of Blackie's bad puns and word play.
 Boston Blackie 1    Boston Blackie 2    Listen
Buck Rogers in the 25th Century (November 7, 1932)
Burns and Allen, an American comedy duo consisting of George Burns and his wife, Gracie Allen, worked together as a comedy team in vaudeville, films, radio and television. In 1929 they made their first radio appearance in London on the BBC. Back in America, they failed an audition with NBC in 1930. After a solo appearance by Gracie on Eddie Cantor's radio show, they were heard together on Rudy Vallee's Fleischmann Hour and in February 15, 1932 they became regulars on The Guy Lombardo Show on CBS. When Lombardo switched to NBC, Burns and Allen took over his CBS spot with The Adventures of Gracie, beginning September 19, 1934. The title of their top-rated show changed to The Burns and Allen Show on September 26, 1936. When ratings began to slip in 1940-41, they moved from mere comedy dialogues into a successful sitcom format, continuing with shows on NBC and CBS until May 17, 1950. Burns and Allen had several regulars on radio, including Toby Reed, Gale Gordon, Bea Benaderet, Mary 'Bubbles' Kelly, Ray Noble, singers Jimmy Cash and Tony Martin, actor/writer/director Elliott Lewis, musicians Meredith Willson and Artie Shaw, and announcers Bill Goodwin and Harry Von Zell, who were usually made a part of the evening's doings, often as additional comic foils for the duo. For a long time they continued their "flirtation act" with Burns as Allen's most persistent suitor; they didn't have their real-life marriage written into the show until the 1940s. The couple's son, Ronnie, also turned up on the show from time to time. (He would become a near-regular on their later television show, playing himself but cast as a young drama student who tended to look askance at his parents' comedy style.) Their daughter Sandy, was somewhat shy and not too fond of show business, declined any attempt to get her on the show as a regular cast member, though she appeared in a few episodes as a classmate of Ronnie. (She, too, would appear on the television show as a drama classmate of Ronnie's.)
The Campbell Playhouse (1938-40) was a CBS radio drama series directed by and starring Orson Welles. Produced by John Houseman, it was a sponsored continuation of the Mercury Theater on the Air. As a direct result of the front-page headlines Welles generated with his Halloween, 1938 production War of the Worlds production, Campbell's Soup signed on as his sponsor. The Campbell Playhouse began December 9, 1938, offering 60-minute adaptations of classic plays and novels, plus some adaptations of popular motion pictures. The same creative staff stayed on, but the show had a different flavor under sponsorship. This was partially due to a guest star policy which relegated the Mercury Players to supporting roles. There was a growing schism between Welles, still reaping the rewards of his Halloween night notoriety, and Houseman, who became more like an employee than a partner. The primary writer, as during the unsponsored run, was Howard Koch. Productions included Rebecca (featuring an interview with Daphne du Maurier), A Christmas Carol (broadcast once with Lionel Barrymore as Scrooge, and once with Orson Welles himself in the role), a non-musical version of Show Boat (with Margaret Sullavan as Magnolia, Orson Welles as Cap'n Andy, Helen Morgan as Julie, and authoress Edna Ferber herself as Parthy), A Farewell to Arms (with Katharine Hepburn), Mutiny on the Bounty, Arrowsmith (with Helen Hayes), Les Miserables (with Walter Huston), Our Town, Ah, Wilderness, Dodsworth, Lost Horizon (with Ronald Colman), Dinner at Eight (with Hedda Hopper and Lucille Ball) and Huckleberry Finn (with Jackie Cooper). When Welles left the series in 1940 to begin his film work, Houseman stayed as producer for the final season, and the focus shifted to more obscure fare, still with casts drawn from the ranks of film actors. The writer during this final season was Wyllis Cooper (he and Campbell announcer Ernest Chappell would go on to create Quiet, Please). The final broadcast of The Campbell Playhouse was on June 13, 1941.
Campbell Playhouse with Orson Welles     Listen
Captain Midnight was a U.S. radio serial broadcast from 1938 to 1949. Sponsored by the Skelly Oil Company, the program was the creation of radio scripters Wilfred G. Moore and Robert M. Burtt. Developed at the Blackett, Sample and Hummert Agency in Chicago, Captain Midnight began as a syndicated show in 1938, airing through the spring of 1940 on a few midwest stations, including Chicago's WGN. In 1940, Ovaltine took over sponsorship, and the series was then heard nationally on the Mutual Radio Network where it remained until 1942.
Download Captain Midnight      Listen to Shows
CBS Radio Mystery Theater (aka Radio Mystery Theater and Mystery Theater, sometimes abbreviated as CBSRMT) was an ambitious and sustained attempt during the 1970s to revive the great drama of old-time radio. The series was created by Himan Brown, a radio legend due to his work on Inner Sanctum Mysteries and other shows dating back to the 1930s.
On CBS affiliates, the series began its long run January 6, 1974. The final episode was broadcast on December 31, 1982. The program aired nightly and ran for one hour, including news and commercials. Typically, a week consisted of three to four new episodes, with the remainder of the week filled out with reruns. There were a total of 1399 original episodes. The total number of broadcasts, including reruns, was 2969.
The format was similar to that of classic old time radio shows such as The Mysterious Traveler and The Whistler, in that a host (E.G. Marshall) introduces each episode and provides pithy wisdom throughout, but unlike the hosts of earlier programs, Marshall is fully mortal, merely someone whose heightened insight and erudition plunge the listener into the world of the macabre.
The show began with the ominous sound of a creaking crypt door, slowly opening to invite listeners in for the evening's adventure, accompanied by Marshall's disturbing utterance, "Come in. Welcome. I am E.G. Marshall." At the end of each show, the door would swing shut, followed by Marshall's classic sign off, "Until next time, pleasant... dreams?," segueing into the show's haunting woodwind theme music.
Marshall hosted the program every year but the final one, when actress Tammy Grimes took over, maintaining the format.
       CBS Radio Mystery Theater   Listen
The CBS Radio Workshop was an experimental dramatic radio anthology series that aired on CBS from January 27, 1956, until September 22, 1957. Subtitled "radio's distinguished series to man's imagination," it was a revival of the earlier Columbia Workshop, broadcast by CBS from 1936 to 1947, and it used some of the same writers and directors employed on the earlier series. The premiere broadcast was a two-part adaptation of Aldous Huxley's Brave New World, introduced and narrated by Huxley. It took a unique approach to sound effects, as described in a review that week in Time (February 6, 1956):   It took three radio sound men, a control-room engineer and five hours of hard work to create the sound that was heard for less than 30 seconds on the air. The sound consisted of a ticking metronome, tom-tom beats, bubbling water, air hose, cow moo, boing! (two types), oscillator, dripping water (two types) and three kinds of wine glasses clicking against each other. Judiciously blended and recorded on tape, the effect was still not quite right. Then the tape was played backward with a little echo added. That did it. The sound depicted the manufacturing of babies in the radio version of Aldous Huxley's Brave New World.
Download CBS Radio Workshop     Listen
  Chet Chetter's Tales From The Morgue   Listen
Chicken Man
 The Cinnamon Bear is an old time radio program. The program was produced by TRANSCO, the Transcription Company of America and specifically designed to be listened to (six days a week – excluding Sundays) between Thanksgiving and Christmas. It was first broadcast between Friday, November 26, and Saturday December 25, 1937. The story focused on Judy and Jimmy Barton who must venture from their home to the enchanted world of Maybeland to recover their missing Silver Star that belongs on top of their Christmas tree. Helping on this quest for the missing star is The Cinnamon Bear, a stuffed bear with shoe button eyes and a green scarf. They meet other memorable characters on this quest, including the Crazy Quilt Dragon (who repeatedly tries to take the star for himself) , the Wintergreen Witch, Fe Fo the Giant, and even Santa Claus. The show was created by a group of merchants as an advertising promotion, and was recorded in a hurry in just a few weeks. It was produced by Lindsay MacHarrie (who also provided the voice of Westley the Whale and several other characters in the show). The voice of The Cinnamon Bear was done by Buddy Duncan, a little person, and several other notable radio voices lent their talents. These included Verna Felton (as Jimmy and Judy's mother), Joseph Kearns (as the Crazyquilt Dragon), Lou Merill (as Santa Claus), Howard McNear (as Slim Pickings the Cowboy and Samuel the Seal), Elvia Allman (as Penelope Pelican), Frank Nelson (Captain Tintop), and Gale Gordon (Weary Willie the Stork and Oliver Ostrich). Asian-American actress Barbara Jean Wong played Judy.
 The Cisco Kid was a popular film, radio, television and comic book series based on the fictional Western character created by O. Henry in his short story, "The Caballero's Way," published in 1907 in the collection Heart of the West. Films and television depicted the Cisco Kid as a heroic Mexican caballero, although in O. Henry's original story he was a non-Hispanic character and a cruel outlaw probably modelled on Billy the Kid. The Cisco Kid came to radio October 2, 1942, with Jackson Beck in the title role and Louis Sorin as Pancho. With Vicki Vola and Bryna Raeburn in supporting roles and Michael Rye announcing, this series continued on Mutual until 1945. It was followed by another Mutual series in 1946, starring Jack Mather and Harry Lang, who continued to head the cast in the syndicated radio series of more than 600 episodes from 1947 to 1956.
Cloak and Dagger was an NBC radio series, a foreign intrigue adventure adapted from the book Cloak and Dagger by Corey Ford and Alastair MacBain. It was broadcast May 7- October 22, 1950 with a cast that included Raymond Edward Johnson, Everett Sloane, and Jackson Beck.
 The Clock -  Imported from Austrailia it ran from 1946 until 1948. "Surise and Sunset, Promise and Fulfilment, Birth and Death, The whole Drama of Life is played out in the Sands of Time" This is a great series where the main theme seems to be Retribution.  Stories as told by Father Time.
 Complete Broadcast Day (September 21, 1939)
 Command Performance (updated with more shows)  Episodes of the old-time radio AFRS variety show Kaye Kayser, Eddie Cantor
Bing Crosby, Connee Boswell, James Cagney
 Lennie Hayton, Hedda Hopper, Spike Jones, Clark Gable, Gertrude Niesen, Lena Horne, Rochester and so on. I noticed some of the shows are mislabeled and may want to correct when you listen.
Download Command Performance       Listen
The Couple Next Door was a Peg Lynch series which began in 1953-57 on Chicago's WGN, moving to the Mutual Broadcasting System in the summer of 1957. The married couple was played by Olan Soule and Elinor Harriot. It was revived on CBS Radio (December 30, 1957-November 25, 1960) with Peg Lynch and Alan Bunce as the unnamed married couple---essentially, it reprised Ethel and Albert but the new name was necessitated because Lynch had long since lost the rights to the original title. That still wasn't the end of the show---Lynch and Bunce brought the show to NBC's legendary weekend programming block Monitor in 1963, performing three- to four-minute vignettes not unlike the original fifteen-minute shows. Their presence continued a kind-of Monitor tradition of offering new material from classic radio favourites (including James and Marian Jordan of Fibber McGee and Molly fame, until Marian Jordan's death). Even more, it returned yet again in the 1970s, as a syndicated radio feature known as The Little Things in Life.
Couple Next Door : Episodes 0323-0419   0420-487   0488-0555   Listen
Crime Classics was a U. S. radio docudrama which aired over CBS from June 15, 1953, to June 30, 1954. Created, produced, and directed by radio actor/director Elliott Lewis, the program was a historical true crime series, examining crimes and murders from the past. It grew out of Lewis' personal interest in famous murder cases and took a documentary-like approach to the subject, carefully recreating the facts, personages and feel of the time period. Comparatively little dramatic license was taken with the facts and events, but the tragedy was leavened with humor, expressed largely through the narration. The crimes dramatized generally covered a broad time and place frame from ancient Greece to late 19th-century America. Each episode in the series was co-written by Morton Fine and David Friedkin, in consultation with Lewis, although the scripting process was more a matter of research, as the stories were "adapted from the original court reports and newspaper accounts" or from the works of historians.
 Cruise of the Poll Parrot    Listen 
Danny Kaye Show starred in a radio program of his own, The Danny Kaye Show, on CBS in 1945-1946. Despite its clever writing (radio legend Goodman Ace, Sylvia Fine, and respected playwright-director Abe Burrows were the writers for the show) and performing cast (including Eve Arden, Lionel Stander, and big bandleader Harry James), the show lasted only a year.   
 Dark Fantasy was an American old-time radio show featuring horror and suspense stories. It had a short run of 31 episodes, debuting on November 14, 1941 and ending on June 19, 1942. Its writer was Scott Bishop, also known for his work on The Mysterious Traveler. It originated from station WKY in Oklahoma City, and was heard Friday nights on NBC stations. The stories were quite imaginative for their day but evidently failed to find an appreciative audience.
 The Devil and Mr. O - A transcribed syndication of original broadcasts from Lights Out. Oboler's shows are well represented -- this series of Lights Out was syndicated in The Devil and Mr. O offerings of 1970 - 73. A transcribed syndication of original broadcasts from 1942 - 43 with Arch Oboler as the host. Lights Out was an American old-time radio program featuring "tales of the supernatural and the supernormal." It was immensely popular, and was one of the first horror programs, predating Suspense and Inner Sanctum. In its heydey, Lights Out rivalled the popularity of those shows. Lights Out ran through several series and networks, from January 1, 1934 to August 6, 1947. The principal sponsor was Ironized Yeast. Most episodes were broadcast at midnight. Lights Out then made the transition to television in 1949, where it was broadcast until 1952.
   The Devil and Mr O      Zip Download      Listen
 Diamond Dramas
Diary of Fate
Dick Barton Special Agent
Dick Barton Special Agent   Listen
 Dick Tracy had a long run on radio, from 1934 weekdays on NBC's New England stations to the ABC network in 1948. Bob Burlen was the first radio Tracy in 1934, and others heard in the role during the 1930s and 1940s were Barry Thompson, Ned Wever and Matt Crowley. The early shows all had 15-minute episodes. On CBS, with Sterling Products as sponsor, the serial aired four times a week from February 4, 1935 to July 11, 1935, moving to Mutual from September 30, 1935 to March 24, 1937 with Bill McClintock doing the sound effects. NBC's weekday afternoon run from January 3, 1938 to April 28, 1939 had sound effects by Keene Crockett and was sponsored by Quaker Oats, which brought Dick Tracy into primetime (Saturdays at 7pm and, briefly, Mondays at 8pm) with 30-minute episodes from April 29, 1939 to September 30, 1939. The series returned to 15-minute episodes on the ABC Blue Network from March 15, 1943 to July 16, 1948, sponsored by Tootsie Rolls, which used the music theme of "Toot Toot, Tootsie" for its 30-minute Saturday ABC series from October 6, 1945 to June 1, 1946. Sound effects on ABC were supplied by Walt McDonough and Al Finelli. Directors of the series included Mitchell Grayson, Charles Powers and Bob White. Cast members at various times included Walter Kinsella as Pat Patton, Helen Lewis as Tess Trueheart and Andy Donnelly and Jackie Kelk as Junior Tracy. Announcers were Ed Herlihy and Dan Seymour. On July 8, 1945, during a New York newspaper deliverers' strike, New York Mayor Fiorello H. LaGuardia read a complete Dick Tracy strip over the radio.
Dimension X was an NBC radio program broadcast on an unsponsored, sustaining basis from April 8, 1950 to September 29, 1951. The first 13 episodes were broadcast live, and the remainder were pre-recorded. Fred Wiehe and Edward King were the directors, and Norman Rose was heard as both announcer and narrator. Dimension X was not the first adult science fiction series on radio, but the acquisition of previously published stories immediately gave it a strong standing with the science fiction community, as did the choice of well established, respected writers in the field: Isaac Asimov, Robert Bloch, Ray Bradbury, Fredric Brown, Robert A. Heinlein, Murray Leinster, H. Beam Piper, Frank Robinson, Clifford D. Simak, William Tenn, Jack Vance, Kurt Vonnegut, Jack Williamson and Donald A. Wollheim. Ernest Kinoy and George Lefferts adapted most of the stories and also provided original scripts. With a five-month hiatus from January 1951 to June 1951, the series spanned 17 months. All 50 episodes of the series survived and can be heard today. Later, NBC's X Minus One (1955-58) utilized many of the same actors and scripts. 
Two Doc Savage radio series were broadcast during the pulp era. The first, in 1934, was a 15-minute serial which ran for 26 episodes. The 1943 series was based not on the pulps but on the comic book version of the character. No audio exists from either series, although some scripts survived. In 1985, National Public Radio aired The Adventures of Doc Savage, as 13 half-hour episodes, based on the pulps and adapted by Will Murray and Roger Rittner.
Here is  Doc Savage - Fear Cay   or    Listen
and   Doc Savage - Thousand Headed Man  or  Listen
Dr. James Kildare was a fictional character, the primary character in a series of American theatrical films in the late 1930s and early 1940s, an early 1950s radio series, a 1960s television series of the same name and a comic book based on the TV show. The character was invented by the author Frederick Schiller Faust (aka Max Brand).
Danger, Dr Danfield was first broadcast on August 18, 1946 and consisted of 26 episodes with the last one being April 13, 1947. All episodes are available. It starred Michael Dunn as Dr. Danfield, with JoAnne Johnson as Rusty Fairfax, his secretary. The series was written by Ralph Wilkinson and produced by Wally Ramsey. This series consistently featured some of the worst acting and writing of any detective show to reach the airwaves. The show had a formula with the crime usually being committed in the first third of the program, the good doctor solving it in the second third, and then pedantically explaining the solution to someone (usually his "pretty, young" secretary, Rusty) in the conclusion. Dr. Daniel Danfield was an obnoxious unlicensed private investigator/criminal psychologist with an ego complex. Why Rusty would put up with this guy is beyond understanding. In this case, love is not only blind, but also deaf and dumb. But then, Rusty was no prize package either. In fact, the most complex person on the show is Dr. Dan Danfield's pretty young secretary, Miss Rusty Fairfax.
Old Time Radio Researchers Group Cerified Set
Download Danger, Dr Danfield zip file (180 MB)
 Dr. Sixgun
Dragnet was a long-running radio and television police procedural drama about the cases of a dedicated Los Angeles police detective, Sergeant Joe Friday, and his partners. The show takes its name from an actual police term, a "dragnet", meaning a system of coordinated measures for apprehending criminals or suspects. Dragnet debuted inauspiciously. The first several months were bumpy, as Webb and company worked out the program's format and eventually became comfortable with their characters (Friday was originally portrayed as more brash and forceful than his later usually relaxed demeanor). Gradually, Friday's deadpan, fast-talking persona emerged, described by John Dunning as "a cop's cop, tough but not hard, conservative but caring." (Dunning, 210) Friday's first partner was Sgt. Ben Romero, portrayed by Barton Yarborough, a longtime radio actor. When Dragnet hit its stride, it became one of radio's top-rated shows. While most radio shows used one or two sound effects experts, Dragnet needed five; a script clocking in at just under 30 minutes could require up to 300 separate effects. Accuracy was underlined: The exact number of footsteps from one room to another at Los Angeles police headquarters were imitated, and when a telephone rang at Friday's desk, the listener heard the same ring as the telephones in Los Angeles police headquarters. A single minute of "A Gun For Christmas" is a representative example of the evocative sound effects featured on "Dragnet". While Friday and others investigate bloodstains in a suburban backyard, the listener hears a series of overlapping effects: a squeaking gate hinge, footsteps, a technician scraping blood into a paper envelope, the glassy chime of chemical vials, bird calls and a dog barking in the distance. Scripts tackled a number of topics, ranging from the thrilling (murders, missing persons and armed robbery) to the mundane (check fraud and shoplifting), yet "Dragnet" made them all interesting due to fast-moving plots and behind-the-scenes realism. In "The Garbage Chute" (15 December 1949), they even had a locked room mystery. 
 Duffy's Tavern, an American radio situation comedy (CBS, 1941-1942; NBC-Blue Network, 1942-1944; NBC, 1944-1952), often featured top-name stage and film guest stars but always hooked those around the misadventures, get-rich-quick-scheming, and romantic missteps of the title establishment's malaprop-prone, metaphor-mixing manager, Archie, played by the writer/actor who created the show, Ed Gardner. In the show's familiar opening, "When Irish Eyes Are Smiling," either solo on an old-sounding piano or by a larger orchestra, was interrupted by the ring of a telephone and Gardner's New Yorkese accent as he answered, "Duffy's Tavern, where the elite meet to eat. Archie the manager speakin'. Duffy ain't here — oh, hello, Duffy."
Easy Aces, a long-running American serial radio comedy (1930-1945), was trademarked by the low-keyed drollery of creator and writer Goodman Ace and his wife, Jane, as an urbane, put-upon realtor and his malaprop-prone wife. A 15-minute program, airing as often as three times a week, Easy Aces wasn't quite the ratings smash that such concurrent 15-minute serial comedies as Amos 'n' Andy, The Goldbergs or Vic and Sade were. But its unobtrusive, conversational, and clever style, and the cheerful absurdism of its storylines, built a loyal enough audience of listeners and critics alike to keep it on the air for 15 years.     Easy Aces    Listen 
Eb and Zeb 1932 - 1933 A "Lum and Abner" type comedy about two old codgers who run a General Store in Corn Center. Eb speaks with an annoying whistle through his teeth.
 Download Eb and Zeb   More  Listen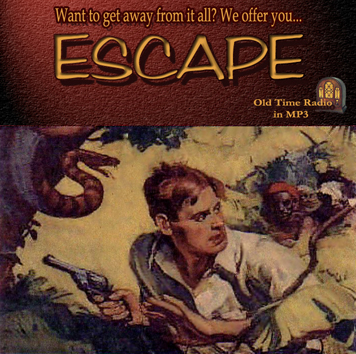 Escape was radio's leading anthology series of high adventure, airing on CBS from July 7, 1947 to September 25, 1954. Since the program did not have a regular sponsor like Suspense, it was subjected to frequent schedule shifts and lower production budgets, although Richfield Oil signed on as a sponsor for five months in 1950. Despite these problems, Escape enthralled many listeners during its seven-year run. The series' well-remembered opening combined Mussorgsky's Night on Bald Mountain with the  introduction, intoned by Paul Frees and William Conrad: "Tired of the everyday routine? Ever dream of a life of romantic adventure? Want to get away from it all? We offer you... Escape!"  Of the more than 230 Escape episodes, most have survived in good condition. Many story premises, both originals and adaptations, involved a protagonist in dire life-or-death straits, and the series featured more science fiction and supernatural tales than Suspense. Some of the memorable adaptations include Algernon Blackwood's "Confession", Ray Bradbury's oft-reprinted "Mars Is Heaven," George R. Stewart's Earth Abides, Richard Connell's "The Most Dangerous Game," F. Scott Fitzgerald's "The Diamond as Big as the Ritz," John Collier's "Evening Primrose", later adapted to TV as a Stephen Sondheim musical starring Anthony Perkins. Vincent Price and Harry Bartell were heard in the chilling "Three Skeleton Key," the tale of three men trapped in an isolated lighthouse by thousands of rats. The half-hour was adapted from an Esquire short story by the French writer George Toudouze. 
   Escape 1947 - 1948   Escape 1949 -1950         Listen
Escape - 1951 -1952   Escape - 1953   Escape - 1954
The Fat Man, a popular radio show during the 1940s and early 1950s was a detective drama based on characters by Dashiell Hammett. It starred J. Scott Smart in the title role.
Broadcast from the studios of WJZ in New York, the series premiered on the ABC Radio Network on Monday, January 21, 1946, at 8:30pm, as part of a block of four new programs (I Deal in Crime, Forever Tops, and Jimmy Gleason's Diner). Based on Dashiell Hammett's fiction, The Fat Man was further developed by producer, E.J. ("Mannie") Rosenberg. The program was directed by Clark Andrews, creator of Big Town, and Charles Powers. The main writer was Richard Ellington, with other scripts by Robert Sloane and Lawrence Klee.
FAVORITE STORY aired from September 1947 through December of 1949 hosted by Ronald Colman. This is an excellent dramatic series of great stories from classic literature brought to radio. It's popularity was so high and with such well done stories, it was rebroadcasted for many years.
 Download Favorite Story          Listen
FRONTIER FIGHTERS was a syndicated series that ran sometime during the 1930's. Each show dealt with some bit of history about the early West and ran for approximately 15 minute.
Old Time Radio Researchers Group Cerified Set
Listen The Fall of the Alamo.mp3
 The Green Lama first appeared in a short novel entitled The Green Lama in the April 1940 issue of Double Detective magazine. The novel was written by Kendell Foster Crossen using the pseudonym of "Richard Foster". Writing in 1976, Crossen recalled that the character was created because the publishers of Double Detective, the Frank Munsey company, wanted a competitor for The Shadow which was published by their rivals Street & Smith. The Green Lama proved to be successful (though not as successful as The Shadow), and Crossen continued to produce Green Lama stories for Double Detective regularly up until March 1943. More than three years after the demise of his comic-book, the Green Lama was resurrected for a short-lived CBS radio series that ran for eleven episodes from 5 June 1949 to 20 August 1949, with the character's voice provided by Paul Frees.
Hercule Poirot is a fictional Belgian detective created by Agatha Christie. Poirot is one of Christie's most famous and long-lived characters: he appeared in 39 novels and 50 short stories.
Right Click and "Save As"
Hercule_Poirot_451123_Murder_Is_a_Private_Affair.mp3
<<<BACK