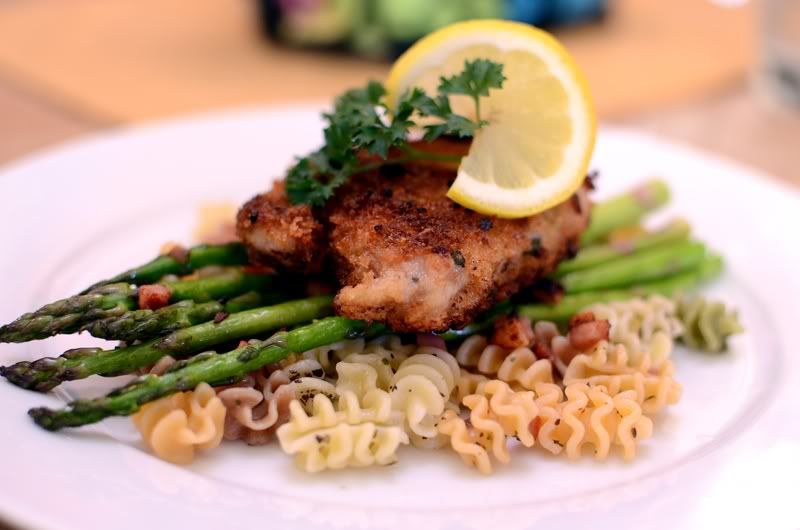 photo by: Tara L Conklin
          www.TheButterDish.net
adapted from original recipe by: sgrishka

Ingredients
2 1/2-inch thick Center-cut loin pork chops; (bone-in or boneless)
3/4 tsp. Salt
1/2 tsp. Black Pepper
1/2 tsp. fresh or dried rubbed sage
1/2 tsp. fresh or dried thyme
1/2 C. Romano cheese; freshly grated
1/4 C. Swiss cheese; freshly grated
1 large Eggs
1 Tbs. Vegetable oil
1 C. Dried Panko bread crumbs
Olive oil; (for shallow frying)
4 cloves Garlic; peeled and chopped
Preparations:
1. Spread cheeses in a shallow dish. Beat eggs with 1 tablespoon vegetable oil in another shallow dish. spread bread crumbs in a third shallow dish.
2. Dry pork chops thoroughly. Combine salt, pepper, sage, and thyme, and sprinkle generously over both sides of chops.
3. Dredge seasoned chops in Parmesan cheese, coating both sides completely. Then, dip both sides of chops in egg mixture, letting excess drip back into dish to ensure thin coating. Finally, dip both sides of chops in bread crumbs, pressing crumbs with fingers to form an even, cohesive coating.
4. Place breaded chops aside and let sit for 5 minutes.
5. Heat 1/4 cup of olive or cooking oil in a large heavy-bottomed skillet over medium-low heat. To flavor oil; stir in garlic, and cook until lightly browned. Remove garlic and Increase heat to medium. When oil shimmers, add chops and fry 4 to 5 minutes on each side, until golden brown and crispy, or to an internal temperature between 150 and 160 degrees F. 

6. Drain on rack set over baking sheet, then transfer to a warm serving platter. Serve with lemon wedges and garnish with parsley sprigs.