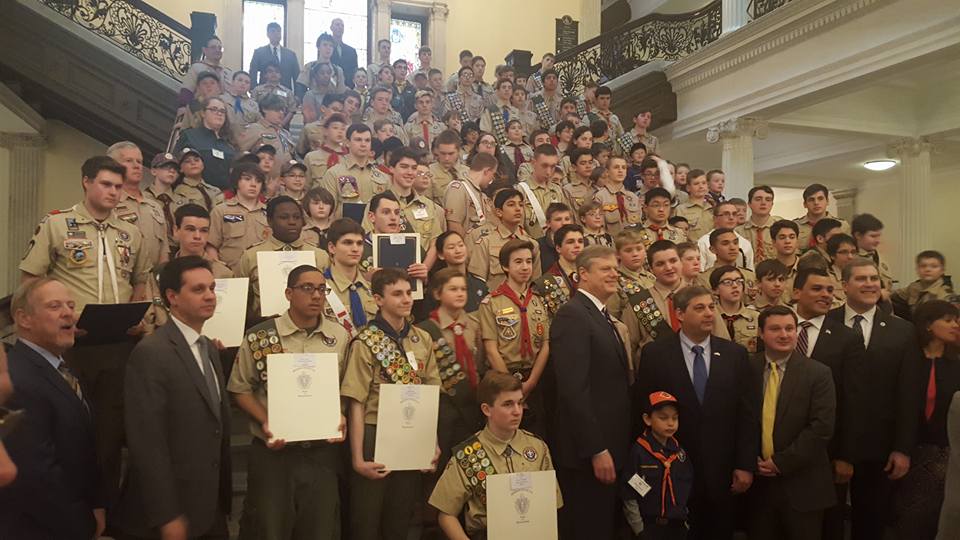 Report to the Commonwealth
Join fellow members of the Boy Scouts of America from all over Massachusetts, as we share the Scouting Story with members of the House of Representatives and State Senate at the State House in Boston.
March 5th 2018 10:00am – 2:00pm
Massachusetts State House, 24 Beacon Street, Boston
Itinerary includes; Informal Session, Presentation of Colors, Presentation of Citations, Photo Opportunity on the Grand Staircase, a Lunch break
(Scouts need to bring a brown bag lunch
), and a tour of the State House.
All Cub Scouts, Boy Scouts, Venturers, SeaScouts, and Explorers are invited to attend.
This year, our Good Turn project will benefit The Boston Foundation's relief effort for the damage caused by Hurricane Maria in Puerto Rico. Please consider making a donation. Checks should be made payable to The Boston Foundation (in the memo section write: Massachusetts United for Puerto Rico).
If you plan to attend our Report to the Commonwealth on March 5th, please fill out the information on who will be attending. 
LAST DAY TO REGISTER
3/5/2018
LOCATION
Massachusetts State House
, 24 Beacon Street
Boston, MA 02116, US