3rd Annual Minutemen's Pursuit Trail Hike
Thursday, April 19, 2019
Complete the 20 mile requirement for the Hiking Merit Badge!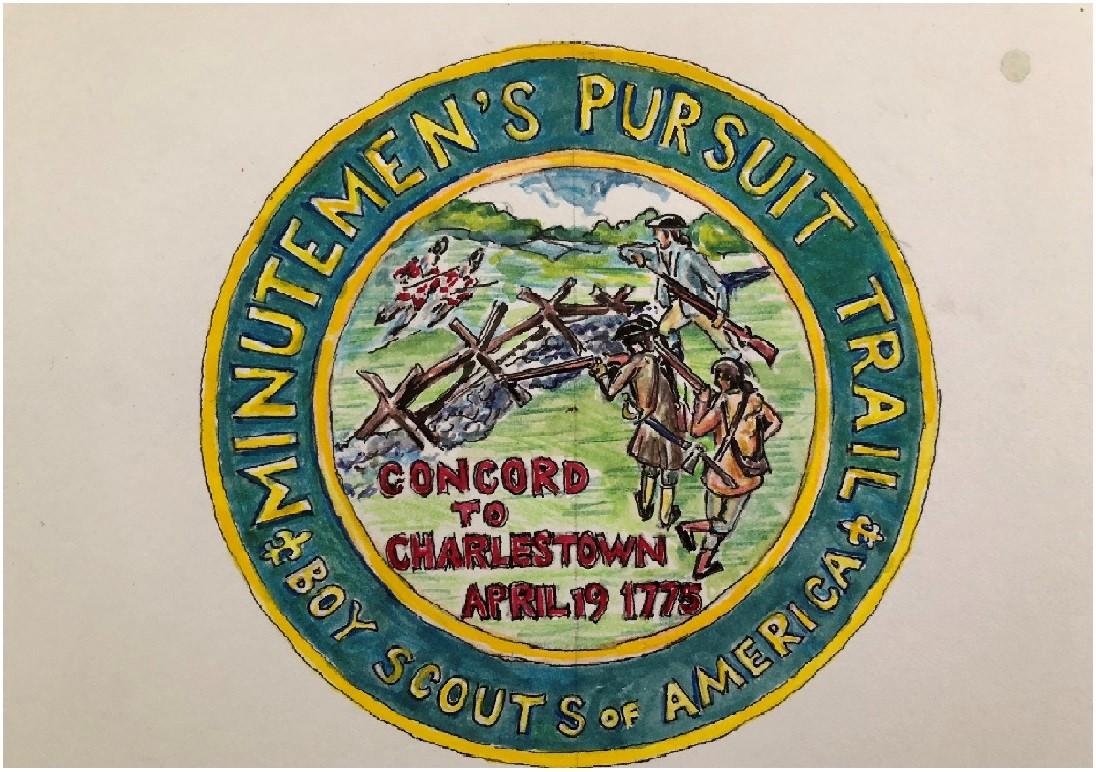 Trip Description: 1 day hike up to 20 miles from Concord to Boston.

A great way to spend the day during school vacation week and complete the 10 or 20 mile hike requirement for the Hiking Merit Badge. Join scouts and scouters from throughout the Spirit of Adventure Council hiking one of the BSA's newest National Historic Trail –Minutemen's Pursuit Trail – on the actual date that the Minutemen pursed the British from the Old North Bridge to Boston. Reenactors may engage us along the route. Enjoy a stop for ice cream in Lexington, lunch in Arlington and donuts in Union Square. Then ride the train back to Concord or make your way home.
Read about the inaugural hike:
To earn one of the very first Minutemen Pursuit Trail medals, you must meet the following requirements:
• Hike at least from Meriam's Corner to Prospect Hill
• Wear Class A or Class B uniform while hiking the trail
• Complete a questionnaire to be provided the day of the hike.
When: Friday, April 19, 2019
Muster Time & Location: April 19 at 7:15 AM @ Monument Square Concord
Return Time & Location: April 19 between noon and 8PM depending on distance hiked
Trail Info: www.concordscouthouse.org

 Contact: David Owen (Concord Unit Commissioner & Concord Scout House Charter Org Rep)
781-879-4714 - david.owen@concordscouthouse.org
Transportation: We will carpool back to Concord or take the train from North Station. Once we have a head count, we will arrange logistics.

Scouts food planning:
1. Eat a hearty breakfast before arriving.
2. Bring high protean snacks and water.
3. Bring $25 for ice cream in Lexington, lunch at the Menotomy Grill in Arlington and pizza at North
Station.
Merit Badges to Pursue: Hiking (10 or 20 mile hike). Scouts are responsible for any merit badge prep-work that needs to get completed prior to the trip. Feel free to contact a MB counselor prior to trek.
Itinerary
• Muster at 7:15 AM at Concord Train Station at 90 Thoreau Street.
• Hike to Old North Bridge.
• Hike from Old North Bridge to Meriam's Corner by way of secret trails used by the Minutemen
• Traverse the Minuteman National Park
• Hike into Lexington Center – 11:30 AM 10 miles total Break for ice cream at Rancatore's
• Hike from Lexington Center to Arlington, all along Mass. Ave. – 2:00 PM 15 miles total
• Lunch at Menotomy Grill
• Hike from Menotomy Grill to Union Square Donuts in Somerville and visit the tower on Prospect Hill –5 PM 17.5 total EARN THE MINUTEMEN'S PURSUIT TRAIL MEDAL AND PATCH
• Hike from Prospect Hill to North Station – 6:30 PM 20 miles total
• Take 7:15 PM train home to Concord from North Station – 8PM
Personal Equipment
1. Good boots or shoes with plenty of toe room for wool socks. The trail is primarily concrete and hard
packed earth
2. Two thick pairs of wool or poly socks with three thin inner poly layer socks. No cotton socks! Bring at least an extra pair for sock changes.
3. Daypack
4. Fleece pullover or coat as weather dictates.
5. Shell top and wind/water resistant pants as weather dictates.
6. Poly or wool hat/cap as weather dictates.
7. Warm, water-resistant mittens (or gloves if you must), liners if mittens are lighter as weather dictates.
8. Water container. One liter will probably do, because there are many places to refill water.
9. Smartphones permitted with Google maps and/or Alltrails installed for navigation