Chairman Pat Lynch of New Mexico State Legislative Board
Subscribe to posts
Dear Brothers and Sisters;


Please ask our New Mexico BLET Members to watch this on live streaming if they have time. You can watch at
www.nmlegis.gov
We are blessed to have some of our strongest PRO Labor NM Senators on the Senate Public Affairs Committee. I hope our membership can watch this hearing
 

to see who supports us and who
wants to destroy us. I've bee
n workin
g the halls of our NM.House and Senate against this Free Rider Legislation for several weeks. Walter Miestas and Kevin Pohl from the Teamsters will be there for us tomorrow. I hope some of our Members can drive up to witness it in person. If I get designated to dh home tomorrow I will try to double back to be at the hearing. For now please have members call their NM State Senator and ask them to oppose SB.269 ( so called Right to work bill ) tell your senator this So called Right to Work Bill is WRONG for New Mexico. Please oppose SB.269 

Fraternally, 

Pat Lynch 
BLET NMSLB Chairman 






Brothers and sisters,

The big showdown is here. Tomorrow, the Senate Public Affairs Committee will take up a vote on SB269, this year's rehash of the so-called "right to work" bill. Please join us at the Roundhouse to show our legislators that working people still say, "Right to work is WRONG for New Mexico!"

WHAT: Senate Public Affairs Committee Vote on SB296,

 


so-called "right to work" bill

 


WHERE: NM State Capitol, Room 321

 


WHEN: Tuesday, February 9th at 1:30 PM*

If you aren't able to make it in person tomorrow, help spread the word and share our petition calling on the legislature to reject this deceptive and unnecessary bill!

In Solidarity,

Jon

*We don't have an exact time on when the committee will get to SB269 on their agenda, but it likely won't come up before 4:00 PM. It's expected to be a very long hearing, covering lots of different bills, and testimony on all bills will be limited as a result. Please come prepared to stay as long as you can, but be aware that you may not be called on to testify. Make sure you've signed our petition on "right to work" and share your comments there!

---------------

Jon Hendry

President, New Mexico Federation of Labor

Text WORK to AFLCIO (235246) to join our text action team. (Message and data rates may apply.)
Appeals court affirms Trump Entertainment can strip union benefits
REUBEN KRAMER, Staff Writer | Posted: Friday, January 15, 2016 3:00 pm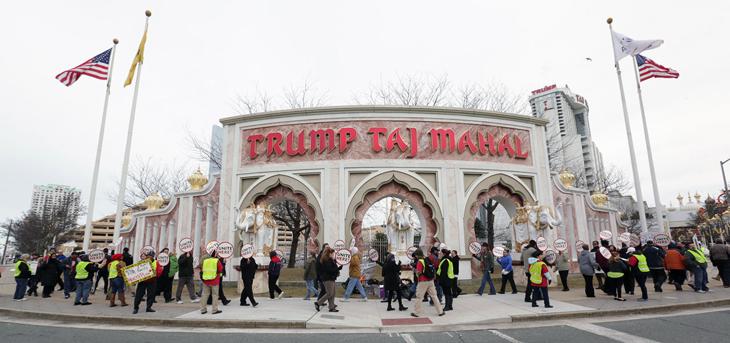 Taj Protest
Hundreds of unionized casino workers picket in front of Trump Taj Mahal Casino Hotel in Atlantic City, Friday March 13, 2015, in protest of Billionaire Carl Icahn, who wants to strip workers of their healthcare benefits.
A federal appeals court on Friday ruled against Atlantic City's casino-workers union in a dispute over health and pension benefits eliminated at Trump Taj Mahal — a judgment that sets the stage for Wall Street mogul Carl Icahn to take over the resort as it exits bankruptcy.
Icahn, who did not return a call for comment, insists he will invest tens of millions of dollars to revive the property.
David Licht, co-chairman of the board of Taj's owner, Trump Entertainment Resorts, said in a statement that the ruling "ensures that Trump Taj Mahal will be in business for the foreseeable future."
In October 2014, a U.S. Bankruptcy judge gave Trump Entertainment permission to stop funding health care and pensions for about 1,100 unionized Taj workers. The move incensed UNITE-HERE Local 54, which later that year appealed the ruling, took to the Boardwalk in protest and threatened a strike at the property.
The company's reorganization plan, which calls for its main lender — firms controlled by Icahn — to take ownership of the casino-hotel, was premised on the union losing its case in the Third U.S. Circuit Court of Appeals.
Local 54 President Bob McDevitt said in a statement Friday that union staff will meet with Taj workers early next week "and evaluate all our options and next steps, including legal ones."
"As I have said time and again, the Taj Mahal will never turn around and be successful without the full participation and involvement of its workers," he said.
Friday's ruling can be appealed to the U.S. Supreme Court, though there's no guarantee it will be accepted for consideration.
In a letter to the appeals court earlier this month, an attorney for Trump Entertainment implored judges for a ruling, writing that "the extended delay in issuing a decision — regardless of the outcome — has left the Trump Taj Mahal with an uncertain future."
Friday's ruling comes as the union, which represents about 10,000 Atlantic City hospitality workers, prepares to renegotiate its contracts with at least six of eight Atlantic City casinos. McDevitt has said the new low set by Taj could affect negotiations with other properties.
"Most-favored nation" clauses, a fixture in Local 54's labor contracts, generally require unions to offer similarly favorable deals to competing local employers. It's a way for employers to equalize union contracts and prevent one company from gaining a labor advantage in a market. Trump Entertainment's decision to strip health and pension benefits from Taj workers could therefore erode benefits at other resorts in Atlantic City, where unionized workers have for decades received health insurance bankrolled in large part by casino operators.
At issue in Local 54's appeal was whether U.S. Bankruptcy Judge Kevin Gross, in Wilmington, Delaware, had the authority to approve the benefit cuts.
Trump Entertainment argued that bankruptcy code allowed the company to nix its expired labor contract with the union and cut benefits to save costs. The union argued that because the contract had expired, it was the National Labor Relations Board, not U.S. Bankruptcy Court, that had jurisdiction over the dispute.
When a collective bargaining agreement expires, federal law requires its core terms to remain in effect as the union and employer hammer out a new labor contract. But when the terms of the expired contract "will undermine ... (a bankrupt company's) ability to reorganize and remain in business," bankruptcy judges can approve changes needed to keep the business open, U.S. Circuit Judge Jane Roth wrote for a three-judge panel.
"Under the policies of bankruptcy law, it is preferable to preserve jobs through a rejection of a CBA, as opposed to losing the positions permanently by requiring the ... (bankrupt company) to comply with the continuing obligations set out by the CBA. Moreover, it is essential that the Bankruptcy Court be afforded the opportunity to evaluate those conditions that can detrimentally affect the life of" the company, Roth wrote.
Dear Patrick: 

We have some awful news to share.  Despite the heroic efforts of Teamster members and other activists on-the-ground, trade ministers meeting in Atlanta have reportedly just struck a behind-closed doors deal on the Trans-Pacific Partnership (TPP).  Now, it's up to us to convince Congress to vote down an agreement that's bad for working Americans.

TAKE ACTION: Click here to tell Congress "NO DEAL" on a TPP that's bad for working families.

For the better part of a decade, you and thousands of other Teamster members have been telling the administration what sorts of provisions the TPP would need to ensure it benefits working families, instead of just corporate profits. 

Over all that time, the U.S. Trade Representative has granted a limited number of people access to TPP texts, but has refused to tell the American people what they've been proposing in our names.  As a result, we've had corporations guiding secret negotiations with human rights violators like Malaysia, where millions have been victims of human trafficking, and Vietnam, where you can go to jail for requesting better working conditions — while the concerns of working Americans have been largely ignored.  

But of course, the exact terms of the TPP deal agreed to in Atlanta are still being kept secret.  Text will eventually be shared with Congress, though, before any vote — and, eventually, everyday Americans will finally get to see an official copy.  

The benchmarks we must demand Congress consider include:
-     Does the TPP contain labor and environmental standards strong enough to protect human rights abroad and good-quality jobs here at home — or will it ship jobs overseas and reduce wages for U.S. workers? 
-     Does the TPP establish a floor, rather than a ceiling, when it comes to food and product safety — or will it expand imports from countries where food is often found to contain banned toxic chemicals? 
-     Does the TPP make medicine more affordable — or will it increase the price of prescription drugs for seniors, veterans and others by enabling big pharmaceutical companies to prevent the sale of life-saving generic medications? 
-     Does the TPP increase oversight of banks, insurance companies and hedge funds — or will it prevent governments from enacting commonsense financial reforms to prevent future financial crises?
-     Does the TPP contribute towards a sustainable global economy — or will it accelerate global climate change?

Based on how the TPP was negotiated, we may already know the answers to those questions.

The Teamsters have consistently demanded a "fair deal or no deal" on trans-Pacific trade.  Given that the completed TPP agreement is unlikely to be fair to anyone but CEOs and Wall Street executives, it's time for Congress to speak up.

TAKE ACTION: Please write your Congress members now and demand they come out publicly against a TPP that hurts jobs, the environment and public health.
---
You have received this email through your subscription to
the Teamsters Take Action
email list. If you did not subscribe, or would no longer like to receive email updates,
unsubscribe here
.

Google Maps
 

- Maps from this email
BLET New Mexico Brothers and Sisters; 
I hope you all get a chance someday to meet these honorable NM Senators who supported organized Labor today. 
We were blessed to have some of New Mexico's  very best pro Labor Senators on this committee . Please take a few minutes to write and thank all of them.  . 
Working on this has been a lot of stress and with strong emotions. 
I am extremely proud of the participation and support of our New Mexico BLET membership. "In Unity" with other Unions we defeated an evil anti Labor Free Rider, right to work for less law.
Fraternally
Patrick Lynch
BLET NM SLB Chairman
FOR IMMEDIATE RELEASE
Contact: Miles Conway, 505-455-2853
Working Families Commend Senators Who Voted to Stop "Right to Work" Bills in Committee
HB75 and SB163 tabled in Senate Public Affairs committee, working family advocates thank legislators who stood strong against bills
(SANTA FE, Mar. 10, 2015) – Legislation to make New Mexico a "Right to Work" state failed to pass out of the Senate Public Affairs committee on Tuesday night after HB75 and SB163 were tabled on a party line vote. Since the start of the session, labor and community members have been taking action together to speak out against the controversial proposal in public hearings, rallies, and community town halls across the state. This past Sunday, hundreds of New Mexico workers packed the Roundhouse and testified against "Right to Work" for the first SPAC meeting on "Right to Work" bills.
Senators spent nearly two hours of their meeting dedicated to the "Right to Work" bills, with Senators on both sides of the debate taking the opportunity to make impassioned arguments for and against the passage of the bills. Most notable, Senator
Jacob Candelari
a described "Right to Work" as a "cloud of rhetoric in search of solid ground."
Working people in attendance at the committee meeting applauded the Senators who voted down the bill, as well as other elected officials who stood against "Right to Work" at all stages in the legislative process.
"We are so grateful to the Senators who helped to ensure the prosperity of New Mexico's economy tonight by voting down terrible 'Right to Work' legislation. We also want to thank the Senators who protected the committee process and voted to stop the fast-tracking of HB75 on the Senate floor, as well as the House members who fought valiantly to oppose 'Right to Work' in their chamber," said Brenda Watson, Librarian, AFSCME 477. "We look forward to all our elected officials working together toward solutions to benefit all of our state now that this distraction has been put to rest, and we will take action to protect against any Hail Mary moves to bring these dead bills back to life."
"I'd like to thank the members of the Senate committee who voted against this attack on the working men and women of New Mexico. As a young man in the workforce, I strongly oppose legislation that would take away our voice and representation in the workplace," said Casper Cly, a member of LIUNA.
Labor and community groups plan to continue working together to support a "Ready to Work" package of bills that focuses on improving the economy, creating good jobs and equipping schools with the necessary tools to prepare children to be part of a 21st century workforce.
###
IN UNITY!
Text WORK to AFLCIO (235246) to join our text action team. (Message and data rates may apply.)
If you'd like to unsubscribe from your AFL-CIO email subscriptions, please click here.
Senate Hearing "Right To Work" Sun, 3/8 @1PM Roundhouse, RM 321. We need you there! Tell Senators RTW is Wrong! Call 1-866-803-8830

http://www.rtwexposed.org

Come to the Capital in Santa Fe on Sunday March 8th to protest the Right-to-Work Bill at 1pm. All the unions in the State will be there too.
Timothy Smith, State Chairman

California State Legislative Board

Brotherhood of Locomotive Engineers & Trainmen

Teamsters Rail Conference





This message may contain information that is privileged, confidential and exempt from disclosure under applicable law. If you are not the intended recipient (or not authorized to act on behalf of the intended recipient) of this message, please do not disclose, forward, distribute, copy or use this message or its contents. If you have received this communication in error, please notify us immediately by return e-mail and delete the original from your e-mail system. 

Train operators in Canada's burgeoning freight rail industry report falling asleep at the controls and coming to work exhausted at an alarmingly high rate, according to an ongoing CBC News investigation into rail safety.

"I have had instances where I have just snapped back into reality, and kind of, for a few seconds, not really realized or recognized where I am," one Ontario-based CN rail engineer told CBC News, recalling how he'd missed a signal at the controls of a three-kilometre-long train.  

A rail engineer who wished to remain anonymous told CBC News that he had once been so exhausted while on shift that he missed a signal at the controls of a three-kilometre-long train. (CBC)




"We came around a curve looking at a stop signal. Had I not taken the necessary action at the necessary time, we would have been in trouble.

"We may have caused an incident, and we may have cost somebody their life."

The engineer is one of more than a dozen current and retired rail workers who contacted CBC News following the Lac Megantic rail disaster. These rail workers warned that chronic exhaustion among locomotive operators is one of the biggest issues facing the industry.

Some spoke on condition of anonymity, for fear of losing their jobs, and admitted to falling asleep, missing stop signals and putting lives, cargo and communities at risk.

The core of the problem, they say, goes beyond long shifts or being expected to sleep in their off-time on makeshift beds far from home.

Moreover, most freight train engineers have no firm schedules and are, instead, on-call, 24/7, never knowing when or how long to sleep. 




Transportation fatigue expert Clinton Marquardt, who for the past 11 years has worked for or alongside the Transportation Safety Board (TSB) on 91 accident investigations, told CBC News the issue is too large to be ignored.

"My biggest fear," Marquardt said, "is that we have a catastrophe like Lac Megantic that will be attributable to fatigue."

75 per cent admit to falling asleep

The sleep issue has plagued the industry for years. In 1986, 23 people died after a CN freight train crashed into a VIA passenger train in Hinton, Alta. Investigators suspect the CN crew fell asleep, and cited scheduling practices as a major safety risk.

Despite numerous attempts to resolve the fatigue issues — often in negotiations between rail companies and the unions— the problem persists. Although it is difficult to determine tiredness as a factor, TSB investigators have looked at fatigue as an issue in more than a dozen accident investigations over the past decade.

This spring, Transport Canada's Fatigue Management Working Group designed a survey to determine the extent of the problem. In May, senior TC officials inexplicably pulled the plug on the research. Instead, a union involved in the discussions, the Teamsters Canada Rail Conference (TCRC), took the survey plan and independently polled its members early this summer.

The results are startling.

Of the 1,909 respondents, 1,790 were freight train operators and three-quarters of those surveyed reported falling asleep while working at least once in the month prior to the survey. Ninety-six per cent say they have gone to work tired, with 62 per cent reporting it happens "frequently" or "always." 

Of those freight engineers who booked off due to fatigue, 43 per cent say they faced investigation and/or discipline.

"I think we have heard about truck drivers that fall asleep at the wheel — that's dangerous stuff," said Rob Smith of the TCRC, who sits on Transport Canada's working group. "At least they can pull over and have a nap. That doesn't happen on a freight train."

Fatigue like being drunk on the job

Marquardt says other transportation modes, like the trucking and airline industries, have a better grip on the dangers of sleep and proper scheduling.

Airline crews know when they are going to work a month ahead of time, Marquardt says, whereas the freight rail industry decides on call work assignments hour by hour. "So their sleep is frequently occurring at all times of day or night and that's very difficult for the body to adjust to." 

In 2009, Marquardt and the TSB took a close look at a collision between two CP freight trains in North Portal, Sask. Eight tanker cars of gasoline collided with train cars carrying automobiles, derailing and damaging a locomotive and 24 cars. Fortunately, no one was hurt.  

However, Marquardt discovered the engineer had worked 28 shifts in the previous 30 days. It was all within the existing "work/rest" rules, but each shift started at a different time of day.

Marquardt conducted a "bio-mathematical" analysis of the operator's sleep over the previous 30 days and concluded on six different shifts he would have been so sleep-deprived, it was as though he'd been drunk.

"So that's the first time when I realized how big this problem was," added Marquardt.

Rail companies decline interviews

Neither the Railway Association of Canada, the freight industry's main lobby group, nor either of the two major freight carriers in Canada would grant CBC interviews on the issue, despite two months of repeated requests.

In 1986, 23 people died after a CN freight train crashed into a VIA passenger train in Hinton, Alta. Investigators suspect the CN crew fell asleep. (Karen Sornberger/Edmonton Journal/CP)




In a statement, CP Rail said it observes strict rules and employs specialists and "fatigue modelling software" to develop scheduling and mandatory fatigue management plans to help employees get sufficient rest.

CN Rail also declined an interview but indicated in an email it too employs some limited "time pools" at select locations "to bring a greater degree of scheduling." The company noted the issue is at the forefront of recent labour negotiations with the TCRC, the main engineer and conductor union.

A western Canadian CP Rail engineer told CBC that with all the recent emphasis on profit and cutting jobs, there is even more pressure on those who drive trains.

The engineer says he uses all kinds of strategies to keep awake — "opening the window, drinking coffee, talking, turning the lights on and off." But he admits to going to work tired because "we're all a slave to the dollar."

His solution is for someone to referee the divergent financial interests. "I would ask Transport Canada to work with the unions and the companies to implement strategies to reduce fatigue.

"My fear is that I'm going to lose my job for speaking out. But I want a better life for myself, I want a better life for my family, and I want a better life for my fellow coworkers."



Kentucky
*   WAVE, KY House committee defeats right to work legislation<
http://www.wave3.com/story/28097671/ky-house-committee-defeats-right-to-work-legislation
>
*   The State Journal, Kentucky Senate President Robert Stivers: 'Right to Work is Not Anti-Union'<
http://www.state-journal.com/latest%20headlines/2015/02/13/kentucky-senate-president-robert-stiversstivers-right-to-work-is-not-anti-union
>
*   The Courier-Journal, Right-to-work legislation still an issue<
http://www.courier-journal.com/story/news/politics/ky-legislature/2015/02/12/right-work/23310177/
>
*   [AFP] PR Newswire, Americans for Tax Reform, Center for Worker Freedom Support Local Right-to-Work in Kentucky<
http://www.prnewswire.com/news-releases/americans-for-tax-reform-center-for-worker-freedom-support-local-right-to-work-in-kentucky-300035461.html
>
Missouri
*   Associated Press, Missouri House gives final OK to 'right-to-work' bill<
http://www.semissourian.com/story/2166022.html
>
*   The Joplin Globe, Lawmakers target unions; Nixon opposes 'right-to-work' bills<
http://lakeexpo.com/news/top_stories/lawmakers-target-unions-nixon-opposes-right-to-work-bills/article_b0a16058-b2f2-11e4-8165-d3225f17e5d6.html
>
*   KBIA, Politically Speaking: Speaker Diehl Details How 'Right To Work' Passed In House<
http://kbia.org/post/politically-speaking-speaker-diehl-details-how-right-work-passed-house
>
*   The Missouri Times, House sends Right-to-Work to Senate<
http://themissouritimes.com/16530/house-sends-right-work-senate/
>
*   KY3, Springfield legislator behind new push to make Missouri a 'Right-to-Work' state<
http://www.ky3.com/news/local/Springfield-legislator-behind-new-push-to-make-Missouri-a-Right-to-Work-state/21048998_31240634
>
New Mexico
*   [OP-ED] Albuquerque Journal, Right-to-work bill would be good for NM<
http://www.abqjournal.com/540891/opinion/righttowork-bill-would-be-good-for-nm.html
>
*   Albuquerque Journal, Right-to-work, wage boost link proposed<
http://www.abqjournal.com/541076/biz/righttowork-wage-boost-link-proposed.html
>
*   KOB4, House Majority Leader introduces bill that combines right-to-work and minimum wage increase<
http://www.kob.com/article/stories/s3706143.shtml#.VN4iSlPF_7c
>
*   KRQE, War of Words surrounding key issues at Legislature<
http://krqe.com/2015/02/12/war-of-words-surrounding-key-issues-at-legislature/
>
Wisconsin
*   Wisconsin Gazette, GOP uses poor to push Koch agenda<
http://www.wisconsingazette.com/editorial/gop-uses-poor-to-push-koch-agenda.html
>
Very interesting article and worth the read found in the guardian
Right-to-work laws are every Republican union-hater's weapon of choice
The Right to work Bill WILL pass the NM House ... it passed out of the Judiciary Committee last night with a dirty 50 cents minimum wage increase that has sub minimum wage for 6 months training.
I am sure it will pass when it hits the floor of the House.
I need HELP for a BLET CALL TO ACTION Blast..! Out to our Membership. Even if you have already called and sent an email. We need ALL members (and their Spouses if possible) to call and write their NM Senator and NM Representative politely ask them to oppose ANY Right to work legislation.
When this goes to the Senate we will need our members to help pack the Hearing room and give testimony against RTW 4 less.
I hope if you can't make it to the hearings you will be able to watch them on the NM Legislature live Web cast. It has been amazing watching the testimony of those who support us and those who want to destroy our Union and our way of life.
God Bless the Union
Patrick Lynch
BLET NM SLB Chairman
pt.lynch@yahoo.com
Brothers and Sisters ,
I know this is extremely short Notice. 
If you have a few hours
tomorrow
morning please come by and help us with a mass State wide mailing on the Right to work legislation.  
We will be working with them 
at the Teamsters 492 Union Hall 
4269 Balloon Park Road NE.
(west side of Jefferson west of I 25)
Here is a link to the Teamsters Local 492 Web page . You can use the tools there to find out who your NM Senator is. 
please forward to as many BLET members as you can. 
Fraternally,  
Patrick Lynch 
BLET NM SLB Chairman