December 31
I fished with my mate Jeff today aboard his future father-in-laws 16' Mustang, Billistic II.  We saw 4 marlin for the day, one we tagged, one we lost on the bait jig which was probably only 5-6kg, another tiny one that I lost on a normal rod and unfortunately at the end of the day, Jeff had his second one bitten in half by a shark.  The bit we got back still had a tag in it and in a co-incidence it was initially tagged by Jeff 10 miles further out and only 28 days earlier.  He has now been involved with 4 recaptures this season so far including a sailfish his girlfriend Mel got on the same boat. 
December 30
Diana and Chris were aboard for a Marlin fish today.  We saw plenty caught all around us but our luck wasn't in.  A nice brown maori cod on the bait jig was a good consolation prize for the day.
December 28
Mark Menzell and Bruce Cook were back with me again.  One of the guys they bought along started the ball rolling with a boat record 91cm snapper from the first spot I tried.  It was also loaded with undersize pearlies.  I headed to a spot to chase live bait.  Whilst retrieving the bait jig it got knocked off by a marlin.  It mooched around the boat for a bit so I tossed it a dead slimey on a circle hook handing the rod off to Bruce after the bite.  A few aerials and we released it in good condition after the second or third time on the leader.  Out where I wanted to fish the current was racing so we tried a bit closer in.  One of the boys was busted up in short order and seeing what Mark pulled up on the deep jigging gear it was no wonder.  Bruce got done over like a dinner there as well.  This 21kg fish fed over 30 people, tasted great and had a whole 30cm pearlie in its guts.  Just goes to show if you look after your catch by bleeding it and putting it on ice, fish like AJs and Kingies are ok eating.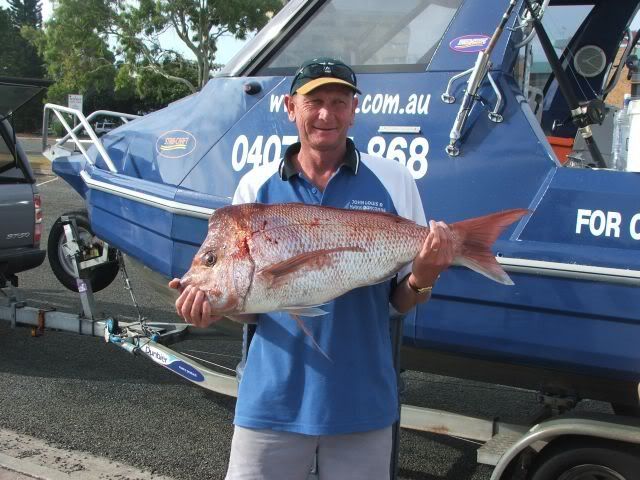 December 27
Glen and Tom were out with me today.  We started out on soft plastics.  Tom ended up getting this 57cm grassy and we missed a couple of other bites.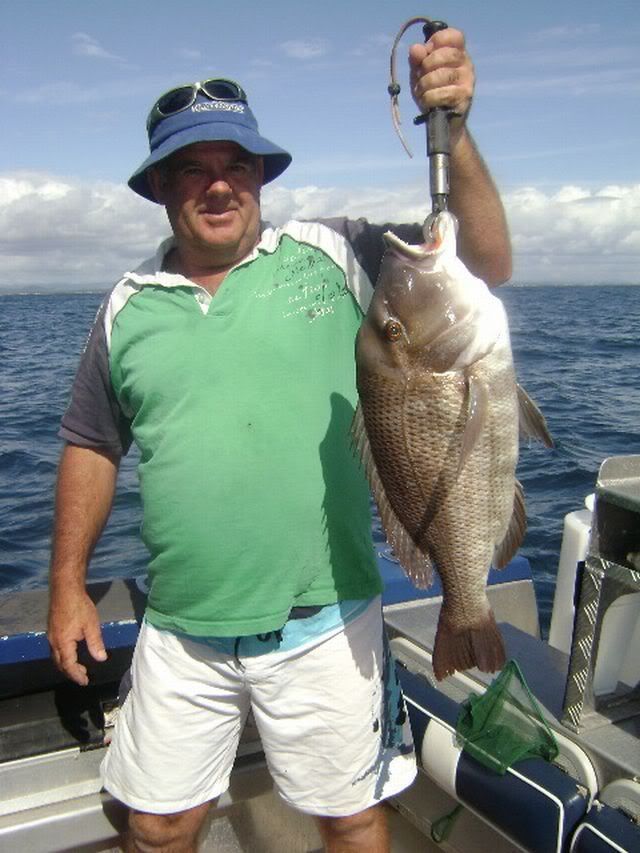 Not to be outdone we headed wider and anchored up where Glen pulled this 81cm snapper.  A big fish made look small by a man mountain.  We were plagued with quite a few undersize fish at that spot as well.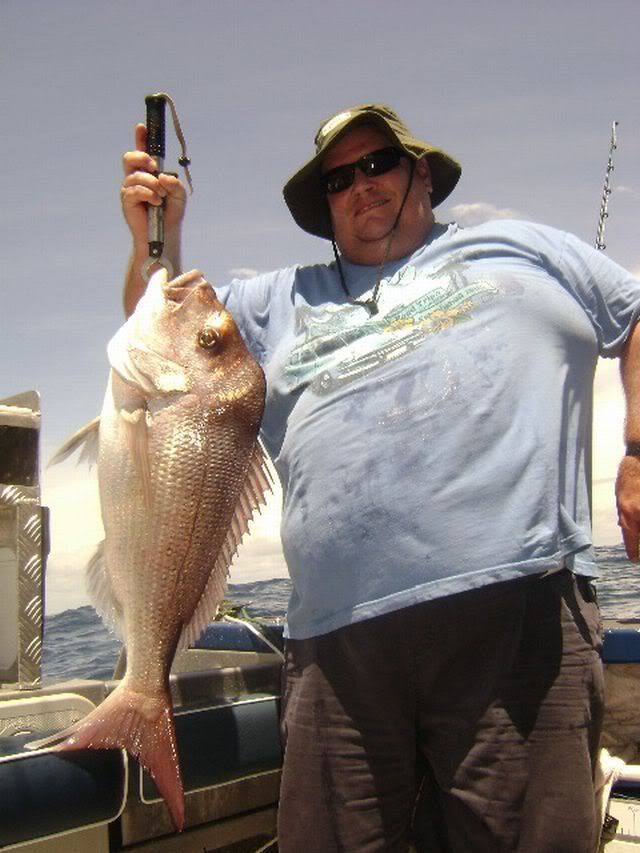 December 26
Took my brother out for a marlin fish as he had yet to fish out of the boat.  Along with us was Jeff.  Jeff ended up getting a good marlin.  All in all a good day.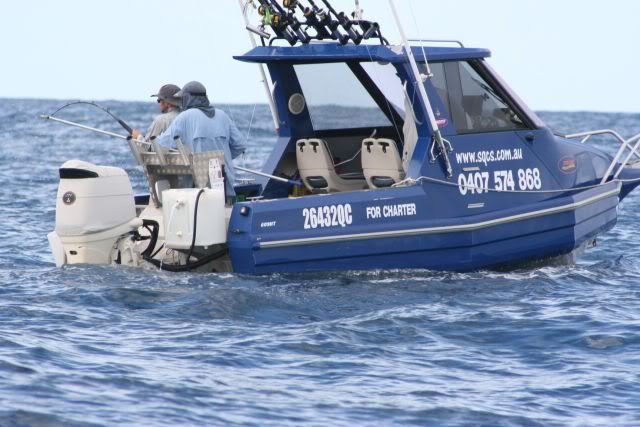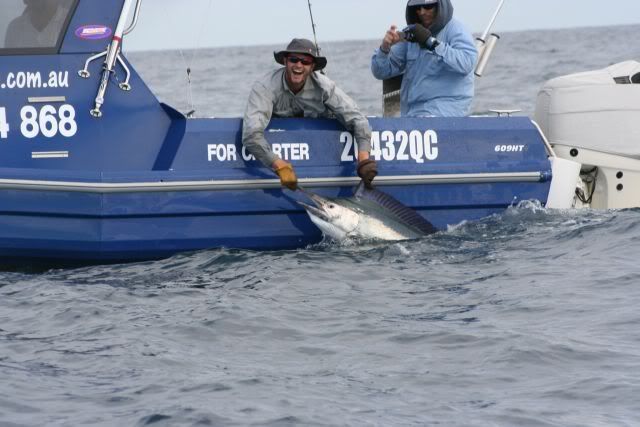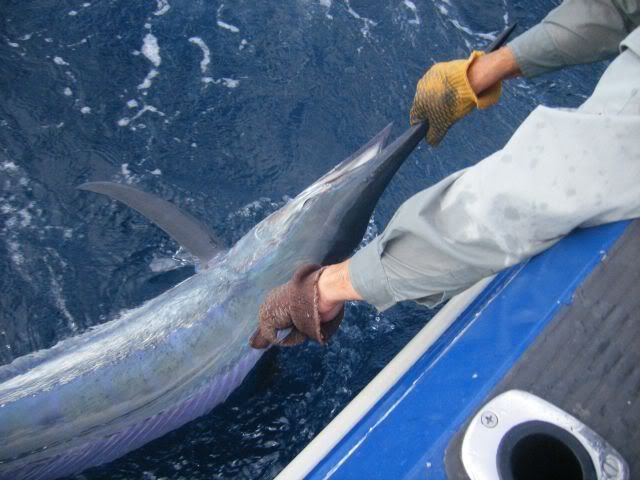 December 25
Chrissy Day and a day off of course.
December 24
A tough day at the office.  No mackerel where I had been getting them.  Northerly got up as well.
December 23
Dan and his mate were along.  Dan ended up with the nice gold spot estuary cod and his mate got the first legal red emporer for the boat going 555mm, just over.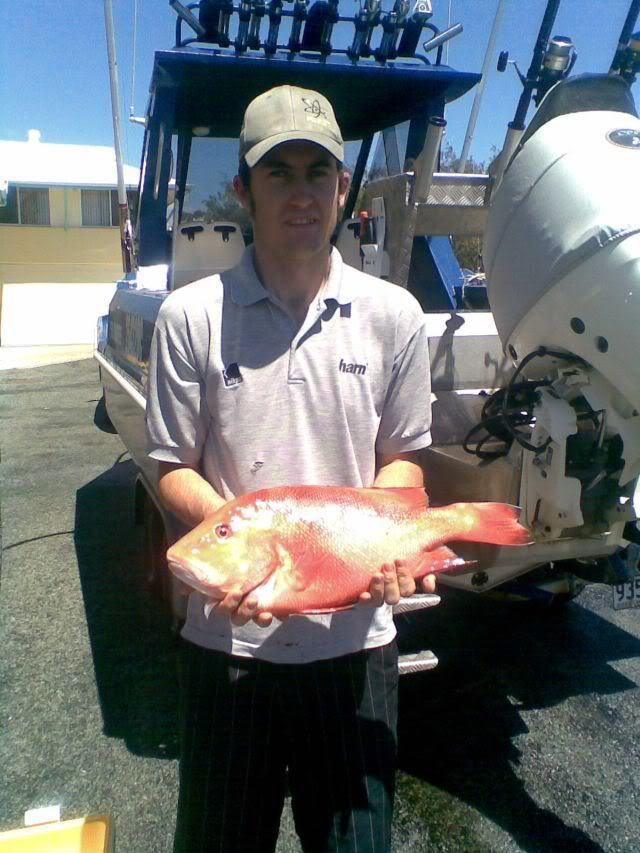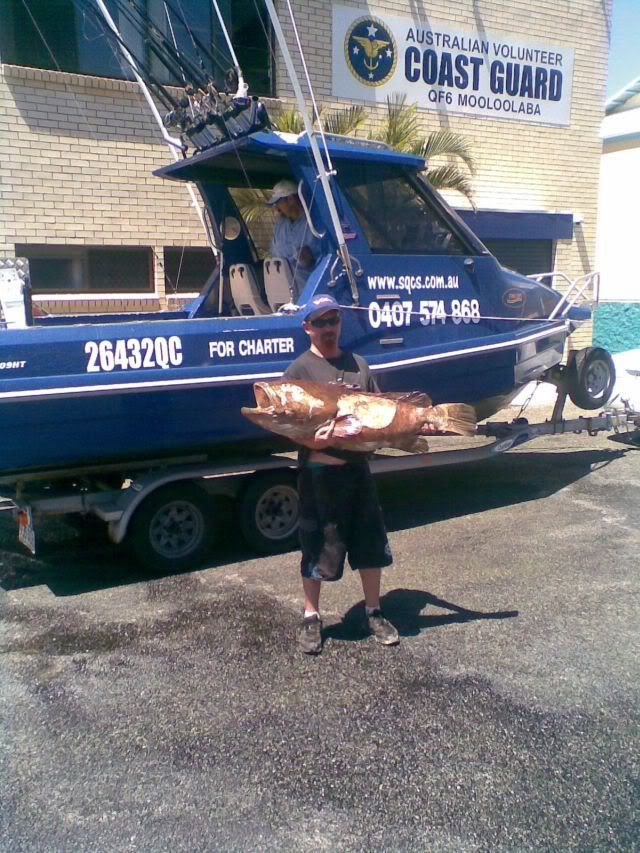 December 16
Today I had Jodie aboard.  Jodie had won a free day out with me by winning the Awoonga Ladyfishers Tournament put on by Bev Chiffens.  With her were husband Dale and mate Herby.  After meeting at the boat ramp we headed off to grab some livies at my most productive spot at the moment.  A good tank of yakkas jigged and it was back to mackerel ground.  The first baits out didn't take long to draw attention and Jodie was hooked up.  This fish did nothing out wide but chose near the boat to play up.  The problem with podded boats is you are a long way from the propeller in the cockpit and this one gave Jodie the chop treatment.
The boys had a bit more luck with Herby ending up with the biggest Spaniard I have seen in this bite period going about 7kg rather than the 85cm school  size fish.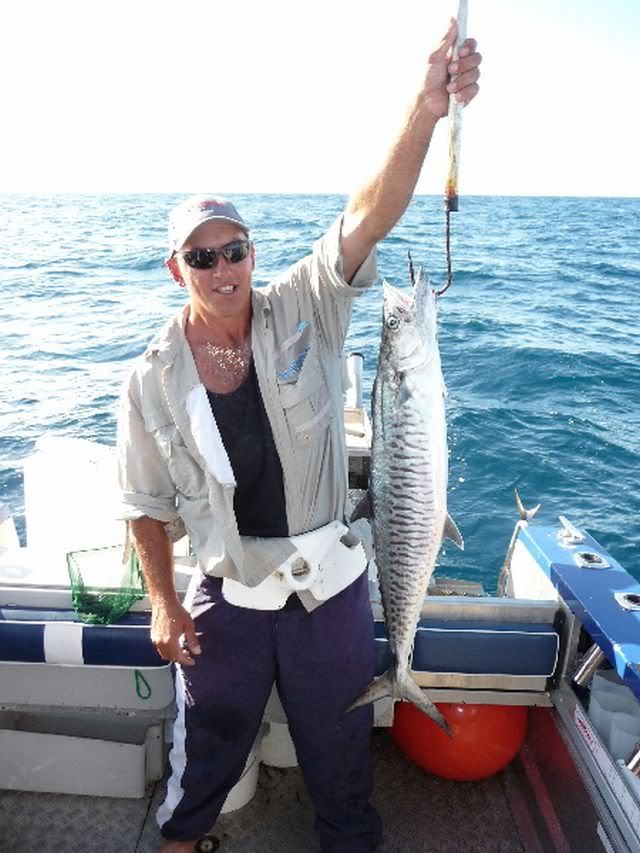 Herby and his fish.
Dale and the typical size fish out there at the moment.
We plugged away at them getting bites on the surface and the downrigger with boats all around hooking up as well.  With 5 in the ice box and the bait exhausted due to lost fish and bites that didn't connect we headed out wide to the baitfish grounds.
 
It was a quiet day with one game boat going 1 from 4 plus a dolly and another trailerboat of the three of us trailerboats on the grounds getting a dolly as well.  The bait looked really good around the tide change and lifted right up off the bottom, went red on the sounder as it got tightly packed in and there were dolphins of the Flipper variety all around.  The predators or dolphins even had acres at a time of pilly schools flicking on the top all to no avail.
 
Being quiet I headed in to have a look at the blinker but no kingys or ajs were in attendance.  With a little bit of time left we put the lures out once again and had a quick troll near the blinker losing a Spaniard, landing our 6th for the day and just as I called lines in and had throttled back we gotimon.  Jodie was now connected to a little black missle on a minnow on 10kg line.  Grabbing the leader secured the capture for a catch and release but it was well hooked so we tagged it, bought him or her aboard quickly to dehook and take a quick snap then sent it on its merry way.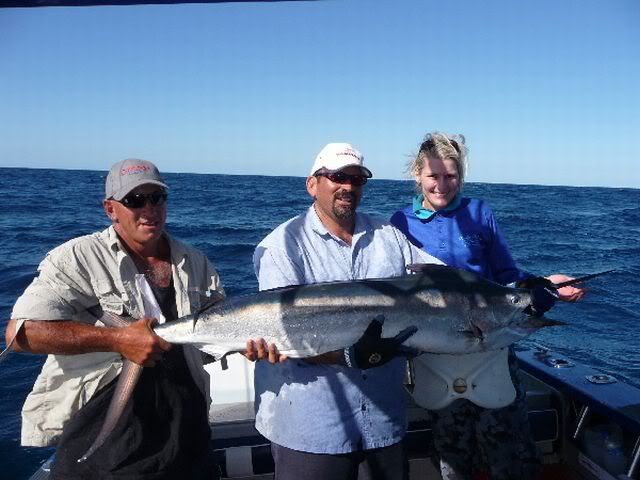 Jodie and her black.
Back at the ramp.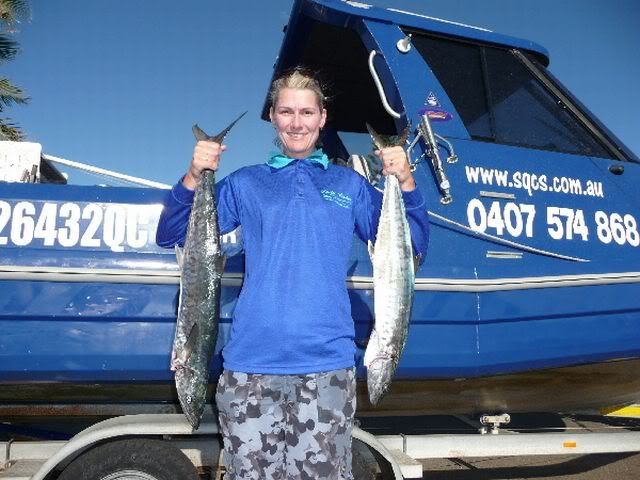 December 14
I was decky for the weekend on Andrew Earle's 40' Precision Reefhunter II.  We ended up coming third in the Mooloolaba Gamefish Tournament.  On the Sunday we saw 6 billfish and had 5 on with on black falling off straight away.  The first fish we had up was a sailfish and it was chewing on the teaser while we were setting up the downrigger with no-one on the flybridge.  I retrieved the bridge teaser and Westy put a swim gar in front of it for the perfect switch and we had him on.   We ended up popping this fish off just out of tag range.  Mid morning we had a good run tagging 3 black marlin in a row.  Rum and Coke got 3 for the day to take their weekend tally to 9 as did Luna to win with 12 billfish tagged.  SCGFC President Jeff Oates not in the tournament went 4 from 4 solo (2 blacks and 2 sails) in his father-in-law's Mustang Billistic II.  
December 13
First day of the tournament.  We saw something like 16 marlin and sailfish for the day, hooking and playing 11 but only ended up tagging 3 black marlin and one sailfish.  Still quite a few firsts for the boys, Glen, Westy and Dan, either first of species, or first billfish or first from a gameboat.  Luna streaked to a good lead with 9 fish tagged from Rum and Coke and Outer Limits.  We had our chances but that is fishing and it was great to take part in such a wide open bite during a tournament, the likes that had not been seen for 10 years or more. 
December 12
A social marlin fishing day with Steve and Aimee Brooks with a late start of 10:00.  On the way out to grounds we saw a tailing Marlin on the surface in 39m of water and Steve was quick thinking enough to put a lure out and  we turned in front of it getting a bite.  On its first jump it spat the lure back at us.  We headed to where the bait and dolphins were the day before but they had moved west and it was barren where they were so we trolled back to the action we had seen heading out.  We hooked and lost a marlin on a skip gar rigged with a circle hook but lost it on the first jump.  A short while later the shotgun lure went off and we secured the tag for Aimee's first billfish of the year.  We were back in by 4:00.  A quick snappy session.
December 11
A solo day today to check out my spots off Noosa.  Found some livebait and got into the spanish mackerel using them.  Kept my bag limit for me and the housemates then went looking for marlin.  Had one on but didn't quite get the tag in on 8kg line solo.  Lost something else as well, probably another black.
December 10
Aaron organised for him and two of his workers to have a half day out with me.  We left early to get some livies but they proved hard to jig.  We ended up catching more baby red emperor and snapper on the live bait jig than yakkas or slimeys.  With the live bait  tank looking grim with only one trevally and 3 yakkas we headed back into the mackerel ground.  We had two bites here and lost the one good hookup.  With two livie left it was time to chase the mahi mahi on some FADs I had found.  One allready had a boat on it and the other had  school of small mahi mahi on it but they weren't interested in anything, even the liveys which are normally like candy to them.  We trolled around the FADs for no hits so we went out wider in search of a wahoo, mahi mahi or marlin.  It was proving a quiet day but eventully the boys caught a marlin on the shotgun lure. 
December 7
Solo again chasing a marlin.  Had one on a livey but lost him on a jump.  After livebaiting all morning I went for a troll to look around releasing a mahi mahi and having a black come up on the lures right near some FADs I discovered. 
December 6
Michael Mackenzie and his crew chartered me again.  We started out snapper fishing landing the one.  Through the day we ended up fighting 4-5 mahi mahi with two finding their way into the ice box and a couple pulling hooks right boatside.   On marlin we went 2 from 4.  That afternoon tide really saw them bite with boats all around hooking up.  The two we got were part of  double hookup.  It was all pretty hectic with reasonably inexperienced anglers aboard and one guy seasick all day long even though the weather was nice.  It was more hectic when some mahi mahi decided to swim with the hooked marlin so we pitched a livey and got a take from a nice one of those.  The video when edited will make for some interesting viewing.  This is Mike with his fish.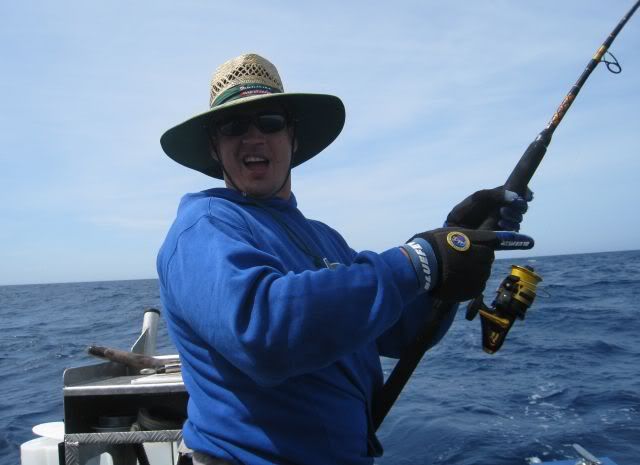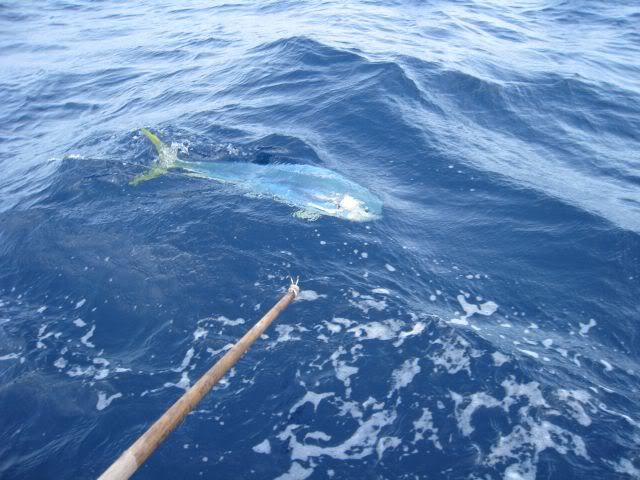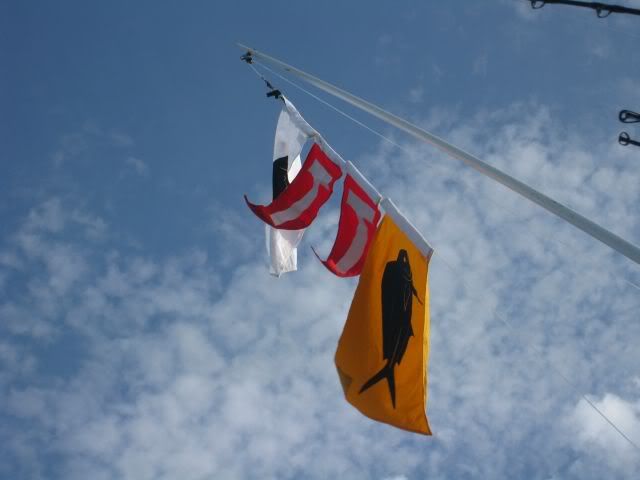 5 December
Social day with Steve Brooks and his son Dan.  Dan lost a black boatside when he accidently pushed the drag lever over the strike button and with a jumping run close to the boat with not much line out to give us some extra stretch we popped him off.  We missed a fair few chances on black marlin but later in the day tagged a wahoo and cobia for him which are all good points for the QGFA and GFAA junior trophies.  Flat weather as well which was great though poor Dan was seasick once again.
Chad's boat.
Luke Carter's boat was on fire going 6 from 10.
4 December
Today was Ben's birthday and he  had a day off work so he called me to see if I wanted to fish.  After getting two the day before I was in.  I rang Luke one of my regular charter clients to see if he was in for a social trip and we were set.  We started out livebaiting for one small cobia released and a jumped off black.  We fished till the tide change and with not much going on we headed in to where the action was on the radio.   In a short space of time we came up trumps tagging two fish and losing a couple as well. 
  This was Luke's first ever marlin and it had him tied up for a good 20mins on 8kg line.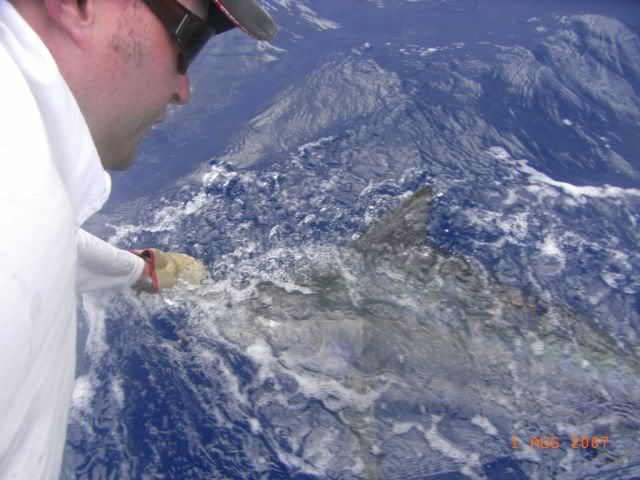 Ben releasing Luke's fish.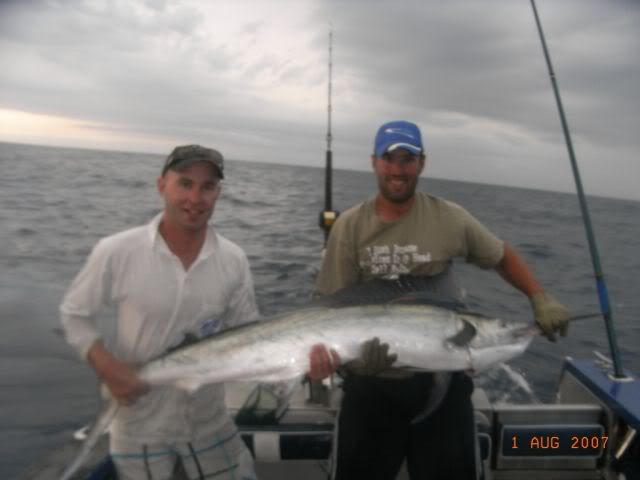 And the birthday boy finally gets one at the death just as the storm was coming.
December 2
Just Conor and I aboard today fishing 8kg for club points for the boat.  We tagged one each on livebaits and dropped another on a lure.  We also saw a freeswimmer and were near Jeff Oates when he got a black solo and saw a few others.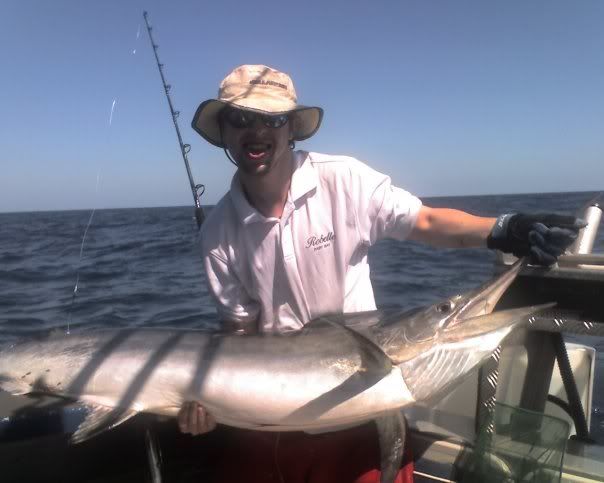 1 December
We headed out on Roger Bayzand's Black Watch Blu Reela to try and get it it's first marlin.  Roger is a regular customer of mine and along with us was Conor Lynch.  We had a look round for the best bait and once we found it we stuck with it.  We had two fish up at once and Conor took the strike on the one hooked up while I tried to entice the second one to bite but missed him.  The tag went in and Roger then had his first for the boat.  We had bites froma few more and missed them before Roger came up tight on one in the afternoon.  He jumped at us and threw the hook unfortunetly but then a while later we let a mahi mahi go.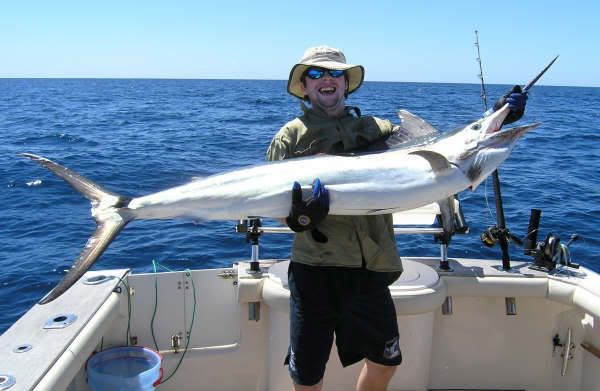 Conor and his black.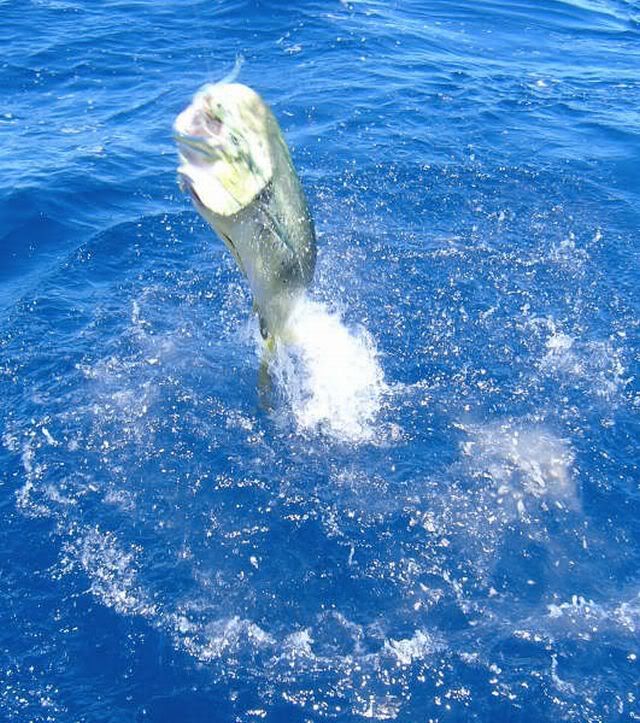 The mahi mahi.