Before she was nominated for a Nobel Peace Prize...

And before she held Malcolm X's head while he died...

Renowned Civil Rights Activist
Yuri Kochiyama was a young woman in love named...Mary Nakahara...


This film will explore Yuri's early years as a 20-year old newly "interned" Japanese American in the U.S. concentration camps, and the movement she led to support the Japanese American soldiers during World War II.

Teaser Trailer.  [Lindsey Myers, Editor]
"The work of the Crusaders, although obscure and unknown, was a means by which young people in confinement were able to prove that no physical boundaries could stop them from transcending beyond the 'barbed wires.'" 

- Yuri Kochiyama
"It doesn't mean 'good-bye.' It means 'good friends..." [To better read The Crusaders' last letter, click on the image above.]


What did you do in the War, Mama?: Kochiyama's Crusaders grew out of the play, BITS OF PARADISE by Marlan Warren.

What's this film about?

When World War II interrupted the lives of Japanese Americans, and the U.S. incarcerated them in concentration camps with deplorable conditions, young Mary Nakahara (aka "
Yuri Kochiyama") began a movement to boost morale of the Japanese American soldiers with letters and circulars that were filled with jokes, cartoons, poetry and reminders that they were not alone in their fight. She mobilized the girls and women of the camps, and called them "The Crusaders."

The finished film will blend interviews with Yuri Kochiyama and three of the original Crusaders with archival footage, original letters, spoken word, poetry, music and moments from the play Bits of Paradise to examine the making of an activist and the joy she imparted to all who knew her.


Pictured above: Actors from Bits of Paradise (L-R Linda Wang, Pisha Warden, Connie Kim and Chanelle Yang as Mary Nakahara, aka Yuri Kochiyama).


Great occasions do not make heroines. 
They simply unveil them to the eyes of men.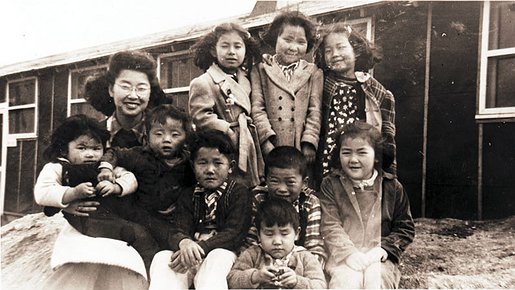 Mary Nakahara (aka Yuri Kochiyama) with children at Camp Jerome (Jerome, Arkansas).

This film is in its 5th year of prod
uction.
It is based on Marlan Warren's play, Bits of Paradise. which adapts The Crusaders Scrapbook in the Japanese American National Museum, Little Tokyo, Los Angeles.


We are grateful to Fractured Atlas* for its continued support of this film as its fiscal sponsor. At present, our account with Fractured Atlas is dormant and cannot accept tax-deductible donations. Almost no money has been raised since 20013 to complete production.  We are seeking funding for the rough cut.

If you are interested in donating, please contact us at memoircity@gmail.com. We will re-activate our Fiscal Sponsorship if you wish to make a tax deductible contribution.

*Fractured Atlas is a 501(c)(3) public charity.

About the "Crusaders" Play: Bits of Paradise
BITS OF PARADISE places its footprint on the timeline of a
much needed theatrical examination of the Asian American journey.


What did you do in the War, Mama: Kochiyama's Crusaders grew out of the play, Bits of Paradise by producer/director/playwright Marlan Warren which showcased at The Marsh Theatre in San Francisco in '08 with a multicultural cast of young actors who approached the material with deep sensitivity and enthusiasm.  The actors were ecstatic when Yuri Kochiyama graced opening night with her friend and fellow Crusader, Ruth Ishizaki, who compiled two Crusaders Scrapbooks at the end of World War II with her friend Rinko Shimasaki Enosaki (see them below).

Video: Ben Kim



The above video clip is from Bits of Paradise Opening Night at The Marsh Theatre in San Francisco Nov. '08. 


"Bits of Paradise":
 (L-R) Women: Pisha Warden, Connie Kim, Chanelle Yang, Linda Wang
Men: John Wilton, Wesley Cayabyab, Jean Franco (Photo by Basile Kuo)
FILMED INTERVIEWS WITH ORIGINAL CRUSADERS!

(L) Yuri Kochiyama at her 88th birthday bash with actor Jean Franco (R)

Yuri Kochiyama
Ruth Ishizaki
Rinko Shimasaki Enosaki
Pat Goto Takeshita
In addition to interviews with
Yuri Kochiyama
, we were fortunate to be able to also interview original Crusaders
Ruth Ishizaki
and
Rinko Shimasaki
Enosak
i--who actually made the two Crusaders Scrapbooks at the end of the War. Rinko was interviewed by filmmakers Emma Puente and Michael Maseo Enosaki (her grandson), who are now associate producers for this film.


Pat Goto 
Takeshita

Pat Goto was 11 years old when she began sending penny postcards as a Crusader in Yuri Kochiyama's Sunday School Class at the Santa Anita Assembly Center (aka "concentration camp"). When we interviewed her, she read from the memoir she wrote in her 80s about her camp life and how deeply "Mary Nakahara" affected her for the rest of her life.

"TODAY WE REMEMBER": MANZANAR PILGRIMAGE 2013
On April 27, 2013, producer/writer Marlan Warren and a very talented crew--Stephon J. Litwinczuk, DP/Camera, and Richard J. Wilson, Sound--embarked on an all-day shoot at the Manzanar concentration camp memorial site, 240 miles north of Los Angeles.   
We were all very deeply moved by the experience.
Video by Stephon J. Litwinczuk.
The icing on the cake were the interviews granted to us by amazing, strong women who made it their post-war mission to ensure the history of the "Japanese American incarceration" will not be forgotten, but remembered as a shameful episode of U.S. history that must never be repeated

.
Our concept for this film is expanding to include the legacy of activism born in these concentration camps, and extended through the tireless efforts of Japanese American women who are willing to do whatever it takes to make sure this unjust incarceration of American citizens never happens again.
This film will include stories of the Japanese American soldiers as well as war resisters who transcended barbed wire with soaring spirits.
ASIAN WEEK REVIEW
ASIAN WEEK – November 29, 2008Posted in:
Events
New play based on Japanese American WWII internment letters
With the commemoration of the bombing of Pearl Harbor fast approaching, local playwright Marlan Warren's Bits of Paradise arrives at an appropriate time. Based on letters written between Japanese American girls and women in the U.S. internment camps and Japanese American soldiers during World War II, Bits of Paradise is a 20-minute piece that is slated to be a full production one day.
A culmination of eight years of researching and gathering on the subject, Warren takes on a little-known factoid in the history of the war at home. In the play, a cast of seven takes the audience back in time to the nadir of Japanese American morale. A young internee by the name of Yuri Kochiyama (born Mary Nakahara) inspired her friends to start a letter-writing campaign to the Japanese American 442nd regimental combat team to raise the boys' spirits. The group of letter writers became known as "The Crusaders" and the play, an ode to Kochiyama, comes to fruition onstage as actors read verbatim excerpts from these missives.
The play was a lesson in history for the actors as much as a means to broaden their horizons. "I feel a sense of pride and a sense of identity," said Jean Franco who portrayed one of the soldiers. "I wouldn't have known about this part of history if I hadn't done this project."
Fifteen-year-old Chanelle Yang, who gives a spirited performance as the young Kochiyama, expressed her honor of playing this role and was inspired by the fact that Kochiyama was in the audience on opening night. (Kochiyama transitioned from writing letters to becoming a crusader of a different type — as an icon in the socio-political activist movement and a Nobel Peace Prize nominee in 2005.)
Not since Philip Kan Gotanda's After the War (2007) has there been a production in The City depicting the Japanese American experience spawned by F.D.R.'s infamous Presidential Executive Order 9066, which required the internment of all continental Japanese Americans. Bits of Paradise places its footprint on the timeline of a much needed theatrical examination of the Asian American journey.
Bits of Paradise plays on December 1, 7:30 p.m. at The Marsh, 1062 Valencia Street (between 20th and 21st in the Mission District), San Francisco, $7 tickets at the door. No reservations. For more info, call 415-202-0108 or visit themarsh.org/monday.
You do not have permission to add comments.
The Crusaders Journey from 
Internment Camps to Stage & Film

Above clip shot and directed by Chong Lee.