---
Welcome to the Information site on the  race for County prosecutor of Mahoning county. Most of this information is gathered from media sites and pacer.
---
Welcome back, now that many files are unsealed I will try to break a few things down, Please be patient there is a lot to go thru.  Anyway   here is  part of a deposition with Jay Macejko...  remember to this day he said he never fired Bassil......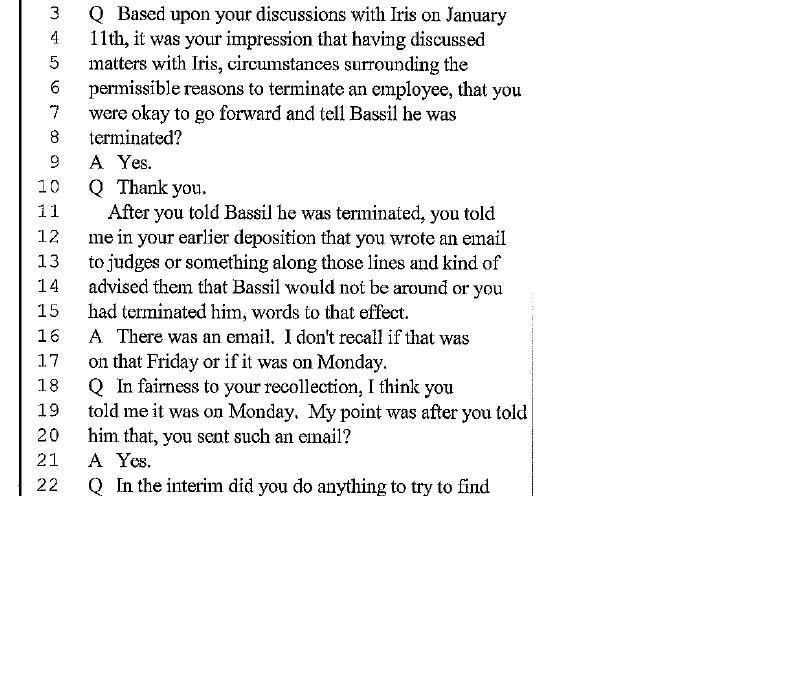 Ok, March 7th 2012 Paul Gains wins and retains the position of county prosecutor, Jay Macejko returns as city prosecutor.
          NOW  after reading the information below I ask you!  IF YOU ARE A MUSLIM OR A BLACK VICTIM OF CRIME, HOW CAN YOU BE ASSURED THAT JUSTICE WILL BE DONE BY THE CITY OF YOUNGSTOWN PROSECUTOR- YOU CAN'T!!!!
---
I would never have put this site if Jay Macejko would have not lied to all the voters. He appears to be in total denial and will stop at nothing to get your vote.
      This page  will show you that indeed He is lying  and did do all the things that he was accused of, from lies to racism to bigotry. Paul Gains is OUR Prosecutor!
---
HERE WE GO...........  Here are the phone text messages we have all been waiting for, case 4:09-cv-0144   Doc #210 pages 4331 thru 4337  , I'm just going to put these at the top of the page,
Ok, here is Page 1  Notice written Jay, Personal  ( one can assume it is the  phone number  redacted)
Page 2
Page 3
- With the text highlighted below that I question Why the Cafaro plaze name come up in the Jitso case???????  Do we now have possible RICO  charges? Conspiracy to not get
Cafaro's upset because Iris husband works for Cafaro?
Page 4
-
With the OBAMA STIMULUS PACKAGE TEXT Highlighted.
Page 5 Page 6
-
With the Text highlighted- "The POS is sick"

---
Mayor Chuck Sammarone said he's waiting until a federal court releases documents containing the texts Jay Macejko is accused of sending.
For Pete Sakes Mayor Sammarone - Your City Hired Attorneys have all of this documents for your confidential review - THAT'S NOT WHAT THE COURT SEALING PROHIBITED.
YOUR ATTORNEYS SHOULD KNOW WHERE THE TEXT CAME FROM! Your city and Macejko are DEFENDANTS IN THAT CASE


City's retained Counsel Reminger has ALL THE DOCUMENTS - AND EVIDENCE - THEY JUST COMPLETED THE COURT ORDERED REDACTION ON FEB 22 2012 - No way ARE YOU PRECLUDED FROM USING THESE DOCUMENTS TO START - A CONFIDENTIAL INTERNAL REVIEW - OR EVEN LEGAL ACTION - FOR BREAKING YOUNGSTOWN CODES - All of your constituents aren't s

illy or naive ! YOU HAVE THE ONUS OF STARTING THE

Dear Mayor Chuck - don't pass the Buck - Ken Abbarno Esq - with the Youngstown

INVESTIGATION AS "BUCK" STOPS HERE !! Stalling until after the Primary - is AN INSULT TO YOUR CITIZENS!!!! Maybe I a LACK OF RESPONSIBILITY REQUIRED BY YOUR POSITION. you have what 10 individuals who would be Summon to Appear - The TEXT messages - including the "Obama Package" - THE PERSONNEL FILES OF BRET HARTUP SHOWING HE WAS NEVER DISCIPLINED!! So as one would say - If you can't tell - who sent that heinous text message - You still would conclude - Wrong Doing by "either Macjeko for sending it - or Macejko for not disciplining his subordinate" because the Message Comes from one of them. THE COURT SAID NOT TO DISSEMINATE !!! It Didn't Preclude that "Confidential Investigation" by a Governmental Agency was TO BE DELAYED - in FACT - DIDN'T THE "OHIO CIVIL RIGHTS COMMISSION' Rule for Probable Discrimination - ! C of Youngstown Appealed - Delayed - and ENDED UP IN FEDERAL COURT - not just settling but getting a JUDGEMENT OF GUILTY OF UNLAWFUL DISCRIMINATION THAT'S - Youngstown and Jay Macejko not just the FULL $75,000 ASKED FOR




but the legal fees - THE OPINION AND ORDER OF FEBRUARY 13 2012 WAS CLEAR -





Please don't delay





If you wanted to start an investigation upon hearing of POSSIBLE WRONGDOING YOU COULD HAVE DONE SO 2 WEEKS AGO - FROM THE "UNSEALED" FEDERAL COURT "PRE TRIAL" DOCS STATING WHAT EVIDENCE AND WITNESSES WHERE GOING TO BE USED AT TRIAL - YOU AND YOUR ATTORNEYS HAD ALL OF THIS INFORMATION - for AND NO ORDER PREVENTED "INTERNAL" USE BY THE CITY
---
On Sunday Feb 26th Youngstown Vindicator  endorsed Paul Gains for prosecutor. TheyStrongly challenged Jay Macejko's honesty!
Excerpts from the article regarding Paul Gains.

"In his 15-plus years as Mahoning County prosecutor, Paul Gains has compiled a record that is both positive and negative. But there's one aspect of Gains' tenure as the county's chief lawyer that not even his detractors can credibly challenge: His honesty."

"In examining Gains' service in office, we came across this simple but revealing admonition from him to his staff of assistant prosecutors: Follow the law."
Now their doubts about Macejko.

"Gains is being challenged by Youngstown City Prosecutor Jay Macejko, who has been in the news lately not because of his campaign platform but because he was sued by an employee for violating the law.".

"While he has attempted to make the incumbent's record the issue in the race, there are too many questions surrounding Macejko's management style that voters deserve to have answered."

"However, the lawsuit filed by assistant city prosecutor Bassil Ally alleging religious discrimination has shed light on the operation of the office. Macejko, along with the city of Youngstown, former Mayor Williams and former Law Director Iris Guglicello, were sued in federal court. The documents pertaining to the case remain under seal, but the fact is that the case was settled with a judgment that resulted in Ally's being paid $110,000 and given a $4,000 raise. In addition, Macejko wrote a letter of apology to his employee."

"Nonetheless, the city prosecutor insists he did not discriminate against Ally"

"He takes no responsibility for it."

"Likewise, he has refused to take responsibility for a racist comment about President Barack Obama that was in a log of text messages retrieved from the cellphone of assistant prosecutor Bret Hartup."
"Macejko denies seeing the Obama entry"

"His denial defies logic; he has authenticated the text log by acknowledging that he sent derogatory texts about Ally to Hartup contained in the log."
"Given the unanswered questions about Macejko's clash with Ally and his text exchanges with Hartup, we cannot consider him for our endorsement for county prosecutor."
"But even if we could overcome our misgivings about him, we still would find it difficult to select him over Gains when both their records and work experience are scrutinized. "
"All things considered, The Vindicator endorses Paul Gains for the Democratic Party nomination." 
---
I see nothing but a trend that Macejko is in total denial of doing anything wrong.  Read the information below and make your own conclusion
.
---
Raises given to assistant Prosecutors under Jay Macejko..
Copy of  Minutes City of Youngstown.
AMEND POSITION NO. 1935, CHIEF ASSISTANT PROSECUTOR IN THE
YOUNGSTOWN LAW DEPARTMENT TO CHANGE THE TITLE TO ASSISTANT LAW
DIRECTOR/SENIOR PROSECUTOR, AND TO INCREASE THE SALARY AS FOLLOWS:
CURRENTLY:

POSITION NO.: 1935
TITLE: CHIEF ASSISTANT PROSECUTOR
AUTH. POSITIONS: 1
FUND: 1001.04.200
SALARY: $30.7403 HOURLY/$63,939.72 ANNUALLY
BARGAINING UNIT: MANAGEMENT
FULL OR PART-TIME: FULL-TIME
AMEND TO: POSITION NO.: 1935
TITLE: ASSISTANT LAW DIRECTOR/SENIOR PROSECUTOR
AUTH. POSITIONS: 1
FUND: 1001.04.200
SALARY: $31.5481 HOURLY/$65,620.00 ANNUALLY
BARGAINING UNIT: MANAGEMENT
FULL OR PART-TIME: FULL-TIME
AND PROVIDING THAT THIS ORDINANCE SHALL BE AN EMERGENCY MEASURE IF IT RECEIVES THE AFFIRMATIVE VOTE OF SIX OF THE MEMBERS OF COUNCIL;
OTHERWISE, IT SHALL TAKE EFFECT AND BE IN FORCE FROM AND AFTER THE
EARLIEST PERIOD ALLOWED BY LAW. WAS READ THE FIRST TIME AND UPON
Page 5 of 10
CITY COUNCIL MINUTES
WEDNESDAY, NOVEMBER 16, 2011
Attorney Joseph Macejko – City Prosecutor
Attorney Dana Lantz – Senior Assistant Law Director
Attorney Basil Ally – Senior Assistant Law Director
Attorney Bret R. Hartup - Senior Assistant Law Director
Attorney John Marsh - Assistant Law Director
Joni Stewart – Assistant Secretary/Legal
Debra Boyd - Assistant Secretary/Legal

Which PROSECUTOR GOT A PROMOTION, THIS IS FROM THE CURRENT WEBSITE AND ALLY WAS SUPPOSED TO GET A $4000 INCREASE - THIS SEEMS TO BE A TITLE CHANGE -AND WAS $2000 NOT ALLY'S –
JAY PUTS IN HIS ADS –" I  WON'T SPEND ANY MORE OF YOUR MONEY" - ADD UP THE INCREASE in raises given to ALL OF HIS SR ASST LT DIRECTORS -
---
Settlement Reached in Muslim Man's Suit Against Youngstown



A settlement has been reached in a federal religious- and ethnic- discrimination civil lawsuit by an assistant city prosecutor

against his boss (JAY MACEJKO) and the city.

In the settlement of the suit he filed in May 2009, Bassil Ally, a Muslim of Middle Eastern descent, will get a lump sum of $110,000 and a $4,000 annual pay raise, said Anthony Farris, city law director. Ally now earns $61,621 a year. The lump sum will come from Midwest Claims, the city's insurance company, because the city has already met its $50,000 deductible by paying legal fees for the outside lawyers chosen by the insurance company, Farris said.



City Prosecutor Jay Macejko will write a letter of apology to Ally, but no settlement money will come from Macejko's pocket, even though he was sued, Farris said. The settlement was reached Thursday on the eve of a jury trial that would have begun Monday in Cleveland before U.S. District Court Judge Christopher A. Boyko. "The judge encouraged a settlement, and we were able to reach one, and we'd also like to put this whole matter behind us," Farris said. "Bassil is a very good prosecutor. He's been here nine years now, and hasn't had a raise in six. He deserves it," Farris said. "Both Jay and Bassil are good people. … I'm happy to work with both of them. They both do fine jobs," Farris said.Farris said the city agreed to the settlement in part because a trial lasting one to two weeks would have disrupted the operation of the city's law department and prosecutor's office, with key personnel in those offices either being parties or witnesses in the case.

"We think we've achieved a favorable settlement, which vindicated Mr. Ally and allows him to continue to work for the city of Youngstown," said Daniel M. Connell of Cleveland, Ally's lawyer. "The settlement and the fact that judgment will be entered against the city speaks volumes." Besides Macejko and the city, Ally initially had sued then-Mayor Jay Williams and then-Law Director Iris Torres Guglucello, but Judge Boyko removed Williams and Guglucello as defendants.

In his lawsuit, Ally said he had been harassed because of his faith and Middle Eastern descent and that Macejko threatened his job because he took a late lunch break at 1:30 p.m. each Friday to attend a service at his mosque. The suit said Ally was subjected to derogatory comments regarding his religion and national origin by a co-worker and another city employee. Ally said he told his supervisors when he was hired that he'd need an accommodation to his work schedule to attend Friday mosque services, the suit said. The suit said that arrangement changed when Macejko called a Friday afternoon meeting and told Ally he'd be fired if he didn't attend. Ally was placed on administrative leave after he went to the mosque instead of the meeting, but was returned to work after he filed a religious-discrimination charge with the Ohio Civil Rights Commission. After he filed that charge, Ally claimed he was harassed when he was reassigned to a courtroom that regularly meets Friday afternoons. The city denied Ally's claims made in his complaint. Farris said Ally is now permitted to attend religious services on Fridays, and his lunch-break schedule is adjusted to accommodate his attendance at the mosque.

— Hat tip: JP [Return to headlines]

Legal Secretary - feels harassed for FAILING TO "SIGN AFFIDAVIT - SUPPORTING CITY AND MACEJKO AGAINST ALLY" - citing Problems and Discrimination READ
THE CONTINUING SAGA

By David Skolnick
skolnick@vindy.com
YOUNGSTOWN

A Youngstown law- department secretary is suing the city for racial and disability discrimination claiming officials wouldn't accommodate her work schedule while she was being treated for cancer because she's black.
The lawsuit filed by an attorney representing Debra J. Byrd, the secretary, claims the unfair treatment was in retaliation for her support of Bassil Ally, an assistant city prosecutor who is Muslim and is suing the city for religious discrimination.



After refusing to sign an affidavit in September 2008 supporting the city against Ally, Byrd "experienced retaliation in the form of unwarranted complaints about her work and reprimands," reads the lawsuit, filed by her attorney, Robert B. Kapitan of Brooklyn Heights.



City Law Director Iris Torres Guglucello, Byrd's boss, said she was "stunned" by the racial-discrimination allegation.
"I categorically deny she was discriminated by the city in any fashion," Guglucello said.

Byrd was diagnosed with cancer May 15, 2009, and was off the job until Sept. 1 of that year. After returning to the city, she had to undergo chemotherapy, which required her to take some time off work for a couple of months, according to the lawsuit filed in Mahoning County Common Pleas Court.
The day after her return, Byrd said Guglucello told her because she couldn't work a full 40-hour workweek, she would have to take a part-time job or an unpaid leave of absence, the lawsuit reads. Either way, she would lose her health- care benefits.

Byrd's lawsuit contends she was denied the chance to use advance sick and vacation time that would allow her to remain a full-time employee and that three white employees were permitted to use advance sick time in 2009.
Byrd was placed on part-time status Sept. 8, 2009, until she was reinstated to her full-time job in January 2010 with full medical coverage a month later.

During the time she was demoted to part-time status, Byrd had to pay for her own medical insurance.
Byrd is seeking at least $50,000 from the city, according to the lawsuit.

She "suffered emotional distress, humiliation, embarrassment, loss of reputation, loss of self-esteem, lost wages and income, lost opportunities and other benefits and damages," her lawsuit reads.

Byrd made $32,432 in base-pay salary in 2008, $29,486 in 2009, and $32,879 in 2010, according to city payroll records.

Meanwhile, Ally's case in U.S. District Court, filed in May 2009, is still active after mediation failed Feb. 28. Ally contends city workers made a concerted effort to harass him and keep him from practicing his religious beliefs as well as creating a hostile work environment. City officials have denied Ally's claims.
  ______________________
On Sunday Feb19th Peter Milliken from the Youngstown Vindicator quoted Jay Macejko ..
.. Macejko said Ally Was never fired, and Macejko denied discriminating against him.
Below is the court document  Bassil sent to jay and Jay's sticky note to Iris Guglucello.

_
---
It was Jay's intention to Fire Ally as seen from this next document he sent to Iris after Firing Ally.

Shortly after... HE WASN'T FIRED BECAUSE "Jay it turns out didn't actually have the authority"

Iris G. said - YOU'RE ON PAID ADMINISTRATIVE LEAVE UNTIL AFTER THE WEEKEND AND A FEW DAYS PASSED - So if you want to say - "YOUr FIRED" - hey - the courts Felt that Ally suffered in the manner like a FIRED PERSON WOULD - and Jay Macejko - certainly thought HE WAS FIRING BASSIL ALLY - if you want to call it a "FIRING" which was later turned into an Administrative Leave and Discipline Investigation - But the time the Letter was 100 percent clear "JAY TOLD ALLY YOU'RE FIRED" AND THOUGHT HE HAD THE CLEAR RIGHT TO DO SO !!!!
---
On Feb 21st WfMJ reported Macejko said "Macejko fired back. "I am not being sued in one of those cases," he said. "Secondly, I was dismissed from the other case Mr. Gains is referencing and in fact, when these records come out you'll see that this young man also accused Mr. Gains of discriminating against him."   

This was said at a candidates forum Both men attended in reference to the Bassil Ally case.

Now if you look at the Feb13th 2012 court document, Macejko is still referred to as A DEFENDANT!
    AND AGAIN AS OF Feb 27th 2012- Jay is still a Defendant, despite his claims that he was dismissed!
---
Also, in reference to Mr.Gains being accused of discrimination, in My extensive search of court documents I could not find any evidence to support that claim!
---
Now, lets take a look at some more evidence that will show you what Mr Bassil Ally had to put up with.



First off they were advised NOT to fire  Mr Ally because of a good chance that he would sue!!
Great leader we  have.. why ask advice if you won't take it!
Now we find Jay starting to give Mr Ally a hard time.
---
---
---
Free HTML Visitor Counter