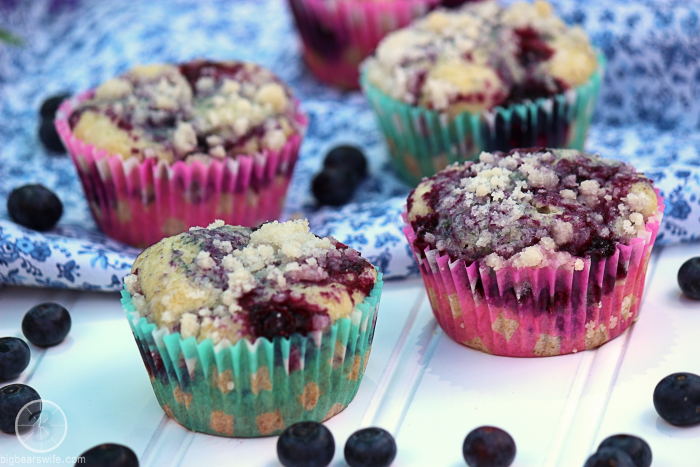 Sugar Crusted Blueberry Muffins
by Angie Barrett July-31-2013
www.bigbearswife.com
2 cups blueberries, divided
2.5 teaspoons baking powder
Rinse blueberries and lay out to dry on a paper towel. 
In a sauce pan, combine 1 cup of berries and 1 teaspoon of sugar. Heat and cook for about 8 minutes. Stir occasionally. Once the blueberries have burst and a "blueberry syrup" has formed, remove from heat and let cool. 
In a large bowl mix flour, baking powder, and salt. Gently stir in the remaining cup of rinsed and dried berries. 
In another bowl, mix eggs and sugar till thick. Add butter, oil, milk, and vanilla. Fold into dry ingredients. 
Fill muffin cups lined with paper liners 3/4 full. 
Spoon about 1 teaspoon of cooked berries on top of each muffin. Swirl in with a knife.
Yields -  2 dozen muffins