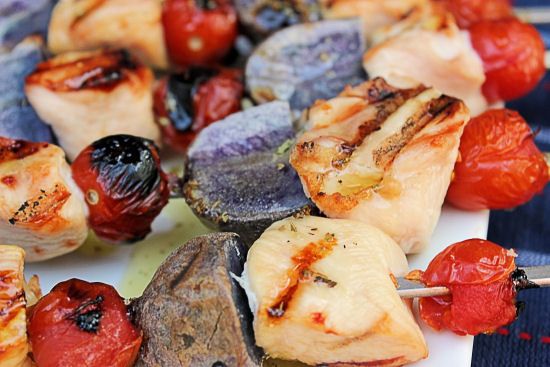 Savory Patriotic Chicken Kabobs
by Angie Barrett July-01-2012
12 Cherry Tomatoes, whole
2-3 Boneless Skinless Chicken Breast, cubed
4 Blue Potatoes, cubed 
½ cup extra virgin olive oil
1 tablespoon thyme
1 tablespoon basil
1 tablespoon oregano
Pinch of salt and pepper
Instructions
Cut chicken in cubes. Cut potatoes into cubes.
Slide a tomato, a cube of chicken, and a potato cube onto a wooden or metal skewer. Repeat until full. Repeating the pattern of Red, White and Blue…. Tomato, Chicken, Blue Potato.
Place on grill racks, heated to 375F.  Cook kabobs for 6 minutes, flip and cook for 6 more minute, or until chicken is done.
For the extra virgin olive oil drizzle:
In a bowl, mix together extra virgin olive oil, thyme, basil, oregano, pepper and salt. 
Mix well and drizzle over warm kabobs.