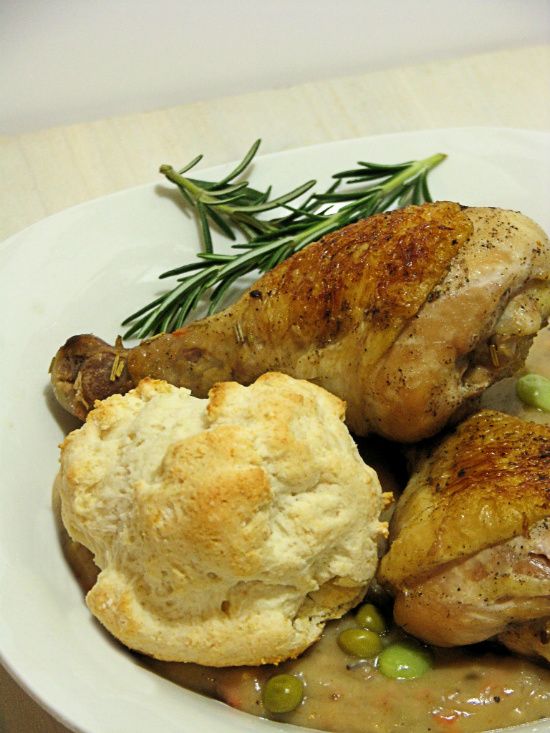 Rosemary Drumsticks and Gravy with Biscuits
by Angie Barrett April-1-2012
www.bigbearswife.com
4 drumsticks
salt and pepper
olive oil
1 cup all purpose baking mix
1/3 cup milk plus 1cup
1 tablepsoon rosemary
1 carrot, diced
1 tablespoons granulated onion
1 1/2 cup chicken broth
4 tablespoons cornstarch
1 cup pea
1 cup lima beans
Preheat oven to 450F. In a medium bowl, mix 1/3 cup of milk with 1 cup of all purpose baking mix. Mix until combined.
Drop 4 biscuits onto an ungreased baking sheet. *I lined my baking sheet with parchment paper*
 Bake for 10 minutes, or until lightly browned. In a large sauce pan heat 3-4 tablespoons of olive oil over medium-high heat. 
Season drumsticks with salt and pepper. Sprinkle with rosemary. Once oil is hot, place drumsticks into pan. Cook for about 10 minutes, flipping every so often to evenly brown the skin. After 10 minutes, remove chicken drumsticks and place them on a plate. Set aside. 
 In the same large sauce pan, heat 2 tablespoons of olive oil. Add in the onion and carrots. Cook on medium heat for about 5 minutes. 
 Add in Chicken broth and bring to a boil. Reduce to a simmer and add chicken back into pan. Cook on medium heat for 15 minutes. 
 Flip Chicken and Cook for 15 more minutes. Once chicken is done, Remove from pan. 
In a cup mix, 1 cup of milk and 4 tablespoons cornstarch. Add to sauce pan with the chicken broth. Stir until thickened into a gravy. 
Bring to a simmer and stir for 1 minute.
 Add peas and lima beans, stir. Heat for 1-2 minutes. 
How I served this dish: Spoon chicken gravy into the bottom of a low rimed bowl. Top with drumsticks, and biscuit.
Total time: 1 hour 10 mins
Yield: 4