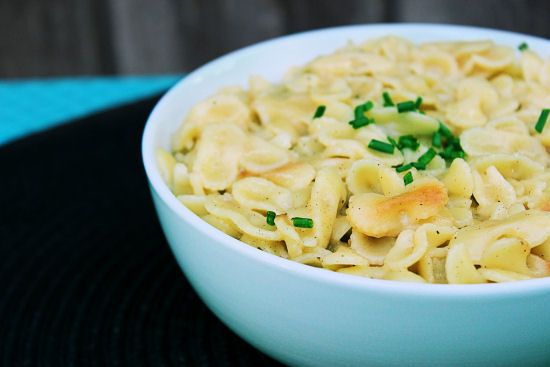 Mini Bow Ties with Browned Butter and Parmesan
by Angie Barrett June-18-2012
www.bigbearswife.com
Ingredients
4 cups chicken broth

4 tablespoons butter

2 cup Mini Bow Tie Pasta

1/2 cup dry white wine

Salt and Pepper

4 tablespoons freshly grated Parmesan

Thinly sliced chives, optional
Directions
In a saucepan heat chicken broth to a simmer.
In another saucepan, melt the butter over medium heat. Stir occasionally. The butter should start to boil just a little bit, then turn golden. (everytime I make brown butter it always turns green before it turns brown). Once the butter is brown and had a nutty aroma add the pasta. Stir and cook for about a minute some of the pasta browns.
Pour in the wine and stir till absorbed.  
Add the hot broth, stir and cover.  Reduce heat to low and cook about 12 minutes, till pasta is tender. There should be a little liquid in the pan, if there is to much, drain a little liquid out.
Once the pasta is drained with a little liquid left in the pan, add salt and pepper.  Mix in Parmesan.  Turn heat off, cover the pan and let sit 5 minutes.  
Serve with chives if desired.
Details
Yield: 4 servings