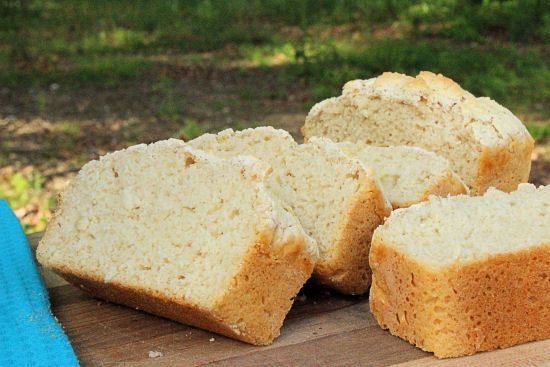 by Angie Barrett March-5-2011
www.bigbearswife.com
6 cups self rising flour
2/3 cup sugar
22 oz bottle beer (i used Budweiser, BUT DO NOT USE Light Beer or Corona)
Melted Butter
Pre-heat your oven to 350F. 
Mix the flour and sugar in a large mixing bowl. 
Push the flour and sugar mixture up onto the sides of the bowl to create a "well" in the center of the bowl. Pour the beer into the center of the flour and sugar mixture. Mix Well! Dough will be very sticky. 
Scoop batter into 2 sprayed loaf pans. Brush melted butter onto each loaf. 
Bake at 350F for 1 hour. 
Remove from oven and let cool on wire racks.
Prep time: 5 minsCook time: 1 hourTotal time: 1 hour 5 minsYield: 2 loafs