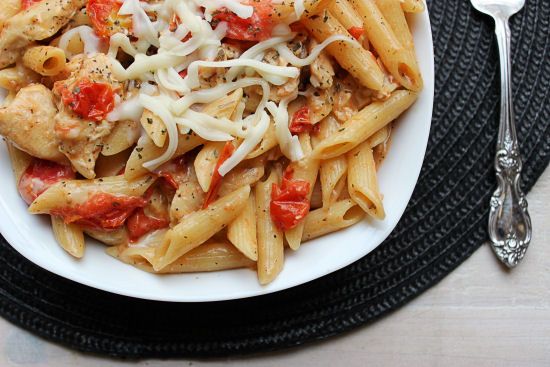 Grilled Chicken Penne al Fresco
by 
Angie Barrett 
Jan-1-2011
Ingredients
4 garlic cloves, peeled

2 cups cherry tomatoes

3 cups uncooked penne pasta

4 cups chicken broth (or 3 cups chicken broth and 1 cup white wine)

1/2 tsp each salt and coarsely ground black pepper

2 tablespoons dried basil

2 cups Mozzarella Cheese

2 cups diced grilled chicken breasts
Spray Deep Covered Baker (or casserole dish) with olive oil.
Mince the garlic and add it to the dish.
Add tomatoes.Cover; microwave on HIGH 4-5 minutes or until tomatoes begin to burst, stirring after 2 minutes.
Crush tomatoes using the back of a spoon.
Add pasta , broth, salt and black pepper.
Return baker (or casserole dish) to microwave; cover and microwave on HIGH 16-18 minutes or until pasta is tender, stirring after 10 minutes.
Carefully remove baker from microwave and remove lid, lifting away from you.
Add cheese and chicken to baker; mix well. Add basil and mix well.
Yield: 8 servings