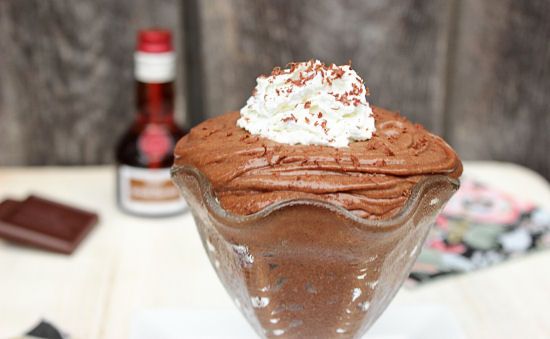 by Angie Barrett August-05-2012
www.bigbearswife.com
Adapted from Julia Child's Mousseline au Chocolat
Ingredients
4 egg yolks
3/4 cup sugar 
1/4 cup  Grand Marnier  (or any orange liqueur) *1/4 cup = 1 airplane bottle*
1 pot of simmering water
1 bowl  of cold water
6 oz of semi-sweet baking chocolate
4 tablespoons strong coffee, brewed
6 oz unsalted butter, room temperature
4 egg whites
1 pinch salt
1  tablespoon sugar
Whipped Cream for topping (optional) 
Directions
In a stand mixer beat the egg yolks and sugar together. Mix until mixture is a pale yellow color and and falls back upon itself forming a slowly dissolving ribbon. Beat in the orange liqueur.
Set the mixing bowl over a pot of  simmering water and continue beating for 5-7 minutes until the mixture is foamy and hot.
Remove the bowl from the hot water and set it into the bowl of cold water. Beat over cold water for 5 minutes until the mixture is cool.  It should now have the consistency of mayonnaise.
In a double boiler, melt the chocolate with coffee. Remove from heat and beat in the butter a bit at a time, to make a smooth cream.Beat the chocolate into the egg yolks and sugar.
In a stand mixer, beat the egg whites and salt until soft peaks are formed. Then sprinkle in 1 tablespoon of sugar and beat until stiff peaks are formed.Stir a few tablespoons of the whipped eggs white into the chocolate mixture. Fold ín the rest.
Pour into cups and freeze 4-5 hours or overnight for frozen mousse or place mousse cups into the fridge for 2-4 hours. .