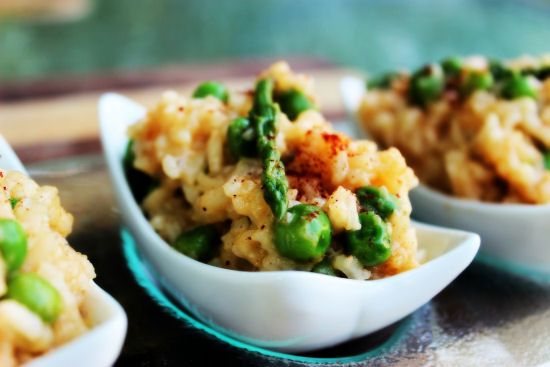 Creamy Risotto with Peas and Asparagus
by Angie Barrett May-19-2012
Ingredients
1 cup of fresh peas 
1 cup of asparagus tips 
1/2 teaspoon paprika
5 cups chicken stock
3 tablespoons butter
1 tablespoon onion salt
2 cups  rice
1 cup white wine
1 cup grated Parmesan cheese
Salt and Pepper
Instructions
Heat the chicken broth over low heat.
Balance the peas and asparagus tips for 3-4 minutes.  Drain and rinse under cold water.
Heat a large pot over medium heat.  Add butter and onion salt. Once the butter is melted, add the rice and cook for 4 minutes. Stir frequently.
Add 2 cups of the chicken broth and 1 cup of white wine to the rice. Stir well.  Bring to a boil over low heat. Boil until the liquid is almost adsorbed. About 15 minutes.
Stir in 2 more cups of broth, stir frequently and simmer until the liquid is absorbed. About 15 minutes.
Add 1 more cup of broth. Cook for 10 minutes or until rice is tender and liquid is gone.
Stir in the asparagus, peas, parmesan cheese and lemon zest. Salt and Pepper to taste. 
Serves 4-6 (large servings)