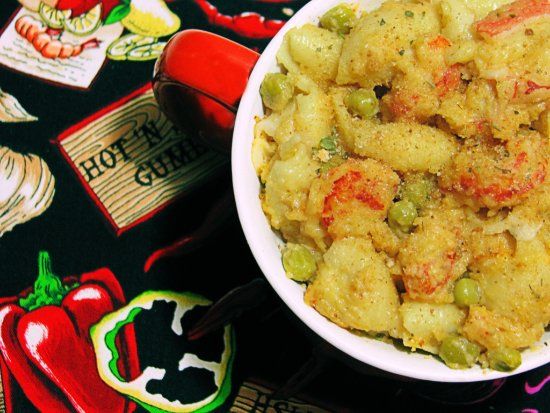 Colby Jack Crab and Crawfish Pasta
by Angie Barrett April-8-2012
www.bigbearswife.com
1 box dry shell pasta
4 tablespoons butter
1 pound cooked crawfish tails
1/2 pound crab meat
1 pint heavy cream
8 oz colby cheese, grated
8 oz monterey jack cheese, grated
1/2 cup Italian bread crumbs
1/2 cup peas
salt and pepper
Cook pasta according to box directions. *Boil for about 12 minutes in salted water* Drain. Set Aside. 
In a sauce pan, melt 2 tablespoons of butter and cook crab until tender. Put crab into a bowl. Set aside. 
Melt 2 more tablespoons of butter in saucepan and cook crawfish tails for about 6 minutes. Set aside. 
In another medium saucepan, heat heavy cream on medium-high heat. Once hot, add in grated cheese. Stir until melted.
Once cheese is melted, stir in cooked pasta. Stir. Add in bread crumbs and peas. Stir well to combine. Add in crab and crawfish meat and stir well. Season with salt and pepper.

Total time: 30 minutesYield: 6 servings