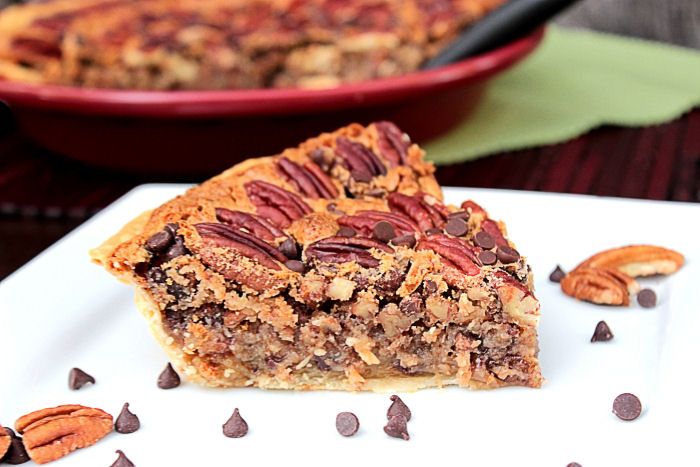 by Angie Barrett October-21-2012
www.bigbearswife.com
1 store bought or homemade pie crust dough
2 large eggs
1.5 cups brown sugar
1/2 cup sugar
1/2 cup melted butter
2 tablespoon all-purpose flour
2 tablespoons milk
2 teaspoons vanilla extract
2 cup chopped pecans
1 cup mini chocolate chips
1 cup pecan halves (for the top of the pie)

1/4 cup mini chocolate chips (for the top of the pie)

Instructions
Preheat the oven to 350F.
Press pie dough into a 9- inch pie dish. Set aside.

In the bowl of a stand mixer, mix together the brown sugar, sugar and eggs. Mix until everything is combined and creamy.

Mix in the melted butter, milk, flour and vanilla extract. Stir to combine.
Slowly mix in 2 cups chopped pecans and 1 cup mini chocolate chips.
Pour the mixture into the pie shell. Sprinkle, or neatly arrange, pecan halves over the top of the pie. Sprinkle ¼ cup mini chocolate chips over the top of the pie.
Bake the pie for 50-60 minutes or until done. When the pie in dine, the edges should be firm with little bit of a jiggle in the middle of the pie. 
Set the pie on a wire rack and let cook for 10 minutes or so. Middle of pie will firm up with cooling. 
Yield: 1 Chocolate Chip Pecan Pie