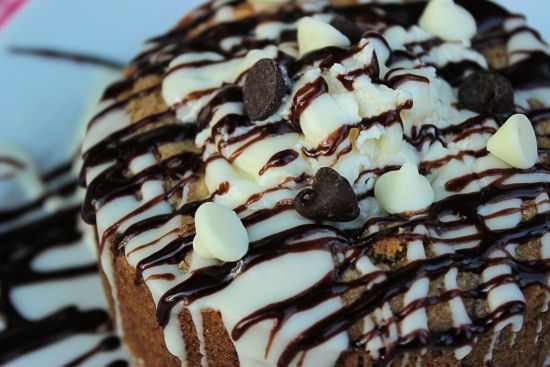 Black & White Deep Dish Cookies
by Angie Barrett July-15-2012
Ingredients
3 tablespoons of vegetable oil
2 cups flour
1 teaspoon baking soda
1/4 teaspoons salt
1 1/2 sticks unsalted butter
3/4 cup sugar
1/3 cup packed light brown sugar
1 egg
2 teaspoons of vanilla extract
1 cup chocolate chips
1 cup white chocolate chips
**For the drizzle I used canned chocolate and vanilla frosting that I melted**
Preheat the oven to 350F degrees.
Spray 6 mini springform pans with non-stick spray.
(Or use one large springform pan)
In a large bowl, whisk together the flour, baking soda, and salt.
In the bowl of your mixer, cream together the butter and the sugars.
Mix well until all are combined and creamy.
Add in the egg and vanilla.
Gradually add the flour mixture to the mixing bowl and mix until well-combined.
Stir in the chocolate chips.
Press the dough into the mini springform pans
Bake  for about 30 minutes or until the edges are lightly browned.
Let cool. Remove cookies from springform pans.
Top with whipped cream. Drizzle with melted chocolate icing and vanilla icing. Garnish with a few of the regular and white chocolate chips.

DetailsYield: 6 mini deep dish cookies