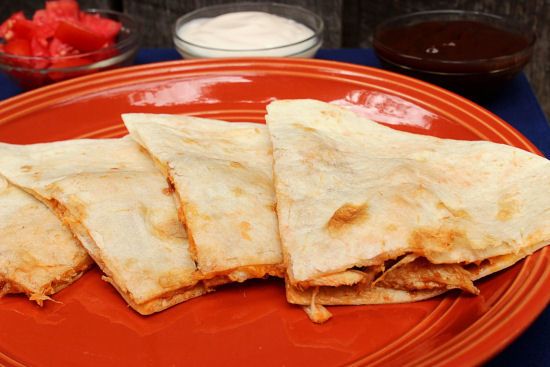 BBQ & Cheese Chicken Quesadillas
by Angie Barrett August-12-2012
Ingredients
8 flour tortillas, 2 tortillas per Quesadilla
1 cup diced cooked chicken (about 2 chicken breast)
2 cups shredded 
1 cup BBQ Sauce, store bought or homemade
1/4 cup diced tomatoes, optional
Directions
Pre-heat the oven broiler on low. Once the oven is hot, place one tortilla onto the rack and let cook for 15 seconds.

Remove from oven and place on a baking sheet. 

Add the cheese and spread it towards the edges.

Sprinkle the diced chicken over the cheese. Add a little BBQ sauce and tomatoes if adding any tomatoes.

Top with un cooked Quesadilla, place into the  oven under the broiler for about 20 seconds or until cheese melts. Remove from oven and let set for a few seconds before cutting into wedges. 
Continue these steps until all Quesadillas are completed. 
Serves 4