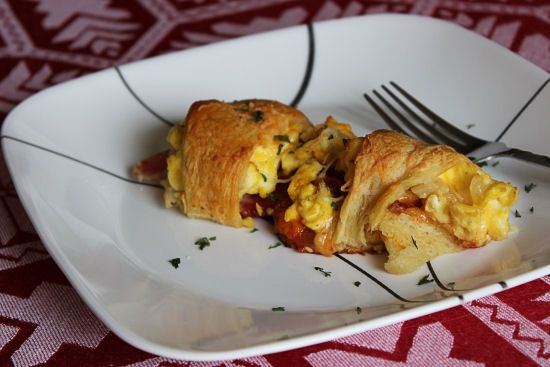 Bacon, Egg and Cheese Ring
by Angie Barrett May-1-2012
www.bigbearswife.com
8 slices bacon, but into big chunks
8 eggs, slightly beaten
1/2 cup milk
1 onion, diced
2 cans refrigerated crescent dinner rolls
1 cup shredded cheese
1 cup salsa
Salt and Pepper
Pre-heat oven to 375°F. 
 Lightly spray a large cookie sheet with non-stick cooking spray. 
Open canned crescent rolls and separate them. Arrange the crescent roll triangles around the cookie sheet, pointed tips out and overlapping in circle. Press the overlapping dough down to to flatten and link the crescent rolls together. 
In a medium skillet, cook bacon over medium heat until almost done. Don't get it to crispy, because it will finish cooking in the oven. Set bacon aside. Leave 3-4 teaspoons of bacon drippings in the skillet. 
Add in the diced onion and cook until tender. 
In a bowl, whisk together the milk, the eggs, salt and pepper. Pour egg mixture into skillet. Cook the eggs, while pushing them around in the skillet to create the scrambled eggs. Cook the eggs until they are thick but still moist. 
Once the eggs are cooked, add in the cooked onion and stir.
To assemble the ring, place 1 tablespoon of salsa onto each crescent roll triangle. Top the thick part of the crescent rolls triangles with the bacon pieces. 
Sprinkle the bacon with the shredded cheese. Top the with the egg. 
Starting with the pointed tips, pull the tips of the crescent roll over eggs and and tuck under the thick part of the dough. Bake for 20 minutes.
Prep time: 15 minsCook time: 20 minsTotal time: 35 mins