(Printable Recipe Here)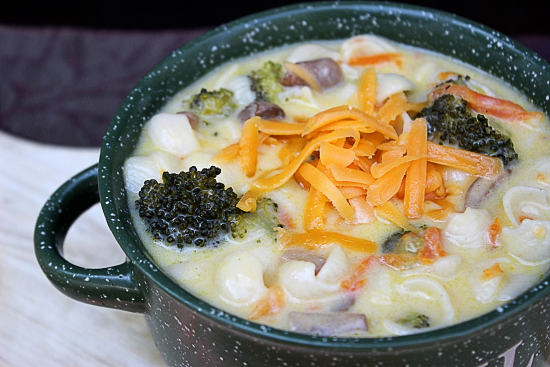 Broccoli and Cheese Pasta Soup
by 
Angie Barrett 
October-01-2012
Ingredients
4 cups chopped broccoli
2 cups shredded carrots (2 large carrots)
1.5 cups chopped mushroom
3 cloves garlic, minced
3 tablespoons Smart Balance Butter
1.5 teaspoons granulated onion
4 cups chicken broth
3 cups milk
1 cup water
1 cup water and 5 tablespoons flour – whisked together in a small bowl
1 (16oz) box tiny shell pasta
3 tablespoons of Smart Balance Butter for pasta
Salt and Pepper
Instructions
In a large skillet, melt 3 tablespoons of butter. Add garlic and granulated onion to skillet. Cook until garlic is fragrant. Add shredded carrots to the skillet and cook for 3-4 minutes.
In a stock pot bring 4 cups of chicken broth to a boil. Add cooked carrots to chicken broth. Stir.
Add in the water flour mixture and whisk. Bring to a boil and then reduce to a simmer. Let cook for 5-10 minutes or until it starts to thicken.
Meanwhile, start boiling water for the pasta. Salt water and cook pasta until tender, about 12 minutes. Drain pasta and return to warm pot. Stir in 3 tablespoons of butter to pasta.
Add chopped mushrooms to broth. Stir in 3 cups milk and 1 cup water. Stir in broccoli.
Add 4 cups shredded cheddar cheese. Stir. Simmer on low for 20-30 minutes. Season with salt and pepper.
(If too thick, add more milk or water until desired constancy is reached. 
Details
Yield: 

10-12 bowls of soup