Digital South Asia Library: Images
This collection is comprised of photographs taken during World War II by an American serviceman, Glenn S. Hensley.
The AIIS collection from the Center for Art and Archaeology in Gurgaon, Haryana, India, has over 125,000 photographs in the collection. The images fall into the broad categories of architecture, sculpture, terracotta, painting and numismatics.
The Museum of Contemporary Art, housed within the Government College of Arts and Crafts, has a photograph collection dated from the mid 1800s. The subjects of these photographs range from the hill tribes of Niligiris to pagodas and monuments of the Madras Presidency to guns and antiques from Fort St. George.
Oriental and India Office Collections
Information from the Photographs Catalogue, prepared by John Falconer (the British Library). This collection is currently under development. Test pages are available for viewing.
This collection is comprised of photographs taken during World War II by an American serviceman, Robert Keagle.
This collection is comprised of photographs taken during World War II by an American serviceman, Frank Bond.


Images of Hindu Civilization
 (8 Dec. 2009)
At the Marketplace

© K.L. Kamat/Kamat's Potpourri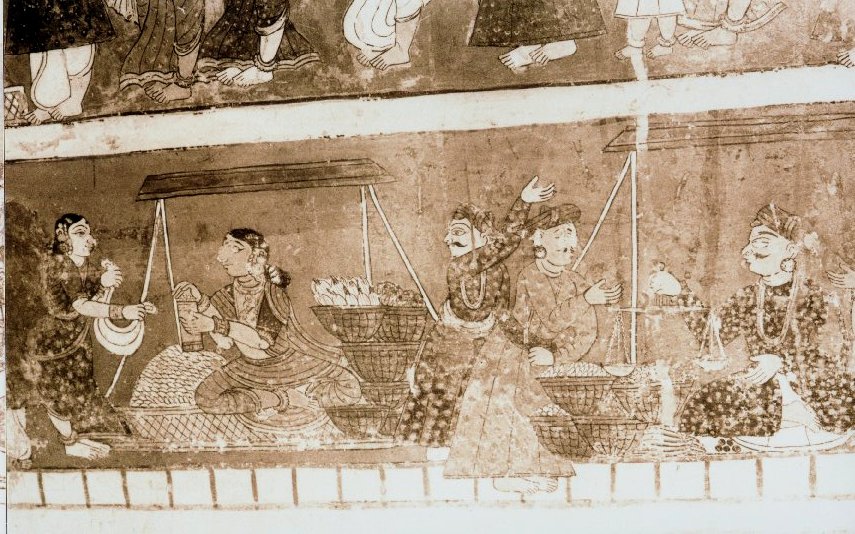 18th Century Marketplace
Detail from a wall painting in Shravanabelagola. Notice the merchants and their measuring tools.
The study of 19th century India (years 1801- 1900) provides a glimpse of  India in its earlier centuries, while many records of the period are available due to the western influences.
The early years were chaotic with numerous kingdoms forming and falling successively. The most important events that occurred are the establishment of British in India, the First Indian War of Independence, the end of Mughal empire, and early signs of Indian renaissance that led to India's freedom and drastic social reforms.
19th century India was very backward with the caste system taking ugly forms. Untouchability and Sati system were still in practice, and the illiteracy was very high. Education was denied to women, and veil (purdah) system was in vogue.
Some of the important Indians who lived in 19th century are: Dayanand Saraswati,Bahadur Shah II,  Raja Ravi Varma, and Raja Ram Mohan Roy.
Depiction of social life in India during the 19th century via period illustrations and photographs.
---

A Corner in Delhi
A 19th century photograph showing a street in Delhi

An Ekka, or One-horsed Road Cart


A Hindu Barber and his Hindu Customer


A Street in Bangalore, 19th Century


Advancing Military Regiment
Detail from a 19th century painting

Barber and a Client
Also notice another man sharpening in the background.
Illustration by a British artist, Eastern India, 19th Century.

Couple Weaving Baskets
Illustration by a British artist, Eastern India, 19th Century.

Group of Famous Brahmin Pundits, circa 1900


Horse-shoe Maker
Illustration by a British artist, Eastern India shows a man with a whip getting bullock or horse shoes made by a blacksmith.

"Kim," the Chela and the Old Lama


Padre Being Carried
19th century Sedan, Goa

Reclining Woman on a Luxurious Sofa
Detail from a Tiruppavai illustration, 19th century

Scenes of Bombay
Top: Bullock buggy; Below: A kite shop of Bombay

South Indian Potter
Illustration by a visiting English artist

Street Corner, Jeypore
Photograph shows city of Jaipur
---
First Online: May 07,2000
Last Updated: May 07,2010
Here is a detailed discussion on the history, and stylistics of some of the great temples of India. Although battered by the destructive forces of time, weather, and invading forces, the temples of India remain as the greatest legacy of the glory of the ancient Indians. Focusing on the ancient and medieval temples of  India, this section is designed as a tutorial on the tradition of Indian temple construction. Readers are encouraged to begin with a overview of technical terms and make use of the numerous cross references -- Ed.
The Somnath Temple
"The great Somnath temple signifies that the power of reconstruction is always greater than the power of destruction"
Marikamba Goddess
The temple of goddess Marikamba in the town of Sirsi is a splendid example of syncretic evolution of tribal and so called brahminical customs and rituals, befitting Hindu ethos.
Temples of Kashmir
A survey of important Buddhist, Shaivaite, and Vaishnava temples of Kashmir region.
Beauties of Khajuraho
The temples of Khajuraho built in the tenth century contain stunningly explicit sexual sculptures.
Temples of Gujarat
Analysis of Jain and Hindu temple architecture of Gujarat; covers all important temples.
Temples of Orissa
Article covering the great temples of Orissa such as Jagannath temple, Lingaraja temple, and Konark family of temples.
Temples of Karnataka
A long list of important temples of Karnataka and the periods of their construction. A very handy reference to different schools of architecture and paintings.
List of Articles
Pictures of Temples
---
---
---
---
More Pictures of Temples and Temple Art
See Also:
Internet Links:
Photo Gallery
Chamba Valley


12 Photos

Tungnath


8 Photos

Auli in summer


8 Photos

Kangra Valley


8 Photos

Tawang


40 Photos

Mcleodganj


16 Photos

Drive Chandigarh to Leh


35 Photos

Kedarnath Badrinath Yatra


14 Photos

Rohtang Pass


4 Photos

Everest Climb Tibet


60 Photos

Arunachal Pradesh


21 Photos

Ladakh


25 Photos

Pokara


7 Photos

Everest Skydive


8 Photos

Manali Srinagar drive


25 Photos

Hemkunt Sahib


16 Photos

Risikesh


13 Photos

Gangtok


25 Photos

Leh to Manali drive


38 Photos

Valley of Flowers


20 Photos

Dalhousie Khajjar


8 Photos

Gaumukh Tapovan


36 Photos

Nainital & Jim Corbett


20 Photos

Leh to Kargil


20 Photos

Sikkim


16 Photos

Kedarnath


15 Photos

Lahaul Valley


10 Photos

River Rafting Trishuli


4 Photos

Auli Skiing


20 Photos

Spiti Valley


29 Photos

Drive Narkhanda to Sangla


20 Photos

Pangong Tso Lake


14 Photos

Gangotri


16 Photos

Mount Kailash via Nepal


44 Photos

Raksham Chittkul


34 Photos

Kalindikhal Pass Trek


60 Photos

Trek to Sonmarg


9 Photos

Flight to Mt Everest


6 Photos

Kargil Memorial


17 Photos

Darjeeling pictures


13 Photos

Yamountri Yatra


13 Photos

Kalpa Sangla Valley


20 Photos

Gangotri Yatra


10 Photos

Badrinath


14 Photos

Manali


14 Photos





























































































































































Source: