14/2 The morning is spent working on Lars' bike and the afternoon around the pool. Lars' bad luck continues: when Helmut takes him to get his front tyre changed, the tyre blows twice off the rim, self-destructing in the process. He decides to put his bike on a truck and go to Aden, from where he wants to ship his bike home and continue his journey home by bus. He has barely uttered his words when Helmut has already passed the word and within half an hour a trucker sits at our table discussing the details with Lars.
15/2 I get held up, because I now need a new permit and, it beeing Friday, the cops don't start work before 9h. I go West and soon the big Wadi widens, so that the Southern edge of the mountains disappears in the haze and the country turns to desert. At the third checkpoint after Hawra the people make me understand that this is not the road to Shabwa, through which the main road passes on my map and where I need to turn South. I had noticed that I had veered off the track on my GPS and that the road, obviously a main highway, is now bearing NW, not a direction I want to go. So, after a horrible and overpriced lunch, I ride back 50 km and, sure enough, there is a turnoff that I hadn't even noticed. No signs, of course. I find myself on a brandnew tar road and I think to myself that this doesn't bode well. It cannot continue very far. I'm now back on my GPS track and when I pass a checkpoint I'm lazily waved through. However, right after the road splits and the direction I have to go is dirt. This is the road on my map and GPS and it's 100 km of dirt, much of it rough, with patches of sand. Not difficult, but the bike does weave a bit at times.
I never get to see the town of Shabwa. Back on the tar seal, the GPS indicates it 4.5 km to my left, but there is a mountain there. Maybe it's just behind it, there sure is no turnoff anywhere and no traffic, either. I pass another checkpoint and I'm in Ataq. At least that town is impossible to miss. Later that evening the phone rings and somebody tries to talk to me in Arabic. After 5 mins of him prattling on I just hang up. A little while later it rings again, but this time another person talks to me in broken German, explaining that he has lived in Berlin. He then proceeds to ask me lots of questions, repeatedly conferring with another person in Arabic, obviously the policeman who called earlier. I'm stunned when he asks "where is the other one?". When I wander down to reception to ask about the caller I find my bike boxed in between parked cars, with a police car blocking the exit. Security is taken care of. From the balcony I can see another parked cop car.
16/2 I get up very early and wander down to the market, where I find breakfast and some supplies for the road. The market is a lively affair, but the dirt and stench are unbelievable. To make up for it, many men are armed with automatic rifles. But everybody is friendly, as usual. On the way back to the hotel I'm picked up by the law, who take me back to the hotel. They are to be my escort. It's quite good: when we approach a danger spot in the road or a checkpoint, they overtake me and put their hazard lights on, talk to the soldiers and I'm through very quickly. Alas, after only a short ride we reach Habban and a busy checkpoint at an intersection. Here, they just turn and leave. The cops here want to put a man on the back of my bike, but I indicate there is no room. I have to wait while they eat, then 4 jump on and in a pickup and we're off again. They, in turn, abandon me at another checkpoint in the middle of nowhere. Again, they want to put a man on my bike. No way. A young soldier rides out of the scrub in a Landcruiser pickup with a large MG mounted crudely on the back. He grins and races the engine. Alas, there is some argument and he has to park it again. I get ready for a long wait and wander up the road to take a picture. When they see this they just about break out in panic: no photos allowed. Eventually, they just put a policeman in a passing pickup and I have to follow this one. We travel together for quite a long time, but eventually, after a checkpoint, I loose him and think I won't see him again, especially after passing a congested village. Wrong. When they overtake me the cop is not amused. Tough. The scenery is quite nice as the road winds its way through the sometimes fertile valleys in these bleak mountains. There are many speed breakers, often in the middle of nowhere, staffed by children jumping onto the road, trying to sell things, mainly murky looking liquids in plastic bottles, and hitchhikers. People seem less friendly here and somehow I'm glad the escort is here. At the last checkpoint in the mountains the pickup simply disappears while I am detained. After some phone calls I am allowed to proceed by myself. The mountain slope here is particularly stony with large black stones, as the road descends to the coast. The coastal strip itself is all sand and scrub, with the sea never far away. I didn't see a suitable picnic spot on the mountain road, so eventually I just ride through the sand to a big tree I spotted off the road, where I have shade and am invisible from the road. It's quite hot now. Trying to get back onto the road the bike digs itself in until the engine sits on the dirt. Memories of Baluchistan! It takes me about 15 mins to dig it out, push it back down and after that I take a different approach and just ride back up onto the road, which is about 1/2 m higher than the sand. The rest of the ride is uneventful, except for getting lost around Zinjibar. Arriving in Aden I find the Aden Gulf Hotel easily with the GPS coordinates from Ralf and Eva. I expected Lars to have arrived a lot earlier, as he was to have left in the truck shortly after me, presumably didn't make the 100 km detour, would make less stops and didn't get held up as much at the checkpoints. He isn't there, nor at the other hotel where he was likely to be. A message handed to me by the hotel receptionist is not for me. I already sent him an SMS, so I hit the internet and send him a msg. where I am. After wandering around the town I get back to find his bike next to mine and his things in the room. It turns out he left late in the afternoon, had to take the road through Al Mukalla (detour) and the old Isuzu truck's top speed was 70 km/h. At many checkpoints he was told where I was! Although he never passed through Ataq the cops knew and told him that I stayed there the night. The bush telegraph certainly works well around here. I guess the govt. is very keen to avoid any more foreigners beeing kidnapped.
Aden is smaller and quieter than I expected. The whole place has a run-down and drab atmosphere, but there is noticably less rubbish around, there are bins everywhere and the streets are being swept. We meet Wolfgang, a DED-colleague of Helmut, who talks a bit about foreign aid here and in Laos, where he has also worked. Apparently, corruption is rife, here and in the German govt. at the highest levels. The West's politicians' interest is not so much to help the third world countries, but to meddle in their political affairs. Locally, the religious leaders do their utmost to hinder education. He tells tales of expensive equipment, provided by the West, that is being kept locked up by the govt. or school authorities, and eventually it decays away. Uneducated people have no perspective in life and are easier to control and turned into militants. He compared this to East Germany, where large numbers of unemployed youths have joined neo-nazi groups. It all sounds very depressing.
20/2 On an overcast morning, after a bit of sightseeing (not much to see) we leave hot and humid Aden for the mountains. Just out of the city rain begins to fall. I'm worried the roads will be slippery and the driving is bad. Luckily, it soon stops and as we get higher it also gets cooler. The clouds stay with us, more or less, and after midday we reach Ta'izz. It's supposed to have a nice old town, but it just looks drab to us. In the afternoon it rains for a few hours.
21/2 On the way to Al Hudeyda we stop in Zabid and for the first time actually use the services of a local guide, who presents himself. Quite an interesting old town with lots of Ottoman houses and an old fort containing a small museum. We push on to Al Hudeyda to take a look at the big fish market and its colourfull fishing dhows.
Yes, they still build them like that. Only the sail has been replaced with a diesel.
22/2 Once out of the plains the ride to Sana'a is quite spectacular, going through fertile valleys over two mountain passes, the second just under 3000m high. Even more spectacular is the old city, entirely built of gingerbread (Lebkuchen). It's a UNESCO World Heritage Site. We find the Arabia Felix Hotel, very nice, but also a bit expensive for us, as we want to stay a while here. At this point we have no idea just how long we are going to have to stay We check into a much cheaper place, just out of the old town, with a guarded car park across the road.
This looks like Africa. Did we take a wrong turn somewhere?
That's a village of tower houses on the mountain top there.
There is a village on just about every other mountain top, but they blend into the scenery quite naturally
23/2 We do what all the tourists do around here: take an aimless walk around the town and a drink on the roof terrasse of the Arabia Felix Hotel. Later in the afternoon I realise that I have fever again and I go to bed. It lasts well into the next day and Lars has severe diarrhoea. My first thought: malaria. A blood test confirms this in the evening. Now, I do have a prescription for Malarone, the medicine of choice to treat malaria tropica. However, as I wasn't planning on passing through any infested areas I didn't see the point in buying it so far in advance, exposing it to heat in the pannier and I thought I could easily obtain this in any country where there is malaria present, and cheaper at that. I was wrong: this medicine is obviously still under patent protection, hence expensive and so it is not imported into poor Yemen. Lars generously offers me his dose, but as we stand outside the doc's surgery later he wonders, what if he has it, too? A quick test confirms it and I get to take some cheap Chinese medicine instead.
26/2 We have a couple of days of ups and downs. Our stomachs don't seem to like the medicines too much. Walking through the streets I spot a big bike and meet Amin, the owner. I ask him where he gets his tyres, he gives me his phone number and I pass it to Lars, who will need a new front tyre, if he wants to continue on his journey at all. His plans to cross Saudi Arabia are shelved, as the German Embassy doesn't want to invite him and the Saudis won't give him a visa otherwise. He's now thinking again of continuing to South Africa. I visit the Iranian embassy, who makes me hand over the photos and fill in the visa application form, return hours later for an interview with the consul, only to tell me then that issuing the visa takes ten days (I knew that) and if I want to collect it in Dubai then I don't need to apply here, as they can issue it quicker there. The Pakistani govt. is obviously not interested in making life easy for tourists: visas only for residents. The man is quite nice, though, and when I explain that I can't organise visas from my home country, because they aren't valid long enough, he offers me an application form anyway. However, they demand the notorious "letter of non-objection" from the German embassy, available only for a 20 Eur donation to the German bureaucracy. They don't accept the one I have from Dubai, so I pass on this one and keep my fingers crossed. The Indians can do one better still: the opening hours posted on their web site have nothing to do with reality, it's only open from 9-11h. (Well, they ARE Indian) Bureauprats 4 - Travellers 0
27/2 I re-visit the Indian embassy, but they take at least one week to issue a visa, which I have to collect here, so I pass on that one. It's an interesting day for taxi rides: when I get dropped off in front of the Immigration Authority and the taxi driver takes more than 10 secs to give me his change a young cop gives him the hurry-up by beginning to let down one of his tyres! He has a big grin on his face. The Authority is a bit unreal: there are copy shops set up in the open, tables with old looking copiers on them, all identical. I guess it keeps the prices reasonable. Inside there is a hive of activity: cops everywhere, talking, reading the paper, relaxing. Not a lot of work seems to get done around here. Not surprising, really: Yemen has one of the lowest crime rates in the world. Even officialdom is really friendly. They are surprised to find that I only have a 1-month visa and explain to me that all Schengen citizens get 3 months at the border. The border official has made a mistake. They quickly fix this by scribbling a little note next to the visa stamp. Obtaining the signature of the commander takes longer: he makes himself rare and whenever he appears he is beleagered by people wanting him to sign papers. A black veiled woman fixes it for me: she takes my passport and shoves it in front of him on top of the papers he is looking at. He just signs. Later, Lars and I hire a new yellow taxi (with meter) to visit the DED. The taxi never makes it. At an intersection the driver is too fast and a car from the left as well, which smashes into our left side. We leave the shouting drivers to it and take another taxi. Its driver tells us that the other car is at fault because he came out of a smaller street. But then, he would say that, he is from the same company. LP says there are no laws governing intersections. They are "negotiated" by using horns. My observation, too. 4 guys turn up to deliver 2 more tyres for Lars to look at. Or so I thought, because they don't actually have any tyres with them, don't understand why until they leave: 3 of them on the seat of a Suzuki Ninja 1000, the 4th sidesaddle on the tank. Not sure what the purpose of their visit was, then. They leave at speed, weaving between an oncoming and a parked car.
1/3 We manage an excursion to Shibam (not the one in Wadi Hadramawt). The road goes up to almost 3000m again. My bike runs very poorly above 2500m. I will have to fix this before I ever get near the Himalaya, or it isn't going to be much fun. Lunch stop in a hotel recommended by Michael. We sit on the floor for a while and then mountains of food just arrive. After a wander around we manage to visit one more village called Thilla. This is the only place in Yemen ever where we get bothered by touts and shop owners. LP even warns of this, but it's all quite good humoured. Lars actually does buy a few souvenirs and I buy a present, too.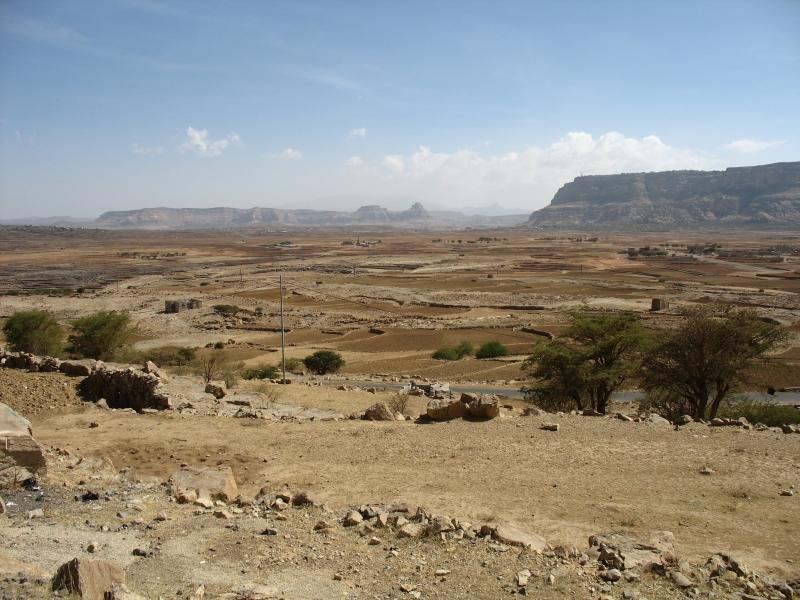 2/3 Another excursion, same direction, going past Shibam to Kawkabam, lying at the top of a ridge with one of those access roads that are a dilemma: to hoon or to sightsee?  
We follow the road West. The LP map indicates that we should be able to do a loop back to Sana'a. We stop for lunch in a village at almost 3000m, there are lots of clouds all of a sudden and it feels cool and damp. Alas, the road winds its way NW and we decide to turn back.
5/3 Another week has passed with me having been given the all clear by the doc, while at the same time feeling rather grotty. Two more days of the same and more tests and they tell me I still have malaria. More pills and I have to stay in Sana'a.
8/3 I get problems with my digestion. This is said to impede absorption of the malaria medicine, so I go to the Yemeni-German hospital. I might not have bothered: after the power goes off and the generator having been fired up they admit me, run some tests and later tell me that there is no malaria. They then proceed with infusions, but nobody tells me what they are doing. All I know is I'm not treated for malaria. Two of the infusion lures go painfully wrong and since they don't treat me for what I came here for I refuse any more and get myself discharged the next day. A total waste of time and money. At dinner the next evening we bump into Michael again who tells us that the best hospital is the brand-new Saudi one. The following day we are invited to a party, hosted by a Russian lady and her English husband. There is lots of yummy food and vodka, a few Russians and Germans. I meet Lynne, who has grown up in Rotorua and leads a sort of semi-nomadic life as a consultant. She has a house in Maraetai on the Hauraki Gulf and another in Nepal, close to the Tibetan border, 5 days hike into the mountains. Another surprise is an elderly French couple from Cannes, who have lived in Domaine du Loup, about two streets from where I used to live. It's a small world. The French have to disappear for a while, having been summoned to their embassy for a reception. When they return they are upset: the French minister for Cooperation held a speech, saying she was the "representative of Chirac" and that the expats had better vote for him, or else the French embassy would just forget about them and not help them any more! I have long believed that France has strong elements of a banana republic, but never thought that its politicians would be so blatant and stupid.
9/3 In an attempt to improve the running of the bike at altitude I lower the carburettor needle two notches. The immediate result is that it won't run well at all even at this altitude in town. This is a bit the opposite of what I expected.
11/3 I take the bike to a mechanic to look at the carb. He raises the needle back up, lowers the fuel level in the float bowl and has a sleeve made for the main jet that he thinks is missing. The part is depicted in my manual, but I'm sure it wasn't there when I first removed the jet. It runs OK again in town, but I have my doubts about altitude running. Interestingly, when he tried to run it wihout air filter it wouldn't accept any throttle. Perhaps this is what I need to do in the high mountains.