Tibet - Part 1
Tibet, for a while an independant country, was invaded, occupied and annexed by communist China in 1951.
29/9 Chinese officials are a completely different kind from those I have encountered so far. On a pedestal on either side of the road stands a guard in impeccable uniform, who watches over everything, directing people with his white-gloved hands here and there. Gilles sees one of them kicking hard a Nepali porter. The officials generally love to throw their weight around. We must push our loaded bikes from the bridge to the exit gate. Gilles dares to take a photo and a guard comes running towards him. He quickly promises to delete the photo, but does the Chinese thing and doesn't delete it. Just after the bridge we are met by Phuntsok, our Tibetan driver and Tashi, who is our Tibetan guide. We unload most of our luggage into the Pajero and ride the 8 km of mud track up to the border village of Dram. The Chinese officials can't manage to process our paperwork in half a day, so we have to stay overnight. We are allowed to park the bikes in the customs hall for the night. We have managed to advance 8 km today.
30/9 While preparing for departure, I have to fend off an old man who insists on moving my bike. At some point he demands money and holds on tight to the tank. Not sure whether he is the village fool... Finally we are off n fog and drizzle. The road is under reconstruction and is mostly a muddy track with some fords. One of these is rather deep and stony. Gilles manages to ride through OK, but I drop my bike and myself heavily into the icy water. Since I'm already wet I help the other two to get through. Pity about the clouds, it looks like the scenery is very nice, but we can't see much of it. Time and again the single-lane track is blocked by trucks and the traffic police are kept busy trying to get things moving along. After all of 36 km we finally reach Nyalam, where we stop for the night.
1/10 Strange, I didn't have any problems with altitude in Ladakh, but here altitude sickness hits me and I have to take medication. To acclimatise we decide to stay a second night here. 
2/10 Just before Old Tingri the tar seal begins, just where we have a good view of Mt. Everest.
Everest looms above my head.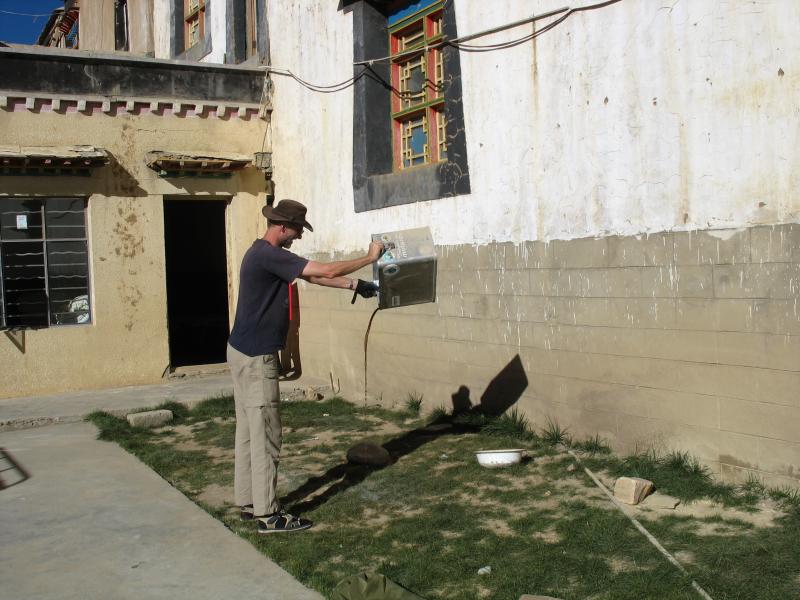 Just before Beba at a military checkpoint all our papers are examined, then we check into a simple guesthouse. It is only here that I inspect my left pannier (the one that went under in the ford 3 days ago) to find that it contains a quantity of cold black tea. Should have checked it earlier. Water got in and there were some tea bags in the bottom. Luckily, there is almost nothing spoilt inside the pannier.
3/10 We make an excursion by car to Shegar (New Tingri) where there is a gemba (monastery) and a large ruined hilltop fortress. The walk up to this is quite steep and only Cecilia makes it to near the top. Altitude sickness hits me again. In the evening I feel so bad that I get a can of oxygen.  
It's harvest time and all around the village farmers are threshing grain. It is spread in a circle and then horses or Yaks are driven around and round, threshing the grain with their hooves. All we can hear up here, though, is the thumping of standard-issue single cylinder diesel engines of tractors, which the richer farmers drive around instead of animals. After the threshing the grain is thrown into the air, so that the wind separates grain from chaff. Some tractors have big fans mounted on their sides, so work can continue, even if here is no wind.
4/10 The others leave early for a trip up to Everest base camp. They want to camp up there at 5200 m altitude. As I'm already cold here at night and still suffering from altitude sickness I pass on this trip. I was thinking of going up on my bike just for the day, but I would have to pass the checkpoint and apparently that is not possible on my own, thanks to hellish Chinese bureaucracy. Big surprise in the afternoon: they are back, because Rainer suffered from altitude sickness up there, too. Everest was mostly hidden behind cloud.
5/10 Just after leaving Beba we have our first breakdown: Gilles' bike has sprung a fuel leak, a hose has become porous at the end. This is quickly patched and we continue along a nice smooth highway. We detour to visit Sakya with its nice big monastery.
 In the evening we take a walk up the hill above the town for the sunset.
Reason no. 2 why I prefer vegetarian food in Asia.
Instead of usefully indicating the distance to the next town on the milestones the Chinese indicate the distance to the capital of the occupying evil empire
6/10 We return to the main highway, where we pass some cops, who ignore us more or less. They do stop the car, however and Phuntsok cops a fine - for an illegal roof rack. Apparently, you can put them on a Toyota, but not a Mitsubishi. We continue across the Chong La to Shigatse, where Paul Shi fixes a luxurious hotel for us at a very reasonable price. We visit the large Tashilhunpo gemba, which is very impressive. Impressive also the prices they demand for taking photos or videos inside.
Leaving highway 318 we head for Gyangtse. Here, we are told that the road ahead is blocked and the one or two minor roads on our maps are also impassable since flooding a while ago. We have no choice but to turn back to Shigatse. From there, we continue along the main highway. Just out of town there is a police check point, where bikes just pass through, but all cars are stopped and given a piece of paper with a time stamp. This will be checked at several places along the way. Any driver found to have travelled too fast is fined. Low-tech speed control, but rather effective, as most cars travel at a sedate pace. This doesn't affect us much, as we can travel at any speed we want and stop for photos.
Some rock paintings on the side of the road.
Ruined forts dot the landscape. About two-thirds of the way to Lhasa we turn South, cross the Khamba La (4794 m) and descend to lake Yamdrok Tso to camp. This is one of the four lakes holy to Tibetan Buddhists and snakes its way through the mountains at an altitude of 4444 m. The Chinese have installed a power station here, about which some Tibetans are not too happy.
Lots of unmarked road works on the Khamba La
The top of the Khamba La with view of a small part of Yam Tso.
8/10 We ride along the lake shore towards Nagartse. After an offroad shortcut Cecilia stops with an almost flat tyre. At the road side some Tibetans have set up what looks like a spinning camp. Everybody, young and old, is spinning wool while walking around. We are the attraction of the day and so decide to move on to somewhere more quiet to fix the tyre. It turns out that the valve has detached itself from the tube, so Cecilia just replaces the tube. We stop for lunch in Nagartse, then ride up to the top of the Karo La (5054 m). This is where we should have come from the previous day. There are road works after the pass, but vehicles are coming through. It seems we made the long detour for nothing. At the top of the pass there is a nice view of a glacier with some ice towers at the top.
All that is left now is to turn around and ride back over the Khamba La, rejoin the highway and ride to Lhasa.
9/10 The obligatory visit to the Potala Palace. Paul had told us that we had to book the entrance tickets a long time in advance and that it would cost 30 Euro/person. I balked at that and so only the other 3 went. They returned after a short time. A lady from Paul's agency had turned up with the pre-entry tickets, but they found out that you can buy the tickets on the spot for only 10 Euro. Our own guide tried to rip us off!
10/10 After some bike servicing we are all off to the Potala. It's a steep climb up, but well worth it. I didn't know that there were so many riches inside. There are naturally lots of Buddha statues, silver or gilded, plus tombs of former Dalai Lamas made of literally tons of gold, silver and precious stones. All this is still used as a place of worship, it seems, with monks in attendance, buter lamps burning everywhere and people leaving small notes of money as offerings. Regrettably, photography is forbidden and there are soldiers everywhere. To see the inside do click on the Wikipedia link.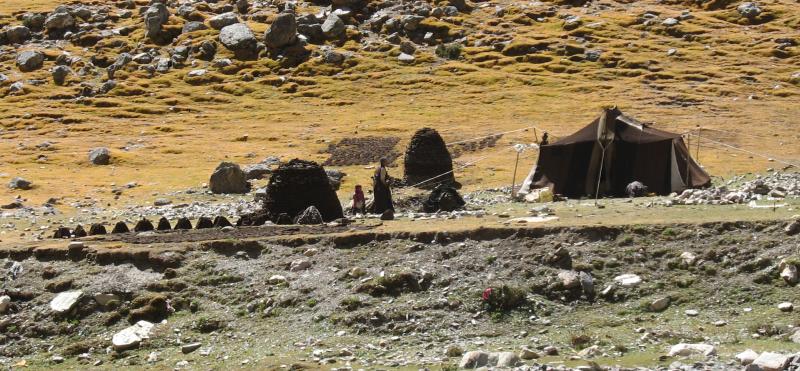 12/10 While Cecilia is off with Dorje on a 4-day trek we ride with Phuntsok to lake Nam Tso, crossing Largen La at 5186 m. It's very windy and cold up here.
Nomads drying dung for winter fuel.
Gilles spreading his wings into the strong wind at the top of the pass 
 We camp in front of the small monastery on a peninsula. I walk to the top of the ridge for the sunset and the views. Too bad that mountains sickness and migraine strike again.
We make our way back to Lhasa, stopping off at a village in search of hot springs. We find them alright, but they are being renovated. At the lunch stop we get ripped off big time, but Phuntsok seems unable to do anything about it.
Note: some pictures (C) Cecilia Rojas, Gilles Ratia and Rainer Neubauer-Pfaehler