With a group of volunteers that I met we make a little excursion to a couple of waterfalls. This is Namtok Pha Charoen: 
 Some interesting vegetation. 

Perfect timing: the sun sets over Burma and we are home before dark. It takes about a month before by chance I get taken to Minmahaw school where I am immediately welcomed and put to use as computer teacher. I stay here until the end of September, teaching basic computing, word processing and spreadsheets. I rid the school's PCs of malware, set up a network and attempt to train 5 volunteers on how it works and how to keep it going. I wonder how successful my teaching really is... 
The things you can do with a Honda CX... 
 I feel pity for some of the creatures in the market. 
 There are lots of 3-wheeled contraptions on the road in Mae Sot. 
 Same same, only without engine. 
It pays to be village head man... 
 It's dry season and the hills are looking like I imagine the Australian Outback to look like. 
 My favourite swimming hole. 
 The proud owner of a new 3-wheeler.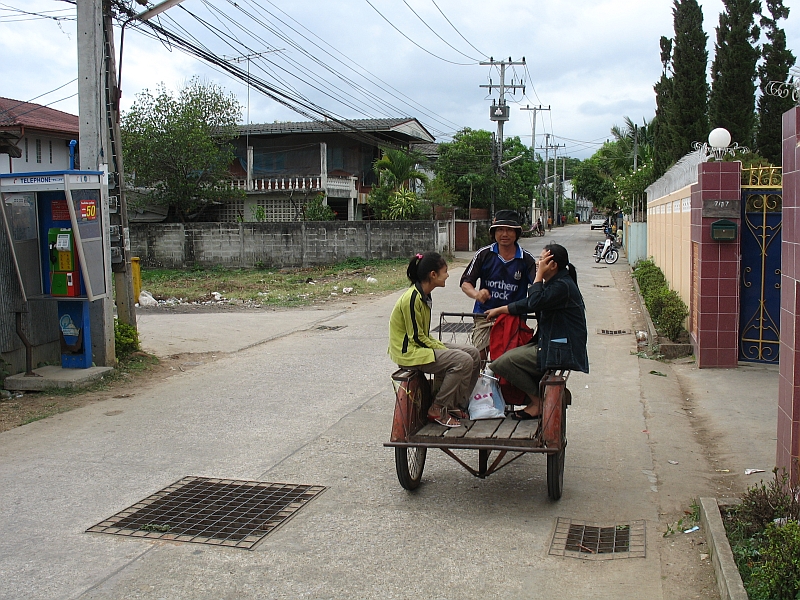 In the poor neighbourhoods the pedal-powered version gets used as taxi. 
The fried-chicken farm. It is over 40C in the shade.
In my spare time I explore the countryside, go for a swim or three, but otherwise spend a lot of time on my PC, working on GPS maps and frequenting various forums. It is in one of these that one day somebody makes a fateful CLICK. Su and I start chatting, we meet one day in Ayutthaya and the rest is history, as they say. We are now a couple.
After some time she asks me where I want to live and what work I want to do. Naturally, I don't make these sorts of decisions by myself any more. As we discuss the various options I mention one option she hadn't considered yet: continue my trip with me. Not on the back of my bike, of course, there is no room. It was as if I had lit a fuse: Su goes ballistic. We go on a trip to Chiang Mai, where we rent a couple of 250 trail bikes, then to Chiang Rai, where we test ride another 250, which is for sale. Su is hooked on biking! She has very little experience, only ever ridden the 125cc step-through bikes every child rides around here. She also has no licence, but that is soon rectified.