We head to the beach on the Andaman coast. We find it at Ban Bang Ben, where we stay at the Andaman Peace Resort. This is a very quiet and relaxing place. On the approach there are lots of Tsunami Evacuation Route signs. That seems to be all that is left in the minds of the people (apart from the memories, I'm sure). Most people seem to have rebuilt right back on the beach. Only some have houses on stilts, which may escape a small tsunami. The resort was completely destroyed, we are told. The next time it will just happen again. The Bangkok Post wrote that the government's early warning system is no longer functioning, because no funds were allocated to its maintenance. I put this from my mind, like everybody else and just enjoy our stay.

Andaman Peace Resort, Bang Ben. 
Cashew tree. 

 I love cashew nuts. Now I know what they look like when they come off the tree.
The yellow fruit is also edible, tastes a bit like strawberry, very nice.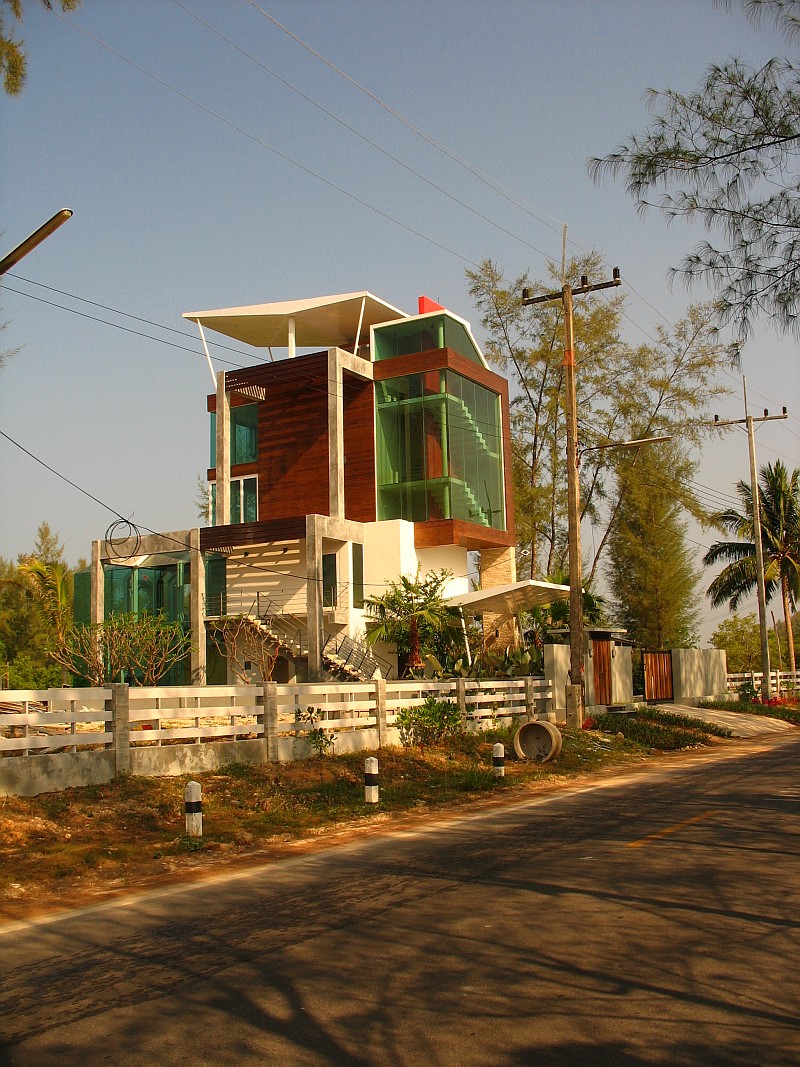 Next, we head for Phuket Island. This is mega-resort country. We try hard to get off the main highway, but after doing a loop we end up back on it and just leave again. I don't think we spent more than 30 minutes here... 
Something I didn't expect on Phuket Island, close to the mega resorts: mangrove swamps and buffaloes. 
Next destination: the beaches near Krabi. We choose Ao Nang. Finding affordable and decent accommodation is a little difficult and we end up miles from the beach. Not to worry, we go for a kayak trip. I don't take my camera for fear of getting it wet, but a friendly Norwegian did and so you do get some pictures from this trip. 
Ao Nang beach. 
Funny traffic lights in Krabi.

 We go kayaking through the mangroves ... 
... where the monkeys are already waiting for us, to be fed by our guide. We also see a lot of mudskippers, bizarre fish that creep and jump around on the mud. Like cartoon figures they have bulging eyes, a kind of fan on their back that they raise to impress their competitors and they fight with each other. Sorry, no pictures... 
Returning to our hut Su's special friend comes to pay a visit.

At Hat Yao beach we meet Juliette and J.F. from Belgium, who are heading in the same direction we are. They have a surprise for us: Ann and Andrew, who we met earlier on Koh Chang, are also expected to make an appearance. 
We stop briefly in Hat Yai to collect some mail, then head to a small border crossing. A few days earlier I had read a report on the GT-Rider forum saying that the rider had left Thailand without doing any bike paperwork. We need to do this, as Su's bike would be illegal after 30 days out of Thailand. However, the road I picked on the map runs out about half way and there is no way to get to that border easily. We end up at the Padang Bezar border instead (using roads not on the map...). This is also a small crossing and I impressed upon Su not to mention the bike. It works and the bike leaves Thailand undetected by officialdom. This is my final farewell to Thailand and I'm a little bit sad. But I'm sure I will return one day.