13/10 The Turkish border checkpoint lies almost deserted in the fog and drizzle. Not quite what I expected. If it wasn't for the guy at the gate I could have ridden right through and nobody would have noticed. Inside there isn't much happening, either, but I can just imagine the chaos during the season, as it's not at all obvious what is expected of people crossing here. I pay no fees, get my carnet details entered into a computer by the customs chief himself, get it stamped and even manage to buy Turkish insurance for the bike here at the princely sum of about 6 EUR.
The roads in TR are way better than in BG or RO, a bit bumpy maybe, but hardly any holes in comparison. One could really motor here if - it wasn't for the 70 km/h speed limit for bikes and the radar signs. The driving, however, is a notch worse: horns and lights get used to clear slow traffic out of the way and it's a little more pushy. As I wind my way down out of the hills it gets warmer and dry, the sun even comes out for a while. In the first village that I come through there is a small market on and the muezzin greets me, just to set the mood.
I stop in the first town to change my Bulgarian Leva into Turkish Lira, but am told in the bank that the currency is not convertible. Ouch, I've got a lot of them left over. The ATM is more cooperative, and so at least Köfte for lunch is possible.
I decide to ignore the signs directing me towards the main highway to Istanbul and take the minor highway through the hills. I am rewarded with a good road, good views and little traffic. As I turn East, however, the strong tail wind turns into a cross wind. Gradually the clouds thicken and before I reach Istanbul it gets wet again. At the motorway ticket machine my bike isn't detected, so it won't give me a ticket, no matter how often I push the buttons. No staff in sight. A helpful truckie gets me to move forward. His truck is detected, of course, so he gets a ticket. He reverses, to reset the system, but this is smarter than him, so he leaves. I wait for the next car to pull in and take his ticket. I then leave the Turkish driver with this Turkish problem. On the motorway they play bumper cars. The event is made more interesting by mixing old slow cars with new ones, doing 130 km/h +, modern trucks doing 100 and old, smoke belching lumbering things that crawl up the hills at 30.
I get into the city at dusk. Now, I have been here on bikes twice before, but don't remember how to get around. All I know is that I need to get to Sultanahmet, where most of the hostels are. I don't even remember which side of the Bosphorus this is on! I get off the motorway at what seems an appropriate place and try to head roughly SE, i.e. towards the waterfront. I stop and try looking lost, but no local is game to try out his language skills. When I ask directions I get lots of Turkish in response, but it's difficult to understand what they are trying to tell me. However, people from one shop come out after me and the boss tries to help (in Turkish), and I eventually get there without too much trouble. The hostel recommended on HUBB doesn't seem to exist any more, but the prices are pretty much the same everwhere and I end up in a dormitory.
In the evening I realise that I have made a mistake: I'm here to obtain visas, but it's Friday.
14/10 A day of walking around, the only thing I achieve is to get my Bulgarian Leva changed by a money changer. The hostel manager tries to ring the Iranian consulate, no reply. The Pak numbers don't work. This doesn't bode well. The tourist office verifies the addresses and phone numbers.
15/10 I find the Iranian consulate nearby, it's closed. The Turks are out in force on this weekend. In the afternoon I linger around the park between the Blue Mosque and Haghia Sophia. It's interesting to watch all the dfferent people, especially the women. The older generation is mainly covered up the way we know from Muslim women in Germany and France. Dress for the yonger geeration ranges from jeans, jewelry, loose hair, etc. via more or less colourfull coats, dresses and headscarves to black from head to toe, like nuns. All, however, associate freely with their lovers/husbands/whatever, except the "nuns". No veils, though. Even the older folks can often been seen holding hands. Most of this would be unthinkable in Pakistan, for example. 16 h on the dot three muezzins start up. Haghia Sophia beeing a museum doesn't have any loudhailers, but echoes nicely. As they all seem to intone the same chant at times it sounds like air attack sirens. Great atmosphere, people are out enjoying themselves, picknicking on the lawn. There is food and drink for sale, shawls and instant polaroid photos of you with your other half or the whole family. The cops ride around on the footpath and through the crowds in the park on their brandnew BMW R1200GSs, two up. It doesn't seem to serve any purpose.
16/10 I go to the Iranian consulate and buy a ticket for the visa lottery, 50 EUR. It will take at least 10 days. They won't let me collect it in Erzurum, but in Ankara. I decide to leave the Pak visa for now, I should be able to get that in Ankara as well. Time to leave, the weather is fine and it still fairly early. Problem is that my bike is locked away and it takes over an hour for the staff to find the man with the key. I head for the Gelibolu peninsula. Getting out of Istanbul is fairly easy on the motorway. Getting a ticket, however, is a mission not just for me: 2 of the 3 lanes don't work for a while, car drivers standing there pushing the buttons and, of course, no motorway staff in sight. When it's finally my turn it magically works again. After Tekirdağ I want to take the coast road, but for some reason I get closer to the coast than planned: I pass an unoccupied toll booth, then the road turns into a badly rutted and stony dirt track, but the scenery is great. Eventually this joins the coast road proper, coming out from inland, I did miss a turn somewhere. I end up in a pension in Sarköy.
17/10 Blue sky in the morning, but when I go outside I get a shock: it's cold and very windy. Instant migraine. Soon dark clouds take over the sky, but it stays dry. I follow the coast for a while, but the road turns inland and to dirt. Soon I'm on the main highway and with a strong tail wind cruising towards Gelibolu, my intended base for exploring the peninsula. Just before the town I get stopped by police. I wonder whether I have missed a radar. But no, the friendly officer doesn't even want to see any papers, just has a little chat and asks whether there is anything that he can do for me. A very pleasant encounter and I'm soon on my way again. I offload all my luggage at a hotel and ride to Erceabat for lunch. I realise that a) I've made another planning mistake, as I will have to ride back to Gelibolu to the hotel and for leaving will have to cover the same distance again, and b) it is bloody cold and I'll be freezing on my way back with a cold head wind.
Now, I'm only an adopted Kiwi and as such don't have a strong ANZAC affinity, unlike Linda. That, coupled with a lack of useable signs and there not much to see beyond plaques, cemeteries and monuments means the place doesn't do much for me. At ANZAC cove there is a plaque explaining that the TR government has renamed this place ANZAC cove in memory of the forces who fought and died here, but it also refers to this as "the most glorious of the Turkish wars". I try to get to the hill with the main NZ monument, but end up riding right around it without finding the access road. I arrive back at my (cold) hotel room being quite cold. The forecast is for more of the same until Friday, so I decide to head South quickly. I can't stand being cold and it makes me feel miserable.
18/10 The wind is still blowing strongly in the morning and there is light rain to boot. It's still quite cold, but at least the forecast is good from Friday on. My head doesn't like this cold wind: when I go outside to load the bike it's an almost instant migraine. I take the South-Westernmost ferry to Canakkale and then head for Izmir. The rain soon stops, but the tail wind keeps going strong, I esimate 50 - 70 km/h. I try to follow the coast where possible, which makes for some interesting riding. At one point I find myself on a sort of small dam with a single-land cobbled road. Again I'm glad for y comfy enduro, this would have been not very nice on a road bike. Alas, the road ends at some castle ruins at the entrance to the Dardanelles. The castle, however, is occupied by the army, who have constructed nice square green buildings inside the ruin. I don't approach it.
I pass Troja, but give it a miss. The guidebook says that there is little to see. I stop at a few more ruins on the way, the highlight being the village of Assos. A smiling lady invites me to stay in her pension, but it's far too early to stop and I have been here before with Jenny, so I don't intend to clamber around here again. I stop in a comfy hotel in Dikili. I think it's getting a little warmer.
Assos seen from the West
19/10 It has rained again over night, but it's dry in the morning, then the sun comes out. Yeah! I meet an englishman in front of the hotel who tells me that the next week is a holiday, being the end of ramazan, so masses of people from Istanbul and Ankara will descend on the coast. I move slowly down the coast road to Foça, a place recommended to me several times. It's a lovely place, although touristy, with a busy fishing harbour and cafes and restaurants lining the harbour. I find a pension, a bit dearer than I like, but it's nice and I bargain down the price a bit. I meet two French couples in big campervans. One of them tells me that China has opened for vehicles and a friend of his has just been there. When I check out the web sites he has given me it appears that he and several others have simply chanced in.
20/10 A fine day, spent in town watching people and in bed with yet another headache.
This is all a fisherman's life depends on
My first professional haircut in years
21/10 It's overcast again and I wander out to the headland. It's not as far as I thought. Much of the day is spent talking to Åshild, a nice lady from Norway. It's good to meet somebody who I'm on the same wavelength with. I think about going for a ride to explore the surrounding area, but the odd raindrop falls, so I stay put.
Today's catch for sale directly off the boat, while the fishermen work on the nets. Note: no refrigeration here. Without payment a young cat started to pull one of the fish off the boat.
22/10 I leave Foça on a balmy, fine, but hazy morning, heading inland. The aim is to get around Izmir and to see some ruins. In Manisa I head into town instead of taking the bypass. The book says the town centre is supposed to be pretty, it it seems I'm missng something here. The setting, at the flank of the mountain, is also supposed to be nice, but this is lost in the haze. I'm not complaining, the fine weather continues. Lunch stop at a somewhat fancy looking restaurant. The food is nothing amazing, but Ahmed, the waiter, speaks good English and is interesting to talk with. For some reason he recommends that I go and see a certain person who lives in a tiny village close to Nemrut Dağı. I'm tempted, but I don't think I can fit in the detour. We will see. While eating I notice a great number of old sidecar bikes populating the road, some of them transporting entire families.
A little further down the road is the village of Sart, the site of ancient Sardis. This was once a very important and rich city and goes back to 1200 BC. First, I go to see what is left of the temple of Artemis, once one of the largest temples on the planet. The ticket office is closed, so everybody just wanders in. A young family starts talking to me, mainly the kids trying out their school-English. They want their foto taken, but surprisingly, no request is made for having pictures sent. Perhaps daddy told them off. I notice that the girl stays out of the picture and on seeing this the two young women (the kids mothers) also disappear. On leaving the ticket office is open and staffed, but the guy behind the window is asleep. I leave my two Lira on the window and walk out. That wakes him up...
Roman avenue in Sardis
Next, across the road to the main site. Most spectacular is the partly restored gymnasium. Here I am accosted by four young boys who are keen to have their foto taken and then are very excited to see themselves on the little screen. They then try saying "money, money", but that doesn't work with me. One of them is particularly cheeky and tells me that he is "metro sexual". He puts his two index fingers side by side, so I guess he means something else, but actually, I don't think he knows what he means. (I have since discovered that the term actually exists.) The kids are 11 and 8 years young. They try out their entire vocabulary on me. Back at the bike an 11 year old girl joins in and in some way she takes the lead, asking to put on the helmet and how do I manage it with my glasses on. Very clever. It is also she who writes down her address and asks for 5 sets of pictures. We were all having a ball, despite the language barrier.
Time to move on, the days are getting rapidly shorter and I don't want to drive in the dark around here. I turn off the main road and head into the mountains. Lovely road, winding its way up and up, quite steep in places. I'm on the SE side of the mountain and I check out a couple of possible camp sites. I find one at a ruin, but as I wander around I hear some shouts without being able to see anybody. In the end I decide that having to crawl into the tent at 7 makes no sense and I ride on and find a very modern pension in Bozdağ. The evening is whiled away with a German speaking couple who are on holiday here.
23/10 On recommendation of the pension owner I ride up the side of the mountain, expecting some sort of lookout. Instead, to my surprise there is a small cultivated high valley, then the road dips down into another valley where there is a brand new ski station.
Lake Gölcük
Back out, taking a couple of pix of Bozdağ I head for Gölcük where there is a small lake. Quite nice. It's 20 km down a nice mountain road without holes. The road basically follows a ridge to get down into the valley and to Birgi. According to my book this town pretty much looks like Turkey used to look before concete was used extensively. Pretty it is. Strangely, the mosques are locked up. On leaving I find the key to the room door of my last pension in my pocket. Oh no, how terrible, I have to do this winding mountain road two more times! I deliver the key in no time. They hadn't noticed yet...
These outside ovens are comon around here.
There are a couple of very derelict monuments in this village, probably Ottoman tombs
Across the plains of the Kücük Menderes river to Tire, where I find another mountain pass. This one is much smaller and takes me across the range at a leisurely pace, downhill without motor. Whereas in the other mountains people aee growing Chestnuts here ther are extensive plantations of what look like fig trees to me (no fruit now). It's cool, but not unpleasant up here, but down in the plains it is a nice temperature. I make my way to the coast, but it has already been developed to death. I think that I would like to camp here by the sea and find a campground that is open, but the sanitary installations are so dirty and derelict that just at sunset I ride back and check into a pension that I spotted ealier. The sunset, incidentally, is like a postcard. The pension, however, is also a little run-down. As I stand on the roof on this balmy night all the stars are out, but to the North above the mountain range inland from Izmir lighting is lighting up anvil shaped clouds, some of it quite spectacular.
24/10 Lightning or no, I watch the sun rise over the hills into a blue, albeit hazy sky. I'm soon off again and the temperature rises steadily. This is the first really warm day I've had in a long time. I quickly discover, though, that the route I have chosen isn't a good one (still trying to follow the coast). After the next town I loose myself in a maze of new, but bad roads winding their way through the scrub, past, but invariably into, holiday resorts. Why on earth anybody would want to stay here in this desolate place I don't know. The few beaches there are have been acquired by developers and so are out of bounds to others. OK, back to the main drag and have a look in the book. Oeren seems the ticket. An underdeveloped place, due to proximity to large coal-fired power station. From there on an axle-braking trail through the canyonlands to the next resort. Sounds just like my ticket. The ride to Oeren is nice. It's only when the road exists the hills past the power station that I recognise the place: Jenny and I have been here before in 2001. I cruise into the town proper to the waterfront, which is pleasant enough and I'm tempted to stop for a coffee, but decide to continue in the end. Navigation out of town is by dead reckoning again, there are no signs whatsoever, but there is a road. Lucky I picked the right river bank, because the bridge from the left bank is out. There is still a sign pointing to a village across the river, though. (OK, I lied, there is this one sign.)
"Bridge works. Expect delays."
The road turns out to be a good one and very scenic. I come to a turn-off and recognise the place down there:
It's Akyaka, another place we visited 5 years ago. With us it is unforgettable for Captain Somebody-or-other's "Famous Bot Trips", of which we have a foto. Perhaps Jenny can dig it out. No boats in the harbour now, the tourists are gone.
A steep and twisty road takes me back to the main road, which I stick to from here on, as it is scenic and there isn't much traffic. There is no real coast road here anyway. Along the way there are a few sights that I also remember and I have to suppress a few tears. At a lunch stop I meet two Turkish bikers who tell me that it is or will rain in Antalya. Aha. A little while later I can see thick clouds gather in the mountains and there is a rainbow. Finally the road passes Kalkan and then I get this:
This section of highway rates as one of the top scenic coastal roads there are, with the Corniche de l'Esterel and La Grande Corniche on the French Riviera, the Thames-Coromandel highway in NZ and the Great Ocean Road in Oz (which I haven't seen yet). Further down around the cape rain begins to fall out of a sunny sky. There is a rainbow arching from the mountains on my left ight into the sea on the right. I take a U-turn and stay in Kalkan. More memories of Jenny and me staying here...
Breakfast in Kalkan. Life must be terrible.
Kastellorizo, a Greek outpost under the Turkish nose
Yes, that's snow on them mountains.
25/10 Quick internet session in the street and I'm off. How terrible, I have to do that nice road again! Next stop is Side. Stayed in the old town in a pension last time, but this time I can't get into town to check out the pensions, it's blocked off, there are thousands of tourists crowding the street and lots of traffic. I try to find a camp ground, but can't, so I end up in a grotty pension in the new part of town.
In the evening I walk into Side old town. There are lots of interesting ruins about, that we saw 5 years ago. The main street, however, is like Little Las Vegas, with lots of shops, all very brightly lit, selling all the essentials tourists need: carpets, jewellery, gold, souvenirs, ... Touts everywere, but they leave me largely alone. Walking purposefully and ignoring them helps. The internet cafe is run by a 12 year-old and the session costs an arm and a leg. Prices are indicated in Euro.
26/10 Breakfast and paying is a problem. The owner can't organise breakfast. He indicates that at 9 I can have tea, his helper is still asleep. So, I buy a litre of milk in his shop and start organising my own breakky. He wakes up his helper, who appears dreary-eyed and produces a glass of chay in two minutes flat. Why the owner couldn't do that I don't know. Perhaps wrong union? I give him 1.5 Lira for the milk. The room is 25, but I only have 30. He runs a shop, but has neither a 5 Lira note, nor 3.5 to give me 5 change! There seem to be only small coins in the till, a problem I have encountered before, but this is a prime tourist area. He apologetically gives me some change: 2.5 Euro and a 1 Pound coin. Great, I wasn't planning on heading that way any time soon.
On to Antalya. Just before the town the nice highway turns into a 4-lane motorway-like road and continues like this, sometimes with a few lanes more, right through town and to Alanya. It's dead flat and boring with lots of bumper car traffic, racing off at the numerous lights (if they stop for the red, that is). All traffic rules that I know of are ignored. Sometime after Alanya and I'm back into bikers' paradise, as the road winds its way higher and higher into the mountains. It ends up high above the sea with great views. Since it's nice and warm I decide to camp for a change and after Anamur (lots of hothouses) I find a nice site; facilities are dire, though. But I have a swim and a laze in the sun. As I watch what is left of the sunset I can see a large front of towering clouds on the horizon to the South. It seems that they are moving parallel to the coast, at least that's what I'm hoping...
Planes leaving trails in the sunset like shooting stars.
Get an SMS from Kenneth: he's just checked into a place in Side full of Swedish girls. Not surprisingly, he's intending to stay for a few days. ;-)
27/10 I thought I was going to get a good night's sleep, but I'm wrong: those clouds do move in, a strong, gusty wind springs up, a few raindrops fall and there is lightning. I only put two pegs into the ground, so the tent gets blown around a bit, but it's not too bad. In the morning the sun shines again and everything is dry, the clouds have been blown back out to sea. But the wind is still blowing strong and gusty. I continue on my way to http://Adana. The road winds its way through some wild mountains, sometimes providing nice views over the coast, but mainly under forest cover. Eventually I get into the plains, traverse most of Mersin, but then decide to take the motorway, as the highway now goes through nothing but urban areas.
Ahead I can see black clouds, and there are dark lines underneath them, like a curtain, almost. I'm all wrapped up and ready for the rain. I'm not ready for what follows. First, there is a very heavy downpour. There isn't much traffic on the 3 lanes, but up ahead there is a car sitting across the left lane against the centre barrier. It's obviously gone too fast and spun out. In the right lane there is something funny, too. It's a guard rail, half submerged, half the lane is flooded. No problem for me, I continue in the centre, but what's this? Cars parked under the bridge. Normally, only bikers and cabrio drivers hide from the rain. Hell, this rain is so heavy it hurts! It's hail, that's why the cars are under the bridge. I want to stop under the bridge, too, but there is no room. There are islands of hailstones floating in patches on the water, like little islands. I'm going too fast, don't dare to brake, just slow down. 2 km down the road and it's all over, the rain stops and the road is dry again.
I get to Adana, a very big city, where Mesut and Türkan generously take me in. I have gotten to know Mesut on the net, through a Suzuki DR650 discussion group.
28/10 We go to a bike shop to collect the clutch and throttle cables Mesut has ordered for me. They do an oil change while we are at it. Mesut discovers that the rear brake disk is very worn. I knew that, but they measure it: 2.25 mm thickness left. The manual says it should be at least 4 mm. Houston, we have a problem. Next stop is a friend's knife sharpening shop, where we also get fed. Then he shows me his favourite place, a big lake just outside the city. The skyline looms unreal on the far bank. I need to be in Ankara Monday morning to hopefully collect my Iranian visa and apply for a new Pakistani visa. A friend of Mesut is going there to work, so I get a lift tomorrow morning, can stay at the friend's place and come back on the bus. Magic.
Mesut on the lake with Adana in background
29/10 Of course, it turns out not quite that simple. His friend
Övunç gives me a lift in his car, but the day is somwhat marred by him having a headache and a beginning cold and me with an ongoing migraine that lasts till the next morning. He has a very modern, nice and clean apartment and I am again humbled by Turkish hospitality.
30/10 We still both feel grotty, but he has a meeting with his bosses, so has to start early. At the Iranian embassy opening hours are somewhat flexible, so I wander down to a shopping centre to find some breakfast. This is the posh end of town and there don't seem to be any of the ordinary stalls and shops where you can find the necessary. First surprise: to enter the mall there is an airport-style security check. I get the usual, but copious Turkish breakfast, with Italian coffee and a bill to match. Back to the Iranians and they finally open. I have to fill in similar forms to those I have already filled in in Istanbul ("but these forms are for Ankra") and hand in my last passport fotos. Then I'm told to come back tomorrow. Not a great start, but I get the impression that there won't be a problem actually getting the visa.
A quick trip to the Pakistani embassy around the corner and this is where I come unstuck. First a security check with metal detector and bag search. I'm told they require a letter of introduction from my embassy.
Off down the road again and they are easy to find on the main road, but ordinary mortals don't enter here, I have to go around the back. For what lies there around the corner I am not prepared. An entrance complex a bit like what you find at ticket booths in football stadiums, with the entrances solid metal grill doors. The whole thing reminds me of the metal barriers in abattoirs. Behind that there are 4 m high solid steel fences topped by rolls of razor wire. In front of all this crowds of mainly Turkish people waiting to get in or for others to come out. Welcome to Fortress Germany. Seeing how people are treated here I am ashamed to be German.
It takes almost an hour to even get to the front of the queue. From here on I get some preferential treatment. There is an exhaustive security check. I have to leave my phone and remove nail clippers and file from my toilet bag. Normally, I would have to go outside and leave them in a locker (for a horrendous fee), but the nice man at the gate keeps them for me. Up some outside stairs into a glass box, where embassy staff deal with sometimes agitated clients through bullet proof glass and an intercom. The lady in front of me asks for some help. The info sheet she was given tells her to download a form from the links page, but they don't explain how to download something from a sheet of paper. She wants to marry a German and needs a "marriage eligibility certificate". Amazing the things German bureaucracy invents. I gather she must fly to Germany, back to TR and then to D again to complete the simple procedure. The last lady in front of me gets into an argument with the German lady behind the wall, who yells into the microphone so that the sound is distorted. She is almost escorted from the room by the gatekeeper. The Pak embassy will have closed by now for the day. With me they are finished rather quickly. She asks how I intend to travel to Pakistan and then tells me "your trip finishes here". They will issue the letter only endorsed "air travel only". I never find out what the Pakis will do with that.
As I turn to leave I overhear the next person ask the same question and getting the same answer. He starts to get angry and I take him out with me, telling him that I have another solution. So I get to meet Bernhard and his friends Franka and Andreas. The three are hitchhiking together on a very low budget trip. He must be home by the end of the year, but the others want to continue on indefinitely. They tell me that they have worked in the vineyards in Greece to earn some money and they sleep rough. A very nice bunch they are and they invite me to join their picnic lunch.
I propose to stay somewhere nice on the coast, send all our passports to Germany to get the visas there, but they are understandably not keen. We spend the afternoon together, exchanging stories and thinking about a way around the visa problem. In reality, we will have to get our Iranian visas first, because without them we will have to completely change our plans. After having shared dinner with them they look for a place to sleep and I get back to Övunç's flat, where a friend lets me in. Övunç has to work late, the poor bugger. I hit the net to see whether I can get ideas on HUBB and Motorradkarawane, two bike travellers forums I frequent. When Övunç finally gets home he looks worse for wear. He has to work early again the next day...
31/10 The Iranians are opening even later today. My newfound friends turn up and we wait together on the footpath. Once inside the friendly man tells us that they still haven't received the faxes from Istanbul. Then a tray of tea arrives, to our great surprise and excitement, followed by a piece of flat bread and cheese for everyone. The official obviously delights in our surprise and explains that they are making up for us having to wait in the cold while they held a meeting. I have many a long conversation with him during this morning and learn a bit about how official Iran views the world. One hour after closing time and they hand us our passports with the visas. The faxes never arrived, but they dind't want us to wait another day. Nice of them, all the same. How long does it take to send a fax?
I have decided to forget about Pakistan for now and head to the UAE instead. There are ferries across the gulf and I don't need a visa. Even Oman and Yemen may be possible, we'll see. What better way to spend the winter? I think the others may be doing the same. I invite them to share my taxi, they are dropped off where they can try
to hitch a ride to the coast and I take the bus. I feel a lot better now.
1/11 The already interesting driving in Turkish cities gets even more interesting with the rain we're having today. At times it rains hard and there is thunder. Some streets turn into raging muddy torrents, while others transform into large muddy ponds.This, of course, hides interesting things like speed bumps or potholes... The bike gets a new rear tyre. On the way to the lunch stop I notice a funny noise and diagnose a dead wheel bearing. Of course, a friend of Mesut has a friend who runs a bearing shop, so a new one is bought quickly. In the evening Mesut takes me to a restaurant, where his bke club meets.
2/11 Unexpectedly, the weather is fine again. I change the wheel bearing and pack my bike. In the afternoon we leave all together, but Mesut receives a call and has to go, so they point me in the right direction and we say our goodbyes. It was very nice staying with them and I very much hope to see them all again some time. Thanks for your hospitality and for all the help, my friends!
Türkan and Mesut saying farewell
The sun is already getting low and so I only get to Osmaniye. There seems to be only a 3-star hotel and the price on the wall is horrific, but the receptionist drops it without me asking to less than half. Now, if the water in the bathroom were really hot then it would be a bargain. At least it isn't cold, so I'm not complaining. During my evening walk in town I get lost a little, all the streets look the same to me. There are stands everywhere selling pide and other foods, so I'm enjoying myself here.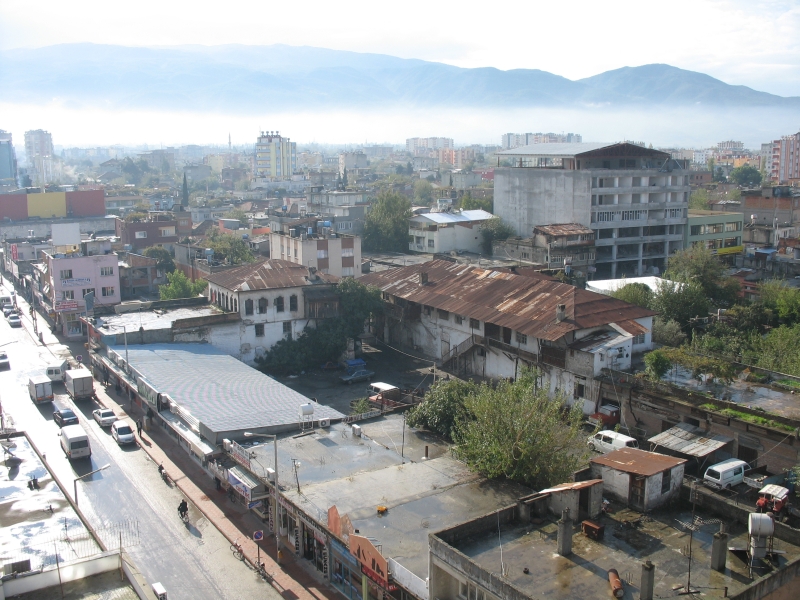 View from the hotel's top floor. This is one of the few remaining old-style buildings, derelict.
On the tele I catch the news: There has been severe flooding further East, roughly where I'm going. Great, and in the forecast they show clouds, rain and snow flakes. This looks set to continue for the next three days, i.e. exactly the time it would normally take me to get to the border. Perhaps I should head for the beach insead? I do carry long wolly socks and fleece pants, the latter never having been unpacked on this trip.
3/11 It has rained again during the night, but it clears during breakfast. The clouds are moving in the same direction I'm going, so I'm in no hurry to leave. I soon catch up with the rain, though, ride through a layer of cloud over a sort of pass, then down through the cloud again into a valley. Later the sun comes out again. I stop at a petrol pump. Seeing that the price on the pump is a lot higher than that posted on the signs on the road I'm tempted to leave, but what the heck. Chay arrives before I have even opened the tank and the locals talk to me, of course. Just as I'm all wrapped up to leave I get beckoned inside: lunch is served, I'm invited to a delicious meal of eggplant, peppers and lamb with bread. During lunch a lively old man with headscarf arrives, grabs me and kisses me on the forehead. He is the father of two of the attendants. I notice he speaks a different language and learn that most of these people are Kurds. I'm also told that the road after Urfa is cut due to flooding, at least that's what I understand.
I have decided to make one detour from Urfa to Harran, where there are beehive houses and supposedly a cheap place to stay. I run into a tourist trap. On arrival the touts pounce on me, "Tourist Office licenced guides" complete with ID cards. I can stay in their traditional beehive house. Not exactly good value, but a different experience altogether. The toilets can't be flushed, no water. In fact, the water is off altogether and the electricity, I'm told, only came back on an hour ago. I get a short, but very expensive guided tour around the ruins of a castle and ancient town. At the top of the hill TV crews are setting up for a live transmission. Later that night I sit with the whole family (about 15 people) and see the village on TV: the dam's floodgates had been opened and the town was partly under water.
What once were gardens are now seas of mud. Needless to say the shower doesn't work, either. I also see a collapsed bridge on TV, but they can't tell me where the road is cut. The towns of Batman and Diyarbakır have been the most affected by the flooding and about 40 people have died. Next they show pictures of several cm of snow in Istanbul. The forecast: wind from NW, wet and cool everywhere. I read in my guidebook that the road I want to travel is only passable in summer and that travel to Hakkari is not recommended, due to security problems. Great planning on my part in combination with this weather will make for an interesting journey. Dinner is a sit on the carpet affair, a big plate of some sort of dryish spicy mincemeat in the centre, a few vegetables distributed around and thin bread, which is used to sccop up the tasty mince. Nobody bats an eyelid when the bread is thrown onto the carpet. Hygiene is not their strong point, obviously. Lots of the younger people try out their English on me. Their mother tongue is Arabic, as they are Arabs. On learning that I'm a computer technician I'm asked to fix their ancient PC, but the hard disk is dead as well as the floppy drive, so the young owner says he will buy another one. I sleep in what they call the museum, a mat and a blanket on the floor. During a light shower I notice the roof leaks.
These beehive houses are what Harran is famous for. Note the Arab fence.
4/11 The 24th anniversary of Peter Hendricks' landing in NZ! I don't even remember to think of it during the day. Breakfast is mediocre: bread, put on the floor again, lots of black olives, two little tubs of honey for all 15 or so people. I have to say that I feel ripped off. That'll teach me to follow a tout. One of the young ladies is an Arabic teacher in Bodrum. She hangs around as I load the bike. She says she wants to go to Iran with me, only in jest, I hope. She then wants me to give her my SIM card. I decline politely, so she asks for money. She's a teacher, for crying out loud. Do I look that stupid?
It's a long, boring ride to Mardin, a place that was recommended by Mesut and my guidebook. Lots of old buildings with carved facades on a steep hill, topped by a large ruined fortress, still used by the army and therefor off-limits. The hotel recommended in the book is derelict, I check one other nearby, but it's a dump. I end up in a 3-star hotel again, bargaining them down a little. Very comfy and wireless internet access. The forecast looks bad, so I might stay here for another day. A walk around town and people seem particularly friendly here, especially the kids. They all try out their 5 words of English. One in a group of three goes "money, money", so I extend my hand like a beggar to him. The others find this hilarious and he gets a little embarrassed, which was the aim of the game. Must remember this one. By chance I find the market street. It's a real bazaar with people milling about, meat and fish on display without a hint of refrigeration, donkeys with and without loads and the sellers praising their wares at the top of their voices. I take a few movies with my camera. Click here to see one. (26 MB big!)
5/11 There are strong stormy gusts during the night. I wonder whether it's not wise to stay another day at this nice, but expensive hotel. The morning is calm, but overcast and I decide to move on, particularly since there will be a weather window in the far East, according to one web site. Monday should be fine, Tuesday freezing rain, the last thing I need. The idea is to continue until the road starts climbing into the mountains and the weather turns bad. I wrap up warmly, but it stays rather mild. The ride along the Syrian border is quite boring, with flat terrain, the road dead straight with little traffic, but I do see some Iranian trucks and cars and a couple from Dubai, but strangely none at all from neighbouring Syria. I wonder whether they will cross Iraq? This also makes me hopefull that the road to Hakkari and the Iranian border is open. The Syrian border itself is a serious barbed wire barrier on the TR side and watchtowers every 500 m on the other side. I pass two places where there should be crossing points, according to my map, but there are no signs. It is as if Syria didn't exist for the Turks. I can see villages etc. on the other side and wonder again about the folly of man. I keep a lookout for an abandoned monastery in a pretty setting, mentioned in the Rough Guide book, but the directions are insufficient and I never find it.
After about 130 km the road suddenly dips down through a steep valley and I find myself in Cizre, a very dirty looking town where old trucks come to die. I don't stop until I cross the bridge over the river Dicle, know as Tigris to us Europeans.
Tigris
Badlands
After that the scenery gets interesting again and very colourful, but the road soon starts to climb seriously and I find myself almost in the clouds at 1300 m altitude in Şırnak. Before I can organise lunch I get invited to chay by some kids, who seem to be running the chay shop. Several people seem to think that the road to Hakkari is closed due to snow or washouts. So far Police and Jandarma have kept a very low profile, but I soon get stopped at a checkpoint, where my passport details are entered in some list. The friendly soldier then tells me that the road is open. I'm in real mountains now and Kurdish country. One kid thows a stone at me, but most people seem excited to see a foreigner. Even adults call out to me. Flood damage is evident everywhere and the roads are covered in mud. The villages are particularly bad. In one place I watch a tractor doing wheel spins trying to get up a steep hill. I remember reading in the forecast that sunset at Hakkari is at 16 h and that is now. Since there is no accommodation whatsoever in this area I start looking for a site to pitch my tent, but find nothing really suitable. Due to PKK activity around here I think it wise to only camp out of sight from the road. Twice I stop to take pictures and every time a car stops to see whether I'm OK. The first driver chats a bit and tells me the road is closed and I should stay in Uludere, but I pass the turn-off, knowing there is no hotel.
A few villages further on the road is almost blocked by a large circle of people dancing to loud music. They only leave a narrow strip of mud for traffic to pass. At the next checkpoint I'm told again that the road is open and that I should proceed to Hakkari to stay the night, but it's 150 km. I explain that I don't want to ride in the dark and that I have a tent. THAT they seem to think is a bad idea and they put me up with the local teachers.
Yummy! Thanks guys!
They are two young men living together in a small house right next to the checkpoint and so I'm invited. We are having a great time, despite the language barrier. I note with interest that they are all Turks teaching Kurdish children. They teach Turkish and Islam, but certainly not Kurdish. This is also the first place I've been to in TR where the power keeps going off. I seems that people seem to get poorer and that there is more rubbish around the further East I go. The locals just seem to throw it away wherever they are and if it is collected the trucks just dump it down a bank, preferably into a river. The teachers want me to stay tomorrow, but I explain to them about the freezing rain forecast and decline politely.
6/11 In the morning they put on an amazing breakfast, then I'm off. They have to be in school at 7h, so this is my earliest start so far. The road continues along a river valley and I start to think that perhaps there is no pass to cross.
I pass numerous Kurdish villages and in all of them the road is covered in mud and there is rubbish everywhere. It is also rather cold today. In the end I do get to the top of a pass and just below is a green Turkish fortress. This is the first serious checkpoint where I get special treatment: they take my passport and bike rego and disappear with it for a long time. The locals are quickly allowed to proceed, although they do search vehicles. The Jandarma soldiers are all courteous, though, even friendly. One van driver hands me a cup of tea through his window. I never get to Hakkari, it's on a sideroad that I pass. As I pass a ute in a dirt section the driver calls out to me. I turn around and we chat for a minute. Behind me a Kurd with headscarf and dressed in camouflage appears and offers me tea. The three of us stroll a short way off the road and there is another Kurd, dressed the same. They have a tiny fire going and there is tea in the kettle. Beside them on the ground there are two automatic weapons. They look like submachine guns to me. Apparently, they are for hunting. Since we don't speak a common language communication is somewhat limited, so I'm soon on my way again. I stop in Y
üksekova, a town on a leak high plateau, for Internet access There is another pass to cross, this time with a tunnel at the top, then I blink and I miss the last village and I stand in front of the border compound.
Nobody stops me from riding right in, which is a mistake, because I soon have to walk back to obtain some magic piece of paper from the guard. Everything is computerised, which is why it takes a little longer. The place is just as disorganised as the other crossings, but a little simpler. I can go - or can I? There are two padlocked gates between the two countries. The Iranian guard lets a car through into the space in between, but he is trapped now, because the policeman on my side has left his post. When he finally comes and opens the gate he forces the driver to perform some miracle manoeuvers, because he opens the large gate inwards. He can't be bothered to open the other side a little to open the gate toward him...
Towards Essendere