Indonesia - part 3
Sumatra 3

Danau Toba. The far shore is actually an island. 
Here we finally get to see the volcanoes from a distance that eluded us in Berastagi. 
People here are mostly christians, the architecture is distinct and so are the tombs.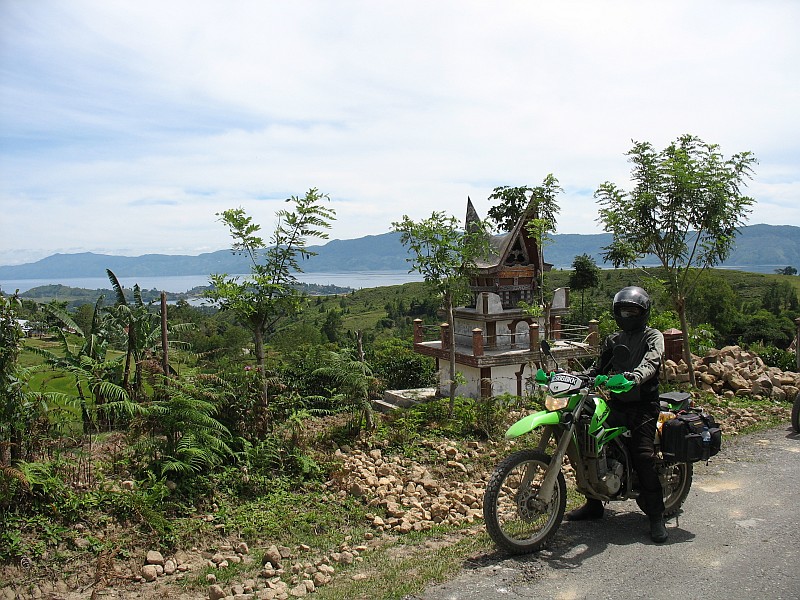 There are also quite a few tourists here and the facilities are very good. There is one road around the island, Pulau Samosir, so we have to ride that one. What we didn't know is that it doesn't just follow the shore, but on one side climbs high up and it is here that there are endless road works. Where they finish the road is in a terrible state. The views, however, are splendid. 

One of the buildings of Liberta Homestay. Highly recommended. 
There is a wedding happening across the road. It's an all-day affair with the master of ceremonies holding speeches, alternating with music playing and people walking around in circles. 
9/5 After a few pleasant days we reluctantly leave this nice place and head SE again. The mention of a breathtaking road with tunnels in our guide book entices me into a detour via Sibolga. We are not disappointed. First, there are a few views to be had into the bay. Then come the tunnels. This is a first for Su: there are no tunnels in Thailand, except in Bangkok. The second one is a challenge: single lane, rock and dirt surface, a 90 degree bend and a waterfall passing over the top that causes water to drip from the ceiling. I have to stop and get off the road to let a large truck squeeze through. 
Arrived in Sibolga we can't find suitable accommodation. In the end one of the people we ask for directions leads us to several places on his bike and finally some distance out of town, where he knows a nice resort. He is an English teacher and keen to practice, so we end up talking with him for quite some time. 
Onward, towards Bukittinggi. On the way we pass a village where most of the public transport is by these beautiful horse carriages. 
We pass through Bukittinggi and head for Danau Maninjau. To get there the road descends 46 numbered hair pin bends. We find an excellent hotel right on the shore. 
Another ride around a lake, taking in some detours through villages, in the hills this time. The roads are paved, but very steep and narrow. No cars here. 
Spices drying on the road, a common sight. I can smell cloves and cinnamon, I think. 
An involuntary passenger: he is chained to the bike. In some areas monkeys are trained to climb palm trees to get the coconuts down. 
13/5 Today is another first for both of us: we are crossing the equator. (I have crossed it 4 times already, but never on land.) Unfortunately, Su rides in front and doesn't stop at the big gateway, so there is no photo to prove it. We continue on our way South until we come to yet another lake, Danau Singkarak where we find a hotel. Unfortunately, the waterfront is not suitable for swimming. For a long time the road follows a narrow gauge rail track. Near Bukittinggi it is clearly disused, then it's a maintained rack-and-pinion track, but clearly only used occasionally, as the infrastructure is derelict, but crossing the rack in the centre of the rails makes for interesting crossings, as it is a lot higher than the track.

Our plan is to try to get to Pulau Bangka, just off the SE coast of Sumatra and try to go to Pontianak on Borneo from there. There is another island nearby, Pulau Belitung, which I'm almost certain is linked by car ferry, which would get us half way to Pontianak. From there we want to ride via Sarawak and Brunei to Sabah to catch the ferry to Mindanao, Philippines. Finding our way to Palembang, Sumatra's second-biggest city is no big problem. The ride is uneventful, save for a few near misses due to crazy drivers, until about 30km before Palembang. From here on the road is chocker with trucks, it's like two trains meeting each other, except everybody is overtaking everybody all the time, especially the many bikes.

Our luck kind of runs out in the city: the recommended hotel has closed down and the only thing we can find is a very expensive one. We resolve to stay only one night. The next day we go out early to find the ferry dock. Nobody knows anything about a car ferry and tells us to go to a travel agent instead. It's Sunday, so they are all closed. Monday we ride to the port and simply walk into the office of a ticket agent for the passenger ferry. In the end the owner takes pity on us and leads us on his bike right across the city. We could have never found the dock in some obscure suburb. Yes, there is a ferry every day. Nobody speaks any English and as we have turned up on one bike they sell us only one ticket. When I get across that we have two bikes they take a closer look at my bike and suddenly we need THREE tickets, because mine is a BIG bike. The arguments take time and eventually we decide it's too late to check out of the hotel and get back to the ferry in time, especially as they can't tell us exactly WHEN it leaves. Thus we hand the ticket back and change our travel plan, as we don't want to spend another night in the expensive hotel. 
The road from Palembang South is very busy with lots of trucks and buses, then the surface deteriorates and the driving gets very crazy again. For the first time we are stopped by cops and I have to show passport and registration. They are very polite and friendly, though. One of them tells us very seriously that he killed 20 people in Aceh. He was in the army, fighting the GAM. He and one colleague seem rather proud of this 'accomplishment'. 
19/5 Where my GPS indicates a possible detour along a minor road the sign clearly points this way to the ferry town. Unlike the main road, this one is very wide and good and there is very little traffic, almost no trucks. I wonder why when we come to a bridge, where one of the approaches is under construction. It's about 1km of off-road riding, easy for us, but I guess the trucks avoid this. After that the road is really empty, but excellent. Su gives me hand signals: she is as suspicious of this unexpected fortune as I am. We pass a turn-off, complete with traffic islands and arrows painted on the road. In passing I look into the turn - and 20m further face a wall of greenery. The scenery also changes: where before there were lots of villages and small fields now there are wide plains planted industrial-style with sugar cane, pineapple and who knows what. At two points the road rises and we cross a bridge. Looking down all I can see is a very wide strip of dirt. Are they building a railway here, or a motorway? No way, these are the private roads of the agro conglomerates we are crossing here. Soon after I get stopped by cops again and have to show my licence. My laminated copy does the trick. For some reason they didn't stop Su, who is in front. The friendly cops do, however, indicate that we are on the right road. It does seem to end up a detour and it deteriorates further, but I really wonder what happened here. Did the agro companies pay for it? Did they grease the right palms to have this road built just for them? I guess I'll never know. My bike's charging system is starting to play up again, the starter barely turns over most times. I've already had this problem 3 times in Thailand, battery and regulator were replaced less than a year ago. 
A ferry making its way to Java, just visible on the horizon. 
As our ferry leaves Java Krakatau comes into view.