India - Part 5
Ladakh to Spiti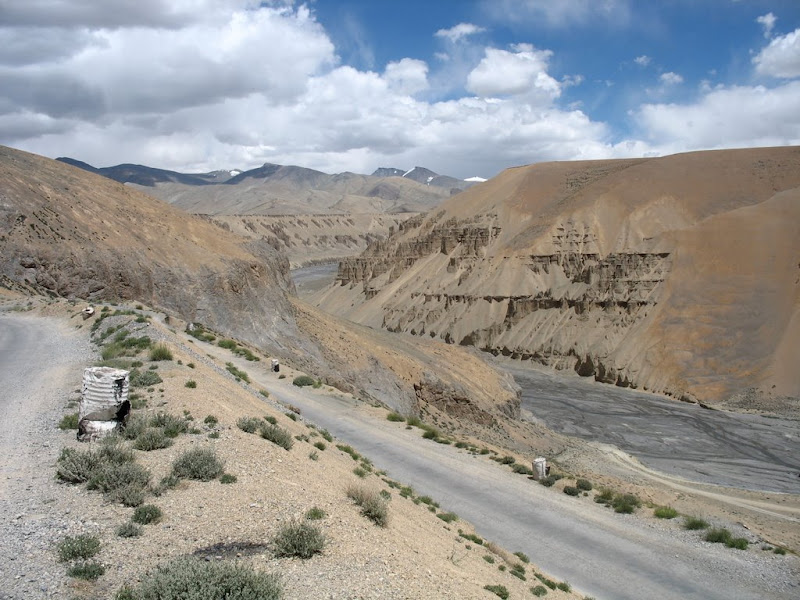 3/8 I leave Leh and head for Lahaul and Spiti. As I learn that today the Dalai Lama arrived and his residence is on the main road I take the road on the other side of the Indus. I'm not sure whether I have saved anything here, as the road is very bad, but once I leave most of the settlements behind things improve and there are good views over the valley. Before Pang the road passes through a wide valley. There is no sign of habitation any more. There are lots of road works and some patches of very soft sand or even just dust. The riding gets interesting here, but not just for me: in one of the sand pits lies an overturned truck. Pang is just an army camp and a few tents serving food and you can stay in some tents, too. I continue to Sarchu, which is more of the same.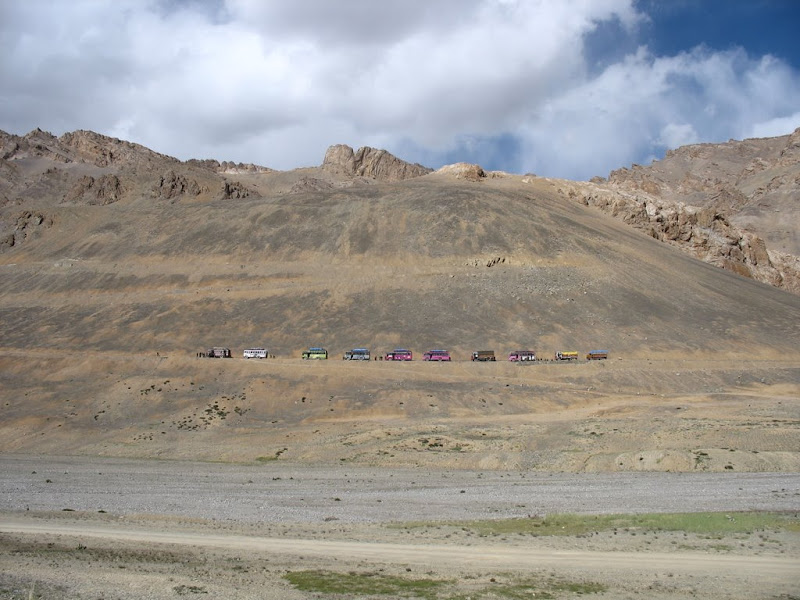 Coming down the
Lachalung La
pass the road is blocked by some army buses and there are soldiers sitting on the road. I can't find out why they stopped there, offset, so nobody can drive past. I try to ride past them, see a dirt track leading down and take this, but it's very soft gravel and I loose control, ride off the track and drop the bike. It's easy enough to right again, but now I have to ride through the soft stuff downhill, off-road. The Nakeela pass after that is easy.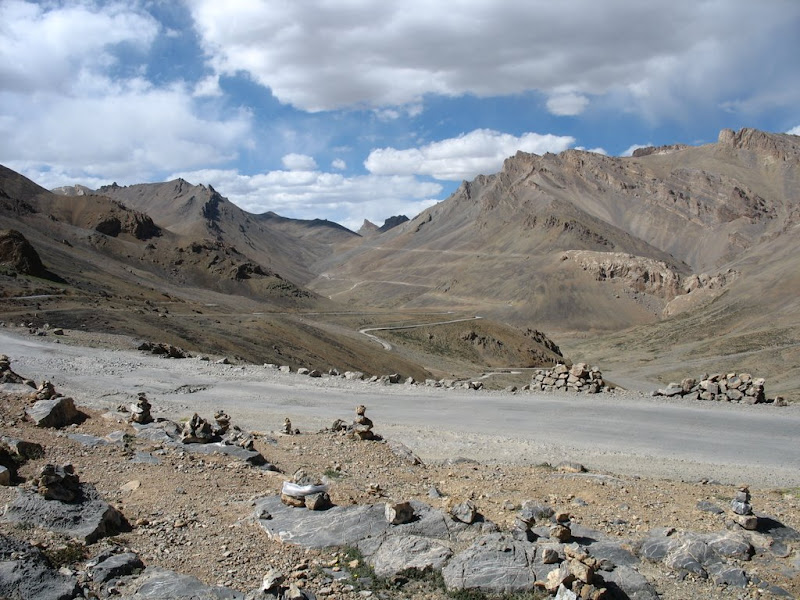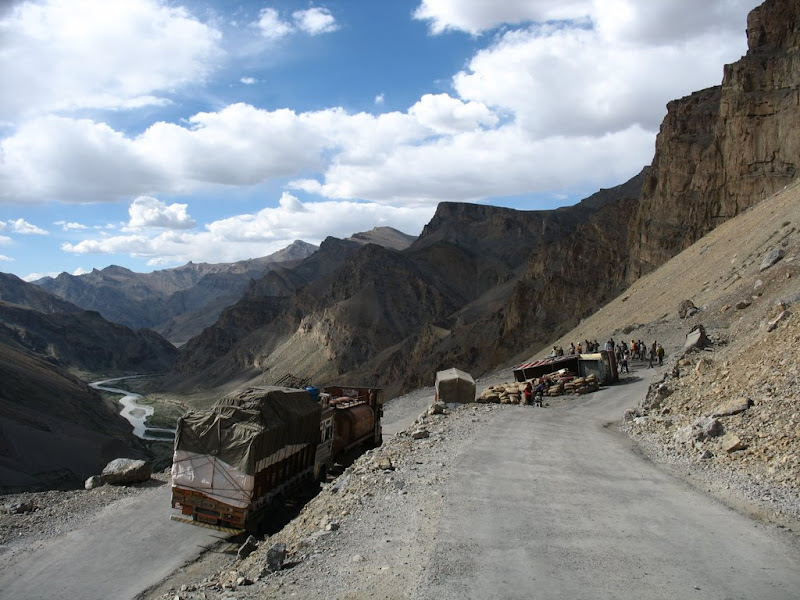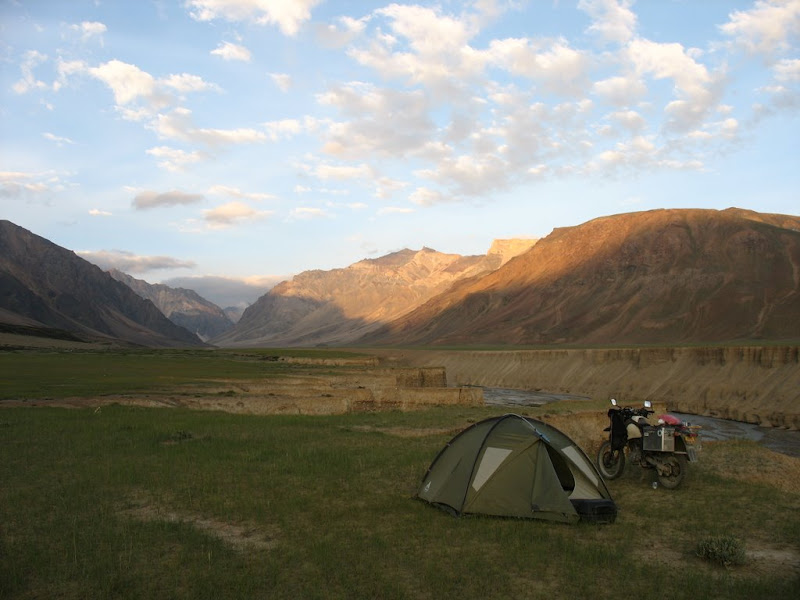 After Sarchu I camp on the side of the river, high above it. I'm tempted to pitch my tent on one of the vertical columns, but I decide against it, as there is a very strong wind blowing and anything I might drop would end up down in the raging torrent.
The next morning I'm off early. There are thick clouds at the end of the valley and I mentally prepare myself for the monsoon. The road deteriorates into a bad dirt track, it's pretty much off-road all the way up to the top of the
Baralacha La
. I miss the top of the pass, as it is unmarked and suddenly, a brand-new road, smooth like anything you'd find in Europe. What a joy, no rain and a perfect road through wonderful scenery. Soon enough even the sun comes out, but I'm soon enough back into road works and dirt.
As I have run out of chain lube again I ride into
Keylong
, a small town glued to a hillside. No luck here, apart from sewing machine oil in a non-resealable bottle. A little futher another traffic jam of moron truck and bus drivers, who stop any which way, thus blocking the road for any smaller vehicle that might otherwise fit through.
Charging out of a dubious looking water crossing comes a big BMW and I meet Stuart Ringer, whose acquaintance I have already made on
HUBB
. It's that time of the day, so we have lunch together and swap stories. He's just come over the
Rohtang La
and reports pouring rain on the other side. I'm glad I'm not heading that way (yet). Instead, I turn off towards the Kunzum La and Spiti valley, said to be as dry as Ladakh.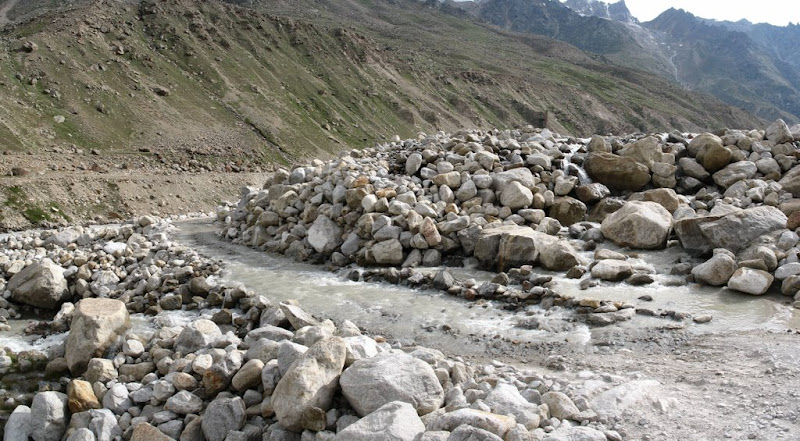 At a chai stop I meet Jacques and Siou on an Enfield. They are a French couple living in Benares since 4 years. Two-up and fully loaded they travel failrly slowly and so I soon leave them behind. The "road" here is very rough with numerous water crossings. The highlight being a waterfall beside the road the waters of which devide to flow down the road either side. It's hair raising and I only just make it without falling off, thanks to all the big rocks in the water.
Batal, situated at the foot of the pass, is on my map. It consists of a few huts with canvas roofs and an eatery. They also have a "room", low stone walls covered with canvas, bedding on the ground and the side of an old wooden cable drum serving as door. As I know that the two French don't have a tent I decline. I also turn down some bedding in a storage shed. Instead I pitch my tent on the other side of a low hill, where there is a little grass. It is difficult, because it is extremely windy. It's a pity, I passed many lovely looking camp spots, but here everything is stones and uneven. The French turn up a little later. Their bike stalled in the last big water crossing, so they got their feet rather wet.

The next morning I'm awoken by rain. It lasts just long enough to make my tent thoroughly wet. The others are still asleep under their canvas roof when I leave after breakfast. The pass is easy with traffic almost non-existant. When I reach Losar to my great surprise the road is sealed again. There is also another police check post in the village, where again I don't have to stop, because the barrier is open. Any yelling and whistling behind me must have been directed at some stray dogs...


Yes, Spiti is very beautifull, I let the pictures speak.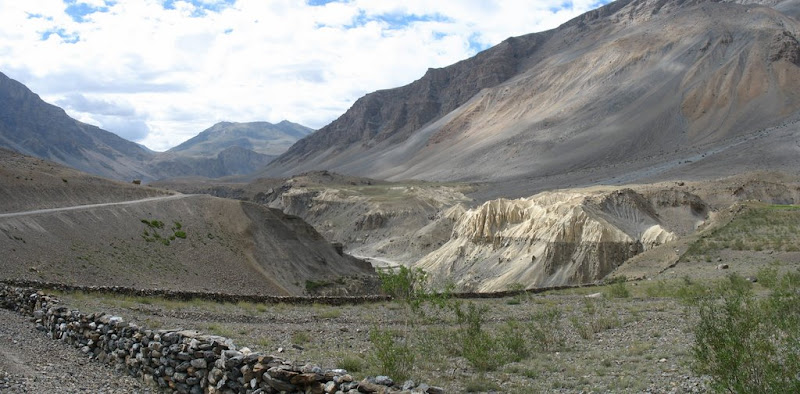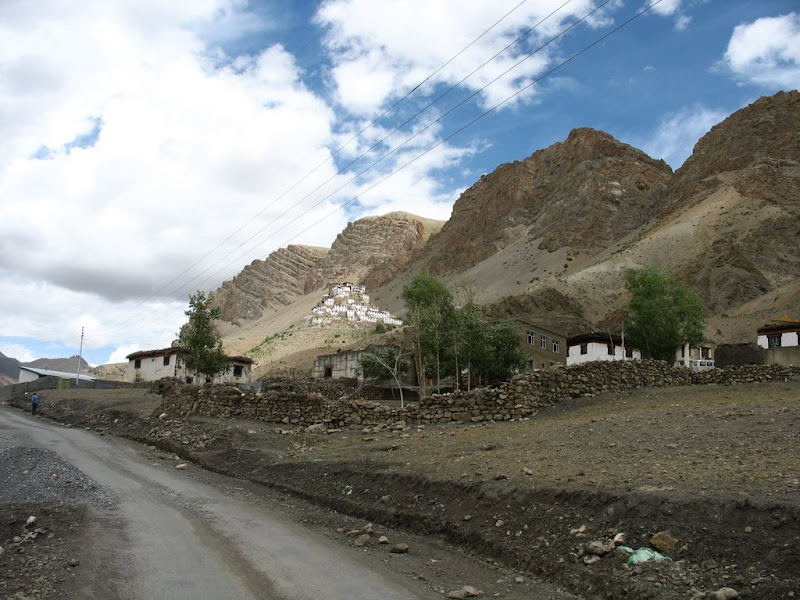 Lunch in Kibber, a village that once toutet itself as the highest in the world. They then qualified that as "the highest village with a road and electricity". No signs to that effect now... There are quite a few tourists and guest houses, though. To the left I can see another village and there is a sign about a link road to it. I follow it, but find that, yes, there is a road, but the bridge over a spectacular deep gorge is still under construction. Next time... At lunch I meet Eddie from Italy again, with his French friend. They have rented an Enfield (the thing to do around here).


Kibber
On the way down I spot a sign in Hindi pointing up the mountain again. Should there be an even higher village? Where might this lead? Only one way to find out. It's quite a good track that zig-zags up the mountain, with some shortcuts in between. Taking some of those I come unstuck, where it joins the proper track, it's very steep loose sand. I drop it. Luckily, there is a young Israeli lady who comes running to my rescue and helps me pick up, drag and push the bike, until I can get it back on level ground.

The brand-new and easy track leads over a pass, almost as high as the Kunzum La and ends at a hamlet with a guest house. I'm tempted to stay here, but after two nights camping I'm hanging out for a shower, plus it's not exactly conveniently located to go sightseeing or get a permit for Kinnaur. Back on the main road I meet the same Israeli again with a friend and this time I can help them out with some water.
I follow some dirt tracks, taking shortcuts cross-country, drop my bike and find:
This little hamlet with one guesthouse.

Kibber and its neighbouring village again

Until the new bridge is completed this is how people get to their homes
In Kaza I check into the guest house recommended by the Italian/French couple. It's not bad, but as I bed myself for the night I discover prickles sticking out of the mattresses. Lots of them. The next morning I complain about them and get a "better room" with proper mattresses. I'm not a fakir! I get my Inner Line Permit for
Kinnaur
. It's barely readable, but has one of my passport photos firmly glued onto it. I won't write about Indian bureaucracy here. I note with interest that in this small town the power is more reliable and internet much faster than in Leh. Just like in Ladakh people here are very friendly. The weather is rather wet today.
4/8    When I leave Kaza the petrol pump is still closed, but I think I have about 50 km to spare to get to the next one in Rekong Peo. Can't make too many detours at that rate. It's overcast and there are a few raindrops falling for most of the day, but not enough to make me put on my wet weather gear. I dare to make one detour to
Dankhar Gompa
, the oldest in Spiti and apparently in imminent danger off falling off the cliff.
The approach to Dhankar, high above the Indus

Dhankar Gompa and village

The main road follows the river just about all the way, but at one point Im faced with an unmarked turnoff. Straight ahead is the old road that slipped off the mountain a few years ago and after a few km I'm turned back by a tractor driver blocking the road. To bypass this stretch they have build a fantastic pass with great views, leaving me with that age old bikers' dilemma: to go fast or to enjoy the views? I go fast, but stop for many photos. At the top the choice is easier: they ran out of tar and it's a somewhat rough track.


Down the other side I'm stopped by an Indian on an Enfield 350. His bike is running out of power, he can't get up the hill. While trying to help him some more bikers, one with Enfield knowledge, arrive, so I leave him in their capable hands. Down in the valley the old road is clearly visible. The further I ride the more spectacular the scenery gets. After lunch at a truck stop near Nako the road descends back down into the gorge, where the road is carved out of the vertical cliff face. There is no avoiding the check points this time, they want to see my permit, I'm very close to the Chinese border here.

That's the road in the bluff above the river bend