7/11 There is no border here, not even a recognizable sign as we leave Tibet and enter Sichuan proper. The road dramatically descends about 1500 m into lush green valleys, the territory of the Bai people, one of the many ethnic minorities in China. The rain stops and we make a little detour to look at Tiger Leaping Gorge, where we look down a few hundred metres to the Mekiong. Spectacular, if we hadn't been to Tibet. I find it a cheek that they take 5 off Euro each of us to ride up what is a public road.  
Back to the main road and further South we leave the main highway and wind our way back up again a bad and busy road to Lijiang. The rain resumes a little more heavily. We explore the old town, which is architectually different from Gyeltang, but bigger, more touristy and again every house is a shop, restaurant, etc. It all looks rather new.
 For little money anybody can ride with Gengis Khan for a few minutes  
8/11 Another walk around the town, packed with Chinese tourists. It is time for Dorje to leave, we have another guide for the rest of our trip through Yunnan. As we have found him not much use as a guide he gets no tip and is upset about it. We have a frank talk with him about this. The weather has improved and we continue our journey South on a stretch of motorway, speed limited to 60 km/h. Naturally, the revenue gatherers are there and we get all caught doing 90. The road descends into a valley and suddenly there is an awful lot of traffic and dense population. No revenue gathering possible here. This India-like traffic slows us down quite a bit, but then we unexpectedly have to cross another pass, although it's only 2556 m high, but it rains up there for a stretch. 
We descend again and ride along lake Er-Hai. There are some big excursion ships plying the waters, but we only get glimpses of the lake, there are continuous villages all along the lake shore. On our right is a big mountain range and at its foot again village after village. We pass through the fields in the middle. Our destination for today is Ancient Dali, which also has an old town, complete with fortifications. It's quite pleasant to walk around in and not as touristy as Gyeltang. 
9/11 After a morning spent on the internet I walk alone to the Three Pagodas complex. This has all been rebuilt recently and has a rather sterile feel to it, a bit like a museum, although there are Chinese burning incence, etc. It's quite impressive all the same. The Three Pagodas themselves are the only old bit remaining. Strangely, most openings have been bricked up. On the way back it gets dark and starts to rain a little, then I get lost for a while tying to find my way back to the hotel. I forgot to take the card with the name on it in Chinese. No point asking directions.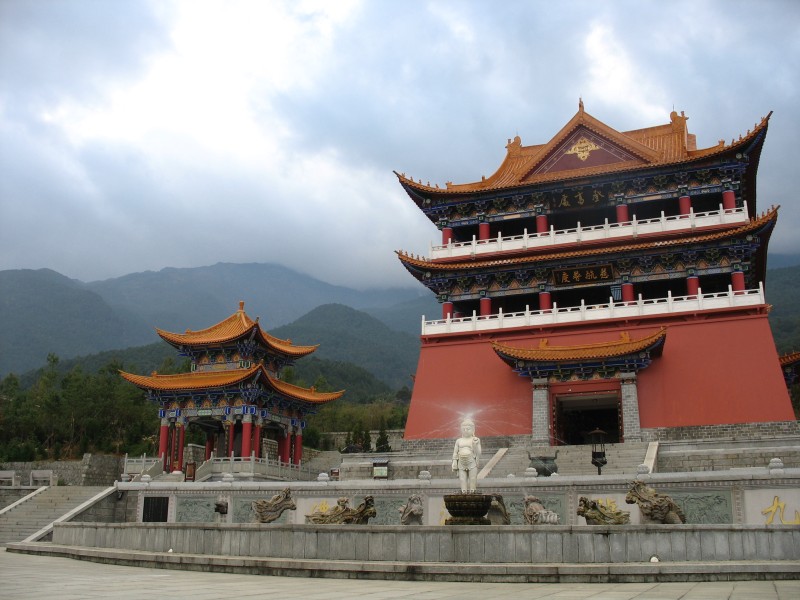 When I arrive at this temple I know that I'm in the wrong street.
10/11 A promising day turns to dust. The weather sort of clears in the morning and we quickly reach Dali City. Here we hit the first snag: the cops won't let bikes onto the expressway. Richard (our new Chinese guide) and Phuntsok have to ask for the way through town several times, the road is clogged with trucks due to extensive road works. Eventually we head out of town on a wide 8-lane highway. Bizzarrely, it is limited to 60 km/h, although we don't see any revenue gatherers. As soon as the road narrows and goes through villages the speed limit is lifted. Go figure. As I open up the throttle over a hill there is a loud roar behind me, followed by a "clink-clink". The patched-up exhaust bracket has broken again and two pieces of my exhaust slide along the road. From here on I have to wear ear plugs and the noise is still unbearable. Rainer kindly asks me to keep at least 100 m distance behind him.  
We now descend seriously and its's getting nice and warm. The sun shines through the haze, but this haze prevents taking much in the line of photos. We miss a turn and loose the car, but we think we are on the right track, as the milestones still indicate the correct highway. Soon, we are in endless roadworks, there are lots of trucks, it's dusty and muddy and progress is very slow. The scenery is nice, though. Lots of flowers, I can identify Bougainvillea and there are lots of banana trees everywhere. The tropics are getting nearer. As night falls we stop in a hotel and call the car back, as we can't make it to Lincang today. 
11/11 It's foggy as we leave, but after a small pass the sun comes out. The road is a pleasure to ride, I can even lean the bike into the corners, but the noise from the exhaust is terible, even with earplugs. At the lunch stop I attach the silencer with bits of wire. This will have to do till Laos. We get pretty close to the Myanmar border and sure enough, there is a military checkpoint. No problem, though. Then the road turns to dirt, pretty rough. There are sections of mud and I'm glad it hasn't rained the last few days. At dusk we camp, perhaps for the last time, who knows?  
This is what keeps China moving: standardised single-cylinder diesel engine, powering everything from water pumps to small trucks. About 20 HP, evaporation water cooling and transmission with V-belts. 
A variation on the the theme: power tiller with cab.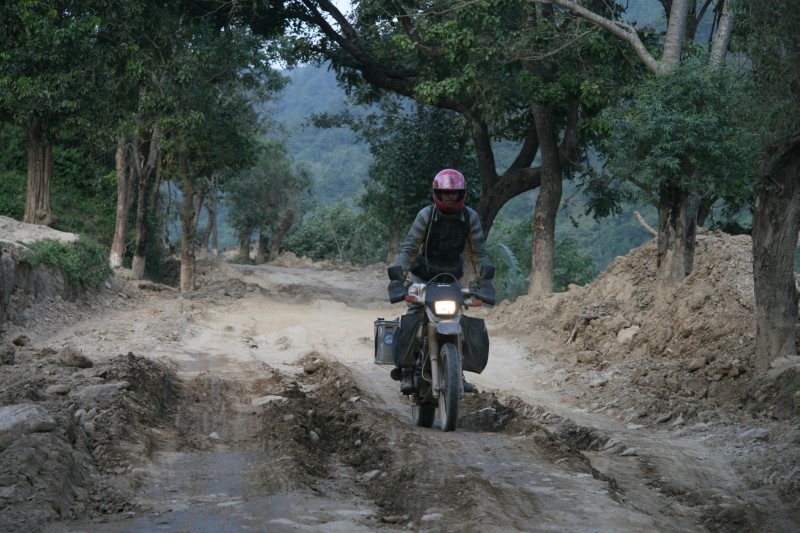 Having fun on highway 214
12/11 It's foggy again and the road is still bad. Soon it's cobbled, a little easier to ride on. Over another pass and the sun is shining and it's nice and warm. It's a very tiring day, with the very bumpy surface, endless road works and lots of traffic stirring up dust.
Road closed for tree felling ... 
... and 1 h for excavations up on the hill.
Gilles at the end of a hard day
13/11 Another long day, 58 km of rough cobbled road. We stop in Mengzhe for the night.  
14/11 Thick fog in the morning. Not being able to see well through the water droplets on my visor I follow the car. Not far from the town a big roundabout and at the other side - big surprise: dual carriageway. From here I follow Cecilia closely, although her tail light doens't work. Luckily, the road surface is good, as potholes and other obstacles are almost invisible. The road winds its way to the top of a pass and we break through into sunshine. It's a short day's riding for a change and we arrive in Jinghong before lunch. We have some work to do here. Gilles is getting his tyres changed and I find a suitable, although smaller battery to replace my dying one.
15/11 An early start to get to the border. The road is winding, but good. There are lots of interesting looking villages along the way, but we think we don't have time to stop. The border town of Mohan is a Chinese showcase, lots of modern and new looking buildings, many shops. We reload our bikes with all the luggage and the remaining spare tyres. To our great surprise the formalities are all over and done with in under one hour. We bid our farewells to Phuntsok and Richard. Phuntsok has left a lasting impression with us, being a very careful driver and always helpful and trying to please us. Then we are off to our next adventure.
As I write this and reflect on our trip together through occupied Tibet and China I ponder: was it worth the insane amount of money we threw at the Chinese authorities? The answer for me is No. I think I can say we all thoroughly enjoyed this adventure, we have encountered many friendly people and seen some awesome scenery, which you probably can't see anywhere else. The Dalai Lama has said people should go to Tibet and see for themselves. But, one of the main objectives of this trip has not been achieved: to talk to some ordinary Tibetans about their lives and find out how they live day to day under Chinese rule. The problem is, we couldn't communicate with them, lacking a common language. Dorje, our guide, has been utterly useless in this respect, too.
From what I could see the Chinese have made some important improvements to infrastructure and there seem to be quite a few Tibetans who are well off, judging by their houses. There is electricity in most places along the main roads we travelled and it's a lot more reliable than in India or Nepal. In the back country life seems to continue pretty much the way it always has. But, I have seen security cameras on roofs next to religious sites, reportedly used to identify pilgrims. It is apparently forbidden to govt. employees to engage in such religious practice. There have been numerous other stories about persecution of, and discrimination against Tibetans.
One other thing I have learnt: to not lock yourself into a group of people who you don't know well.