Welcome to the sixth edition of the autism@icn newsletter.
Thank you to all the participants who took part in autism studies this year.
The students who conducted the studies have just submitted their master's theses.
Best of luck to all of them! Do scroll down to read about their findings.
To hear more about the latest news from autism@icn, follow us on twitter.
…………………………………………………………………………………..............
What do you think?
If you have any comments on the newsletter, for example, what is good about it or what can 
be improved, please email your feedback to autism.icn <at> ucl.ac.uk. 
The autism@icn newsletter aims to highlight events related to autism that are taking place  
(or have taken place). If you have anything you want to include in the next newsletter, 
please email autism.icn <at> ucl.ac.uk.
…………………………………………………………………………………..............
Latest findings 
Remembering to remember for others
People sometimes remember their intentions better in social situations. For example, people are 
more likely to remember to do something when it is for someone else.
"If a friend asks you to pick up a package from the Post Office for them, then you might be more 
likely to remember to do this compared to if it is your own package," said James Crum (below), an
MRes student at the ICN, who was working with Paul Burgess.
Previous studies suggest that some autistic people show differences in 
their brain activation when they are trying to remember future intentions
and also when they are thinking about the thoughts and feelings of 
others.
"We wanted to see whether autistic participants would be as good at
 remembering to do a task for themselves as they would for someone 
else," said James. In the study participants decided whether they thought a series of objects cost 
more or less than £14. Whilst making these decisions, participants had to remember to press the 
spacebar on a keyboard each time they felt 30 seconds passed.
In some rounds, participants earned ten pence for themselves each time they remembered to 
press the spacebar. However, in other rounds they earned ten pence for the experimenter if they 
remembered to press the space bar. 
The autistic participants in the study were just as good at remembering to press the spacebar 
when earning money for themselves as they were when earning money for the experimenter. 
However, the non-autistic participants were worse at remembering to press the space bar for 
themselves compared to when they were pressing it to earn money for the experimenter. Using a 
technique called near functional near-infrared spectroscopy (fNIRS), James found that activation 
of an area of the brain called the prefrontal cortex may be related to the differences in behaviour 
between the autistic and non-autistic participants. 
Where are the eyes looking?
When we look at something our visual system is influenced by what it has just seen. For 
example, if you watch this video for one minute and then look at a wall, the wall may appear 
distorted. This distortion is called an "after-effect."
"Our visual system becomes used to, or 'adapted' to, what it is currently viewing. So when we 
look at something else is can change our perception of it. This is process is known as adaptation. 
Some previous work suggests autistic people are less susceptible to adaptation and the resulting 
after-effects," said Shravanti Shankar (below) who was working on her MSc project with Rebecca 
Lawson.
Shravanti and Becky wanted to see whether these adaptation 
differences in some autistic people are also present when 
deciding in what direction other people were looking. 
Participants looked at a face which was looking in a particular 
direction. After having looked at the face, participants were 
shown another face which was looking in a different direction 
and they had to judge in what direction the face was looking.
The observation of the initial face influenced people's judgement of where the second face was 
looking. So participants displayed adaptation – they became used to the direction of the first face 
which influenced their perception of the second face. Interestingly, Shravanti and Becky didn't find 
any differences between the autistic and non-autistic participants.
"Our findings suggest that the adaptation differences seen in previous autism studies may be 
specific to the particular task which was used to measure adaptation. For example, previous 
studies didn't use faces. Establishing in which tasks we see adaptation differences and in which 
ones we don't is the goal for future work as this may help us to explain some of the sensory 
issues seen in some autistic people," said Shravanti. 
…………………………………………………………………………………..............
Spotlight on...
The autism@icn team is a diverse group of researchers interested in understanding autism.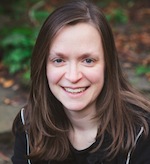 In each newsletter we highlight the role of one of our 
team members.
In this issue, it's Sarah White. 
Sarah is a senior research fellow at the ICN. Sarah completed her 
PhD with Uta Frith and is one of the founding members of the 
autism@icn group. Sarah is currently interested in the wide range of abilities seen in autistic 
people, particularly the differences some autistic people show in understanding the minds of 
other people.
Fun fact: Sarah tap dances twice a week and can often be found drumming out a rhythm whilst 
waiting for the tube.
…………………………………………………………………………………..............
Events
Congratulations to Rebecca Lawson who has been awarded the 
prestigious Henry Dale Fellowship by the Wellcome trust and Royal 
Society. Rebecca will be moving to the University of Cambridge in the 
autumn where she will be investigating whether babies' brain responses 
to surprise can predict the emergence of autistic symptoms later in 
childhood (see Publication Highlight below for more details). Becky has 
been part of the autism@icn group for over five years and she will be 
very much missed. We thank her for all her contributions to autism@icn and wish her all the best 
for the future!
autism@icn at the Amazing Brain Symposium in Sweden
In September Antonia Hamilton presented at the Amazing Brain Symposium at Lund University 
as part of their Science Week.
Click here to watch her lecture in which she talks about imitation and autism.
…………………………………………………………………………………..............
Publication highlight
When a surprise is less surprising
Leicester City win the Premier League. Donald Trump is elected President. You find a pineapple 
in your sock drawer.
We experience surprise when something unexpected happens.
Rebecca Lawson and Geraint Rees from autism@icn were 
interested in investigating peoples' experiences of surprise 
and how these may differ in autistic people. In a simple 
computer task a high-pitched sound tended to be followed 
by particular image, such as a house, whereas a low-
pitched sound tended to be followed by a different image, 
Throughout the experiment they changed how likely it was that a high pitched sound would be 
followed by a house and how likely it was that a low pitched sound would be followed by a face. 
For example, during the 'stable' periods of the experiment there was always a high chance (e.g. 
80%) of a high-pitched sound being followed by a house. During the 'volatile' periods of the 
experiment, however, the chances of a high pitched sound being followed by a house was more 
variable. For example, the chance of a high pitched sound being followed by a house could 
change from 80% to 50% to 20% during these volatile periods.
During stable periods of the experiment, non-autistic participants built up a strong expectation 
that a high-pitched sound would be followed by a house. Participants were thus surprised when a 
face rather than a house appeared following a high-pitched sound. Autistic participants, however, 
were not as surprised by this unexpected event.
Rebecca believes that this may be due to the different ways some autistic people build up their 
expectations. Some autistic people may interpret the environment as highly changeable so are 
less likely to be guided by prior expectations.
"When we're uncertain about our own beliefs, such as under volatile conditions, we're driven 
more by our senses than our prior expectations. If autistic people are more often expecting 
volatility, that could help explain their propensity to sensory overload, enhanced perceptual 
functioning and context insensitivity," said Rebecca.
Here is a link to the original paper.