---
The gang tries to help 
 get ready for the Hot Summer Jam Contest on the beach, where he could win a chance to have his song played on the radio. Meanwhile, 
 tries to put her previous, unpleasant beach-going experiences behind her.
Watch Online
*Note - this link leads to a third-party site that holds the selected video. Pop-up ads may be displayed inappropriately. Parental supervision is strongly recommended.
---
Dez
is seen coming out of the ice cream shop and caught by a police officer. A few moments later, 
Austin
 and 
Trish
 are seen coming out and caught as well. They insist to the officer that they were not robbing the ice cream store, and 
Ally
 comes out with a ski mask and ice cream - making it look like a crime. Notice that Dez has a starfish on his face, Austin is covered in sand, Trish is in her pajamas and Ally in her bathing suit, ice cream and ski mask.
After the theme song, they try to convince
Officer Dunphy
 that they were not robbing the ice cream store by telling summaries of their story. It starts off with Ally summarizing her story. Ally has a tune in her head and doesn't want to lose it. Austin and Dez both confuse her with different tunes, and Trish makes some other noise with cowbells. Once she reaches her Music Room, she places the tune into piano notes. Together, both her and Austin create the melody to their hit song. Now all they need is the lyrics. They attempt some lyrics, but since Ally has never had a good experience at the beach, it gets tough for her to write lyrics.
Back in reality, you're allowed one phone call in the police station. So Dez calls his mother and waists their phone call - making this even worse.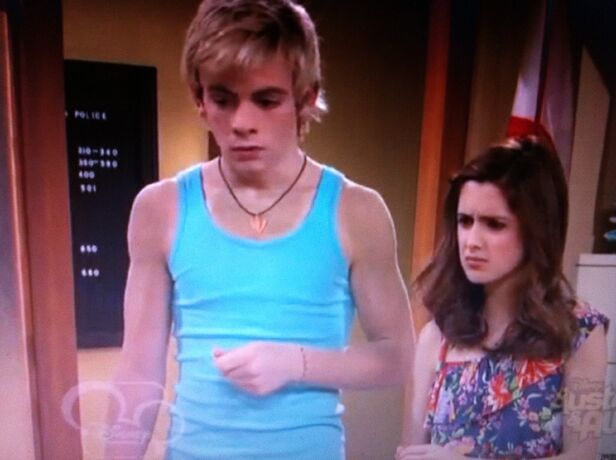 Trish summarizes her story. They knew Ally hasn't had a good experience at the beach, so they took her to the beach to help write the lyrics. However, Dez's gum gets stuck in Ally's book. Trish takes the book and places it in the ice cream cart so it will freeze and they can scrape it off. When Austin asks for sunblock, Dez gives him glue, so when Austin falls on the sand, he gets it covered all over his body. Ally is also stuck within her chair.
Ally summaries her story again. They needed to pull an all nighter' to finish the song. They had lyrics, but needed a chorus. When Ally goes to find ideas in her songbook, she realizes that her book is in Trish's ice cream cart. They all meet outside the ice cream shop, and Austin opens the door by leaning on it. Trish leaves the door open because she keeps forgetting her keys. Once inside the freezer, Ally finds her book and unlucky, the door is shut closed on them.
Austin decides to call Dez. Dez puts his real starfish beside his starfish and puts the real starfish on his face again. He talks to Austin, but because of the bad connection, he believes he has to shave Gus at the ice cream shop instead of saving them. Unfortunately, Dez doesn't show up in time, and the gang starts to get hungry. They all start to munch on ice cream with toppings. Fruity-mint-swirl, Ally's favorite ice cream, reminds her about a good memory she had at the beach. She uses this memory to finish the chorus to their song. Finally Dez comes in. He's still attempting to shave Gus the Janitor.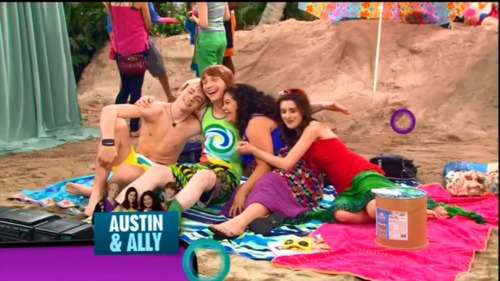 After the story, the officer believes them but he still doesn't allow them to leave. They then see him in a drumming act. Officer Dunphy likes to drum, but wasn't able to acquire it because his dad said he didn't have too many chances of making it - so he quit. Austin offers him to play drums in his band at the beach bash, (to escape the jail cell so that everybody wins) but Officer Dunphy realizes that this was just a way to escape. However, he doesn't care and follows his real dream: drumming. Austin then plays his song, "
Heard it on the Radio
." After the song, the officer is thrilled and releases Ally, Trish and Dez since Ally left money for the ice cream, the manager is not pressing charges against them. He also asks the officer to tell Trish that she's fired because of many things she did, and she gets another job at the Police Station.
The gang at the beach then hear Austin's song on the radio on FM 109. Ally then realizes what she missed at the beach - her best friend - Fruity-mint-swirl. Dez then goes for a group hug (before he put on sun block - which was the glue) causing him to be stuck to all his friends.
Memorable Quotes
---
Ally:
 Nobody talk to me. I have a melody in my head and I don't want to lose it.
Trish:
 Nobody talk to me either. No reason - I just don't feel like talking to either of you.
Austin:
 Now this could be on hot summer jam.
Ally: Oh yeah. That is jammin'. A 'jam' on it. A jam-a-jam-jam. A jam-and-cheese sandwich. One too many?
Austin: All too many.
Trish:
 On a totally unrelated note, are you guys hiring down at the station?
Trish: See I don't really do anything with the word "work" in it.
Officer Dunphy: Hmm.. Okay you start Monday.
Trish: I also don't work on days that end in -y.
Cast
---
Guest Stars
Featured
---
Coffee Kiosk
Ice Cream Shop
Police Station (future)
Trivia
---
Trish's pajamas clothing are the same as London Lipton in The Suite Life of Zack & Cody.
Officer Dunphy quoted what his dad told him, "You have a million-and-one-chance of making it into the music bizz, which if exactly what Lester Dawson told Ally and Austin's dad told him. The three fathers could have some relation.
Austin's previous drummer may be replaced with 

Officer Dunphy.
Glitches
---
At the end, Dez uses glue (not knowing it is glue) which sticks all of his friends together in a group hug. When they fall, his right arm doesn't seem stuck on Austin's shoulder - making it look fake.